Shake, Stir, Pour: Tips for a Festive Home Bar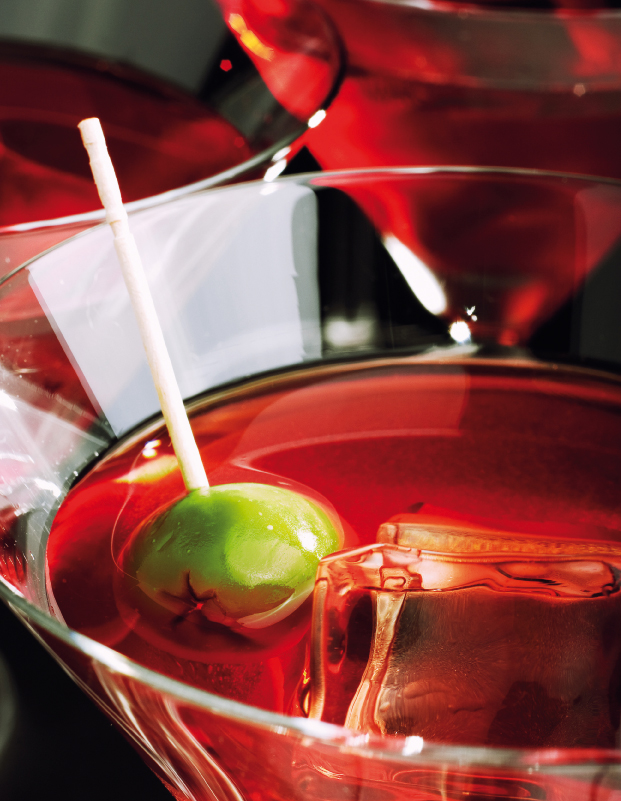 The RSVPs are in, the menu planned, the linens pressed, the floor vacuumed. You feel ready for the party. Many times, setting up the bar is an afterthought, or at least saved until the last minute, only because you know you can count on the standard bottles that live quietly in the liquor cabinet. Pull out some glasses and you're good to go, right? Not so fast. A little forethought and preparation will make your bar scene-worthy at your next bash, whether a large affair or an intimate gathering of a few friends. In fact, if you take stock of everything from spirits to swizzle sticks now, you'll always be party-ready.
Where Guests Meet and Mingle
Your bar area is the first place your guests will approach, so location is key. If you're lucky enough to have a wet bar, a larger-than-life-kitchen, or a generous piece of furniture that serves as your bar area year-round, your only party tasks will be checking stock and sprucing up the space to make it holiday-ready. If you're creating a bar area for the night, consider how you want the party to flow. While a kitchen counter or island is easy enough to clear and set up shop, consider putting your bar elsewhere to improve traffic flow and prevent a bottleneck, since everyone inevitably ends up in the kitchen. Alternately, you can set up your main bar in the kitchen and create a little "refresher station" in another inviting area of your home.
A card table with a pretty tablecloth makes an easy party bar, but there are less predictable and more chic options. If you are doing a self-serve bar, set up on other surfaces in your home—the sofa table in the family room or the sideboard in the dining room, for example—to help move the party to other less-trafficked areas. If you love your main level home office and have a beautiful desk, why not locate the bar there and enjoy the juxtaposition of work and play? Hide the mass of paperwork, stow the computer, place a runner or table square on your desk to protect it—and suddenly the place where you do business is transformed into a fashionable salon where your guests hobnob with tasty cocktails while discussing fascinating topics.
Built-in bookcases are another great place to set up a small self-serve bar. Clear a couple of shelves of their books, and use trays to group liquor bottles and glasses. If your shelves are particularly shallow, a butler's tray, bar cart or a small accent table next to the shelving unit can hold overflow items, like napkins and bar snacks. Repurpose an old armoire in your entryway, open up the secretary that's usually closed…there are likely many places in your home where you can station your bar to make the most of the party floor plan.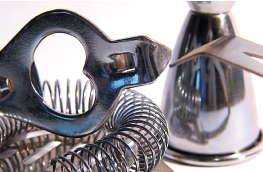 Stocking the Bar
Most party pros agree that if you want to offer a full bar, you need only a simple stock of liquor and mixers. In addition to beer and wine, most guests will be happy with a drink using vodka, whiskey (bourbon or scotch), gin, rum or tequila, with a variety of clear sodas, colas and juices for mixing. A more complex offering includes brandy and liqueurs. If you don't want to manage such a large selection of choices, it's perfectly acceptable to offer only beer and wine, and maybe a batch of a signature cocktail, like pitchers of cosmopolitans, margaritas or a holiday punch. (Bonus with the punch: a punch bowl is a decorative focal point.) Be sure to have festive options for your guests who prefer nonalcoholic drinks, like sparkling juice or non-alcoholic punch. Sparkling water or club soda and fresh citrus slices are great alternatives, too.
Ice is perhaps as important as the drink it chills. Having the right ice—cracked or cubed—can separate the bartending amateurs from the pros. And having the right tools on hand will help you achieve this. You'll want a pretty ice bucket, and a scoop or tongs for drinks on the rocks. Cubed ice suits rocks and mixed drinks best, because the ice chills the drink without overdiluting it. Cracked ice works best in very sweet drinks, or specialty drinks (think Caipirinha or daiquiri on the rocks) in which ice that melts more quickly makes the drink that much more enjoyable. Although ice can certainly be cracked between two clean, lint-free kitchen towels with the back of a spoon, gadget lovers will enjoy using use an ice bag (sometimes called a Lewis bag)—essentially an insulated pouch in which you place full ice cubes to crush with a mallet (or by banging it on your frozen outdoor patio). It's also a good idea to use cracked ice for blender drinks; full cubes won't completely break down in a blender, and may damage it, too, resulting in a lousy drink and a damaged appliance. Not a good recipe!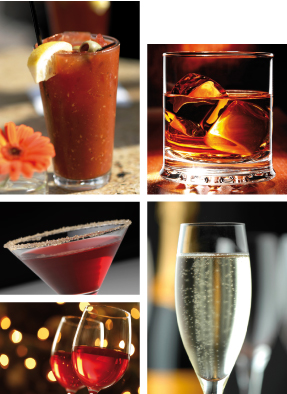 Raise Your Glass
Although there is a special glass for just about every drink imaginable, it isn't practical to stock a full complement of each type. Start with 4 to 6 of each, and expand your collection from there as storage space and budget allow. Keep in mind, too, that your glasses do not have to match. Eclectic is in, so embrace the mismatched look as an intentional design strategy. Start by having these basics on hand:
OLD-FASHIONED OR ROCK GLASSES: short, round glasses ranging from 8 to 12 ounces, used for drinks served over ice.
HIGHBALL GLASSES: tall, round glasses ranging from 10 to 16 ounces, used for drinks containing soda and liquor. The extra height on the glass keeps the soda bubbly longer than the short old-fashioned glass.
MARTINI GLASSES: can be as small as 3 ounces, or as large as 10 ounces, used to serve cocktails without ice. The stem prevents the drink from getting too warm from the heat of your hand.
ALL-PURPOSE WINE GLASSES: While there are many types of wine glasses for different varietals, the all-purpose wine glass, holding around 6 to 8 ounces, is fine for most occasions. It can double as a serving piece for festive frothy drinks, and an entertainer's set of 12 can be picked up for a song at just about any big box store.
CHAMPAGNE GLASSES: Who doesn't love a champagne toast? These are nice to have on hand for sparkling juices too, for nothing says "cheers" like a champagne glass. Thanks in part to the popular TV show Mad Men, retro cocktail glasses have made a big comeback; check out the coupe style, with its broad saucer shape, much like a petite margarita glass.
BEER GLASSES: Don't assume your guests want to drink out of the bottle. Beer lovers often enjoy a nice, frosty beer mug or pilsner glass.
If you have these basics covered, add some smaller, delicate dessert wine or port glasses to your repertoire for the sophisticated sipping crowd. Also necessary in your glassware reserve are some good pitchers to accommodate punches, large batches of mixed drinks, or even water with sliced lemons. Sleek and slim, generous and round—the looks are many.
A final word on glasses: if many of these vessels only get used once a year, allow yourself some time before any party to either run them through the dishwasher if they are dishwasher safe (on the heated dry cycle/with a rinse agent for extra shine), or spend a few minutes wiping them with a lint-free cloth. No matter how meticulous your housekeeping or storage practices, dust and dirt have a way of sneaking in and putting a spot on the holiday sparkle.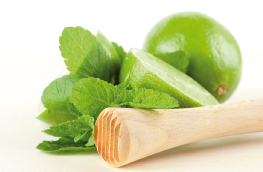 More Gear and Gadgets
Half the fun of setting up a bar is lining up all the tools. Bar tools are often sold in sets, but if you are only an occasional entertainer or are particular about your gadgets, you may want to acquire these pieces individually.
For cocktails, the most important tool in the home bar is the cocktail shaker. There are two types: the cobbler shaker and the Boston shaker. Without getting into elaborate mixology, know that either one will work for your home bar, and choosing one is a matter of preference. The cobbler shaker—the more elegant-looking of the two—is usually made of stainless steel, with a tight-fitting top and built-in strainer. The Boston shaker, while decidedly less glamorous, is the one most bartenders use. A larger metal tumbler is upended over a smaller glass tumbler, forming a snug seal so that drinks can be mixed all night long. Depending upon the drink you're mixing, you'll need separate strainers for each of these tumblers, though—the larger Hawthorn strainer has a metal coil on the underside, and works with the metal tumbler, and the daintier julep strainer is solid metal with holes and works with the glass tumbler. Too complicated? Go with the cobbler shaker for your home bar.
Though you may have your own method of eyeballing how much liquor goes into a drink, at party time it's prudent to have a jigger on hand for the perfect pour. This measuring device usually has two cups—1 ounce on one side and 1 1/2 ounces on the other, helping you follow drink recipes and avoid overserving your guests.
A muddler—also called a toddy or squeezing stick—is good to have on hand to crush or bruise fruits and herbs right in the glass. This tool should be made from soft, unvarnished wood; it's generally about 6 inches long and flat on the bottom, like a cut-off miniature baseball bat. You'll definitely want one of these if Mojitos are on your menu.
Have a mini cutting board and bar knife at your bar for the freshest lemons and limes imaginable, and a citrus zester for making those twists. You'll also need a few long-handled bar spoons or swizzle sticks for the drinks that need to be stirred (though debates may arise over what cocktails should be shaken, not stirred).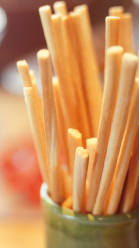 If you are serving bottled brews, put them in a pretty galvanized tub or something like it, on the floor by the bar. Keep a bottle opener handy by tying it to the handle with some curling ribbon or grosgrain so it doesn't get misplaced. There are many decorative options (companies like Mariposa sell interesting ones that make cute gifts). Of course a corkscrew is a must as well, and decorative wine toppers also add charm to your bar while protecting your wine's bouquet. A small bowl of wine charms will help your guests identify whose drink belongs to whom. (All of these items make great hostess gifts as well!)
If you have room, add a little snazz to your bar area with a small flower arrangement, perhaps an echo of the flowers on the buffet table. During the holidays, even a sprig of holly in a tiny vase is a nice touch to the bar. And don't forget the bar snacks: thin crispy breadsticks in a slim cylinder vase, spiced nuts in a silver bowl, hefty kettle chips in a clear acrylic bowl, or olives in a ceramic dish (don't forget the cocktail picks—these come in many decorative options as well!)…all will be welcome nibbles as guests mingle over cocktails.
With these tips, you can make your list and check it twice. Taking stock of your bar and all its contents will help you be ready for any celebration throughout the year.