Serving Suggestions -Fresh Takes On Your Favorite Platters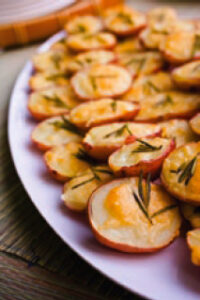 One of the first home-cooked meals I ever had as a newlywed with my stepmother-in-law was breakfast. She's a gifted cook and fabulous entertainer, and makes every meal special—including breakfast. On our first occasion, she served us scrambled eggs—on a silver platter. Noting this humble food on a fancy dish, I looked at my husband, and he looked at me and shrugged as if to say—don't ask me! For we were, at that tender age, accustomed to eating scrambled eggs directly out of the skillet while standing at the stove.
Many years and several Wilton Armetale platters later, we still joke about those beautifully presented eggs and are proud to say we've come to appreciate and adopt such special customs ourselves. After all, a true Southern hostess knows that thoughtful food presentation shows your guests that you care about the meal, and you care about them. This fall, as we head into another season full of opportunities to entertain, take a new look at your own stash of platters and serving pieces. It might be the perfect time to pick up some new pieces, or reconsider how to work with the treasured pieces you've been using all along.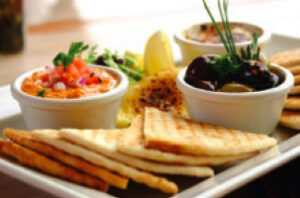 Take Stock
Most bridal registries recommend that newlyweds register for two serving platters and two serving bowls to go with each set of dishes. While this is certainly a good place to start, a large and varied collection of serving pieces will serve you and your guests well over the years. More than just a way to serve food, platters are key accessories for your table's wardrobe. A well-stocked platter pantry will contain a variety of sizes, shapes and materials, from small glass dishes for condiments, nuts and candies, to large, hefty platters for the Thanksgiving turkey, and everything in between. Your pieces don't have to match—in fact, they shouldn't. An eclectic mix of china, pewter, glass and more makes for an interesting tabletop.
Oversized round plates are also good to have on hand when you want to elevate the humble cookie to company-worthy status; cookies can look forlorn on a silver platter or too humdrum a regular-sized dinner plate. Cake stands too make great serving pieces for everything from cakes and cookies to canapés and tea sandwiches; their shape and height lends instant flair to the tablescape.
Pewter-type platters such as those made by Arthur Court and Wilton Armetale are great to have on hand for their versatility. The pieces can be chilled to keep cold things cool, and heated to keep warm things warm. Their look is also one that can go either casual or formal.
In your shopping travels, always be on the lookout for bargain oversized plates and platters—if not for yourself, then for gifts. A batch of cookies on a holiday-themed plate or platter is always a welcome hostess gift. Keep a stash of paper doilies on hand, too; they add a nice touch to your presentation.
Specialty pieces—like my favorites, the deviled egg dish and the oyster plate—are not essential but can be great fun. Keep an eye out for such interesting pieces at antique stores and estate sales; in the meantime, use one of your other favorite platters lined with big leafy lettuce for decoration and support for topsy-turvy foods like deviled eggs.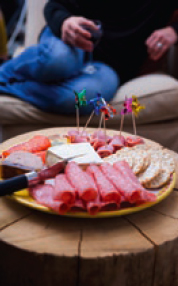 Set to Serve
If you're having a party or buffet, set out the platters you want to use the day before, along with the necessary serving utensils. Label each with a sticky note detailing what food is going on that particular platter, so you're sure to have enough space on your table and time in your day. If you're serving from a buffet, aim for a variety of heights, shapes, textures and colors on your table, using phone books or sturdy boxes under a tablecloth to achieve different heights. Or try an all-white look and let the food add the color to the table.
Turn Old Ideas Upside Down
If you're in a serving rut, look at what you have with a new eye. Long items like breadsticks and pretzel rods look charming served in a wide-mouthed vase. Dessert cookies—think oversized homemade chocolate chip cookies—can also be stacked in a cylindrical vase that is an inch or so wider than the cookies. Dramatic displays like this—with a ribbon or garland wrapped here and there—can even serve double-duty as a centerpiece on your buffet or table.
For an inexpensive new look, consider clean, new kitchen tiles made of stone, ceramic or slate as a background for cheeses. Think beyond the chip-and-dip bowl set and pile that chunky guacamole directly on a platter in a generous heap, surrounded by tortilla chips. You can also place hearty dips in a firm lettuce or cabbage leaf, or more liquid dips in a hollowed bell pepper or small red cabbage, directly on the platter.
When creating a crudité platter, mound veggies in generous heaps, creating the look of an abundant cornucopia. If you're using a divided platter or condiment dish, don't feel like you have to place a different item in each section. Place a flower or other garnish in an empty section of the platter, or double up on popular items. And next time you serve up a big salad, heap it generously on the large platter you might use for the holiday ham rather than your old salad bowl.
When serving bite-sized treats that require toothpicks, skip the predictable toothpick container. Instead, buy party picks topped with curly cellophane and stack them neatly on their sides directly on the platter. Do include a small bowl on the side for used toothpicks—no double dipping allowed.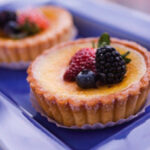 Call Off-Duty Pieces to Service
Your serving pieces shouldn't be hidden away in a dark cabinet between celebrations. Display your prettiest pieces on your coffee table to hold magazines, on your wall to brighten up a room, as a backdrop in your china cabinet or a new focal point propped on a mantel or shelf.
This fall, take the time to dust off your favorite pieces, try something new, and serve your next meal with style. Make every occasion you dine with family and friends a special occasion—even a breakfast of scrambled eggs!