Season's Greetings | Traditions & Trends in Holiday Tidings
Much of the charm of the holidays lies in the season's greetings cards we send to dear ones in and out of town. For many, a traditional seasonal greeting card adorned with a festive stamp best conveys the warmth and buoyancy of the holiday spirit. For others, a holiday e-card or photo card delivers the perfect digital greeting that saves money, time and paper. Whether for Christmas, Hanukkah, Kwanzaa, New Year's or the Winter Solstice, season's holiday greeting cards connect us to those we love and therefore deserve special consideration.
As part of our family holiday tradition in the 1950s and 1960s, my parents enjoyed compiling their handwritten holiday card list together while they listened to Christmas carols. They lingered over holiday catalogs until they found their ideal greeting and ordered a gracious plenty to take to a local printer, who added our names in a festive Christmas red. The final chores for us kids were to add the seasonal stamp and mail the hundreds of cards in time to arrive by December 25th.
Of course, you can do all of this today with a click or two on an e-card or photo card website. Although the young and technologically savvy among us generally prefer digital holiday tidings, the traditional greeting card industry remains robust. According to the Greeting Card Association, Americans purchase $7 billion in holiday greeting cards each year. Not surprisingly, women buy 80 percent of them.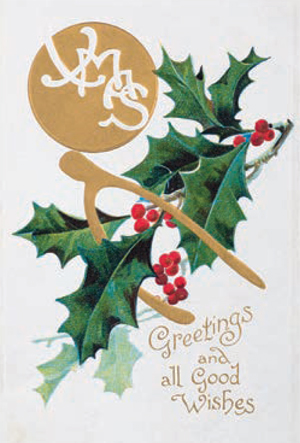 The greeting card industry's roots intertwine with entrepreneurship and technological innovation. According to John Hanc in his December, 2015 Smithsonian.com article entitled The History of the Christmas Card, Sir Henry Cole, a prominent British educator, created the first known holiday card in 1843 to reply to the stash of Christmas and New Year's correspondence that had gone unanswered. Cole engaged artist J.C. Horsley to design a triptych with an image of a family celebrating their holiday dinner, framed by images of good samaritans ministering to the poor. Cole wrote the greeting "A Merry Christmas and a Happy New Year to You" and hired a London printer to produce 1,000 copies. Britain's "Penny Post" stamp galvanized Cole's project that launched the seasonal greeting card industry.
By the mid-1800s, America's season's greetings cards emerged as a popular art form and thriving business propelled by advances in printing and color lithography. According to the Greeting Card Association, Louis Prang, a German immigrant, opened a small lithographic company in Boston in 1856 and published the first complete suite of Christmas cards. Today, the association bestows a prestigious award in Prang's honor that pays tribute to the skill and ingenuity he exhibited as a printing and lithographic pioneer.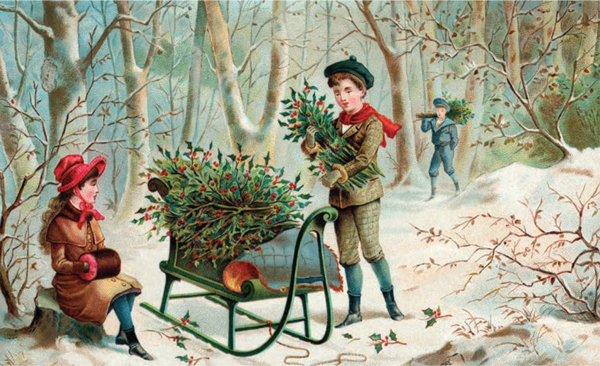 By 1857, Nathaniel Currier, who apprenticed as a 15-year old in a Boston lithography shop, partnered with his accountant James Merritt Ives to establish Currier and Ives, a successful and prolific printmaking firm based in New York City. As noted on the Currier and Ives official website, the duo's business published at least 7,500 hand-colored lithographic prints of designs by celebrated artists of the day, including Louis Maurer, George H. Currie and Frances Flora Bond Palmer, whose genre and winter scenes are collector's items today.
America's two greeting card industry giants—American Greetings and Hallmark— arose from big dreams and humble beginnings. In 1906, Jacob Sapirstein, a Polish immigrant and rabbi's son, loaded his family's horse-drawn cart with picture postcards made in Germany and sold them to local Cleveland merchants. Unhappy with the quality of the cards he peddled, Sapirstein decided to design and print his own cards. His shop evolved into today's American Greetings Corporation, headquartered in Cleveland, which employs 17,250 people and generates annual revenues of $1.9 billion, according to the corporate website.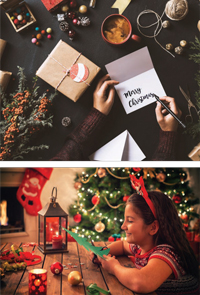 In 1910, a Nebraska teenage entrepreneur named Joyce C. Hall dropped out of high school to pursue his fortune and arrived on a train in Kansas City with two shoeboxes of picture postcards. After selling manufactured cards to local merchants, Hall and his brothers bought an engraving firm so they could print and design their own greeting cards, a business destined to become Hallmark. They commissioned prominent artists as illustrators and card designers, including the beloved and prolific American illustrator Norman Rockwell. According to its corporate website, Hallmark today employs 30,000 people and generates annual revenues of $4 billion.
American Greetings and Hallmark adroitly diversified their product portfolio to compete successfully in the digital market. Techradar recently awarded its 2019 Editor's Choice for free e-cards to American Greetings' JustWink e-card mobile platform. Hallmark delivers an e-card platform that, for a small subscription fee, gives unlimited access to all Hallmark holiday e-cards and discounts on other Hallmark merchandise. Other popular mobile e-card apps include BlueMountain and Punchbowl.
Photo card mobile apps flourish through astonishingly rapid innovation. According to Techradar and Top Ten Review, highly rated photo card apps include Mixbook, Amazon Prints, Snapfish, Simply to Impress, and Walmart Photo. These platforms upload photos from your mobile devices, personalize them into your perfect holiday card, and print and mail them to your loved ones, all with a click or two.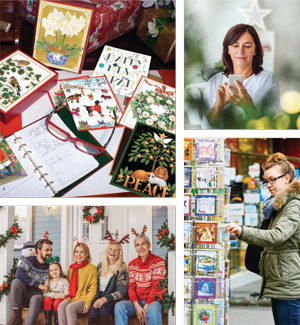 Despite the allure of digital greeting cards, our family's holiday card tradition endures. I adore browsing the beautiful season's greetings cards by Caspari, a Charlottesville company whose creations are sold in Roanoke at Ellie Proctor Antiques and Fine Things. This boutique printing company hires the same Swiss printers and suppliers with whom its founder H. George Caspari collaborated in 1945. Their cards feature exquisite art licensed from museums and artists worldwide on paper produced only in managed forests. While my sisters are also Caspari fans, my brother writes a charming family Christmas letter that brings a smile to us all.
As noted at a holiday exhibition at the Norman Rockwell Museum, Rockwell perceptively captured the deep source of our family's Christmas card tradition—and that of a multitude of others, I am sure—when he wrote: "Children want to believe in Santa Claus just as fervently as we adults want to believe in peace on Earth and goodwill toward men." Peace on Earth to you and goodwill towards all this holiday season. ✦
---
HOLIDAY CARD ETIQUETTE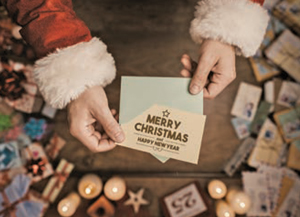 These helpful tips will ensure that your season's greetings cards are memorable, heartwarming and in perfect holiday taste.
KNOW YOUR RECIPIENTS
Be respectful of differences of religion and culture. You can't go wrong with "Season's Greetings" and "Happy Holidays," according to business etiquette expert Lydia Ramsey.
MAKE YOUR LIST
Marilee McKee of Manners Mentor says holiday cards are meant for those who live out of town or you won't see during the holidays, but to whom you wish to send warm tidings. Keep your list up to date with correct names and current addresses.
CHECK IT TWICE
Trim your list to save time and budget. If you haven't received a return card for two years, or acquaintances have relocated without letting you know their new address, it is not rude to cull them, says McKee.
TAKE IT PERSONALLY
Take the time to sign each card and write a personal note to share holiday sentiments. Your family, friends, colleagues and business acquaintances will appreciate this special effort, notes Ramsey.
TO "E" OR NOT TO "E"
E-card tidings are economical, efficient and appropriate for social networking friends. But for enjoyment throughout the season and lasting emotional impact, your dearest ones are delighted most by cards you send by post.
TIMING IS EVERYTHING
Proper means prompt in matters social, and holiday card etiquette is no different. Mail holiday cards soon after Thanksgiving to make sure they arrive on time, leaving you plenty of time to shop, wrap, bake, decorate and entertain during the festive season.
digital greeting cards, digital market, family holiday tradition, greetings cards, holiday e-card, lithographic prints, live, photo card, Photo card mobile apps, printing, seasonal, Sir Henry Cole, The History of the Christmas Card, Traditional