Retaining Walls | Where Form Meets Function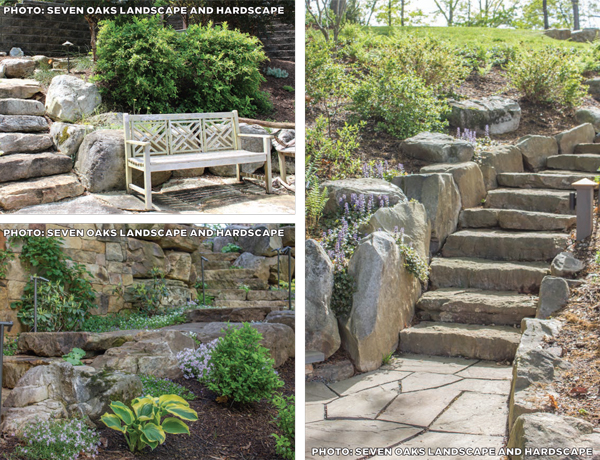 Few landscape features combine aesthetics and function as well as retaining walls. These sculptural elements can be simple or massive, hidden behind a living green screen or showcased with plantings designed to draw attention. While energetic homeowners might be willing to jump into building a wall themselves—emboldened by the many do-it-yourself videos readily available online—experts advise careful contemplation and a thorough understanding of what's needed.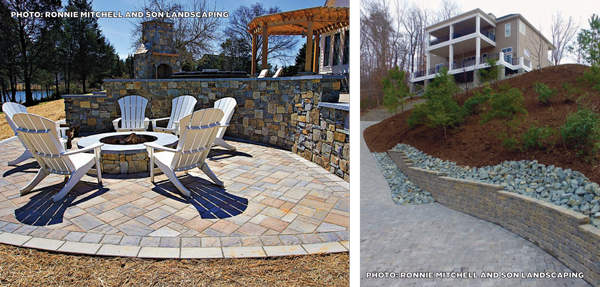 ---
RETAINING WALLS CAN ADD VISUAL INTEREST TO A YARD, CREATING PLANTING BEDS, OR THEY CAN DEFINE SPACE, SEPARATING A DRIVEWAY OR WALKWAY FROM AN ADJACENT AREA. THEY CAN ALSO CREATE USABLE SPACE, TAKING A SLOPED PORTION OF A YARD AND LEVELING IT SO THAT A TERRACE, PATIO OR FIRE PIT IS POSSIBLE.
---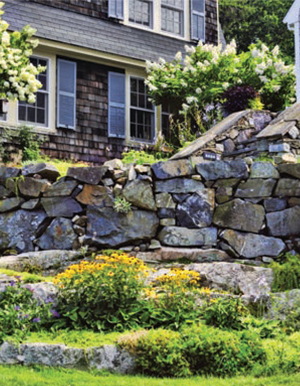 When to use
Retaining walls can be placed to add visual interest to a yard, creating planting beds for flowers, vegetables or herbs. Or they can define space, separating a driveway or walkway from an adjacent area. They can also create usable space, taking a sloped portion of a yard and leveling it so that a terrace, patio or fire pit is possible. Sometimes, retaining walls are needed to fight erosion, to actually prevent ground from falling away.
Ronnie Mitchell, of Ronnie Mitchell and Son Landscaping in Rocky Mount, says walls are useful in virtually every yard.
"Many times, they are to create a level back yard, so there's a play area or a space for games," Mitchell says. "You can also put in a patio or fire pit, or create a parking area."
Brad Austin, project manager at Seven Oaks Landscape and Hardscape in Rocky Mount, says before any project gets underway, homeowners need to identify their goals and the evaluate the space available.
"You have to understand why you want a retaining wall, what you're trying to do with it," Austin says. "You have to think about how to tie it in with everything else around it, so it looks neat and natural versus something big and ugly."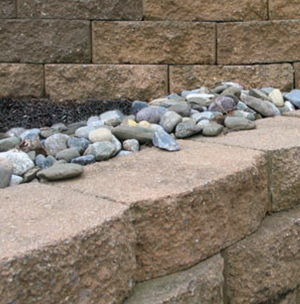 The basics
To the casual eye, a retaining wall might simply appear to be a stack of bricks or rocks nestled comfortably into the earth. What's not seen is the deliberate architecture and construction that bolsters the wall and ensures its stability.
A properly dug footer is needed for a solid foundation. The wall needs to be placed at a slight angle (the "batter") so that it leans into the ground, usually 1 inch off vertical for every 1 foot of wall height, creating stability. Behind the wall is drainage stone protected by filter fabric (to prevent soil infiltration), weep holes and a footing drain. The wall also needs adequate backfill, so pressure from ground that swells during wet periods can be absorbed.
Before any brick, block or stone is laid, a plan is essential. The scope of the plan is determined by the wall's size. Homeowners must contact their building inspection office, as regulations vary by locality. In some cases, a building permit may be required for a wall taller than 3 feet. In other areas, the limit could be 4 feet. Over that height, walls have to be designed by an engineer and installed by a professional.
Homeowners also have to consider whether the wall is purely decorative or will have to hold weight at the top, for sitting or walking.
"You have to make sure it's safe and secure, because it's a built structure," Mitchell says.
Austin adds, "You have to be very careful with DIY projects. People think they can go out on a weekend and throw up a retaining wall, but you need to have backfill compacted properly and good drainage."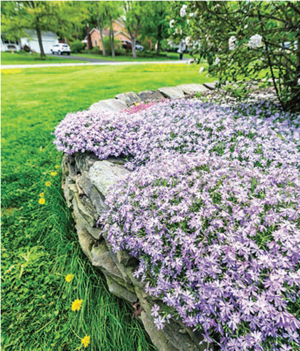 The look
A variety of materials can be used to make retaining walls: timber, bricks, natural stone, manufactured blocks and poured concrete.
Different materials yield different looks and have different costs, so it's advisable to get a handle on pricing early in the process. Aesthetics should also be considered.
Boulders are good for creating appealing walls, Mitchell says, so long as the wall isn't high. "Anything over 3 feet needs to be a block wall, with good grid reinforcement," he notes.
Even manufactured blocks can be appealing, Austin says. "You can use different block textures—a weathered block or a pattern look," he says. "You have to think about whether you want a formal or natural look."
Once the wall is built, it can be enhanced or screened with the addition of plants. Bushes at the base of a tall wall will grow and eventually draw attention away from the wall. Climbing plants or trailing vines can soften what would otherwise be a harsh façade.
The ultimate goal, of course, is to have a functional wall that benefits a landscape without creating problems in the future.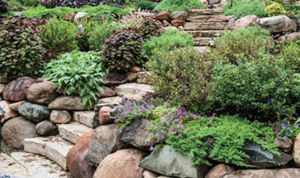 "They're not making land anymore," Austin notes. "Retaining walls allow you to build on properties that before would not have been appropriate. Or you can create outdoor living areas that are aesthetic as well as functional." ✦
boulders, bricks, erosion, footer, garden, manufactured blocks, natural stone, poured concrete, retaining walls, stability, timber