Repurpose to the Rescue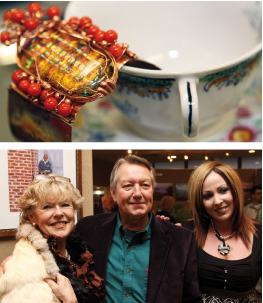 People no longer snicker when they learn your latest find was something you picked up at the local thrift store. In fact, thrifting, swapping and repurposing your gently used goods can add a fresh look to your home while saving you money. When something you once treasured has lost its luster, but isn't yet ready for the trash, it may serve a better purpose being used by someone else.
At The Rescue Mission in Roanoke, repurposing is taking on a whole new meaning. Since 1948, The Rescue Mission has given comprehensive care to those in crisis, helping people physically, psychologically, socially and spiritually. In February, The Rescue Mission unveiled its new facility, 2nd Helpings—a combination art gallery, thrift store and café—during a festive evening showcasing some of the greatest "finds" in the Roanoke Valley. Various design vignettes were constructed throughout the space on Williamson Road. Some of the spaces featured reupholstered furniture and faux painting, while others incorporated clothing and jewelry. Local artists and interior designers were even on hand to offer advice on ways to mix new, vintage and recycled items into home décor.
"You never know what you're going to find," says Carolyn McMillan, onehalf of McMillan & Wife Photography and Flowers. "Memorabilia, collectibles, or hidden treasures…everything was once worth something to somebody, and it can be again." McMillan talks about the importance of educating people, making them aware of what their options are, and teaching them that, for example, even a simple oak armoire can be turned into a work of art with a little faux painting. "I love design, but I also love people," says McMillan. "You just never know when you might need help…that's what makes this night, and this place, so special. We all believe in giving back along the way."
And it's more than just arts and crafts to The Rescue Mission CEO Joy Sylvester-Johnson. The new 2nd Helpings Shop, Gallery and Café is making over people as well. She describes helping one individual journey through a battle with alcohol dependency to a position as a chef in the cafe. "That's what The Rescue Mission is all about," says Sylvester-Johnson. "Rescuing all kinds of things."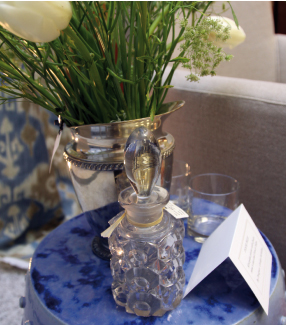 The purpose of the evening was to make new friends and introduce the new facility to the public. But it was also meant as a learning experience, a night of discovery. Roanoke interior designer Carol Fralin produced one of the artist vignettes and described how to spot porcelain treasures. According to Fralin, if porcelain is stamped "Made in China," then it was made after approximately 1910. If stamped only "China," then it was produced between the late 1800s until approximately 1910. And no mark at all, she says, dates the porcelain to sometime before the late 1800s. But more importantly, Fralin stresses the sheer magnitude of what you can find right here in Roanoke, thanks to the work of the Rescue Mission. "In my humble view," says Fralin, "[The Rescue Mission] is the single most important organization in the city." Local radio and television personality Larry Bly agrees. "We're very excited about 2nd Helpings' new facility," says Bly. "From clothes to shoes to art to flower arrangements and food…you can find it all here."
In keeping with The Rescue Mission's vision, artists and designers took items that were found and purchased at 2nd Helpings and gave them new breath, offering them new life. Using or converting items to produce another format or product is nothing new to jewelry designer Nancy Weekly, nor artist Geoff Kraatz. Together, their motto is, "Repurposing with style!"
"We hope our work will encourage others to reuse, reclaim, repurpose, rebuild and re-imagine," says Sylvester-Johnson. As the saying goes, "If you build it, they will come." The Rescue Mission has built it, and all with a purpose—and repurpose —in mind.