Renovated Loft- Home to Fun and Family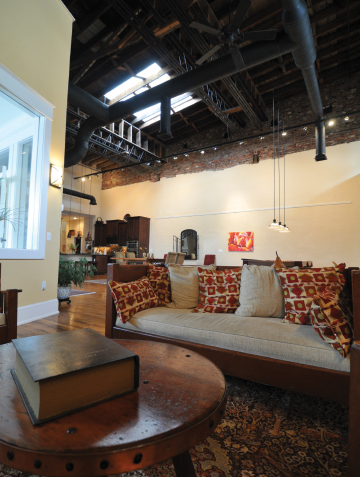 Janice Davidson's dream had always been to renovate a loft and live in downtown Roanoke. Her dream became a reality in May 2007 when she and her husband decided to renovate the top floor loft of the downtown location of Davidsons, their men's clothier business. In less than a year, they were living their dream.
Loft living can be a unique experience. With no permanent floor plan, rooms can be moved, enlarged or even deleted. A bedroom can be at one end of the living space one day and across the building the next. Individual rooms are not defined here.
The upper floors of downtown commercial buildings provide maximum space and some very charming architecture. High ceilings, hardwood floors and spacious windows are just some of the highlights.
At one time lofts were homes mostly to artists. Rent was cheap and artists could work and live in the same space. Today lofts are all the rage. And why not? Usually situated central to the city, loft living provides immediate access to the theater, dining, shops and the excitement of city life. And it usually means a quick commute to work. It is no wonder that Janice and Larry Davidson decided to renovate and make their home in a loft.
Today Janice is executive director of Children's Trust, a child abuse protection, intervention and advocacy organization in downtown Roanoke. Larry is owner and president of Davidsons, just down the elevator from the loft. The location could not be more convenient.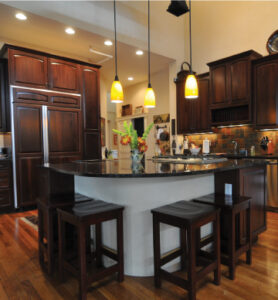 Davidsons opened as a men's clothier in 1910, and Larry is a third generation owner. The store moved to its present location on Jefferson Street in 1964, and the loft was used as a distribution center for several of their stores. It also became a storage area for the extra furniture of every member of the family.
According to Larry, "We had to vacate the whole building to rework the electric, pipes, et cetera. We hired two people who worked 40-hour weeks for six weeks to empty the accumulated stuff from the space."
The Davidsons hired architectural firm Hill Studio to design their loft. Marshall McMillan-Zapf did the actual designs. Worth Boone at Boone, Inc. partnered with McCoy Darby as general contractors. "We had good builders," says Janice. The project, although complicated, "was a lot of fun to do."
"My dream was to do this renovation," says Janice. "There are a lot of cool things about this space." With her art background and retail display experience, her credentials were perfect for the task at hand. "I am an old retail girl," she says. Her first career was in visual merchandising; she worked for several department stores, and eventually at Davidsons.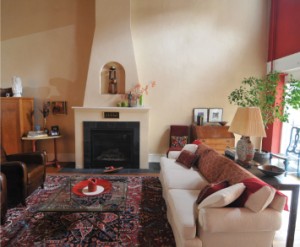 In the Davidsons' loft, it is evident that an artist had a hand in the design. Everything here, from the floor plan to the choice of colors and furnishings, exudes talent. Just picture a 4,000 square-foot area with rough wooden flooring, dusty ceilings soaring 20-plus feet off the floor and walls of brick and cracked plaster. This describes what the Davidsons had at the start of their project. They took this shell of a building and transformed it into a polished living space decorated with reclaimed pieces from family and business. "Living here is very freeing," says Janice. "When you live with hundred-year-old floors and brick, it is never going to be perfect. That feels very good!"
Janice's favorite spot is a tiny rooftop porch adjoining the living room area. A small table, chairs and a few plants create a cozy outdoor getaway. Janice refers to it as "my little deck," explaining that the space "was an afterthought, but I love it!" The outdoor pieces were all reclaimed from the Davidsons' store when it was remodeled in 1964.
A Party Paradise
The loft provides a wonderful space for parties. According to Janice, "There is no reason to have a house like this unless you have people in it!" At every turn, it's evident just how well it works for large groups. Just off the kitchen, for example, a pantry provides areas for extra storage and another dishwasher—a practical spare for large gatherings. Nearby a small powder room boasts a large slab of stone as a countertop, which was reclaimed from another area of the building along with the ornate molding that has been applied to the cabinets. Pocket doors into the powder room solve the problem of limited hallway space.
The kitchen is a chef's dream and, of course, was designed for entertaining. Large open counters provide good work surfaces, and there is plenty of storage. "I love to cook and I spend a lot of happy time cooking," says Janice.
Open to the rest of the living space, the kitchen boasts cabinets towering to the rooftop, which complements the soaring ceilings. "I have to give Carter's Cabinet Shop the credit for knowing that the cabinets had to be high," says Janice. A step ladder allows Janet to reach the top shelves and store her good china and serving pieces not used on an everyday basis.
The floors are all original. A small portion is made of pine, and the remaining floor is maple, left there from the days when the Armory used the loft as a basketball court. Now highly polished, the wood planking is a far cry from the dull, rough floors of just a few years ago.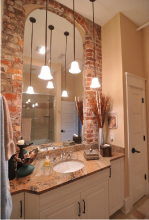 The dining area is another striking portion of the open floor plan. The Davidsons had the contractors install a skylight here to bring in more natural lighting. On the wall hangs a contemporary painting by Janice. Its primary color is red—her favorite color. "I like color, and I'm not afraid to mix it," says Janice. An accomplished artist, Janice studied studio art and has been painting ever since she was a child.
One of the highlights here is the table fashioned from two large glass doors that served as entrance doors for this very building. The massive handles are the centerpiece. "I worked with Mike Whiteside of Black Dog Salvage, and we used salvaged wood and an iron gate for the legs. He understood what I wanted and knew exactly where I was going. And, once again, this is a nod to the original space," says Janice.
The entrance foyer features a large mirror. Nearby, and reflecting back into the mirror, stands a golden life-sized statue of a woman, reminiscent of an Oscar award—another prop taken from a store opening many years ago.
Everywhere, there are things reclaimed from past stores and childhood homes, mixed with great artwork and bargain store finds. Janice admits to being a TJ Maxx fan and has uncovered some great pieces that complement her home. "My dad was a treasure hunter," explains Janice. "So I come by it naturally!"
In the living room area a small oak table from their store dates between 1922 and 1950. "It is just a special reminder of that time," says Larry. This area also has a small entertainment bar complete with wine racks, a beautiful hammered-nickel sink, and a spot set aside for a wine refrigerator.
Despite the open floor plan, there are several distinct living areas, such as the sunroom. Here contractors broke through outer walls to make room for large windows. Glass literally surrounds the room, creating a very distinct area within the larger space. In summer, screens open to the outside. Drains on the floor capture any rain water that may come in during sudden storms. Tile floors make the room weather resistant. In winter, storm windows are inserted and the room remains quite useable. An incredible view of the Roanoke skyline quickly becomes the focal point at gatherings.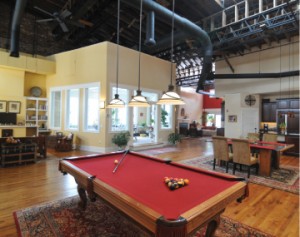 Another entertainment area features the pool table. Once at Davidsons' Tanglewood store, it was the first thing customers saw as they walked into the store. Today it takes up a central spot in the main area of the loft. Janice explains that Larry and his children have a long-time custom of playing pool together, and even had family competitions. "It has been central to our home ever since," says Janice. Above the table are hanging lights. These, like many of their hanging lights, presented a bit of a challenge because of the extra-high ceilings. Lighting comes with many feet of chain, but nowhere near enough for these soaring ceilings. Thanks to the contractors and Williams Lighting, who supplied all of their fixtures, they worked it out.
"The place where we land the most is the den," says Janice. Carrying on the tradition of keeping furniture in the family for generations, the couple has Larry's grandparents' very first furniture from when they got married—furniture crafted in the Mission style dating back to the turn of the century. Everyone holds dear this special furniture.
According to Janice, the guest bath is one of her favorite rooms in the whole house. An enormous mirror towers up one wall where at one time there was a window. Hanging lights suspend from the ceiling. Custom cabinets feature more rescued molding. The effect here is a much larger space than it actually is.
Tapestries from Janice's days working at Heironimus hang in the couple's study. They were display props reclaimed from the discard bin. The contractor created natural lighting in this windowless room by installing windows high on the walls to capture light from the neighboring room.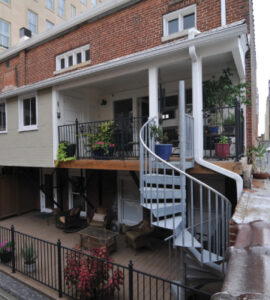 Instead of the typical walk-in closets featured in most master bedroom suites, the Davidsons have employed an unusual storage idea. A long narrow hallway is lined with closet after closet on either side—a charming effect reminiscent of a cloak room from school days of long ago. Here the wooden floors are covered with a long carpet, also salvaged from one of their retail stores. Sheer curtains over massive windows in the bedroom allow natural light to come in. A gas fireplace in the suite features a reclaimed mantel and brick.
"The whole remodeling effort was an interesting journey," says Janice. The couple wanted to create a remarkable living space while maintaining the building's integrity—which involved a lot of problem solving. The builder used a great deal of creativity to hide grates and pipes as well as find nooks and crannies to install storage areas and closets. "When I think of the process, it is amazing what they were able to do," Janice says.
The Davidsons enjoy their new lifestyle. "This place is a lot of fun, urban and a great place to entertain," says Janice. "The first party that we held here was for Larry's birthday. It was really wonderful!" She recalls the scene with 17 people, all very special friends and family, everyone involved in some activity throughout the loft. Some were playing pool, others were involved in a chess game, while another group was playing bridge. "I looked around and saw people scattered throughout the house enjoying themselves," she says. For the Davidsons, this represents exactly what they had in mind when they decided to renovate and move into a loft