Remarkable Renovation -Couple Contracts Top Craftsmen to Reinvent Home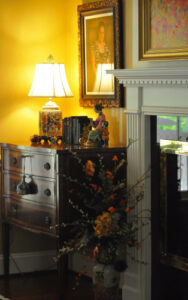 Robin and Thomas Ranger loved their old house in Grandin Court in Roanoke, but they needed more room. So the couple put into motion a plan to find something to fit their family's needs. The perfect house simply did not exist, but with a combination of determination, confidence, and knowledge about the professional help available to them, the Rangers were able to reinvent a house into the home of their dreams.
According to Robin, "We loved our old house, except each room was a little bit too small. We needed more bathrooms, and we wanted a larger area for Lauren, since she will always be with us." Lauren, the couple's daughter, has special needs they wanted to accommodate in their new space.
The Rangers decided that if they were going to buy another home, they wanted certain features. An attached garage with a door directly into the kitchen and a large lower level area for Lauren were important. The home also had to have at least two and a half baths, and a brick exterior.
Thomas explains that their old house in Grandin Court was built at a time when homes had a lot of personality and character. "We wanted a house that was similar but bigger," he says. A good-sized lot was another important element. And since Lauren loves to swim, a pool was essential.
So the couple set off to find a bigger version of their 1930s home with a pool. Unfortunately, a house with the character and quality of their old house simply did not exist.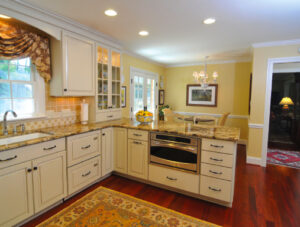 The Rangers finally found something at an open house in the Greater Deyerle Neighborhood. "From the outside, it looked like it had everything we were looking for," says Thomas. It was on a big lot, it had a brick exterior, an in-ground pool and an attached garage. "Then we went inside," he says, and they did not like what they found. They found it to be outdated.
Without the charm of their old house, Thomas was not at all interested, but Robin had the vision to see what the house could become. "We can make it look right," she said at the time. "It has everything else."
With complete confidence in Robin's decorative skills, the couple bought the house. Then the Rangers began a year-long commitment to renovate and create a home with charm and personality.
"Our original plan was to go with a turnkey contractor," says Thomas. "My wife and I had very definite ideas and wanted to hire a renovator to carry these ideas out."
After contacting three contractors, the Rangers were disappointed with the outcome. Either the contractors neglected to follow through with estimates or the price was really out of line. "We were disgruntled with our efforts to find someone," says Thomas.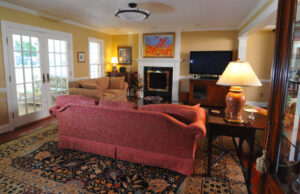 "We became general contractors by default," explains Thomas. The couple realized their amount of experience with past home projects. Most importantly, they had a list of excellent craftsmen who could complete the work necessary to create their dream home.
For most of the renovation, Thomas was in China on business, so Robin was in charge. Things went smoothly because Robin was confident in their choice of craftsmen. They understood exactly what she wanted and were willing to work with her designs and specifications on the renovation.
The renovation centered on the first floor, and included a dining room, kitchen, hall, staircase, powder room and large living room.
Throughout the downstairs, the floors were made of many patterns and materials, ranging from dark slate tile and vinyl flooring to hardwood planking. All of this was torn out and replaced with Brazilian cherry from Lumber Liquidators. To achieve a more authentic look, instead of purchasing a prefinished product, the couple chose to have hardwood floor installation experts A.M.S. Inc. install, sand and finish the floors.
The original living room area was two rooms. The front room was never used, while the back room was more like a den. It had a country look with dark wood paneling, with doors which led to a lovely screened-in porch and patio.
Ben Temple, who completed all the carpentry work in the Ranger home, opened up these rooms to make one large living space by removing a supporting wall and reinforcing it with a metal beam. The 80s-style doors to the porch were replaced with classical French doors from Skyline Door & Hardware. Old moldings and chair rails were torn out and Temple installed higher-quality replacements. Originally, an elevated fireplace jutted out into the den. The outdated fireplace was replaced with a smaller granite-faced version installed flush with the wall.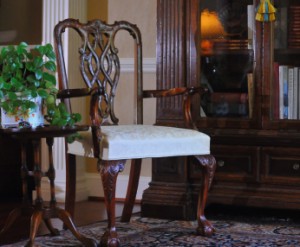 An elegant bookcase takes up almost an entire wall in the front area of the living room. Here Thomas displays his father's collection of books. On the couple's travels, they have also amassed an impressive collection of artwork. Several of the pieces displayed in their home were painted by renowned Austrian artists Christian Nesvadba and his father Gerhard. Christian Nesvadba's work is described as vibrant and bold; his florals literally explode off the canvas with color. His father Gerhard is a celebrated landscape artist known for his rural landscapes and cottage scenes. They also have several prints by Virginia artist P. Buckley Moss. The transformation here in this living space was dramatic; from two dreary rooms to a bright open space elegantly decorated with fine furnishings and quality artwork.
There was a major change in the kitchen as well. The only way to reach the patio and pool was through the den doors (now part of the living room). To provide easier access to the backyard, the Rangers knocked out two kitchen windows and replaced them with French doors leading directly outside.
Originally, there was a small alcove off the kitchen with a dropped ceiling, which the Rangers described as a "cave." By replacing the windows with the double doors, raising the ceiling and moving the wall back, the "cave" has become an integral part of the kitchen space. With this change, all of the pipes had to be rerouted because they had been hidden under the dropped ceiling. According to Thomas, their plumber, James Whisman, did a remarkable job reworking all of the pipes.
While Robin admits to having absolutely no professional decorating experience, she says, "I know what I like!" During the planning stage of this renovation, Robin drew sketches of every change. For the kitchen, she noted exactly where she wanted every counter, cabinet and appliance. With her marked determination, she achieved precisely the look they wanted.
In the kitchen, many things are designed with Lauren in mind. Robin explains that instead of installing the microwave oven above the stove, it is below the counter where Lauren can access it. "It is easy to operate and Lauren can do it herself," explains Robin.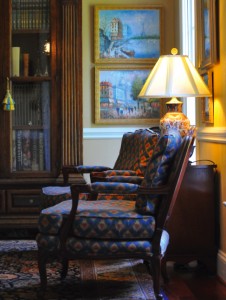 The dining room now features lovely wainscoting installed by Thomas. Online, he discovered wainscotingsolutions.com. Based on his detailed measurements, the company made wainscoting to fit into the dining room. The wallpaper features an Oriental motif, and an elegant crystal chandelier is the sole illumination. The dining room table came from Bevan Funnel through Halifax Fine Furnishings, which is known for its fine English reproductions. "My husband lusted after this dining room table for years," explains Robin. "Finally it went on sale."
Thomas points out that another goal in the renovation was to get rid of anything synthetic in the house. All of the plastic and vinyl moldings, switch plates and more were replaced. While these were small changes, they were important to the Rangers and to the overall feel of the home.
A small powder room was transformed with much less effort than the rest of the home. The vanity was painted and the hardware replaced. A one-piece sink and counter unit was installed in place of the old sink. Eye-catching Oriental red wallpaper makes this room a decorator's treasure.
Now that the first floor is complete, plans are in the works for renovating the upstairs as well as the backyard area with the pool and patio. Robin is a serious gardener and has already transformed her front gardens into a park-like setting. Plans call for replacing stone steps in the backyard leading to the pool with more expansive steps, and planting a daylily garden poolside.
The Rangers believe that by doing the contracting themselves, they were able to control exactly who did the work; they also saved a great deal of money. According to Thomas, the cost would have run at least twice as much if they had hired a general contractor.
Throughout the renovation, the couple kept in mind their goal: to make this house traditional yet practical. They wanted the look and feel of an older home, but with modern amenities. Thanks to their imagination and determination, and the help of talented professionals, the Rangers have captured the special personality of their previous home and transferred it here. Along the way they have amassed a fine collection of vendors and craftsmen who will be invaluable for future home projects.