Raise The Roof | What You Need To Know About Roof Maintenance And repair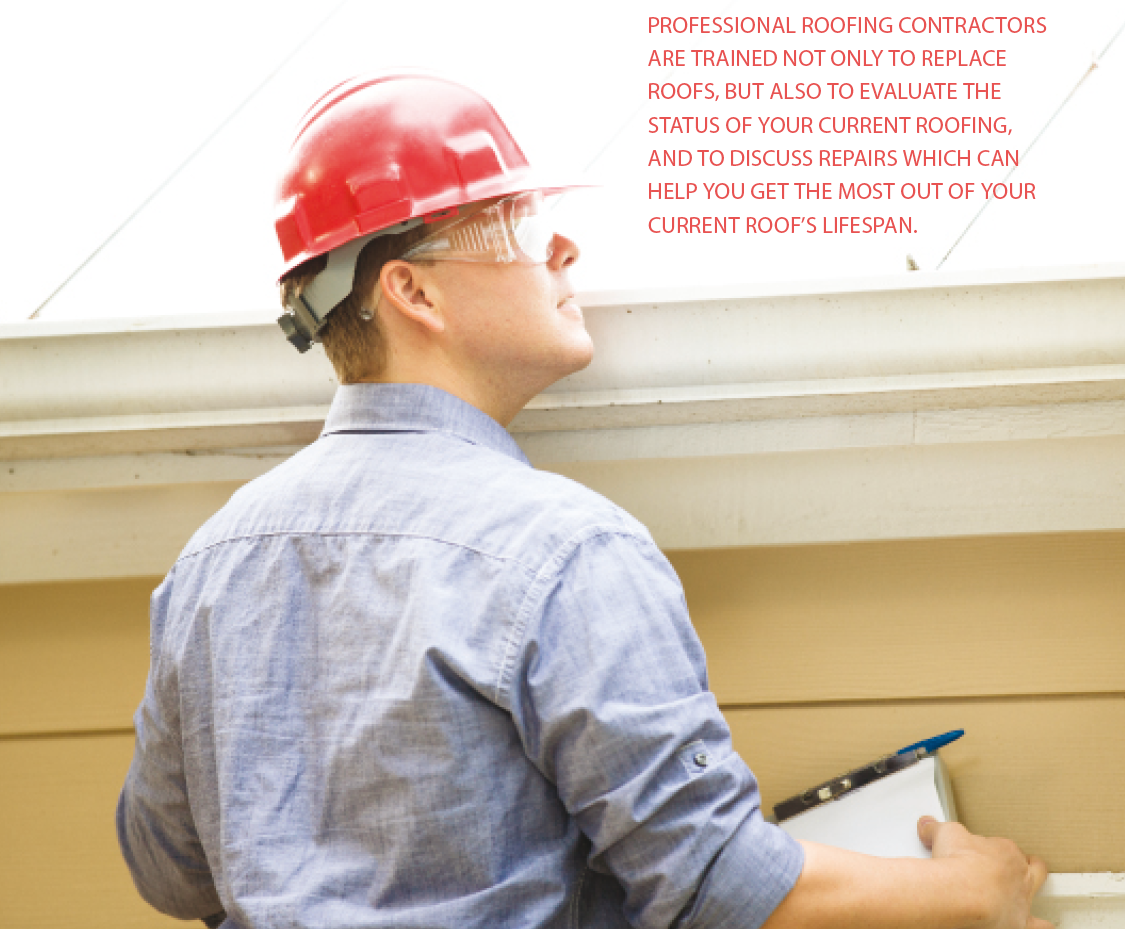 If you are like many homeowners, the last time you paid careful attention to your roof was when you bought your home and it was an item on your home inspection. Because of its location—out of sight, out of mind—many homeowners don't give a second thought to this important component of their homes until there is a problem: damage, leaks or age. And then there is a scramble to find someone to repair or replace this all-important feature. Are you seeing water damage in your attic? When you clean your gutters, are you finding an excess of pebbly granules (a common indicator that your home's shingles are breaking down)? When you look at your roof, can you see missing, cracked or curled shingles? It may be time to call a roofer.
"If a homeowner feels that their roof is an important part of their home they will be proactive," says Bob Riddick of Bob Riddick Home Services, who has been in the roofing business since 1974. "A conscientious contractor knows how to evaluate a roof's condition, because they know where to look for problems before they become an insurance issue." Whether you are looking at getting a roof "check up" or are planning to replace your roof in the near future, the process will be easier if you've done your homework.

Step One: Find the Right Roofing Contractor
With mild temperatures and dryer days, fall is the most popular season to replace roofs, before the arrival of winter weather. Heavy winds, summer's heat, and winter's ice and snow all pose threats to the health of your roof. If you haven't yet identified a professional roofing contractor, now is NOT the time to simply call the first name in the phone book or Google search. Roofing contractors, like all contractors, run the gamut from amateurs who buy boxes of shingles from big box stores, to highly trained, licensed professionals with decades of experience, professional certifications and Better Business Bureau ratings. When you are considering something as important as your roof, think about who would you rather have working on your home and standing behind the job when it is complete. 
According to Chris Good, founder and regional manager for Lynchburg Roofing, which has been in business for almost 20 years and has offices in Lynchburg and the Roanoke Valley, there are some important questions you should ask when considering a roofing contractor. "I'd definitely ask if they are licensed and insured," Good states—and not just with general liability, either. "Ask to see an insurance certificate for workers' comp. Roofing is a risky job and if they don't have the right insurance, your homeowners' policy is next in line." Good also explains that shingle manufacturers offer continuing education and updated certifications to reputable contractors and their employees, and suggests that you ask potential roofing contractors if they are "a certified installer" with their shingle supplier. "This will tell you a lot about the kind of contractor you are working with," he notes. Perhaps even more importantly, those certifications are required by the companies who manufacture and supply roofing materials to validate a warranty. Since many of the leading shingle manufacturers offer warranties in excess of 20 years, that's a warranty you want to protect.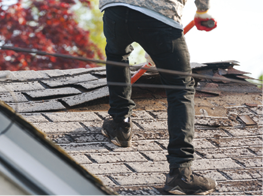 Bob Riddick echoes these sentiments. "Contractors who have been in thebusiness for many years and have consistently good recommendations attract reps from the best products, so by choosing a contractor with industry certifications, you are getting the most experienced person and the best product for your home," he says.
Step Two: Select Your Materials
When it comes to roofing your home, the most popular choices are slate, tile, metal and asphalt shingles. Your choice will have a lot to do with the architectural style and features of your home, your location, taste, and probably most importantly, your budget.
Slate and tile appear on many historic homes in the area and are also used in high-end renovations and new construction. Both are beloved for their classic look and durability—tile and slate are reputed to last well over 100 years—but the price points on these materials can be deal-breakers for many homeowners. If slate is on your wish list, be certain to discuss with your roofer the weight and thickness of the tiles he plans to use, since today's slate tiles can come from 1/8-inch thick up to 1 1/2 inches thick. Since the risk for slate and tile roofs is cracking—since we get both ends of the hot- and cold-weather spectrum—you want to have a very frank discussion about the durability of the material you choose. And while tile and slate might last a lifetime, what's underneath likely won't. Between the framed roof and the shingle is usually a layer of roofing felt—a layer of tar paper that provides your roof a waterproof membrane and a secondary line of defense against water damage if your shingle material becomes damaged. The lifespan on roofing felt ranges from 10 to 20 years, so even houses lucky enough to sport tile or slate need a roofer to do a health check every few years.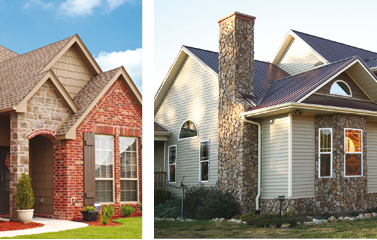 Metal roofing, once found primarily on barns and outbuildings, has made a resurgence in recent years in residential use. Better manufacturing processes have resulted in a far more durable product than the "agricultural paneling" used on barns. Owners of metal roofs are now expecting to get 40 to 45 years out of their investment. Metal won't chip, crack, or curl like other shingles, is unaffected by rot or insects, and does not require the removal of most old roofing materials. It is also reflective, meaning that the sun's energy is reflected out instead of absorbed by your roof, and ultimately your home. If installing a metal roof on your home, make sure you are getting the high-quality material meant for residential use, and have a discussion with your roofer about how the metal will be attached. A metal screw or nail driven through a metal roof will eventually corrode and allow dreaded water damage to occur. Thankfully, there are some ingeniously designed gaskets that actually seal around the screws as they are driven in to attach the roof. The life span of these gaskets is not as long as the metal roof, so you and your roofing contractor will need to devise a plan to periodically monitor the gaskets for dry rot.
In our area, Good and Riddick say that most roofing installations are done with some form of asphalt shingles. The popularity is due to a combination of price (asphalt shingles cost a fraction of what a metal roof would cost) and durability (today's asphalt shingles are warrantied as long or longer than the metal roofs). These shingles consist of a fiberglass mat that is coated with asphalt, which helps them remain somewhat flexible in extreme cold, and lends some weight to help the shingle lie flat. The shingle is then coated with a mixture of fine granules (the same ones you see in your gutters when your roof is nearing the end of its life). These granules are a mixture of minerals, ceramics and limestone which give the asphalt shingle its color variation and provide some U/V protection. Today's asphalt shingles are true engineering feats; they offer better protection from wind and water, can be made to look like wood, tile, or slate, are easy to install, repair and replace, and are the most affordable choice.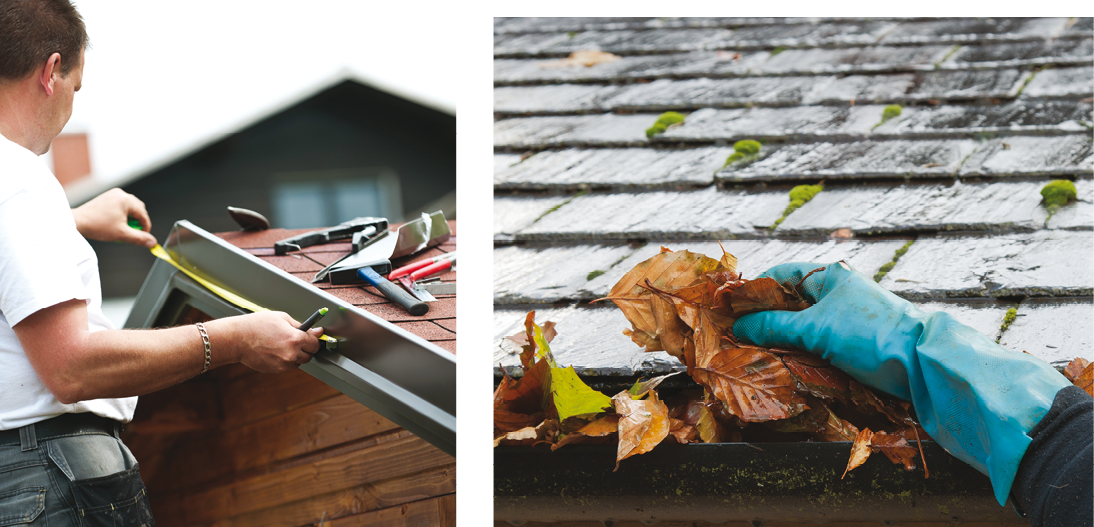 Step Three: Monitor and Maintain
Your roof is an investment. If you don't have a solid "roof over your head," the structure below it is also at risk. So what should you do to protect this investment?  First of all, monitor your roof. "A roof isn't like a light bulb," cautions Good, meaning it's not fine one moment, then burned out the next. "A roof will give you signs it is nearing the end of its life, and it's a good idea to pay attention." You can inspect it yourself: Look for missing, cracked, or curled shingles, or rust penetration in your metal. Keep your gutters clean and inspect them for the telltale signs of "grit," the outer layer asphalt shingles start to shed as they age, and when in doubt, call in a professional.
What about the stains that we often see on many asphalt shingle roofs? "This is fungus feeding on your shingles," explains Riddick. The limestone in the granular mix that coats the shingle attracts certain microbes. He cautions homeowners to resist the temptation to power wash, however. "Do not let a power washer on your roof! This will remove the protective granules." He recommends a soft wash with a mild chemical solution specifically formulated to kill the fungus that stains the roof. "Remove the microbes feeding on your roof, and you'll get a longer life out of it," says Riddick.
Roofing contractors are not only there to install new roofs, but they will also help you evaluate the health and age of your current roof, will make recommendations on how to get more time out of your roof, and help you come up with a maintenance plan that will prolong the life of this valuable investment.