Project Renovation: Legendary Building Transformed for Family Life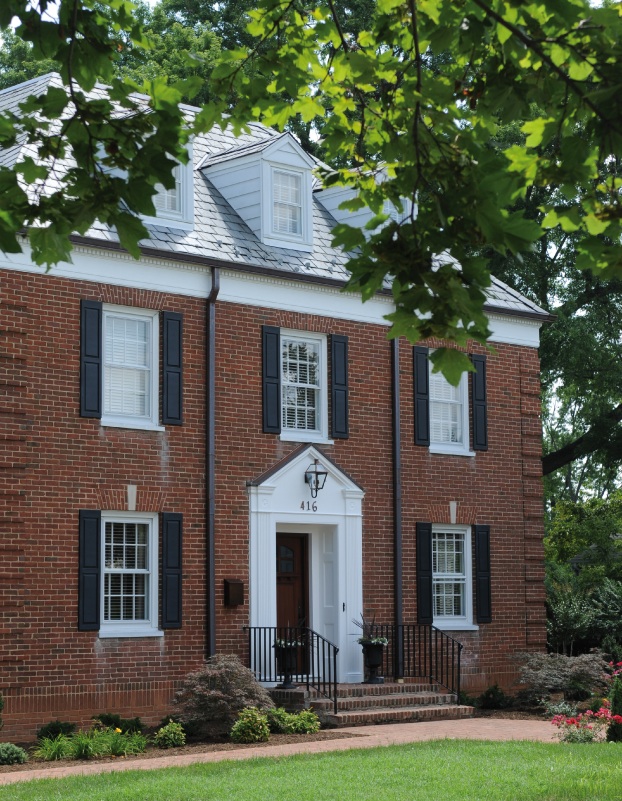 Needing more space for their family but wanting to stay in town, Stacey and Zach Owen house-hunted for several years before they discovered "Farmington." What was once an apartment building in downtown Salem is now a completely renovated home for this family of four—a beautiful, comfortable place to gather family and friends.
Farmington was built in the 1940s as an apartment house to help fill the housing need after World War II. A Georgian Colonial typical of that era, the house has three floors plus a full basement. In the rear of the building are several garage bays where, once upon a time, the landlord and owner stored his collection of antique automobiles.
Locals say that the name "Farmington" referred to the renowned Farmington Country Club in Charlottesville. Because of a resemblance to this historic country club, the original owners decided to borrow the name. According to Stacey, a framed photo of the country club came with the house, and is still displayed today in the Owens' media room.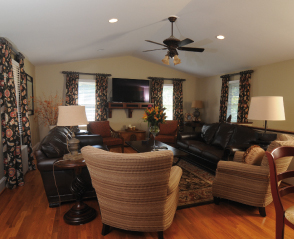 Before the Owens' renovation, each of the six apartments in Farmington had a single bedroom, a small bath, a sitting room and a kitchenette. With its proximity to downtown and nearby Roanoke College, it was a popular rental for students and singles. "What is amazing about this house is that people in town remember their mothers, their grandmothers, all living in this house," says Stacey. "In fact, my brother's friends, as college students, lived here as well. The house has lots of history."
The location was perfect for the Owens. Both Stacey and Zach grew up in the area, and their extended family is here as well. "This is where we call home," says Stacey.
Previously the Owens lived around the corner, so they are very familiar with the street. "The whole area is charming," says Stacey. The location of the Owens' new house is within walking distance of the post office, a small grocery store, and shops and restaurants, all offering the benefits of downtown life.
The task of converting a six-unit apartment building into a home suitable for a family of four was daunting. However, Stacey had a vision for the house. "I am the type of person who loves a challenge. If someone says, 'You can't do that,' then look out!" says Stacey. Other couples had considered taking it on, but eventually backed out. When Stacey walked into the house, she knew that she could make it into the home of her dreams.
The approach from the road welcomes guests with a brick-lined walkway leading to a small front porch. A pair of urns, overflowing with blossoms, graces either side of the front door. Mark Tuck of Mountainside Landscaping installed the exterior shrubbery in the front yard, and planted crimson knock-out roses and a Japanese maple. Several trees were removed, but the Owens retained a stylishly shaped magnolia that adorns the front lawn.
Originally, upon entering the front door, visitors were greeted with the typical scene in an apartment building's first floor hallway. On the wall, a series of buzzers allowed visitors to ring the apartment they wanted to visit. According to Stacey, her children voted to keep the buzzers, but they were overruled! A hallway led to the various apartments on each of three floors, and the landlord lived on the basement floor.
Under the Owens' new plan, each of the individual apartments was gutted. Chimneys were removed, support beams installed,  pipes reworked and wiring redone. Disasters, including broken pipes and backed-up sewers, were part of the renovation process. Despite all the calamities, they forged on, and today the Owens have a lovely home, using every bit of living space on all four levels.
Before the renovation, Stacey had a list of must-haves. "There were certain things that I wanted—a large kitchen, a walk-in shower, and the kids to have their dream bedrooms," says Stacey. J L Hough Architectural Design is responsible for the well-designed layout of the house. And according to Stacey, her husband also thought of things that she never even considered. "Zach had a vision for many of these rooms," she says.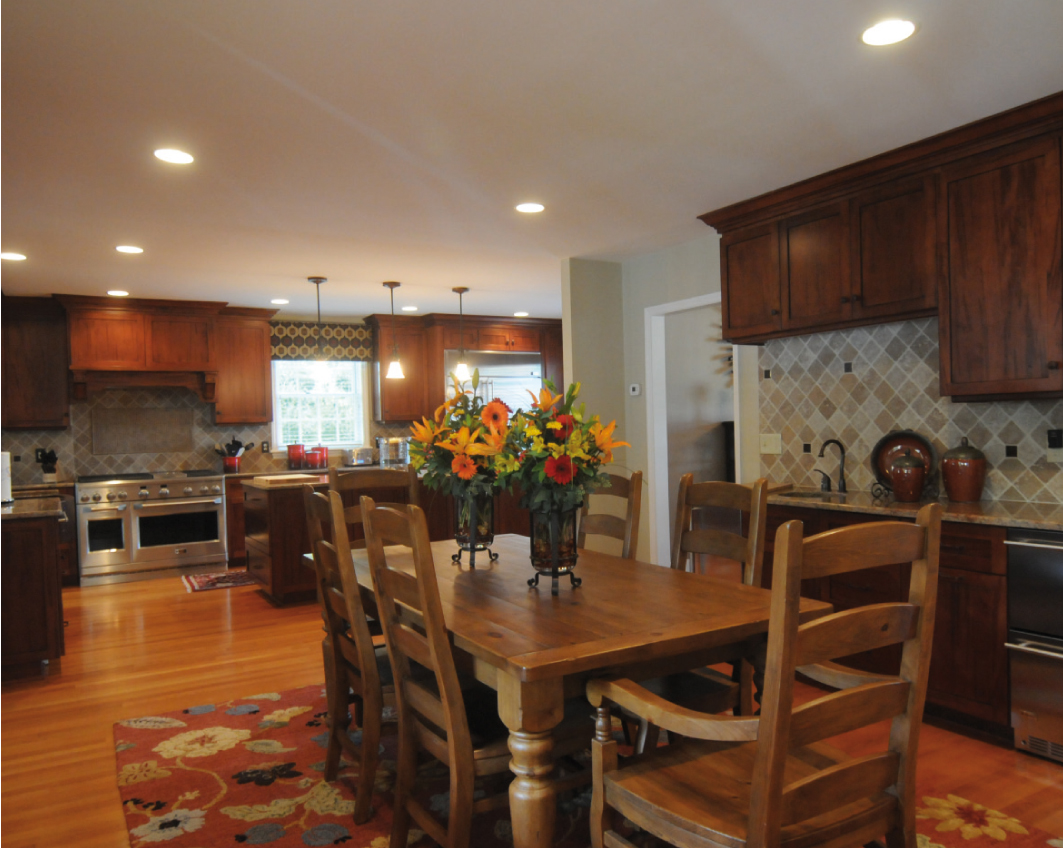 Stacey designed the kitchen, which is literally the heart of this home. The large room has plenty of space for a big table perfect for family dinners. Liberty Cabinets built the kitchen using wormy maple, and the room features lots of counter space, including a bar area where the children can sit on high stools to eat breakfast and work on the computer. A hammered copper farm sink is set in a contrasting granite countertop. The abundance of storage space and deep shelving is a dream for anyone managing a busy, active family.
The original owners added a large room toward the back of the house. The Owens opened it up so now it flows directly into the kitchen. It has become an inviting family room with a multitude of chairs and couches awaiting family and friends. A large-screen television makes this room an ideal spot to watch sporting events and movies for all. According to Stacey, during the day they all do their own thing, but at night everyone comes together here in this room.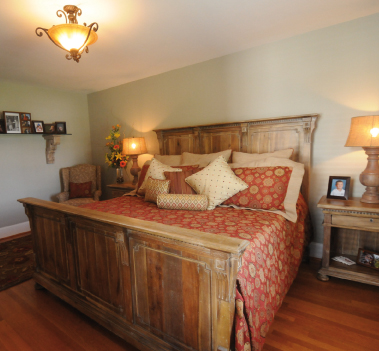 The first-floor master bedroom features a comfortable sleeping area, two enormous closets and a large bath. A focal point in the bath is the shower floor; instead of tile, the floor is covered with pebbles. An old claw-foot bathtub sits in one corner. Keeping with Stacey's contemporary style, the claw feet have been replaced with pieces of timber rescued from Black Dog Salvage. Installed in the granite counter tops are matching copper bowl sinks. "We weren't sure how the bathroom would turn out. It was quite a journey," says Stacey, referring to the placement of the fixtures. But the final product is exactly what the couple wanted.

The powder room features what Stacey calls her "conversation piece." Atop the granite counter sits a large round rock that is hollowed out to form a round bowl with a highly polished inner surface, which they found at Ferguson Bath, Kitchen & Lighting. "I love unusual things. They are good for conversation!" says Stacey.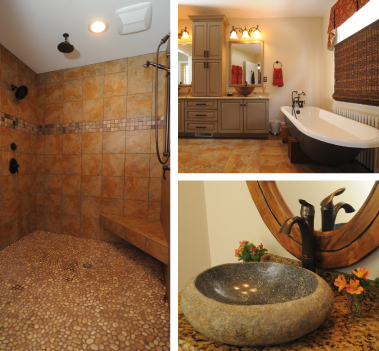 There are several benefits to refurbishing an older home. According to Stacey, their home is built rock solid, with its brick exterior and slate roof. And of course there are the floors—a great feature in many older homes. However, the renovation left gaps in the floors downstairs. Rather than replace them with new floor boards that might stick out like a sore thumb, Bob Evans of Classic Floors removed the wooden flooring from an upstairs bedroom and pieced it in downstairs. Consequently, a new floor was installed in that bedroom, and all the floors on the first level match beautifully.

On the second level are the children's suites. Stacey wanted a place for the children to play with their friends and do their own thing. Using the original apartment layout, she designed bedroom suites for both of her children, which each include a sitting and play room, a bedroom and a full bath. The suites complement each child's personality. At first Isabella and Rex were upset about moving, but when they were given the opportunity to help decorate, they became very enthusiastic about the whole project.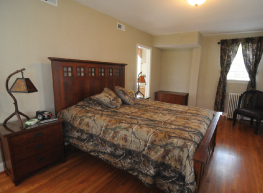 Isabella is a budding artist. A drawing table, perfect for working on her next artistic endeavor, sits near a window in her sitting room. A couch and chairs complete the area. Her bedroom is pink and full of polka dots. A charming chandelier with pink and clear crystal prisms lights up the room.
If Isabella's suite is all things girly, then Rex's room, featuring deer heads and animal pelts, seems to be the exact opposite. Though he is still quite young, Rex dreams of hunting one day with his grandfather. Most of his décor comes from Cabelas, the hunting and sporting specialists.
In addition to providing design input, each child also designed a painting for his or her room. And Isabella's room features some of her very own artwork.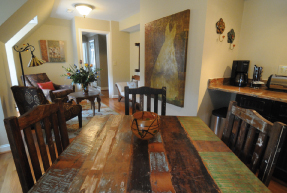 Steps lead to the third floor, to what Stacey describes as her favorite spot in the house. A small guest bedroom is decorated in shades of blue with an engaging blue-toned quilt. There is a small adjoining bath along the width of the back of the house. Here too is a long, narrow sitting area equipped with a small refrigerator, coffee maker, a multicolored wooden table and chairs plus a sitting area. The couple's office suite occupies the remaining space.
The basement houses a play area with a ping pong table and small bath, plus a media room, complete with a projection screen. The laundry room is also located here.

Outside Overhaul
One of the big challenges, according to Stacey, was reworking the area in the back of the home. The fire escape ladders were removed and the escape doors were replaced with windows. Matt Mitchell and Frank Thomas of ConCREATIVE added a covered patio and applied an acid stain to the concrete, mellowing the color to a shade of burnt umber. New copper gutters were installed, and a tin roof was added to the small addition. A retaining wall and steps lead down to the lawn. The multi-bay garage was overhauled, and now there is plenty of room for the couple's two cars and more than enough space to accommodate the children's vehicles when they come of age.
The backyard includes a grassy play area. Along the rear fence line, Isabella and her mom maintain a flower garden where they've planted 1,000 bulbs of every description, and this past spring there was a mass of blossoms. Lilies, blackberries and raspberries continued to flourish over the summer months. "Everything we had planned and wanted for the outside turned out great," says Stacey.
While this was a larger project than Stacey ever expected, she did have some help. Not far into the project, Stacey had already formulated her ideas for the interior of her home, and knew what she wanted. She describes her style as contemporary, but enjoys mixing in both traditional and whimsical elements. Armed with photographs and books showing what she loves and wanted in her new home, she called on Kathy Spark and Beth Lawhorn at their Salem store Accents on Windows to help. Using many of her ideas, they designed the window treatments and helped her decorate her new home.
When the Owens were house-hunting and came upon Farmington, Stacey thought, "This is a huge undertaking!" Yet it ended up exactly as they hoped. It is perfect for the Owens' lifestyle, with more than enough room for their children to play, study and grow. From a bustling apartment house to a family's home, Farmington has entered a new era in its life in downtown Salem.