Progressive Dinners- Less Stress, More Fun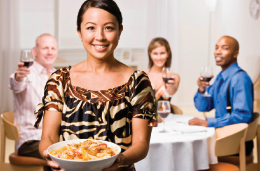 If visions of a beautifully set table, mugs of hot-buttered-rum and faces of your nearest and dearest friends are dancing through your head instead of sugar plums, it might be time to host a party! The holiday season is quickly approaching and elegant envelopes in every size and color announce the start of a season of a different kind…the season of parties. This year, you might think, it would be nice to repay all of your friends for the beautiful events you have attended over the years.
Party season needn't be as stressful as it sounds. Gathering close friends can be a fun way to celebrate the end of a wonderful year and ring in a new one with hope for good times. Admittedly, however, it does take some work. But by enlisting the help of others, you can cut your to-do list in half—and even more, if you wish. This year, consider sharing responsibilities with neighbors or friends by organizing a progressive dinner party. This festive event, which starts in one home and progresses to three or four more locations, is a fun alternative to the traditional dinner party… and a great way to enjoy the season without all the stress.
Determine who will share hosting responsibilities. Co-hosting a progressive party is a great idea for members of a club, a church group or a neighborhood. This style of party does work best when homes are in close proximity to allow walking from house to house, but it can work by driving from location to location, too. If driving is necessary, choose designated drivers ahead of time if cocktails will be served, and provide written directions on pretty cards if you're gathering with friends who may be unfamiliar with where everyone lives.


Keep your travel to a minimum. You shouldn't plan more than four stops in order to enjoy at least 45 to 60 minutes at each home. Quietly keep an eye on the clock, or your party may last well into the wee hours of the morning, and then you'll have to worry about serving breakfast, too! 
Plan your menu. Most progressive parties are dinner parties, where appetizers and cocktails are served at the first home, salad at the next, the main course at the third and dessert and after-dinner drinks at the final home. This doesn't mean that your gathering has to follow those rules, however. An evening of cocktails and appetizers is just as enjoyable as a full meal. Consider a themed menu or traditional dishes that reflect the nationality of the host at each home. Whatever the menu, a planning session is in order to firm up those little details that guarantee a successful party. 
Send invitations and don't forget the RSVP! This may sound elementary, but each host needs a final count. It's okay to call those people from whom you haven't heard in case they did not receive their invitations. Remember to limit your guest list in order to comfortably accommodate everyone if your meal is a sit-down dinner.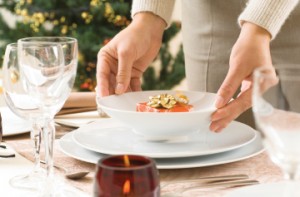 Timing is everything! A successful progressive party depends on timing. If guests linger too long at one home, it may throw the whole evening off. Meats can get overdone or even ruined. Decide how you are going to get people moving. This is especially difficult if the party is in full swing. Consider ringing a bell or setting a timer to signal time to move on. Remind everyone that traveling is part of the fun!
Holiday get-togethers are a great way to celebrate the season. With a little "progressive" planning, you'll get to celebrate, too!