Please Tread On Me | The Ottoman's Renaissance
When it comes to basic furniture pieces, the ottoman doesn't always come up right away; we have to get through the beds and tables and sofas, leaving the ottoman, undeservedly, as an afterthought. But the ottoman has grown up: No longer second-fiddle to a matching chair, the ottoman has moved beyond "footrest" (although that is still a very important function) to limitless possibilities.

From a designer's perspective, an ottoman or pouf is a simple and effective way to add color, contrast and interest to a space. An ottoman typically has more structure and heft than a pouf, but both serve similar aesthetic functions. Placing a rectangular tufted ottoman in an interesting pattern at the end of the bed is a quick way to add an unexpected element to an otherwise neutral bedroom, while adding two poufs covered in a rich velvet side-by-side in front of a twill sofa creates contrast in the living room. Most commonly, ottomans are used as an interpretation of the coffee table, often serving as the focal point of the room. And of course, adding a lower footrest with a surprising needlepoint design in front of a favorite chair is always a good idea!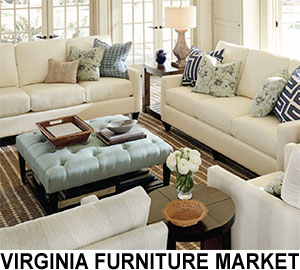 Ottomans can also be a functional choice. Today, many are literally built for storage and extra seating. Using an ottoman with a removable top to store blankets, extra throw pillows, or even kids' or dogs' toys is a great way to keep your house functioning without compromising the overall feel of the space. Consider finding an option with wheels to make clean-up time quick and painless. The storage ottoman can also work double duty as extra seating for guests—simply move to wherever you're entertaining! Moreover, the glass and Lucite coffee table trends allow ample room to store ottomans beneath the see-through tables for easy access. Adding ottomans beneath the table is also a great way to add color and texture to the room by warming up the cold, empty space beneath the coffee table and avoid wasting space, especially in smaller rooms.
FROM A DESIGNER'S PERSPECTIVE, AN OTTOMAN OR POUF IS A SIMPLE AND EFFECTIVE WAY TO ADD COLOR, CONTRAST AND INTEREST TO A SPACE.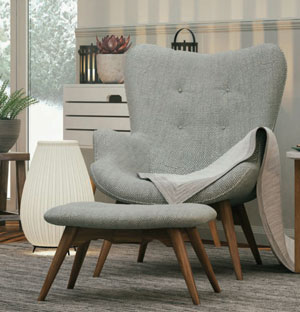 So, how do you actually choose the right ottoman for your space, style and purpose? Fortunately, the ottoman's simple structure provides a virtually infinite breadth of options. Unfortunately, that makes the decision a bit more challenging. The clear first step is measuring the area you want your ottoman to occupy and starting your search with those parameters in mind. Consider whether a rounded shape or a more squared-off shape would work best, or just which one you prefer. Then turn to questions of style. The classic tufted rectangular or circular ottoman is always a safe choice, but consider the size needed for your purpose: are you looking for a focal point, like a coffee table, or extra seating that can be easily tucked away? Then play around with the fabrics, textures and details that best complement your space.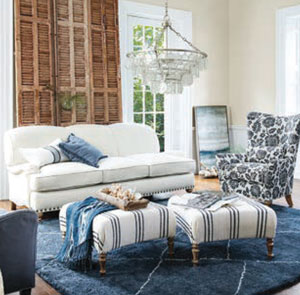 Once you establish the basics, then you can move on to the style of the piece. Like all furniture, ottomans are extremely customizable in terms of fabric, finish and overall form.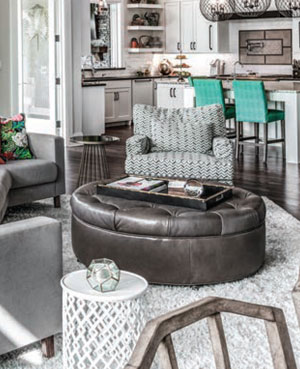 Many ottomans are outfitted with leather and nail trim for a more masculine (and durable) feel. Others are slipcovered to complement the other furniture in the room. Others have open legs, more like a table, while some are solid to conceal the items stored inside. Fortunately, every shape and style can be found in essentially any fabric and finish you could imagine, whether you're sticking with the classic look or seeking something a bit trendier. On trend right now are shag poufs: extra seating that's extra comfy and plush, like a chic grown-up beanbag with a bit more structure. When not in use, they maintain their cube or rounded shape instead of sagging, making them appear both cuddly and clean. On the other end of the spectrum, solid darkwood frames with light and natural caning enclosing the sides are everywhere, adding a boho-but-still-classic vibe to any space.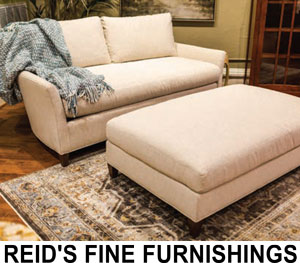 Lots of options, especially with tufted-tops, are popping up in luxe velvet—pale pinks and grays or jewel-tone teal or emerald. For storage-purposed ottomans, benches built specifically to fit items like yoga mats are designed in sleek, rounded shapes with midcentury-modern wooden frames and clad in every kind of fabric from pale beige suede to Black Watch tartan. Look for details like brass-capped legs or contrast piping as well.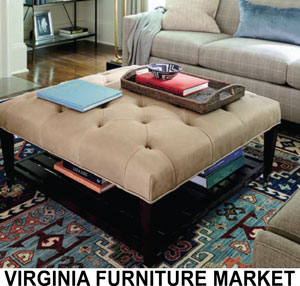 Ottomans are deceptively simple. Their traditionally uncomplicated shape, size and purpose once made them easy to forget. But now, with expanded uses and looks, this once-lowly footstool has become elevated to a focal point in any space. ✦
extra seating, footrest, leather and nail trim, luxe velvet, open legs, Ottoman, rounded shape, shag poufs, slipcovered, solid darkwood frames, squared-off shape, storage, tuftedtops