One-day Excursions to SML | Delights Awaiting the Drop-in Visitor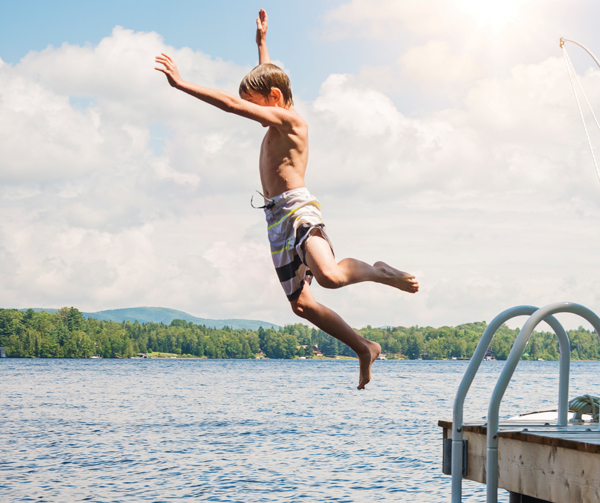 Smith Mountain Lake, about an hour's drive for most of us, offers an easy getaway. If you're thinking about a one-day summer excursion to sample what the lake has to offer, here are some ideas for making memories:
Boat rental
The best way to enjoy the lake is to get out on the water! Rent a pontoon, runabout, PWC (Personal Water Craft) or even a surfing-capable deck boat and explore the lake on your own. Some boating experience is recommended, and skippers should insist on life jackets being worn or handy for all on board. Take a lake map and cellphone since newcomers can easily get temporarily disoriented. If in need of assistance, call Bedford County Sheriff Dispatch (540-586-7827) or Sea Tow (540-719- 5555). Be alert to weather changes and seek shelter at a dock if storms come up. There are a myriad of rental agencies listed at visitsmithmountainlake.com, but here are some companies to check into:
Bridgewater Marina Boat Rentals (540-721-1639) has five locations around SML. SML Boat Rental at Mitchell's Point Marina (540-484-3980); Captain's Quarters (540-721-1175); Magnum Point (540-576-4486); Gills Creek Marina (540-721- 2451); Parrot Cove (540-721-5363); and Halesford Harbour Boat Rentals (540-238-5606).
Guided cruise
If you'd like someone else to do the steering, WhyKnotBoatSML will custom tailor a half or full day on the water. Sight-see spectacular waterfront communities and undeveloped shoreline, anchor to swim in secluded coves, get pulled on high-performance multi-person tubes, have an island picnic, or arrive in style at a waterfront eatery. Captain Austin will pick you up anywhere on the lake and take you wherever you like—just relax and enjoy! 540-692-6311, whyknotboatsml.com.
Island picnic
Picnicking on an island requires boat transportation, but it is a nifty centerpiece for your day on the water. Your boat rental staff can identify places to beach where the swimming is fine. Think ahead about what you'll need—rarely will you find picnic tables or firewood on shore. Remember that you're expected to leave your picnic site pristine, and pack out what you pack in.
Public beaches
Hit the beach at one of SML's two public options: SML State Park, Huddleston (540-297-6066) and SML Community Park, Moneta (540-483-9283). Both are great destinations for swimmers and sun-worshipers alike. Reasonable entry fees and generally uncrowded conditions make these ideal family kick-back spots. Lifeguards keep them safe and restroom facilities make it comfortable. Both parks have well-groomed hiking paths an easy walk from the beach, but you'll want to wear shoes and sunscreen if you go walking.
Paddleboard
Paddleboarding is all the rage for vacationers and residents alike. Paddlers enjoy the "walking on water" sensation and the relaxation of exploring serene coves and shoreline. Places you can rent boards (or kayaks if you prefer to be seated) include: Smith Mountain Wake (540-721-9253); Bridgewater Boat Rentals (540-721-1639); Mitchell's Point Marina (540-484-3900); State Park Boat Rental (540-297-3640); SUPs2Go(540-230-2023); Parkway Marina (540-297-4412); and Halesford Harbour Boat Rentals (540-238-5606).
Wakeboard
Learn to wakeboard and/or wakesurf. Half or full day "wake camp" sessions—aboard an awesome Malibu towboat crewed by won't-let-you-fail experts—can be booked with Smith Mountain Wake. SM Wake is also THE shop for oars, vests, lake fashions, shades and other proof-you-rocked-it sun 'n fun must-haves. 540-721-9253, smwake.com.
Wildlife cruise
SML State Park offers a wildlife cruise, where you can enjoy a tour of local coves on a handicap-accessible pontoon boat, with a knowledgeable naturalist/guide who will point out the species that call the lake home, and explain lake history. Space is limited on two-per-week cruises, so reserve ahead. Fill the rest of your day with the ample programs offered at SML State Park, and hiking/biking over 12 miles of well-groomed trails. Bring a bike or rent on site. Don't forget the swimming beach and picnic pavilion there as well. 800-933-7275, dcr.virginia.gov/stateparks/ smith-mountain-lake.

Striper fishing charter
On SML, there's going fishing… and then there is catching fish! The latter generally requires someone who knows the territory. Professional guides caught fish yesterday and will catch them again today and tomorrow. Book a trip with an experienced guide and you'll have an outing to rave about and, if you like, a cooler-full of delicious striper to take home for the freezer. Visitsmithmountainlake.com has about 20 guides listed; surf their websites and pick one that appeals—it's a splurge you won't regret.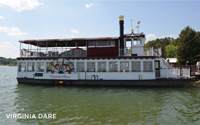 Virginia Dare
Cruise the lake, side-wheeler style. The Virginia Dare is SML's resident excursion boat, operating from the Virginia Dare Marina near R21 on the Roanoke River, and the SML airport. A variety of lunch, dinner and theme cruises are offered, and you may want to plan your visit to SML around availability of the one that fits your fancy. 540-297-7100, vadarecruises.com.
Private flight
Nothing shows off SML's spectacular twists, turns, coves and creeks like a view from 2500 feet. Take off from SML airport and see how the Blackwater and Roanoke rivers converge as they flow toward the massive Smith Mountain dam, which looks totally awesome from the air. Overfly the Peaks of Otter and other mountain tops around the famed Blue Ridge Parkway. Contact Jack at Bedford Landings B&B (540- 488-4600, bedfordlandings.com) or Matt at SML Aviation (802-233-9312, SMLaviation.com) for prices and details. Weather dependent, of course, but the pilots will work with you to make it happen. Splurge and enjoy an incredible experience!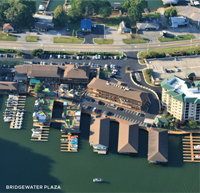 Bridgewater Plaza
Located where VA Rt. 122 crosses the Roanoke River arm of beautiful SML, the shops at Bridgewater Plaza give landlubbers a lakeside experience. A school of hungry carp will devour popcorn from the marina store. Browse clothing and gift boutiques; savor pizza and ice cream; or opt for full lunches/ dinners at Moosies, and outdoors at Mangos or Mexico Viejo Tequila Bar. Test your skills at the climbing wall, basketball hoops, video arcade or rooftop mini-golf. The sinful selection of fudge at Gifts Ahoy is "to die for" (or perhaps "as a result of" if you eat enough!).
And should your visit happen on one of our rare less-thanlake- hospitable days, here are several ways to make the visit memorable anyway…
Smith Mountain Dam Visitor Center
You'll pass through some "rural and unspoiled" terrain getting there, but seeing the inside story on how the dam was built and operates is a "gee whiz" experience for adults and children alike. Holding back one of America's earliest and quite rare "pump storage" reservoirs, SML Dam starts and stops generating electricity almost instantly, as demand for electricity in a 10-state grid ebbs and flows. Use a local map (get one free at the SML Visitor Center, Bridgewater Plaza) to keep your GPS honest. Public hours are Tuesday to Saturday, 9 a.m. to 4:30 p.m. Phone listing (540-985-2587) for the Visitor Center is voicemail only, but visit smithmtn.com or search virginia.org for general dam information.
Booker T Washington
Walk in the past at Booker T. Washington National Monument. See slave cabins, farm animals, and the very place where young Booker's family was enslaved before he set out on foot across Virginia in search of an education, before eventually founding the respected Tuskegee University. A moving experience for children and adults alike. Start with the historical video presentation; expand your walk through the grounds by exploring adjoining nature trails. This is well worth an off-season trip back to SML if you don't get here on your first visit. Open 9 a.m. to 5 p.m. (check holiday schedules), 540-721-2094.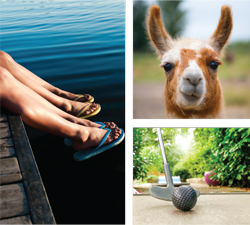 Llama farms
The pastures around SML have attracted quite a few llama farms, offering a range of intriguing places to visit, learn about and feel cuddly with these leggy yarn producers. Check hours and prices with: Alpaca by Jaca (866-384-7080); SML Farm Alpacas & Gifts (540-719-0281); and Pacabella Farm (540-890-8364).
Boat rental, Booker T. Washington National Monument, Bridgewater Plaza, Guided cruise, Island picnic, Llama farms, Paddleboard, Private flight, Public beaches, Smith Mountain Dam Visitor Center, Striper fishing charter, Virginia Dare, Wakeboard, Wildlife cruise