Off the Shelf: Books Make Beautiful Adornments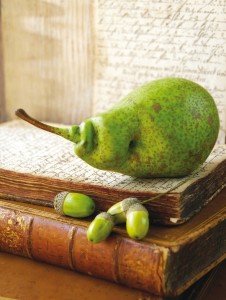 When I was a senior at Randolph-Macon Woman's College, my literature professor suggested in our last class that someday we consider joining a "book club" to foster our love of reading and lifelong learning. With snickers and sidelong glances, most of us dismissed the idea. Book club, we scoffed. Though we were indeed lovers of the written word, we couldn't imagine forming clubs and making brownies and chatting in someone's living room. Preposterous notion of the bourgeoisie.
Nearly 20 years later, and many years into my really great book club, I laugh at my naiveté. I also could not have imagined as a student that my beloved books would also be a favorite decorating staple in my home. If you love books half as much as I do, you too love the idea of incorporating precious tomes into your everyday surroundings, turning the experience of savoring a good book into something more permanent. Don't relegate good reads to a forgotten shelf; consider these tips for adorning your home with books.
Get Books Off the Shelf
The easiest way to decorate with books is to collect coffee-table books on subjects that interest you and use them throughout your home. These books make a statement with the substantial heft and gorgeous artwork and photography that make them worthy of full-time display. There are many different ways to stack and arrange them as well. Ten or so at the end of the sofa makes a surprisingly sturdy side table, while several stacked on a coffee table make a nice addition to the tablescape. Place an orchid or treasured porcelain box on top to complete the look. Stack three on a unique chair for an instant focal point, or repurpose an antique wrought-iron planter to hold coffee table books perched upright, covers facing out, to disguise an unsightly electrical outlet or neglected corner of your family room.
At one time only hardbacks were considered worthy of home décor. But paperback publishing has come a long way with trade paperbacks, more generously sized than mass market paperbacks and often with beautifully designed covers. If you have millions of these, consider ways to make use of them rather than allowing them to overtake your home or languish in a box in the basement. Use a stack to elevate a picture frame or other objet d'art on your shelves or table. Rotate your favorites in your guest room for visitors to enjoy. Or incorporate a shelf around the perimeter of the room, about 18 inches from the ceiling, and fill it with books for an eye-catching border.
If you are bored by your own musty collection of books, consider a line published by Penguin Classics that was recently given a whole new look by acclaimed designer Coralie Bickford-Smith. These beauties feature the look of stamped linen in pretty colors and interesting patterns, and include favorite titles like Pride and Prejudice, Jane Eyre, The Picture of Dorian Gray, Treasure Island and more (see penguinclassics.com and search "hardback classics").


Arranging bookshelves is a design class of its own, but for starters, consider organizing your collection by spine color and height—pale colors together, brights and blacks together, in waves of large to small to large again—to create a subtle unity. Remove book jackets for a different look, or try covering books with sturdy paper—white, grasscloth, or some other wonderfully textured paper—to create visual continuity. Another designer trick: flip the books on the shelf to face out, so that only white pages show for a modern, edgy look.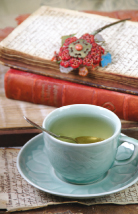 Beyond the Coffee Table
Take a tip from the hip bloggers at Young House Love (younghouselove.com), a fun Virginia couple with an eye for design. Last Halloween they blogged about a clever seasonal tablescape they created in their entryway using books with "appropriately spooky titles" and other cool Halloween items. The black-spined books included Spook by Mary Roach, Everything Bad is Good for You by Steven Johnson, and Midnight in the Garden of Good and Evil by John Berendt—you get the idea. The Christmas season also offers many specialty titles for this fun idea.
Children's books too offer opportunities for sprucing up your interiors while preserving memories. Frame a favorite book jacket, or use a set of simple gallery frames and frame a whole series. Borrow an idea from Darcy Miller, an editorial director for Martha Stewart who is noted for creating charming keepsakes out of life's memorabilia. On marthastewart.com, she demonstrates how she created a shadow box—"scrapbox" in Martha-speak—using her own childhood copy of the beloved classic Goodnight Moon with a picture of her husband reading the book to her daughter, mounted on complementary paper.


Another design opportunity comes in the humble cookbook. While some dog-eared, batter-spattered cookbooks have no business anywhere but the kitchen, some coffee-table-worthy cookbooks in your family room or even bedside will not only look good but prove useful in your meal-planning efforts. In my house, if I'm consulting a cookbook in the kitchen, it's usually too late to do much good; having cookbooks in the areas where I relax invites dream-and-list-making time, whether I'm planning a week's worth of family meals or an upcoming holiday gathering.




So go ahead—judge a book by its cover, and pick your prettiest books to decorate your spaces. Incorporating your favorite titles and subjects into your everyday décor will add style and infuse meaning into your home.

n