Mother's Day Brunch | Make Mom Feel Special with Flavorful Fare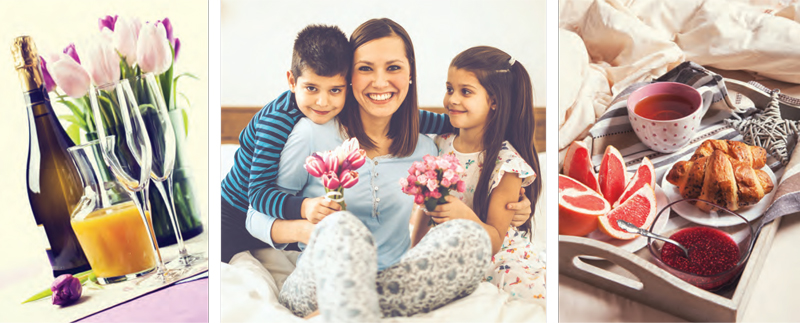 Many a mom has woken up on Mother's Day to breakfast in bed. Who can resist little faces carrying a tray of simple goodies they prepared—toast with jam, a cup of coffee, and a flower from the garden? Maybe a frozen waffle, some fresh berries, and a homemade card? We delight in these sweet moments because they speak to love and family… even if someone in the family scorched that piece of toast or put a few extra spoonfuls of sugar in the coffee. It's a moment we enjoy and a memory we cherish—and no matter how simple or how grand the Mother's Day meal is, that's the spirit of what we do for mom, to show her we care.
Though restaurants are always hopping for Mother's Day brunch, some folks prefer to avoid the crowd and treat mom to a homemade meal. Whatever the menu, thoughtful touches like a vase of fresh flowers, pretty cloth napkins, and a playlist of mom's favorite tunes will set the scene.
For libations, a pitcher of freshsqueezed orange juice or mimosas has classic appeal. Bellinis, made with champagne and peach nectar, are a luscious alternative, or you can make "baby Bellinis" with peach nectar and nonalcoholic sparkling cider. Serve drinks in stemware and, if you have children old enough to have a solid grip or fairly sturdy stemware, let them use it as well—they'll feel grownup and special.
For recipes, if you are a seasoned foodie who loves making complex gourmet recipes, I salute you (and can I come over?). If you are looking for delicious yet family-friendly fare, there are plenty of options. Susan Brown, of Suzy Q, etc., catering and events, knows a thing or two about special occasions, and has lots of ideas. For main dishes, Brown suggests quiches, casseroles and frittatas. For savory sides, Parmesan-stuffed tomatoes or Tomato Napoleons (layers of tomato and mozzarella, similar to a stacked Caprese salad) make a pretty presentation. For sweet sides, fruit compote over biscuits, spiced apples, fruit skewers with cheesecake dip, or orange blossom muffins are sure to delight. Pecan crescent twists and candied brown sugar bacon will please almost any palate.
Here, Brown has shared three of her most popular Mother's Day recipes with us. No matter what you serve or how you celebrate, taking the time to show your love and gratitude is what will make the day.
---
MAPLE BACON PANCAKE BITES
Serves 8 to 10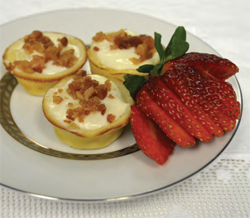 Pancake Muffin Bites
3 cups flour
¼ cup sugar
½ teaspoon salt
1 tablespoon baking powder
2 ½ cups milk
1 tablespoon white vinegar
2 teaspoons vanilla extract
2 eggs ½ stick melted butter
Icing
½ cup cream cheese, softened
1 cup confectioners sugar
¼ cup maple syrup pinch of salt
Topping
1 pound of bacon, cooked crisp and finely chopped.
Preheat oven to 425 degrees, and lightly grease 24 mini muffin cups. In a large bowl, combine flour, sugar, salt, baking powder; set aside. In a small bowl, combine milk and vinegar; set aside for one minute. Then whisk in vanilla, eggs, and melted butter. Pour wet ingredients into dry ingredients and mix well. Fill each mini muffin tin 2/3 full. Bake 9 to 12 minutes until lightly golden on top.
While muffins are baking, in a small bowl whisk, cream cheese, sugar, maple syrup and salt until smooth. Once the muffins are cool, dip tops in icing and sprinkle with diced bacon.

SPINACH AND GRUYERE QUICHE WITH HASH BROWN CRUST
Serves 8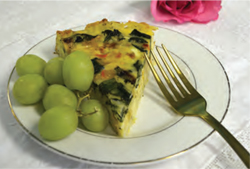 Crust
1 package of frozen shredded hashbrown potatoes
2 tablespoons melted butter
1 egg
dash of onion powder, Italian seasoning, and salt and pepper
Preheat oven to 400 degrees. Add a little olive oil to bottom and sides of springform pan. Line bottom with parchment paper and spray with nonstick cooking spray. Combine hashbrowns, melted butter, egg and spices in bowl. Press mixture into springform pan, including up the sides. Bake for 20 to 25 minutes or until hashbrowns start to crisp on edges.
Quiche
¼ cup red pepper, diced
¼ cup onion, diced
2 cloves garlic, minced
8 eggs ½ cup milk
2 cups gruyere cheese
1 16-ounce package fresh baby spinach
3 to 4 slices of bacon, diced
In a frying pan, heat oil over medium heat and sauté onions, peppers and garlic for 8 to 10 minutes, or until soft and translucent. Add spinach and cook until spinach wilts; set aside to cool. In a bowl, combine eggs, milk, cheese and bacon. Add cooled spinach mixture, stir to combine. Season with salt and pepper. Pour into hashbrown crust. Reduce oven heat to 350 degrees, bake for 45 minutes.
ORANGE BLOSSOM MINI MUFFINS
Serves 8 to 10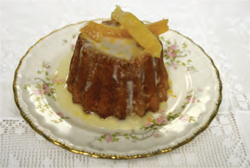 Muffins
2 cups all purpose flour
2 teaspoons baking powder
2 cups vanilla yogurt
¼ cup buttermilk
1 stick plus 4 tablespoons butter
1 cup sugar
½ teaspoon finely grated orange rind
4 eggs
Preheat oven to 350 degrees, and lightly grease 24 mini muffin cups. Sift flour, baking powder and salt; set aside. Whisk yogurt and buttermilk; set aside. Using an electric mixer, beat butter, sugar and orange rind until pale and creamy. Add eggs, one at a time, beating briefly between each addition. With the mixer on low, add 1/3 of flour, then 1/3 of yogurt mixture. Repeat with remaining mixtures, alternating until incorporated. Mix until smooth, then spoon into muffin tins.
Bake for 25 minutes or until toothpick comes out clean when inserted. Cool completely; remove from pan.
Orange Blossom Icing
5 tablespoons butter, softened
2 cups confectioners sugar, sifted
3 teaspoons orange blossom water
1 ½ tablespoons vanilla yogurt
1 ½ tablespoons water
Beat all ingredients with an electric mixer until smooth. Working with one mini muffin at a time, use a hot wet spatula, icing sides first, then top. Let dry for at least 1 hour. Garnish with candied orange peels.
---
Susan Brown was born and raised in Virginia. She has combined her art degree and love for food to create Suzy Q, etc., specializing in catering, event planning, specialty rentals, decorations and more. Find her on Facebook at facebook.com/ suzyqevents.
breakfast, brunch, Current Issue, MAPLE BACON PANCAKE BITES, Mother's Day, ORANGE BLOSSOM MINI MUFFINS, recipes, SPINACH AND GRUYERE QUICHE