More Really Is More! | Betty Lou and Dick Kienle Re-think Their Decision to Downsize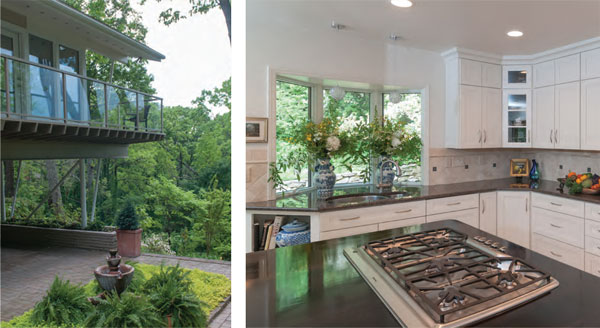 Photography by Kevin Hurley
What happens when retirees downsize… and then realize that downsizing just isn't for them? Five years ago, retirees Betty Lou and Dick Kienle decided to sell their large family home in South Roanoke. They planned to get out from under the burdens of their big house and yard and settle in a low-maintenance condo where they could gracefully age in place in the same neighborhood where they'd raised their family, surrounded by lifelong friends. According to plan, Betty Lou and Dick found a fantastic condo—one that had easy accessibility for occasional mobility issues and convenient access to all the amenities the neighborhood has to offer. The only problem? A year in, Dick realized that he didn't love living in a condo; in fact, he hated it. "He was miserable," Betty Lou recalls, "Dick is a person who loves a house and a yard. He missed having those things, and he missed the views of surrounding mountains we'd had when we lived in a house."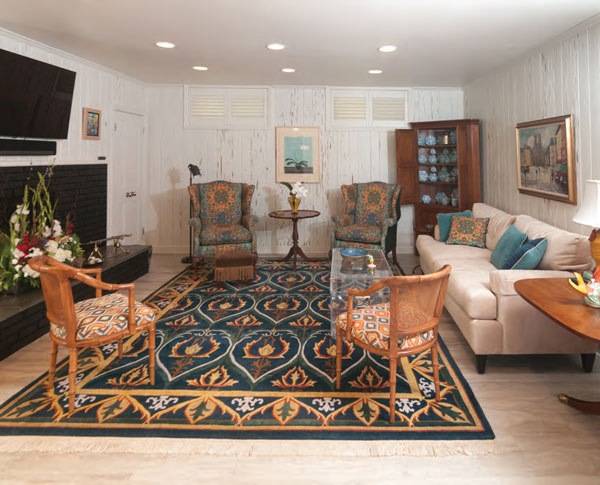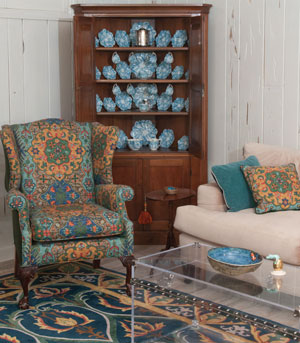 So one day three years into the Kienle's adventure in downsizing, as Betty Lou was preparing to leave for a trip, Dick casually mentioned that a stunning mid-century modern home that he'd had his eye on for years was going on the market. Did she want to go look at it with him before she left? "Well I agreed to go look," says Betty Lou, "but as we walked into the house, we realized that you entered on the ground floor but all the living quarters were upstairs." Knowing that her husband had significant mobility issues, Betty Lou waved off the house with a laugh. "I told him, 'Oh too bad Dick. We couldn't consider this house. You'd need an elevator to live here!'" The house did have panoramic mountain views and was built just up the mountain from where their original home had been. Dick was entranced, but according to Betty Lou, it was absolutely out of the question. The home was entirely unsuitable for a couple planning to age in place. Betty Lou remembers teasing Dick gently for his folly—entertaining the thought of second-floor living, at their stage of life?
Dick saw her off on her trip, and when she called the next day to let him know she'd arrived safely, he had some news of his own. Betty Lou recalls the conversation with a laugh, "Dick said to me, 'Thanks for calling. I'm glad you're safe… Oh, and by the way BL, I bought that house.' So that's how I found out!"
After many years of marriage, Betty Lou understood that Dick had been disappointed in their condo decision, despite how well suited it was to their age and stage of life. So with the experience that comes from a long, successful marriage, Betty Lou accepted the decision graciously. She then set about planning extensive changes to Dick's hillside idyll, making sure it would be suitable for them—both at their current stage of life and looking forward as they grew older.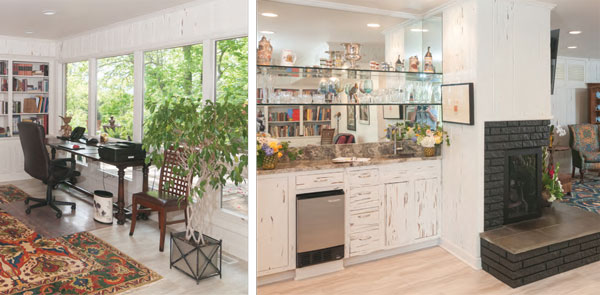 The home sits atop a steep driveway and is literally built into the mountain and surrounded by old trees. Local architect Ed Maxie, who constructed several similar mid-century homes in the area, built the house in 1954. It's hard to imagine one with a more heavenly setting. And, despite the plunging driveway, the large porte-cochere and paved parking area provide ample (and covered) space for unloading passengers and parking multiple vehicles. The surrounding yard, featured during Historic Garden Tour last month, is an ingenious design of terraced low-maintenance shrubs and trees and effortlessly conveys the feel of a woodland garden—no mowing required. A tranquil fountain, quietly bubbling over in a square of creeping jenny can be seen as guests approach the house, giving the sense of green ground cover without the maintenance of lawns.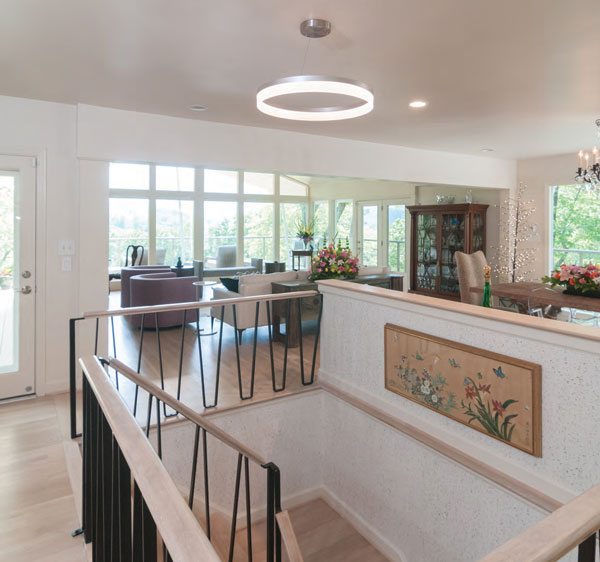 The gracious ground-floor entry opens into a comfortable sitting area with inviting upholstered chairs oriented towards a masonry fireplace, painted black to contrast with the whitewashed, "Pecky Cypress" paneling. Betty Lou explains that the renovations were extensive and touched every room of the house. "My husband has some trouble walking," Betty Lou explains, "so in doing the house, we kept in mind the potential need for wheelchair accessibility. We widened all the doorways all the way through, and we did put in that elevator." She gestures to a tidy little closet to the right of the front door that when opened, contains an ingenious personal-sized elevator. "I call it the Human Dumbwaiter," jokes Betty Lou. To install the elevator, the Keinles had to borrow space from two bedrooms, one upstairs and one downstairs, but it gives Dick easy access to both floors of his home.
Walt Derey of Pitman Construction Company was the builder tasked with helping the Kienles renovate their new home, and he recalls that retrofitting the space for an elevator shaft was critical to making the house work for Dick and Betty Lou. "The house itself was set up pretty well for an elevator shaft," recalls Walt, "and that was key. It definitely made the house exceedingly livable for a couple planning to age in place."
Passing through the entry and its adjacent sitting area, we come to the room Betty Lou calls "The Man Cave," Dick's home office. This light, airy room seems undeserving of the word "cave," as it contains a wall of floor to ceiling windows overlooking the Keinle's beautiful side yard, providing an unobstructed view of the meandering path from the back patio above to the fountain below. It's a bright and open-feeling space, with light-colored floors, a desk and workspace flanked on one side by custom built-in bookcases, and on the other by a mirror-lined bar space built into a niche in the wall.

The Kienles have ample room for guests, which is a good thing as their daughters and grandchildren visit often. In addition to the downstairs guest rooms, there are an additional pair of guest rooms upstairs, plus a master suite. The Kienles redid all the floors on both levels of the home, choosing light colored stain and tile. "You might notice that we don't have many area rugs," Betty Lou points out, "They can be a trip hazard. We also left larger than normal pass-throughs between furniture." A clear, open floor plan, with adequate clearance between furniture and easy, direct paths through rooms, are a hallmark of "Universal Design"—a design process which aims to make spaces accessible to everyone regardless of disability, age, or other factors which might limit an individual's ability to function normally. The Keinles knew that for them to successfully live in and enjoy this home for the foreseeable future, it needed to incorporate many elements of Universal Design. Betty Lou's favorite addition is without question the whole house generator they had installed prior to moving in. Having lived in this neighborhood for decades, they knew the tendency—especially up on the mountain—to lose electricity at what seems to be the slightest breeze and took steps to ensure that their house would have a reliable power supply no matter what.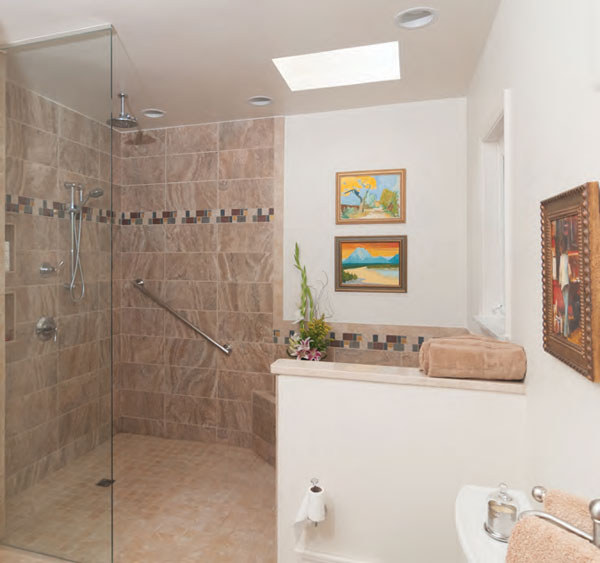 In addition to widening all the doorways, installing an elevator, and creating rooms without trip hazards and with wide, unobstructed paths, they also renovated both bathrooms to be handicapped accessible, including multiple grab rails, elevated fixtures, and accessible showers. Though neither of the Kienles uses a wheelchair, they've planned ahead in their home's design for that possibility.
Climbing the stairs towards the main living area, the eye is drawn instantly to a large, circular light fixture above. "That's Dick's," explains Betty Lou, "my husband has exquisite taste in light fixtures, and he picked that out himself." The light is reflected and magnified in a large, ornate mirror hanging at the top of the stairs—a treasured wedding gift to Betty Lou's grandparents back in 1901. She also points out the wallpaper, which at first glance appears to be white with a small pattern, but at closer inspection mimics the bark of a birch tree.

While putting in an elevator didn't pose too many problems, opening up the living room and dining room was perhaps the biggest challenge that Walt Derey and the Keinles encountered. The rooms were divided by a load-bearing wall that had once been a cabinet containing the dated HiFi system requisite in the 60s. Betty Lou wanted the space to be completely open, and this necessitated some serious engineering. "To get rid of the stereo closet, we needed something that would bear that load;" explains Walt, "we settled on a Parallam beam, an exceptionally strong engineered wood beam, that would run from exterior wall to exterior wall. It was quite a feat getting that thing in there, but it was worth it. The space looks amazing. I give a lot of credit to Betty Lou's great ideas and excellent taste. We feel lucky to be able to execute her vision."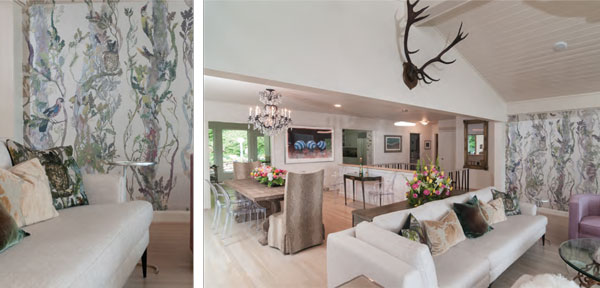 The open concept living/dining room is decorated with a mixture of contemporary pieces, such as the clear Lucite dining room chairs and the sleek, modern L-shaped sofa and drum chairs and family antiques—a china cabinet belonging to Betty Lou's mother, an antique secretary desk and a sterling tea service. Mounted above the sofa is an enormous set of elk antlers. "Oh, that?" Betty Lou laughs, gesturing at the antlers, "Those were purchased a long time ago by an old girlfriend of Dick's at an auction at the Astor Bar. Supposedly, Roosevelt shot the elk." Every piece has a story and a purpose, mementos of lives well-lived. "This house is definitely a conglomeration of all the houses we've lived in over the years," explains Betty Lou, "It's just a combination of stuff from our lives." Betty Lou credits daughter Tayloe, now a designer and gallery owner out of Jackson Hole, Wyoming with some of the design. It was a real highlight for mother and daughter to collaborate on a project like this.
The real show-stopper, however, is the panoramic view of the mountains seen from the expansive wall of west-facing windows. The house was designed and situated to take the best advantage of the stunning views and sunsets, whether viewed from the living room, dining room, or wrap-around balcony. The ceiling of the vaulted living room was redone and covered with wood, which the Kienles had painted a fresh, clean white, the far wall was papered with a whimsical forest botanical pattern, complete with insects, birds, and even an owl or two. "That wallpaper is my favorite thing in here. Isn't it wonderful?" says Betty Lou, "It makes me feel like we live in our very own treehouse."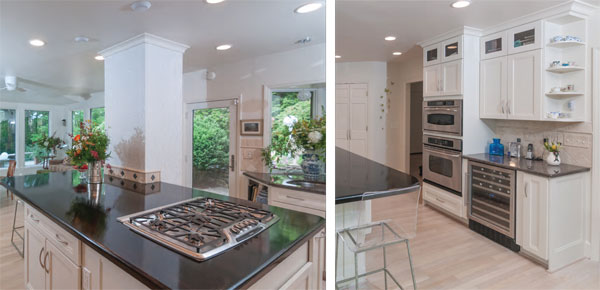 The adjoining kitchen is a large and elegant eat-in kitchen with custom cabinetry and ample granite-clad counter space, surrounding a generously-sized island. Betty Lou says that she was relieved that they didn't have to do much to the kitchen during their other renovations. "The layout of the kitchen was basically a good one—it worked," explains Betty Lou, "So all we really did was have the cabinets painted and the island re-stained." That sounds like no big deal, but those particular jobs became some of the biggest headaches of the whole renovation process according to Betty Lou. The cabinets were painted with some sort of enamel, and the new paint wouldn't adhere correctly, causing no end of frustration. "I couldn't put things away for the longest time," recalls Betty Lou, "and then, when I could, I was so afraid to do anything that would make the paint come off again." The island top was actually not granite like the surrounding counters, but rather a dark-stained wood—a challenge since there is a cooktop installed in it. Unsurprisingly, there were several scorch marks in the stain. Betty Lou had originally wanted the island to have a light colored stain but was cautioned that this would make it difficult to hide the scorches, even after sanding them down; she went ahead and agreed to the darker stain. It matches the countertops on the perimeter of the kitchen, and now that the island is stained, and sealed with multiple layers of polyurethane, she admits it was the right way to go. It looks perfect.
The size of the kitchen and the large eat-in area, complete with a small sitting area is perfect for these busy retirees. "We entertain often," explains Betty Lou, " not a lot of people at a time, but smaller groups. We have family here, obviously, but also my bridge club, and lots of friends over for drinks." The kitchen's size and the fact that it opens onto the living room/dining room makes it ideal for entertaining, and thanks to their careful renovations, the Kienles will likely be entertaining here for a long time to come.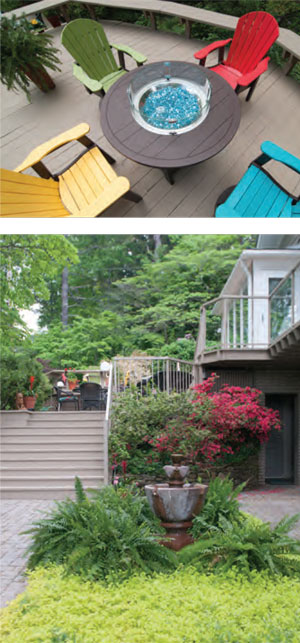 The kitchen overlooks and opens onto a sunny patio and deck area which Betty Lou has comfortably furnished with colorful, mid-century style outdoor furniture. The terraced area is perfect for evening cookouts, or entertaining people…or bears. "Yes! We do have a neighborhood bear," laughs Betty Lou, "Last summer he came right down from the neighbor's yard looking for food. Dick and I were sitting out on the balcony having a drink, and I looked out and saw him, and immediately thought that's the biggest damn dog I've ever seen! We watched him meander through our yard, down the hill, and on across the street."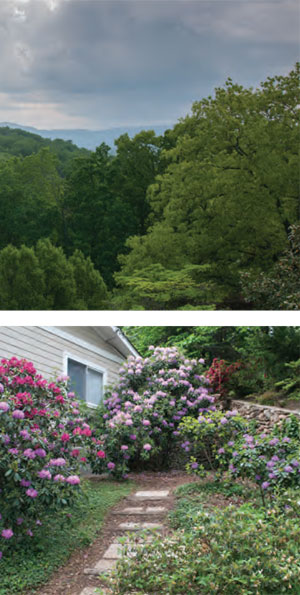 All in all, the Kienle's "treehouse" feels like a house that people enjoy themselves in, whether family, friends or even the occasional bear. It's clear that this didn't happen by accident; it is evident in the thoughtful way each room in the house has been put together. The home exudes a welcoming sort of comfort in its open spaces and inviting rooms and a lighthearted approach to decorating that both honors the past in the many souvenirs they've collected throughout their lives, and in its whimsical details such as the treehouse-themed wallpaper. "It's a fun house," says Betty Lou, "We really love it here." Dick and Betty Lou Kienle may not have been a good fit for condo-style downsizing, but together they've created something beautifully suited to them: a house surrounded by nature, that will age gracefully with them while keeping them close to the people they care about the most. ✦
Downsizing, elevator, entertaining, guests, large eat-in area, panoramic view, retirees, Showcase, Upsizing, vaulted living room