Make Your Christmas Tree Shine
When the yuletide season arrives, our quest begins for the perfectly decorated Christmas tree to spruce up our homes with holiday cheer. Trimming your family Christmas tree can be a stress-free and joyful highlight of the holiday season from which cherished memories are made. Whether fresh or faux, Christmas trees festooned with twinkling lights, colorful baubles and garlands, and festive tree toppers and skirts will set your home aglow with holiday spirit.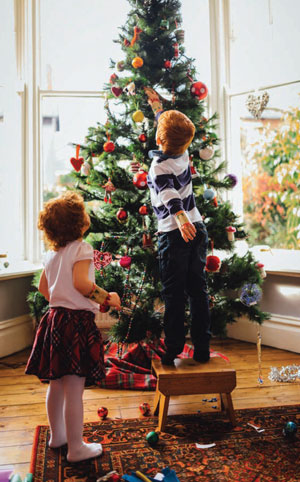 The tree tradition
In pre-Christian antiquity, many ancients revered evergreens because, even in the starkest winter, their needles promised the sun's return, spring's rebirth, and, thus, eternal life. In medieval Germany, Christians celebrated the December 24th Feast Day of Adam and Eve by performing religious plays featuring an evergreen bedecked with red apples as Eden's Tree of Paradise. In 16th-century Germany, Protestant reformer Martin Luther adorned his Tannenbaum with candles to recapture the starlit evergreens he admired on a winter evening's walk home. By the 19th century, England's Queen Victoria and Prince Albert made the Christmas tree fashionable when The London News published an engraved illustration of the royal family gathered around a fancy candle-lit and decorated evergreen with beautifully wrapped gifts beneath.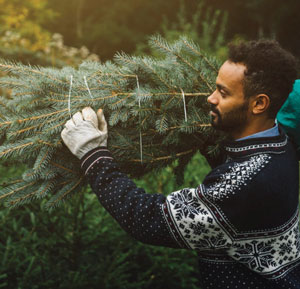 Go fresh, faux or flocked
When embarking upon your Christmas tree decorating, decide first whether to mount a fresh, faux, or flocked tree. For many, the enchantment of a fresh evergreen tree is irreplaceable: The family ritual of choosing (or cutting) a favorite, gingerly carrying it home, and decorating its scented branches evokes magical holiday memories. Fresh Christmas trees not only suffuse our homes with their fragrant scent but enrich our environment by absorbing carbon dioxide and emitting fresh oxygen. When the holiday season ends, you can add your fresh tree to your mulch pile or recycle it for other beneficial purposes.
According to The National Christmas Tree Association, 98 percent of the 25- 30 million fresh Christmas trees sold annually are raised on U.S. tree farms, which preserve vast green spaces that infuse oxygen into the atmosphere. Popular varieties are fir (Balsam, Douglas, Fraser), pine (White, Scotch, and Virginia), spruce (Colorado Blue, Norway and White) cedar, and cypress. These conifers boast hardy branches that can bear heavy ornaments and preserve well. If you opt for a potted Christmas tree with an intact root ball to replant, purchase a container-grown tree, which will thrive better than one that has been cut and repotted.
When buying a fresh Christmas tree, first measure the width and height of the space the tree will occupy, then subtract a foot for a tree topper. Test for the tree's freshness by gently shaking it to see if needles shed. Once home, sparingly hose the tree to remove any debris and hydrate the needles. Cut the tree trunk on an angle to promote its water absorption and soak it in water overnight before mounting it in a tree stand inside. Position your Christmas tree away from heat sources to avoid a fire and premature drying; initially pour warm water with tree preservative into the stand to conserve its freshness. Trees can absorb a gallon of water a day, so replenish the water supply often to ensure the trunk stays submerged in water.

Millions of Americans extol faux Christmas trees, which can come pre-lit, pre-flocked, and even pre-decorated. Artificial trees eliminate the need for watering, keep pine sap and needles from falling, and may save money since they can last several years. Made of plastic and metal, artificial trees aren't biodegradable or recyclable, likely giving fresh trees the environmental edge, yet they dominate the U.S. Christmas tree industry. According to the American Christmas Tree Association, 82 percent of the 95 million American households with Christmas trees are faux.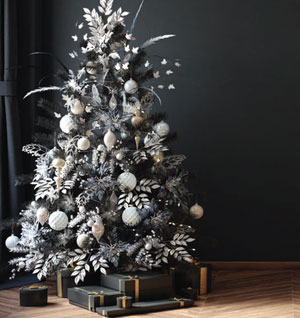 Artificial tree branches come in two types: hinged or hooked. Hinged branches remain permanently attached while hooked branches are assembled. Most consider hinged branches superior in quality and convenience. When selecting an artificial tree, measure the space it will occupy and then choose the size, shape and color which best channels the evergreen it imitates. Select a faux tree with a metal stand and center pole and plentiful branch tips, so it will stand sturdy and full.
Whether using fresh or faux trees, flocking makes dreams of a White Christmas come true with a simple spray of fluffy white powder on the tree branches. For convenience, purchase a preflocked artificial Christmas tree or use a flocking kit with a misting gun to create an authentic snowy look. Make a DIY flock by mixing soap shavings with cornstarch and warm water and flock from the top of the tree down, lightly daubing the needle tips.

Light it up
Now that you've selected your tree, illuminating it is the next step in creating a sparkling and elegant holiday centerpiece. Choose the color, shape and style of lights that embellish your holiday decor and decide whether incandescent or LED lights emit the optimal glow. Mini or icicle white lights radiate a scintillating shimmer while large multi-color bulbs produce a bold colorful impact, often with a retro feel. A handy decorating rule of thumb is to lace 100 lights for every 1 ½ feet of tree. When buying tree lighting, check to ensure all the lights work and confirm that other lights stay lit when one burns out. Many designers encircle lights from the tree's base while others start at its top. Some lay lights vertically in an "S" pattern or drape net lights for a more uniformly lit look. All emphasize the importance of planning strategically for the strand that plugs into the electric socket.
Incandescent and LED lights have distinct advantages and disadvantages. Incandescent light bulbs cost less and cast a softer glow than LED light bulbs. With light-emitting diodes rather than a filament to generate light, LED light bulbs consume less energy, last longer, and burn at a lower temperature than their incandescent cousins, but their harsh bluish-white light may be too strong for those who enjoy basking in a warm Christmas tree glow.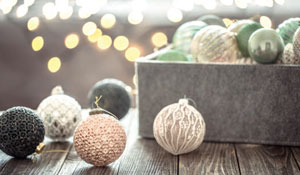 Bring on the baubles: To theme or not to theme
When trimming your Christmas tree, "to theme or not to theme" is a critical design decision. Your Christmas tree's ambience will differ depending upon the lights and decorations you use; by making intentional designing choices, you can boost your tree's style and charm. Consider adopting an overall decorative theme, which coordinates with your room's decor, showcases your family's treasured ornaments, and creates an exuberant yet harmonious palette which invites pops of unexpected colors and styles.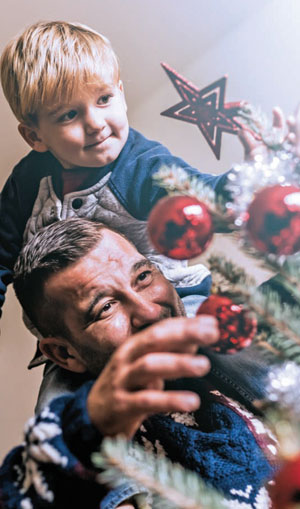 Before hanging your ornaments, festoon your garlands so your fragile ornaments won't fall and break as easily. Garland favorites range from richly textured and patterned ribbons (think a lush red velvet or pretty tartan plaid) and glistening silver beads to rustic burlap ropes and woven fresh magnolia leaves and holly berries. Weave your garlands in and out of the lit branches or cascade them vertically from the top: Both styles will infuse interest while hiding conspicuous bare spots. For a faux or flocked tree, garnish it with fresh evergreen twigs and branches to augment its fullness and allure.
You don't have to buy an entirely new set of tree ornaments every year. Rather, update your heirloom baubles with a few modern ornaments that add dazzle and style. For a vintage or traditional theme, mix homemade ornaments— painted pinecones, twig tree ornaments, gingerbread men, and embroidered keepsakes, for example—with sapphire blue or candy pink adornments for a fresh take on the traditional red, green and gold seasonal palette. Try crafting some new ornaments by hand painting plain glass balls, or using decorative techniques like decoupage or marbelizing (tutorials are easily found online). Create a winter wonderland by adding sparkling icicle lights and dazzling monochromatic silver, gold, and bronze ornaments to your snowy flocked tree. Keep it simple with a rustic theme characterized by neutral, natural ornaments like pinecones, pomegranates, magnolias, berries, burlap, feathers, and even antlers.

Festive finishing touches
Tree toppers and skirts add beguiling finishing touches and unify your tree's decorative scheme. Perched atop, brightly lit angels and stars prevail as classic tree toppers, but DIY billowy red velvet and tartan plaid bows, novelty wooden stars, and vintage-inspired multicolor glass finials are trending.
Down below, tree skirts are graceful yet useful accent pieces which integrate your decorative theme. The optimal skirt size covers the tree stand but doesn't extend beyond the longest tree branches. Choose the skirt style and material that enhances your holiday decor. Popular skirt fabrics include quilting, velvet, burlap, fleece, flannel and felt, some of which may be machineor hand-washable depending upon the skirt's decorative embellishments. Many designers craft their own crocheted or quilted tree skirts with holiday-themed "granny squares."
Let your Christmas tree shine with necklaces of sparkling light and resplendent color to bring smiles and holiday cheer to those you hold dear. When you lean into your home's decor, your trove of heirloom ornaments, and your own magical holiday memories, you'll enjoy a renewed confidence that the Christmas tree you trim will be perfect for you and your loved ones ✦
Balsam, cedar, Christmas Tree, Colorado Blue, cypress, Douglas, Eden's Tree Of Paradise, Faux Tree, fir, Flocked Tree, Fragrant Scent, Fraser, Fresh Tree, garlands, Heirloom Baubles, Led Lights, Norway And White, Pine, Scotch, Spruce, Tree Skirts, Tree Toppers, Tree Tradition, Virginia, white