Lovin' Life in the Mountains! | Historic Garden Day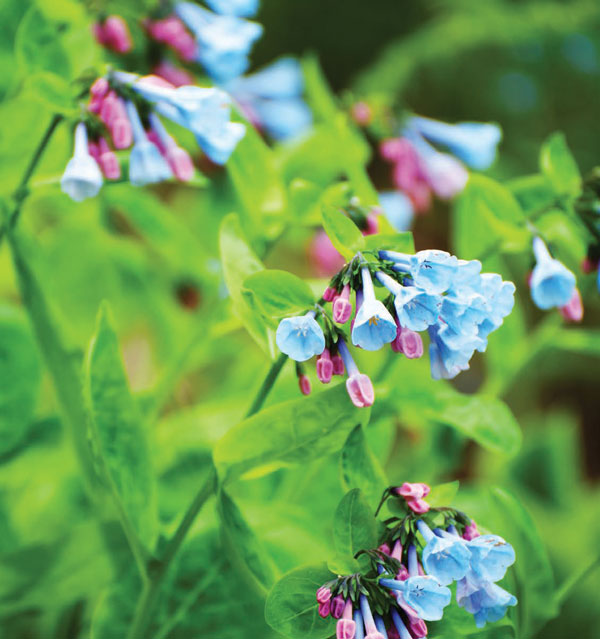 January, February, March and April showers are sure to have secured an outstanding May of flora and fauna. There is no better way to slough off the slow crawl of winter—the grey and soggy days that are the dormant season in the Blue Ridge—than to give way to the favorite week that harkens spring: Historic Garden Week in Virginia!
On Friday, May 3rd, a Kick-off Party at Black Dog Salvage, 902 13th Street SW, Roanoke, features renowned chefs providing tasty nibbles and celebrities from the DIY show, Salvage Dawgs. Proceeds benefit a local garden project at the Ronald McDonald House of SW Virginia. Limited tickets are available, $100pp.
More information about Historic Garden Day in Roanoke can be found by visiting vagardenweek.org.
Historic Garden Day in the Roanoke Valley is Saturday May 4th. This year's theme, "Lovin' Life in the Mountains," will afford tour participants a diverse array of architecture and design, as the homes featured include a 1932 cottage as well as mid-century modern and ranch-style craftsman homes. The views of the Roanoke Valley are paramount in many of the homes and as these gracious homeowners can attest, they are certainly "Lovin' Life in the Mountains!"
The Roanoke Valley Garden Club and Mill Mountain Garden Club host Historic Garden Day in Roanoke and have arranged shuttle service to the homes on tour via Roanoke's Star Line Trolley. Trolley pick-up is located at tour headquarters, South Roanoke United Methodist Church, 2330 S. Jefferson Street. Enjoy Palooza in the Park at South Roanoke United Methodist Church, 10 a.m. to 3 p.m. with food trucks and vendors. Seating is provided.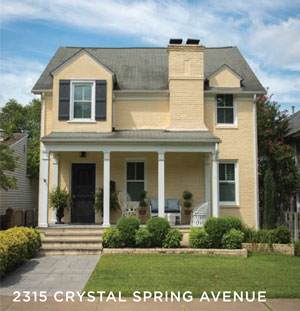 Charming Cottage on Crystal Spring, 2315 Crystal Spring Avenue
Stepping onto a front porch with lush green plants, wicker seating and colorful cushions, the stage is set for this joyful house. The Chippendale storm door opens to a home full of color and interesting collections: this three-bedroom home is a feast for the eyes. Inside this 1932 cottage, the homeowner has amassed a beautiful array of blue and white porcelain vases and bowls, striking china statues and an impressive art collection. Ted Turner, Mary Boxley Bullington, Jamie Nervo, Nene Roe, Mary Jane Burch and other local and Virginia artist's works blends seamlessly with antique furniture—both family pieces and ones collected. The thrill of the hunt can be seen as each room showcases her colorful needlepoint pillows, unique fabrics and light fixtures. The dining room features a charming red bamboo chandelier that is a gift from her mother. Off the darling stone floored back porch, a brick patio offers a cool spot to sit surrounded by a garden of hostas and hydrangeas.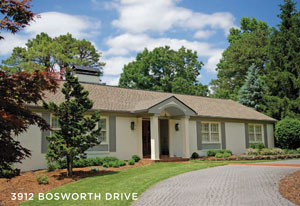 Mountainside Retreat with Southern California Flare, 3912 Bosworth Drive
The current owners of this rambling 1965 renovated ranch-style home, have made it their goal to create an atmosphere of serenity and relaxation in this mountainside retreat. This home's architectdesigned transformation features dramatic cathedral ceilings and floor to ceiling glass in the great room, an open floor plan and a newly renovated custom kitchen. The home has been decorated in restful shades of silver sage, with notable artworks by John Wiercioch, Erich Paulsen and a collection of O. Winston Link prints. A stunning 1930s French chandelier hangs in the dining room and family antiques are also on display, however, the real star of this residence is the mountain views. Expanses of glass showcase the stunning panoramas visible from every room, the generous porches, patio and the recently completed stone-hued swimming pool. The surrounding gardens reflect a casual French style and feature natural, woodland plants, stonescaping and a charming koi pond.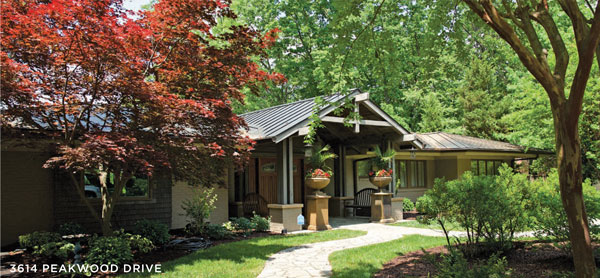 Peakwood Perch, 3614 Peakwood Drive
Gracing the top of the hillside stretch of Peakwood Drive, lies this "empty-nester" haven. A contemporary twist on a classic mid-century (1950s era) ranch style home, this bright, sun-filled home has undergone several large-scale renovations inside and out, from the gracious timber craftsman-style entrance, to the sumptuous marble master bath and custom kitchen. Bold dashes of color are sprinkled throughout this home and contemporary furnishings mingle seamlessly with traditional antiques, such as a century-old chandelier in the master bedroom and burled wood dining room table. This residence was primarily designed to showcase the owners' extensive art collection and features both local artists and art collected from a lifetime of international travel. There are multiple pieces on display in each room. Because of its elevation, the mountain views from this "nest" are panoramic and can be enjoyed from every room and the expansive back deck overlooking the Roanoke Valley all the way to Salem.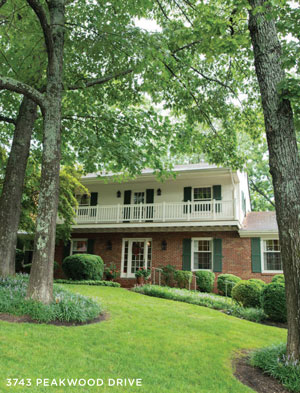 Peakwood Terrace, 3743 Peakwood Drive
Built in 1973, this French Colonial style home enjoys a blend of exceptional art and exquisite antiques throughout the home. A Parrott theme gives nod to a family name with watercolors and several statue collections of these bright birds. The formal rooms flow into an open kitchen with gorgeous taupe granite and a family room that overlooks a picturesque terraced lawn. Artists' works by Ted Turner, Gari Stephenson, Eric Fitzpatrick, Ed Bordett, Jedd Gellett, Laura Trevey, Nancy Mahone, Ernest Johnson and Ubaldo Ballerini fill every room of this fourbedroom home. Two of the landscapes in the den are by the homeowner who has an eye for color and detail. The home features many Asian pieces—vases, paintings, screens and tapestries as well as antique bamboo chairs. In the front hall, a needlepoint scroll showcases another of the homeowner's talents. The master bedroom's French doors open onto a deck. Below a beautiful brick patio offers the perfect dinner party spot as it opens to an expansive terraced lawn with a shade garden sprinkled with blooming plants nestled under trees that lead into scenic woods.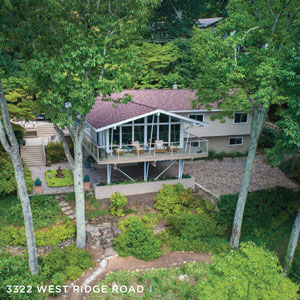 The Treehouse, 3322 West Ridge Road
Perched among treetops with a spectacular view, Architect Ed Maxey designed a showcase home of glass and stone in 1954. Beautifully restored, the fourth owners kept original details like marble windowsills and mirrored doors in this unique five-bedroom treehouse. From the custom wallpapered entry hall with a newly installed elevator to the spacious living room that opens onto a glass railed porch perfect for cocktails, this home is sighted for mountain and wildlife views—most recently a black bear sighting. Heirloom quilts, amazing mixed media art and paintings by Vera Dickerson, Mike Piggott, Gari Stephenson, Bonnie Neuhoff and Cantreau illustrate a love of collecting. A mosaic tiled mirror, a silver tea service and an Elk Rack shot by Teddy Roosevelt tender interesting stories. A cherished crystal and wrought iron chandelier hangs above a farmtable surrounded by Lucite chairs. Owl and squirrel wallpaper enhance the forest effect. The black wood goat next to her mother's china cabinet, the white pickled floors, the cozy wooded terraces off the sitting room and kitchen—every detail suits this treehouse. ✦
garden, Historic Garden Day, Lovin' Life in the Mountains, mid-century modern, Mill Mountain Garden Club, ranch-style craftsman, Roanoke's Star Line Trolley, The Roanoke Valley Garden Club