Keep your hard-surfaced floors gleaming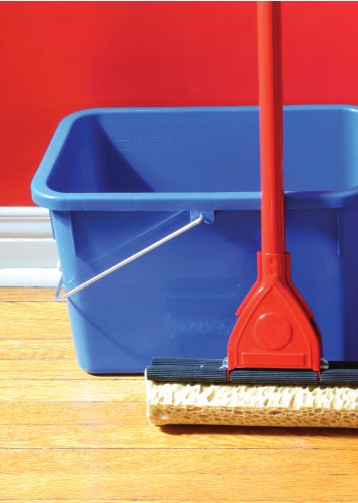 By RL Franklin
Keep Hardwoods Gleaming
Hardwood floors are a favorite floor covering for their durability, affordability and beauty. Laminate floors—a composite material compressed and hardened under high pressure—are a tough, durable and
beautiful product that nearly duplicates the look, style, and warmth of hardwood. So what's the secret to keeping these floors shiny and luxurious as opposed to dull and dingy?
Infomercials abound with the promise of products that provide instant shine and restoration to floors. While some of these products may work well on certain floors, homeowners should always be
very careful when products offer solutions which seem too easy or too good to be true. The "Swiffer" dust mop and all its like colleagues, however, probably do not fall into this category, as this special dust-cloth mopping system seems to be the most recent hardwood floor cleaning miracle.
They can be used daily, and are a quick and easy way to remove the daily microscopic grit that wreaks havoc on floors. Another great product to help keep your hardwoods clean, some experts suggest, is Orange Glo cleaner, designed to clean and shine floors in a few easy steps. Many homeowners also tout the benefits of Murphy's Oil Soap; while the product can indeed be effective, most manufacturers discourage using oil-based cleaning products on the floors they produce.
The old standby floor cleaner for many homeowners is basic vinegar and water. Suggested dilutions vary from a capful of vinegar per gallon of water, to one part vinegar per three parts water. Many homeowners recommend this as the ultimate floor-cleaning solution. Manufacturers also recommend this to clean hardwood floors, but caution that over time, this may tend to dull the finish and shine of your floor. The most important factor in hardwood floor care and maintenance is
to follow manufacturer care instructions; doing so helps ensure your warranty is valid if you experience any problems in the future.
Most flooring makers also produce their own line of floor cleaning products, which are typically merchandised near their respective flooring products in your local flooring retailer or home improvement center.
The country's leading maid service, Merry Maids, has their very own cleaner made especially for the franchise. Local Merry Maids co-owner Sharon Sprague has some helpful tips for cleaning floors:
Always vacuum before mopping.
Always mop with the grain of the wood to avoid streaks (this is especially important for laminate floors).
Be very careful putting potted plants directly on wood floors (if watergets under the pot, it can cause a permanent stain).
Wipe up spilled liquids immediately.
Put a towel under the mop bucket to prevent leaving a circle on the floor.
Other helpful hardwood tips:
Manufacturers recommend that you vacuum regularly, as often as you vacuum carpets.
Put fabric-faced guides on the legs of your furniture. They allow furniture to be moved easily without scuffing the floor.
To avoid an uneven appearance, move area rugs occasionally and drape or shade large windows.
Clip pets' nails regularly.
Traditional solid hardwood material will last a very long time if properly cared for. In order to maintain a near-perfect appearance, some floors may need refinishing. Also, floors that have become unsightly from years of wear or neglect can be restored to their original beauty. In this case, machine sanding removes the old finish and exposes new wood. Once the finish material is applied—typically polyurethane in satin, semi-gloss or highgloss sheen—your floors will look like new again.
Keep Ceramic Tile Shining
Ceramic tile manufacturers recommend these tips for the care and maintenance of their flooring products:
Use a good quality dust mop and sweep tile floors daily.
Avoid using a cleaner which contains harsh abrasives (one that is gritty or rough to the touch).
Damp mop or sponge tile weekly using a mild cleaner suitable for ceramic tile.
Some tile cleaners contain acid and their use should be limited. Read the label and test an inconspicuous area before attempting to clean the entire floor.
Grout cleaners are available for grout that has mildewed or become discolored. This commonly involves using a spray-on cleaner and grout brush to scrub the affected areas.
Always apply a grout sealer after the grout has cured or hardened to keep dirt particles and debris from discoloring or staining the grout (available at your local home center or flooring retailer). Reapply as needed.
Keep Vinyl Sparkling
Sheet vinyl or linoleum is prevalent in many homes today. These materials come in beautiful patterns and designs, are easy to care for, and provide years of satisfaction. Of course, vinyl flooring manufacturers also recommend using their products for maintenance and care. They all recommend that you vacuum or sweep first, and that you always use a mild cleaner, since harsh abrasives will dull the shine and finish. Use a very damp mop for best results.
One bit of advice holds true for all floors: Use mats outside all entrances to prevent tracking dirt inside. You'd be surprised just how much dirt a mat can trap before it even has a chance to work its way into your home.
While there are certainly many floor covering options available for today's homeowner, the care and maintenance of each is very similar. First and foremost, always follow the manufacturer's recommendations for care and maintenance. Next, establish a regular floor cleaning routine, using mild, nonabrasive cleaning products designed for your type of floor covering. You should act quickly to remove spills and stains before permanent damage occurs. Finally, periodically use a
professional cleaning company or maid service. This will not only satisfy the provisions of some warranties, but also give you that break you so richly deserve!