KEEP IT COOL Options for Shade From Summer Sun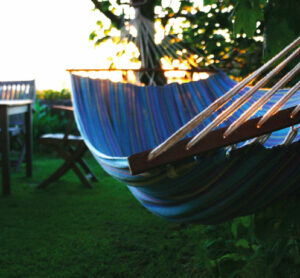 "I'll be waiting for you in the shade of the old apple tree," wrote Harry Williams in 1905. It is a song that evokes images of a peaceful setting for relaxing, enjoying the beauty of the surroundings and meeting that special someone. After all, gardens are not just for cultivating and displaying prized plantings; they also provide privacy, a place to sit and read a book, have a picnic, or enjoy a quiet conversation.
As the heat of the summer bears down upon us, however, our gardens can be uncomfortable in the blazing sun. A planned shady spot can come in mighty handy.
There are several ways to create shade. You can plant trees, or you can construct a shady area of your own using a garden structure such as a pergola, arbor, gazebo, tent or awning.
Even a large umbrella over a picnic table may do the trick. Depending upon the garden and your needs, the following options can not only provide shade but also add a visual destination to your garden.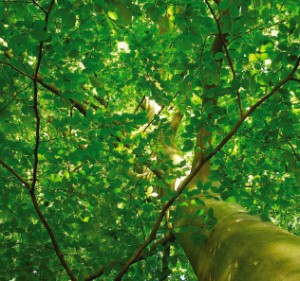 Shade Trees
In the summer, there is no doubt that a shady garden provides a special haven where a hammock or bench beckons us to come over and take a seat. Pine, hemlock and some deciduous trees including beech, maple and oak produce intense shade. However, Varsity Landscape and Grounds owner Mike Anderson points out that it is a slow process to grow a tree. It can literally take years to get the desired effect, so think ahead to how you want your garden to look in 10 years. Anderson recommends planting shade trees well in advance, but cautions that grass will not grow in very dense shade. Choose trees like the honey-locust and Cleveland pear that produce filtered shade and allow enough sunlight to promote healthy lawn growth. 
 
Always consider the foliage and form first and flowers last in your garden plans. Be sure to position permanent plantings carefully because there may be more shade than planned. Mature trees can block out the sun entirely. 
Arbors, Pergolas and Gazebos
The trend today is to create a backyard retreat. Homeowners are opting to include garden structures in their landscape design because these provide instant shade. Not only do they block the sun but they also act as an effective oasis in a garden, along a path, incorporated in a patio or deck setting, or near a pool. If your plans include a large structure, check with your county or city planning office; in some areas, a building permit is required.
Garden arbors, pergolas and gazebos are traditional features in formal gardens and can easily be adapted to smaller or less formal areas. They create special effects and make interesting accents. 
Just as a well-equipped porch can be an outdoor living area, arbors, gazebos and pergolas can provide this type of space while adding character to the design. These structures also offer a permanent presence and a way to interact with plants since they often support vines. Plant these at the base of the structure and let them climb up and cover the top. A louvered lighting effect can be attained as the vines create a soft, filtered light. Here wigelia, climbing hydrangea, wisteria and clematis do well.
An arbor is a small freestanding arched structure. Arbors work best at the beginning or end of a pathway, marking where the path meets the sidewalk, a set of steps, a doorway, or the entrance to an enclosed garden. Placed over a path, an arbor provides a shady nook on a garden walkway. It can define an entrance, frame a special view, or call attention to a garden statue. An arbor is a destination in itself, providing a shady bower for sitting or dining. 
A pergola can be an elongated passageway from one spot to another, or a pavilion-like structure with no sides and an open lattice-worked roof designed so vines can intertwine and create a natural roof. A pergola offers an excellent way to exhibit prized plantings and create shady areas. It can be attached to the side of a home and offer both shade and a sense of enclosure.
Gazebos evolved from the British aristocracy in the 1700s and came to the United States in the 19th century as ornately built open-air rooms. Gazebos tend to be much bigger structures than arbors or pergolas, providing an outdoor shelter in your garden. They come in many sizes and shapes. Variations include those with built-in benches, screens, floors, electricity, ceiling fans and even plumbing. Some elaborate gazebos even have complete kitchen areas with both preparation and serving spaces. Designed as a gathering spot, set near a pool, in a patch of woods, or up on a hill, a gazebo offers another room alternative for entertaining or relaxing. 
Choose the location of your garden structure with care. Consider the lay of the land and make it part of the whole design. According to Chris Barlow of Garden Arts Inc., the location "needs to make sense." The location should relate to its surroundings. Also consider if you want a hideaway, or something more user-friendly in a high-traffic area. Barlow suggests tucking it back in a woodsy area, or planting trees and other types of plantings around it. "It is important to place it where it can be seen from an important vantage point," he says. Also, think about the patterns of sun and wind and how they vary throughout the seasons.
Construction is very important. Make it sturdy enough to last and withstand wind, rain and snow. It must also be strong enough to bear the weight of woody vines. Building products include yellow pine (treated), cedar, vinyl and metal, and each has its merits. While vinyl is maintenance-free, some prefer the softer appearance of wood.
Cost varies considerably. Arbors run from a few hundred dollars to several thousand dollars. Pergolas begin at $1,000 and can go as high as $10,000, and gazebos start around $3,000 and go up from there, depending upon how elaborate the design.
If you are adding a structure to the garden, make sure that it is compatible with the style of the home and the landscape. For example, homeowners with more formal homes might want to incorporate a classical-style design. If wrought-iron gates and fencing surround the garden, be sure to use it in the garden structure. Consider the scale of the garden; do not let the structure overwhelm the space.
Make sure that the structure has enough height so a person can comfortably walk under it. Build it wide enough so two people can walk hand-in-hand through it. You never know when your garden may be needed for a wedding! Also, be sure that lawn equipment, such as mowers and spreaders, can fit through.
Tents and Awnings

Elegant tent-like structures and awnings are other shade-providing options. Sunnyside Awning Company's Dennis Wicks explains that awnings come in both aluminum and canvas. While aluminum is much more expensive, it lasts longer. "Canvas must be replaced every 8 to 10 years," says Wicks. His company is responsible for the large canvas awnings on the D-Day Memorial in Bedford. Such tents and awnings are also perfect options for large spaces by pools and over patios.
Wicks points out that there are benefits to canvas, however. It does not conduct heat, and comes in a myriad of colors including stripes. Wicks asks homeowners to imagine: Which is prettier to the eye—a sailboat with sails billowing, skimming over the water, or a motor boat speeding by? His company both installs and maintains awnings. While cost varies depending upon the size and design, an average tent or pavilion runs about $12 per square foot.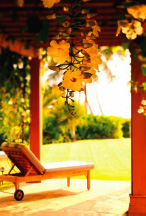 Shade for Your Pets
Just as we enjoy the comfort of a shady spot, our pets look for a cool area to rest during the summer months. A small grove of trees, or an awning, arbor or gazebo works just as well for pets as it does for us. Marilynn Foss of Valley Structures in Lynchburg points out that when homeowners are gone for the entire day, they sometimes leave their pets outside. It is important that they have a sheltered area to escape inclement weather and the summer sun. The plastic dog house, while it offers some protection from the rain and snow, does little to keep your pet cool. Plastic tends to retain both heat and moisture. Valley Structures carries wooden barn-style dog houses that start at $80. With the proper landscaping, these can add a certain charm to a garden area while providing important shade for your pet.
Whether using a grove of trees or a garden structure strategically placed in your landscape, providing a shady spot creates a whole new living space where families and their pets can spend quality time.