Jane Stogner | The Space that Fills Her Soul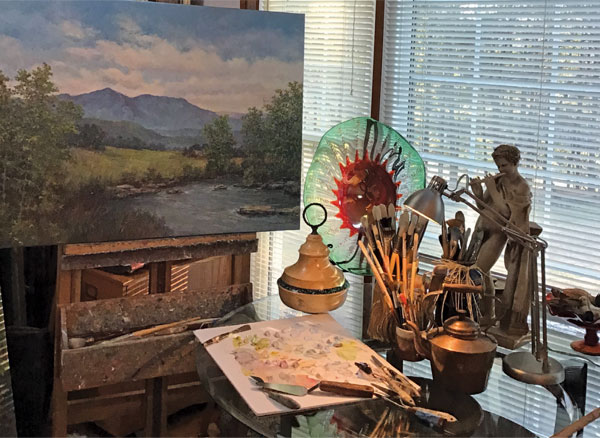 with Jane Stogner
Have you ever wished for an art studio, a creative space you could call your own? Blue Ridge artist, Jane Duncan Stogner, has such a space, filled with abundant natural light, great storage and views that go on forever.
"From my large windows and glass French doors I have a fantastic panoramic view of the Blue Ridge Parkway and the Cahas mountain range. I often use my studio as a private place to meditate and center myself. Watching the constant changing sky not only brings me piece of mind, it fills my soul. There is something magical about the colors and light of a sunrise or sunset that always makes me want to take a photograph and then paint it later. I have a large collection of sketchbooks and notebooks full with enough reference material to last three lifetimes! I am never bored; I just keep thinking my next painting will be the best and that helps keep me inspired, excited and moving forward."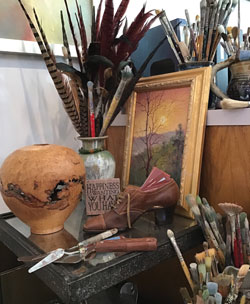 An art studio can both inspire and give you a retreat space you can enjoy. It is important to create a space with good creative energy that is relaxed and comfortable, enhancing your quality of life. This dedicated area need not be large or expensive; it can be a spare bedroom or attic space. Perhaps you can transform a garage or basement, provided natural light is present, into your studio. "My studio is almost 800 square feet. I designed certain aspects of my studio with my craft in mind, such as custom cabinets that can hold large paintings as well as extra wide, heavyduty drawers to store supplies and tubes of paint. Most of my equipment is on wheels so I am able to move things around easily. I also have a full bath and small kitchenette – I can warm up my coffee without having to leave my studio!"
Jane Duncan Stogner has been painting professionally for over forty years and knows a thing or two about an efficient, as well as inspiring, art studio. "Fresh out of college and teaching art at Ferrum College, I didn't have my own studio, so I painted at the kitchen table or wherever I could set up a temporary workspace." Later, Jane moved her studio to the basement for almost a decade. Twenty-six years ago, she designed her dream art studio: "I can tell you, it really made a positive difference in my work and enriched my life." Describing her studio, Jane mentions the natural light that floods the space from the three skylights set in the vaulted ceiling. Two Palladian windows illuminate the room with North light throughout the day. Jane often paints into the night so she found it necessary to install a special combination of warm and cool lighting that perfectly simulates daylight, thus the colors on the canvas do not change from day to night. "All this attention to light has a great bonus," Jane reveals, "In the past I often suffered during the long dark winter months with a condition called SAD (Seasonal Affective Disorder), but not anymore. With all the light my Art Studio offers it feels like a tropical vacation to my senses!"
Jane's paintings are her legacy and they document her life. "When I see an old painting, it takes me back to a time and place; I can remember the details about why I painted it and what I was trying to say." Each new painting is a challenge and she focuses her full attention to the details and is constantly making decisions. Working in her studio is pleasant and comfortable. Paintings surround her for inspiration, as well as the mountain views beyond the windows, but she also has mementos here and there that bring comfort and a touch of whimsy. There are women's shoes, sturdy, pre-WWII oxfords—some have Ration stickers on them! These take Jane back to her childhood, her growing up years, in Eastern North Carolina. Copper teakettles on display remind her of her father. Mason jars full of paintbrushes in every size and bristle length stand at the ready for Jane's next canvas.
As Jane has designed and now worked in her studio for more that a quarter century, she is able to offer a few suggestions when planning and creating a personal Art Studio. You may want to consider the following:
A sturdy worktable.
An easel on wheels so you can move it around easily.
Plentiful natural light and/or a full spectrum of lighting. It's fairly easy to find the light bulbs you will need.
Adequate storage for supplies (paper, paint, canvases and brushes). Keep in mind vertical storage options.
A sink if possible.
An area to set aside your project should you need to leave it for a few days.
Display space so you can allow the piece to dry and you can evaluate your work.
Plenty of electrical outlets.
Drop cloths or old rugs to protect the floor.
A comfortable chair—an adjustable office chair is great!
Jane also suggests adding vintage furniture to add charm and warmth. "Personal touches such as special photos or collected items that bring happy memories will enhance your studio as well as your time spent in the studio. I enjoy music to create a relaxed mindset." Jane adds. Jane mentions the creative energy she feels when she enters her studio. She immediately feels inspired and ready to do what she loves.
Whether you are new to painting, or seasoned in your fine art endeavor, having a dedicated area to fully embrace your passion is essential. Jane truly believes time spent in her studio is an investment in her wellbeing. "I would encourage others to pursue their creative passion with a home studio by using a little imagination, ingenuity and smart design. Just go do it!"
Jane's work can be seen at LinDor Gallery, 3014 First Street SW in downtown Roanoke. 540.400.8442. ✦
art studio, craft, creative space, custom cabinets, design, natural light, panoramic view, reative energy, SAD, Seasonal Affective Disorder, skylights, tubes of paint