In Pursuit Of The Perfect Chair: What to know before Shopping for Upholstered Furniture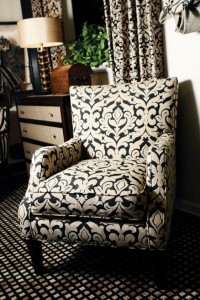 My husband and I once bought an upholstered chair on impulse. It was a floor model so the price was reduced, and the fabric—a bold print—initially appealed to me.
Within six months, I knew we'd made a mistake. The chair wasn't comfortable, and it was too small for the space. Worse, the fabric was so loud, I couldn't decorate around it. We moved the chair from room to room, hoping to find a place where it would work better. Ultimately, it came to rest in a dark corner of our unfinished basement.
Buying upholstered furniture is a big deal. You're spending a lot of money on something you'll live with for many years. No one wants to get it wrong, and yet there are so many factors to consider, it's easy to make a mistake.
When it comes to upholstered chairs—or sofas for that matter—it's wise to do your homework before you start shopping. Flip through design magazines, peruse Pinterest, and pay attention to the living rooms of the friends whose taste you admire most. We all say we want a chair that's sturdy, comfortable and attractive, but what does that mean to you?

Framing and Joinery
Finding a chair with a solid, hardwood frame is the best place to start. Hardwood comes from deciduous trees (think oak, walnut or beech) and is stronger than the wood of coniferous trees like pines and spruce. It's also more scratch resistant.
Some furniture makers rely on nine-layer plywood in places, and that can be okay, but you want to steer clear of thinner plywood, particleboard, pressed wood and fiberboard. Excessive knots in the wood can weaken the frame, as can cracks. Look for wood that has been kiln-dried, a process that removes moisture and thereby reduces the likelihood that the frame will warp in high temperatures or humidity.
In addition to learning your trees, it's a good idea to learn a thing or two about joinery. Dovetail joints, in which two notched pieces of wood, cut at an angle, interlock, make for the strongest joints. Mortise-and-tenon joints are a close second. Both techniques are more labor-intensive for furniture makers, so you'll see that reflected in the price of the chair. It's not necessarily a no-go if you find a chair you love that's joined using dowels, screws or reinforced corner blocks, but beware of anything stapled, nailed or glued. Give the chair a good shake. A well-constructed chair shouldn't wobble.
S
uspension
When it comes to a chair's suspension, "eight-way hand-tied" spring coils have long been considered the furniture industry's gold standard. Each of the seat's springs are tied together with twine in eight places and then tied to the frame. The technique is labor intensive and thus more costly, so it's become the mark of the finest furniture makers.
Many retailers argue that, with the improvement in manufacturing technology, other steel coil suspension frames are every bit as comfortable—and can last longer. A sinuous or serpentine seat system uses S-shaped springs, tied together with steel wire, to create a comfortable and sturdy seat.
The key is to be sure the springs—regardless of type—are close together and evenly spaced. Ask your retailer whether the manufacturer has done anything to reduce the noise springs can make. Spring coils can be stuffed with cotton to reduce squeaking, and wires can be coated with paper to absorb sound.
Less costly than a coil suspension is one made of webbing. Thick strips of durable fabric, often made from jute or nylon, are woven together and stretched across the chair's frame. Webbing works well for chairs with a slim profile but is generally considered to be inferior to a spring coil suspension. When fine furniture manufacturers use webbing, it's often in tandem with coils or with a tensioner that fastens the webbing to the frame.

Cushions
Today, most upholstered cushions are made from polyurethane foam. The denser the foam, the more durable the cushion. Furniture manufacturers are required to provide their foam's density rating to consumers, so you should be able to find this information easily. Ideally, you want a density rating between 1.8 and 2.5 pounds per cubic foot.
To protect the foam's integrity and make foam cushions as comfortable and durable as possible, manufacturers either wrap the foam in cotton, wool or polyester batting or encase it in a loose fiberfill. A liner, often made of muslin, keeps everything in place.
Fiberfill is most commonly made of polyester or down, though it's likely that, no matter what you choose, you'll end up with a blend. Each material has pluses and minuses. Polyester fiberfill is soft, affordable and mildew-resistant, but it has a tendency to separate over time, creating lumps that even the most ardent cushion fluffer can't fix. Down, which is the layer of fine feathers underneath a bird's exterior feathers, is lightweight, soft and a great insulator. Disadvantages are that it needs constant fluffing to maintain its loft, breaks down over time, and can trap mold and dust.

Fabric
It's important to keep in mind that the best fabric for upholstery has a high thread count and a tight weave. Be especially wary of a loose weave if you have pets or small children, as it's much easier to snag the fabric.
When it comes to natural fibers, cotton and wool blends hold up well to day-in and day-out use. Twill and damask are both tightly woven fabrics that can survive life in a busy household. Chenille and velvet tend not to pill. Linen and silk are attractive but work best in formal living rooms and other spots where upholstered furniture won't be heavily used.
Synthetic fabrics such as micro-suede and micro-velvet are designed to mimic the properties of natural materials that might otherwise be considered too impractical for upholstery. Today, these engineered materials are some of the most durable on the market.

Pay attention to the labels on the back of the fabric swatches furniture retailers and interior designers provide. They can help you make a more informed decision about your upholstery. If you're shopping at a retailer that sells fabric by the yard, you can find much of the same information on stickers at the end of each bolt.
The double rub count will help you gauge the fabric's durability. Before fabric goes to market, it's run through a machine that rubs back and forth against the weave until it disintegrates. Fabric is considered delicate duty if it survives less than 3,000 double rubs (approximately one year of use), light duty if it can take between 3,000 and 9,000 double rubs, medium duty if it can withstand 9,000 to 15,000 double rubs and heavy duty if it can sustain more than 15,000 double rubs. For residential upholstery, and particularly if the chair will be in a high-traffic area, it's a good idea to select a fabric that's survived at least 15,000 double rubs.
The label will also rate the fabric according to its fade resistance. Fade resistance is measured on a scale of 1 to 5; a fabric that earns a 1 will experience severe fading while a fabric that earns a 5 shouldn't fade much at all. As a rule, natural fibers in dark colors will fade fastest.

You'll also find information about the fabric's repeat on the swatch label. If the fabric you're considering has a pattern, the label should tell you how many inches the pattern runs before it repeats. It may also indicate that the pattern is railroaded, which means that the pattern runs horizontally across the fabric bolt. Railroaded fabric is especially useful if you're upholstering a sofa because it means fewer seams or breaks in the pattern.
Look for cleaning codes on the swatch label as well. Textile manufacturers will indicate whether the fabric can be cleaned with a water-based or solvent-based cleaner. Some fabrics can only be vacuumed, so it's important to know that up front.
The Upholstered Furniture Action Council is an industry group that sets voluntary fire safety standards and advocates for making upholstered furniture more flame resistant. Look for the gold UFAC tag on upholstery fabric, as it means the fabric meets their fire safety standards, but be cautious about committing to a fabric that's been treated with flame-retardant chemicals, as they may be toxic.
Expect to pay anywhere from $25 to $250 a yard for upholstery fabric. The more labor-intensive the weave, the more costly the fabric. Some retailers will permit you to supply your own material; others will require you choose a fabric from their inventory.

If you're supplying your own fabric, you'll need to know how much to buy. The average upholstered chair takes about 7 yards of material, but it's important to check with your upholsterer before making a purchase. The width of the fabric (54 inches is standard), the size of the pattern's repeat and extras like tufting, welting and skirting can affect the total yardage. If you buy too little fabric, a good upholsterer can sometimes make it stretch—but don't count on it. Your best bet is to consult with your upholsterer before you go shopping.
Choose the right chair with the right fabric and you'll be sitting pretty for years to come. With careful research and a little bit of luck, your chair will outlast the fabric it's upholstered in, and years from now, you'll find yourself reupholstering it.
Bold Print Fabric, Fabric Thread Count, Furniture Cushions, Furniture Suspension, Synthetic Fabrics, UFAC tag, Upholstery Fabrics