Hoop Dreams | At-Home Sports Courts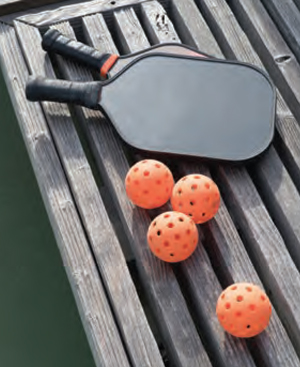 We're all spending more time at home this year due to social distancing, and you may be pondering new projects, wishing to maximize enjoyment of and recreation at your space. If you've ever dreamed of launching foul shots in your driveway, sinking a putt in your backyard or engaging in a lively bocce match with your family, it could be time to invest in an outdoor area that will pay dividends for years to come. We talked to local experts who've installed home sports courts, and they spoke on everything from what you should consider before taking on your project to how to contain the budget. "If you have an area that doesn't grow grass well, that's ripe for a sports court," says Galen Layman of Seven Oaks Landscape & Hardscape in Glade Hill.



Types of sports courts
"What we've learned is that clarifying what you want to be able to do on the court is really important in planning," says Mark Maslow, owner of Southern Landscape Group in Evington. Maslow's company has designed and installed several sports courts for homeowners. "Do you want it for one sport only, or do you want it to be multi-function?" Many of Maslow's clients are interested in a basketball court, but he encourages them to think through the possibilities, which are endless. Are you interested in pickleball? Four square? Volleyball? Many sports courts are now designed and painted to clients' specifications at a factory, made of durable plastic tiles that are snapped together on site. Color choices and various lines for different sports, like a basketball three-point line, tennis boundaries and a four square off to the side, are completely customizable. You can have basketball goals on the ends, for example, in addition to removable tennis nets and volleyball nets.
"These courts are designed to be overlaid on a foundation, like concrete," explains Maslow, who notes that the snap-together tiles have been the go-to hard court surface for the last decade or more, popular for their good drainage and durability. If you don't want a hard court in your yard, but want other recreation options, sand volleyball courts and putting greens might fit the bill.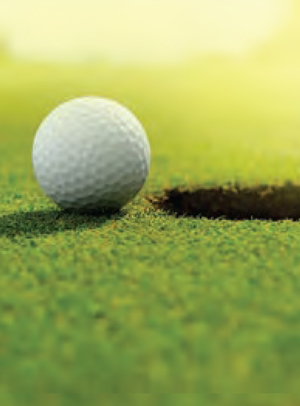 Sand volleyball feels right at a lake or riverside home, and for the avid golfer, a putting green is great for working on the game in your backyard. "You can do everything from a simple one-hole green to something more elaborate, with multiple holes and sand traps," says Maslow. A one-hole green could run approximately $10K, while something more elaborate could run much more.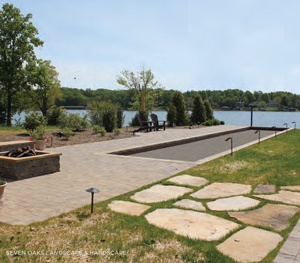 Another popular single-use court is a bocce ball court, which is a long, narrow rectangular court (at regulation size, 13 by 91 feet). Seven Oaks has installed bocce courts at both private homes and in community common areas, and finds that the game has enjoyed recent popularity. "A community had a croquet space that no one was using, so we turned it into a bocce court and now it's getting a ton of use," says Layman. Bocce is similar to bowling, but instead of pins to knock down, you start with a small ball, called a pallina. It is rolled down the court, andthe object is to roll larger balls at the pallina, gaining points by coming closest and trying to knock out the opposing player's position. Bocce ball's popularity likely stems from the ability to be enjoyed by all ages, so it could be a great option for a family with various ages and athletic abilities.
Consider your property
If you are thinking seriously of turning your backyard into recreation central, both Maslow and Layman agree that you should consult a company who has experience installing sports courts. Ask about what products they use, whether they rely on subcontractors, and what pitfalls they might run into on the job, and how any pitfalls might affect the budget and timeline.
An experienced landscaper can advise on how to best utilize your property, and how to make your dream court a reality. If you're pressed for space, you can still incorporate most or all of the elements you're looking for by scaling things down. Who says a court needs to be regulation sized? Unless you are hosting official sports tournaments, you can cheat the size without impacting enjoyment. For example, a bocce court doesn't have to be the full 13 x 91 feet, as long as you have a rectangular shape generous enough to play. Because it's custom, it can be scaled anyway you'd like. "There is no limit to variations that you can do, and you can make a smaller court if that's what's required of the property. There is no right or wrong," says Layman.
A few things to consider are lighting, fencing and seating or comfort areas. Do you anticipate that you'll gather in a big group to shoot hoops? You may want a few benches or a seating area built in nearby, or a patio off to the side with furniture. Maslow says to also think about built-in outdoor fridges, kitchens or grill spaces. Fencing may be necessary to contain balls from bouncing into woods or neighbors' yards, and if after-dark play is on your list, talk to your contractor about appropriate lighting. However, if you are in a neighborhood, be sure to run your plans by your homeowner's association, as they may have restrictions on fence height or sports courts. Be sure you have approval before you secure the work.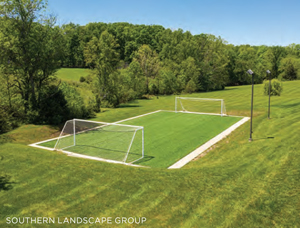 Keep within your budget
While you may dream of a backyard outfitted to the nines, you're probably working with another number: the budget. However, there are ways to control spending while also getting the functionality you want. Maslow says budget busters are sloped property and restricted access. For example, if he has to pump concrete from the street rather than move a truck to the site, it increases cost. If elaborate retaining walls have to be built to create a flat space, the budget will be significantly more than if a relatively flat spot with great access is present.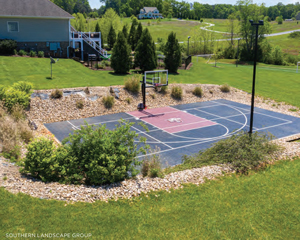 If you'd love a basketball court but your yard is sloped, consider creating an annex to your driveway and putting a hoop there. "We do lots of these," says Maslow. "It's a very economical way to do it." A high-quality in-ground basketball hoop can run approximately $1,500, and other accessories like attached lighting, pole pads and netting can complete the set-up. Again, check with your homeowner's association before installing, and if you are DIYing the hoop, have utilities markedbefore you dig to avoid hitting power or cable lines.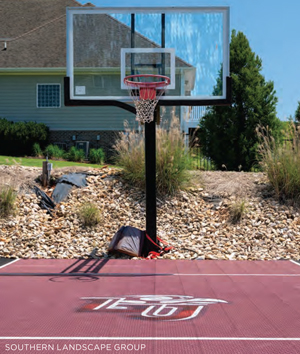 Another way to keep the budget from ballooning is to do your backyard project in phases. Maybe you can afford the sports court right now, but landscaping, lighting, fencing or patio areas have to wait until later. You can also DIY a sports court area, though some are easier than others. A bocce ball court, for example, could be a good starter project. For more confident home project gurus, sites like Versacourt.com, who manufacture the click-together tiles, provide court design software for the DIY enthusiast. Once familiar with the process, you could hire out parts of the work, and commit to doing some of it yourself to save costs.
If you are dedicated to creating a home space where you can enjoy life without leaving your driveway, there is a solution for every budget. So dream big, and get playing! ✦
At-Home Sports, basketball, bocce ball, FEATURE, Four square, Hoop Dreams, pickleball, putting green, Sand volleyball, social distancing, sports courts, Volleyball