Home for the Holidays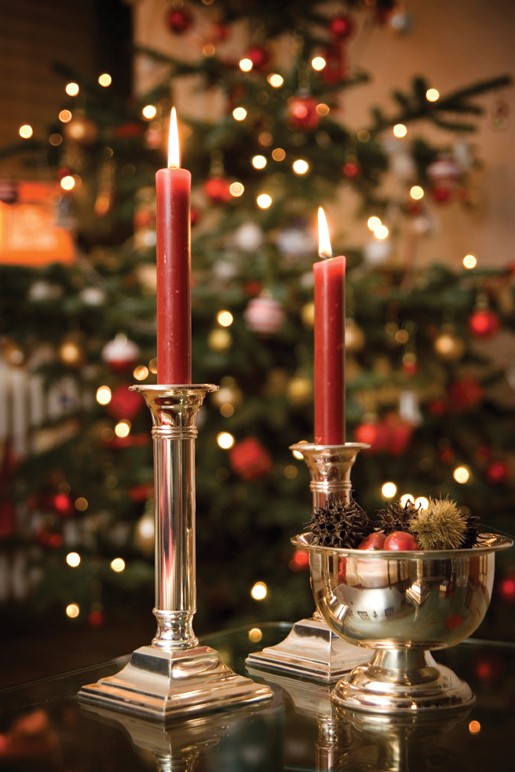 I started dating my husband during the holidays. The first time I visited his childhood home it was as if I stepped through the front door, directly into a Christmas card. His big brick house was decorated for Christmas and it was breathtaking. There was a bow on every light fixture, a stocking on every doorknob and a wreath on every door. Garland loaded with pinecones was woven around the banisters and lights glittered on the tree. Every branch had an ornament (or two) and was tied with a shiny gold bow. It was magical. It was obvious that his mother loved Christmas and took much joy and time decorating for the holiday season.
That was 1984. Excess was in—everything was over-the-top. I frequently tease my mother-in-law that her holiday mantra should be, "If it doesn't move—decorate it!" Recently, as they downsized from a huge home to a small ranch, I wondered if my in-laws would miss the Christmas decorating frenzy. They don't. In fact, the smaller space seems to have given them a fresh perspective on the whole holiday season. Now instead of throwing large elaborate parties, they have a couple of close friends over for cocktails and good conversation. They have simplified their holiday décor to include only treasured items they simply can't live without.
Certainly, times have changed since the '80s. In these times of "less is more," we are all looking to simplify but still have a warm, inviting space. You may think it's impossible to pare down without feeling like the Grinch, but with these suggestions, you can easily go from stressed to blessed.


What's Your Focus?
First, declutter every room. This means removing extra knick-knacks, accessories and baubles. You now have a clean slate from which to work. Determine what you want to emphasize in the room and move furniture around if needed. Every room has a focal point, so make it outstanding. If you have a beautiful mantel, make it shine and leave the rest of the room simple. By editing your room, the one thing you want to focus on will pop. In your dining area, set a beautiful table. Decorate the island in your kitchen and hang a stocking from the bed in your guest room. One well-placed item becomes truly special when it's not in competition with fifty other things in the room.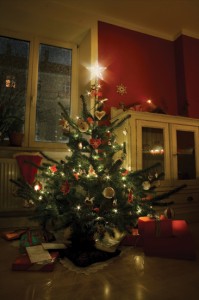 Repurpose, Reuse, Rethink
Pull out all of your packed away decorations and look at them with an editing eye. If you have items that you know you will never use again, carefully pack them up and take them to your church or local charity. Most nonprofits don't have tremendous budgets for decorating and they will put your items to good use. Now that you have purged, place items into groups, collections, colors or themes.


If you have a collection of Santas and it just wouldn't be Christmas without them, think about how you can use them in a new way. Collections make the biggest impact when placed in groups of five, but if paring down is your goal, one or two placed in each room allows each item to shine. When you have finished, resist the urge to add more—pack the rest away for next year. Color is another way to group your items. Decorations in one color make a dramatic statement. An all-white or off-white room is a welcome respite from a busy, hectic world and may just become your favorite holiday hangout. A themed room is always fun and you may decide your funky Seuss-like ornaments look great in your pink bathroom.


Think Fresh
You may not need to look further than your own backyard for seasonal inspiration. Take a walk in your neighborhood or nearby woods and bring along cutting shears and a basket. Pine cones, holly cuttings and evergreen boughs are free and beautiful when brought indoors. They may be just the thing needed to spruce up a tired wreath. Dried branches can be spray-painted and placed in outdoor planters or tablescapes for height. One year I spray painted all of my dead mums with gold paint and they became the base for my beautiful outdoor arrangements.


A trip to the grocery store can also give you some great ideas. That pile of limes in the produce section could provide inspiration for a brand new color palette. Bright yellow lemons and cranberries layered in a clear hurricane vase look modern and fresh when paired with a chunky white pillar candle. Hollow out an artichoke for a fresh candle stick or float orange slices in a shallow dish with floating candles. The possibilities are endless!


Resist Temptation
Every year, department and specialty stores trot out the new holiday color trend for the year. I am wide-eyed with wonder as I walk down Michigan Avenue in Chicago and peer at the holiday windows. The displays are extravagant and full of color. Last year the color trend was neon, and I fell in love with the bright pink feather wreaths that looked fantastic in my friend's lime green and black dining room. But at some point you have to realize that highlighter yellow reindeers just don't go with your Tuscan wallpaper. Resist the urge to buy all new ornaments for your tree when yours at home are already beautiful. A good rule of thumb is if you have to repaint your living room to coordinate with your holiday purchases, something is wrong! However, investing in one or two trendy items may add a sense of fresh whimsy to your rooms, and it won't hurt the local economy either.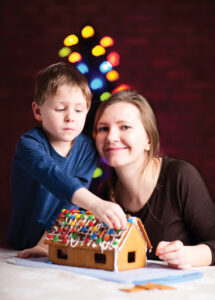 A Sense of Wonder
Wouldn't it be nice to recapture those magical memories from your childhood? Think about the moments you treasure from "Christmas Past." Chances are those memories don't include a perfectly polished silver tea service or a damask ribbon ordered from Paris that perfectly matched your mother's wingback chairs. Making the holidays special for the children in your life merely requires lots of lights on your tree and a day devoted to decorating a gingerbread house. Simply playing holiday music throughout the house or lighting the candles and reading their favorite stories will be what they remember—forever.


Try to de-stress and enjoy yourself more. As they say, "don't sweat the small stuff." That includes your holiday decorating. Once you have completed your simplified décor, stop decorating. Make it festive, but the real gift of your time and attention is what those you love most will remember in the years to come. Give the handmade ornaments a prominent place on your tree and proudly display the holiday paperweight made by a special Kindergartener. It may not look "perfect" to your guests, but it will to you and the children in your life!




Making a commitment to simplify your holiday is a big step. It may require you to rethink the way you approach the season. Going from a 12-foot tree in every room to a simpler look may take some getting used to. It's like that fashion rule of thumb, "get dressed, look in the mirror and before you leave the house, take off one accessory." By focusing your efforts on simplicity this holiday, you really can go from stressed to blessed.