Holidays in Bloom | Give the Gift of Green this Season
Fall's cool and shorter days herald the holiday tradition of decking our homes with fresh greenery and winter-blooming plants. Some favorites for seasonal displays and gifts include paperwhites, amaryllis, Christmas cactus and cyclamen. Festive presents for teachers, friends and family, these showy plants are simple to grow and maintain, but they require a little planning so that your home will sparkle and shine with resplendent Yuletide blooms.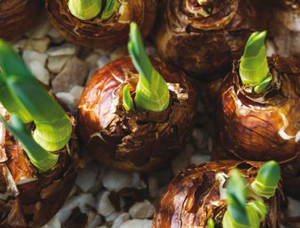 Forcing paperwhite bulbs
Forcing paperwhite bulbs is the art and science of coaxing them to bloom indoors and out of season. Indigenous to the Mediterranean, paperwhites differ from their daffodil relatives because they aren't frosthardy. They thrive indoors in potting soil, water or pebbles but languish outdoors in cold climates. The delicate, white blooms of the Ziva bulb variety—popular because they are easy growers—make outstanding centerpieces and windowsill adornments, especially when planted in impressive clusters of seven to 10 bulbs.
Care: Forcing paperwhite bulbs in small stones with constant watering and bright sunlight is an easy and effective method. Nestle the bulbs in three to four inches of pebbles in a watertight container, point side up. Water to the top of the pebbles, then set the container in a warm, sunny spot. Rotate the bulbs every couple of days to keep the stems straight as they lean to the sunlight. If the stems grow leggy, stake them with bamboo sticks and twine.
After Care: Since paperwhite bulbs bloom in three to five weeks, force them in early November for beguiling Yuletide blooms. When the flowers fade, add the bulbs to your compost pile as they won't rebloom.

Growing amaryllis bulbs
Native to the tropics of Peru and South Africa, amaryllis bulbs boast exuberant trumpet flowers in variegated, saturated colors of red, burgundy, rose, pink, salmon and apricot. The amaryllis bulb flowers in six to eight weeks, so plant it early in November for holiday blooms.
Care: The bulb contains everything the amaryllis needs to grow, once planted in a container (with drainage) half-filled with potting mix, placed in a warm, sunny spot, and watered sparingly. Amaryllis thrive in soil that is steadily warm; however, when buds appear, move the plant to indirect sunlight. Fertilize the plant with a houseplant fertilizer at each watering.
After Care: When the flowers die, cut the stem to one-inch high, water sparingly, and feed it with a houseplant fertilizer. After spring's last frost, plant the bulb or move the pot outside into indirect sunlight. Green leaves will grow, infusing energy for the next bloom. Before September's first frost, bring the bulb inside, trim its leaves, and store it in a cool, dry and dark location for three to eight weeks. Repot the bulb in fresh potting soil, water sparingly, and place it in warm, indirect sunlight for a revived bloom.
Nurturing Christmas cactus
Indigenous to the tropical rain forests of Southeastern Brazil, the Christmas cactus produces exotic flowers in red, purple, pink, orange or cream. Like other cacti and succulents, they don't require lots of care or water.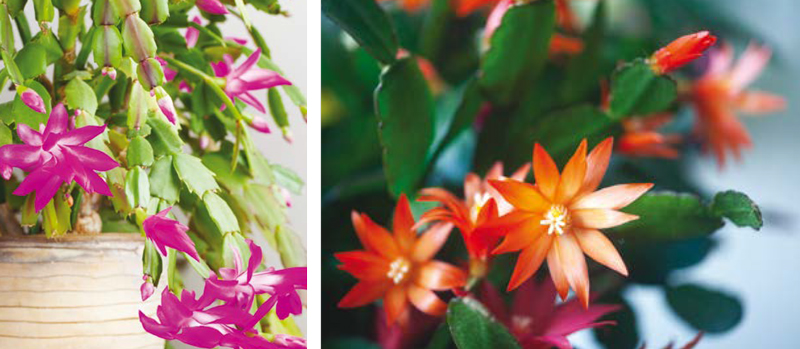 Care: Plant the Christmas cactus in a pot (with drainage) containing potting mix with sand and peat moss. Set the pot in bright, indirect sunlight and maintain a cool temperature. Keep them moist in the summer and early fall, then water only when the soil is really dry.
After Care: Christmas cactus grows yearround. When flowers fade, prune the plant to encourage branching. As long as it enjoys indirect sunlight, cool temperatures, and spare watering, the cactus should flourish with ravishing blooms.
Caring for Cyclamens
Native to the Mediterranean, cyclamens are tuberous perennials that bloom from fall through spring but lie dormant in the summer. Surging in popularity as a holiday gift, cyclamen plants (distinct from the hardy cyclamen planted outdoors) are easy to care for and bloom long-lasting, colorful flowers amidst interesting, variably patterned leaves.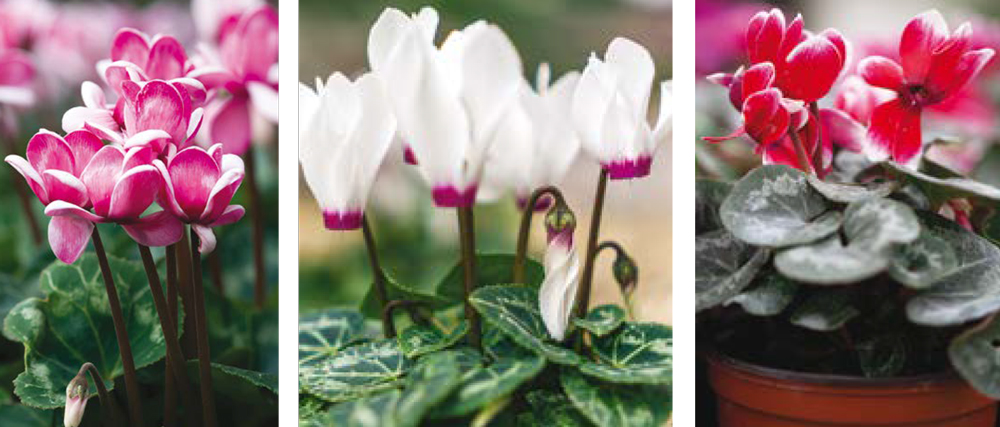 Care: Plant the cyclamen in a pot (with drainage) containing potting soil. Place the pot in a cool, draft-free spot with indirect sunlight. When the soil is dry, water the cyclamen beneath the leaves; excess water on the stems and leaves encourages rot. Fertilize the plant once every two months with a half-strength, water-soluble houseplant fertilizer.
After Care: When the blooms die and the leaves turn yellow, stop watering and place the cyclamen in a cool, dry location for its dormant months. When September's new growth emerges, take the cyclamen out of storage, soak the soil, and drain it. If the tuber has outgrown the pot, repot it in a larger container and follow standard care instructions for beautiful holiday blooms. ✦
amaryllis, Christmas cactus, cyclamen, paperwhites, winter-blooming plants, Ziva bulb