Holidays at the Headmaster's | Restored Farmhouse Hosts Faculty, Friends and Family
The holidays come early at the Proctor home in southern Roanoke County. They have to—there's a lot of entertaining that happens within the walls of the century-old farmhouse, and most of it needs to occur before school gets out for winter break. Ellie and Chris Proctor moved here from Charleston, South Carolina, seven years ago, when Chris took the position of headmaster at Roanoke's North Cross School. Located across the street, the headmaster's house sits on a gentle rise above green playing fields, where visitors to the whitewashed brick home are greeted by cheerful signs of the season: wreaths and greenery adorning the gracious front porch.
---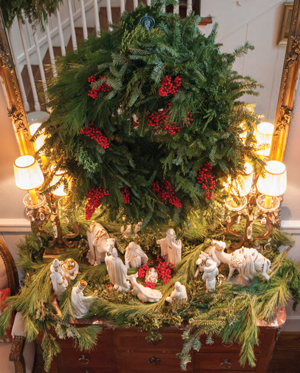 On the hall table is a stunning bone china nativity set made by Chris's grandmother.
---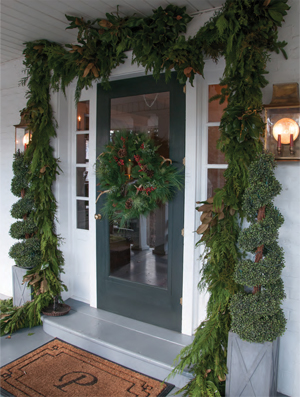 The home is so cheerful and welcoming, it's hard to imagine that the Proctors have only been here for a handful of years. According to Chris, they are the first headmaster's family to actually live in the place. He says that North Cross purchased the farm across the road over 40 years ago, mostly in order to acquire the large playing field that lies at the base of the long wooded drive. The circa-1901 farmhouse itself was a bonus. It had housed teachers' and coaches' families throughout the years, but when the Proctors arrived and expressed an interest in living there, the school allowed them put their own mark on the place. "We'd lived on campus before, and really liked it," Ellie explains. Chris nods his agreement. "I love the fact that it is easy for me to get back and forth to the school, and Ellie could see the bones here," he says. "She could see its potential."
---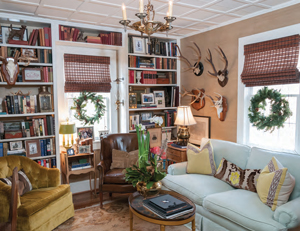 The sitting room, originally a bedroom, is a cozy spot to read or chat.
---
There was a lot of updating and maintenance that needed to be done before the Proctors moved in. The house had to be "pretty much gutted," according to Chris. "After a century of use, it needed a new roof, refinished floors, new HVAC, some structural changes, and a new kitchen," he explains. The school did what was necessary to update the home for the Proctors' arrival, and the family added their own extras to make it the warm and inviting home it is today—including wallpaper, paint, built-in bookshelves, and antique light fixtures that compliment the age and style of the home.
The property has definitely benefitted from Ellie's design expertise and eye for detail. Ellie got her start in Baltimore doing commercial design, and branched out to residential design twenty-five years ago in Chapel Hill, NC, with mentor Pam Heavner. She currently owns Ellie Proctor Antiques and Fine Things, a design and antiques business with two locations: one in Charleston, SC, and one here in town at Piccadilly Square.
---

Silver vases, antiques, and fresh greens are signature looks in the Proctors' holiday home.
---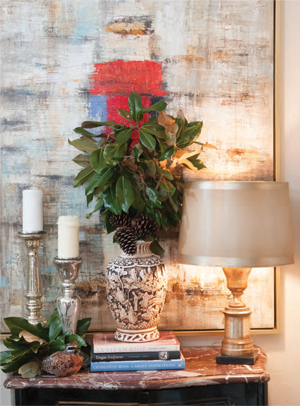 Ellie was able to oversee much of the renovations herself, making sure that the updates were in keeping with the original feel of the home. With an eye to all the entertaining the couple does, the Proctors also added a large patio out back. This covered space is decorated in shades of blue and effectively gives the Proctors another room for their house for at least three seasons. Chris gives all the credit to his wife. "Ellie is a master at what she does. She makes all this happen," he says, gesturing around from the kitchen, where holiday photo cards adorn the walls, to the dining room table with its whimsical decorations.
The home has an open, casually elegant feel. On the main level, the Proctors converted what was originally a bedroom into a small sitting room, with doors on two sides connecting it to both the living room and the kitchen. Featuring a large antique credenza and built-in bookshelves, the room is perfect for reading or a cozy chat. On the coffee table is a holiday arrangement that Ellie made using an antique brass urn.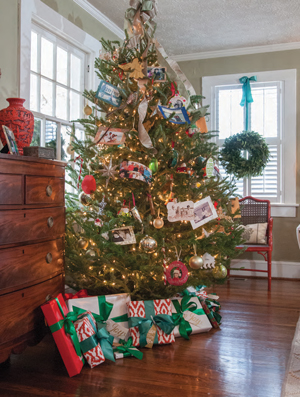 The living room is anchored at the opposite end by a large Christmas tree, hung simply with homemade ornaments and copies of the family's Christmas cards, going back to the years when their now-grown children were small. Windows are hung with wreaths to incorporate more of the holiday spirit, but the festive centerpiece every year is Ellie's arrangement over the mantle, featuring silver flute vases, lots of fresh greens, red tulips, paperwhites and Ellie's signature theme, birds. In this case, a pair of taxidermy pheasants struts amongst the seasonal greenery. "Every year my mantle is different," Ellie explains, "I never do the same thing, but there's always birds."
Between school functions, garden club, and more informal gatherings of family and friends, the Proctors estimate that they entertain 12 to 15 times per year, and entertaining is clearly something the couple enjoys. "Sometimes it's hard to distinguish between 'our' entertaining and the school's entertaining," Ellie laughs, "because so many of our friends are North Cross parents as well." The Proctors host several large annual school events—up to 125 faculty and staff—without flinching. Their greatest concern when entertaining is that their guests feel comfortable. To accomplish this, Ellie and Chris make sure that there is plenty of hearty food and drink, festive but not fussy decorations, and enough room for guests to mingle.
---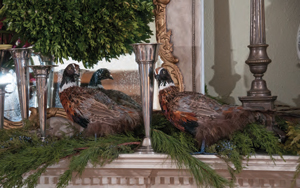 Ellie changes the mantel decorations yearly, but always includes birds.
---
Because of the rooms' smaller sizes, Ellie employs various strategies to improve flow throughout the house. Sometimes this means moving some of the furniture out; other times it means pressing the front porch and back patio into service; sometimes it might call for all three. "It may not be a big house for a gathering," Ellie admits, "but we do manage to pull off amazing things with our space."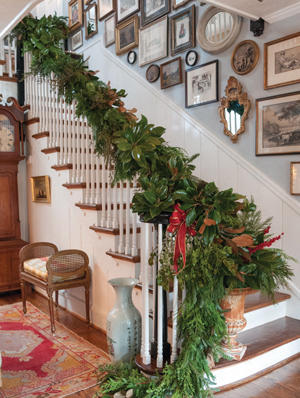 On the hall table beneath an exquisite ornamental mirror, and flanked by a pair of antique lamps, is a stunning bone china nativity set made by Chris's grandmother, Florence Proctor, a noted artist who also painted several canvases which hang in the home. The simple wooden staircase is dressed for the holidays in fresh evergreens and magnolia leaves which cascade down the banister and pool gracefully around the curve of the bottom step. Red berries and white mistletoe embellishments add to the lush display. Though she gravitates towards natural decorations, one small red bow is the only "non-organic" part of this artful stairway arrangement. "I give a lot of credit to Townside Gardens," says Ellie, indicating the fresh greenery here, in the living room and dining room. "They are really my goto place for greens, garlands, and bulbs, which are a big part of my holiday design."
---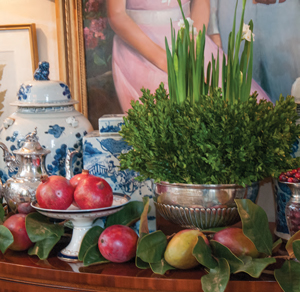 Fresh fruit and foliage are nestled among antiques on the side table.
---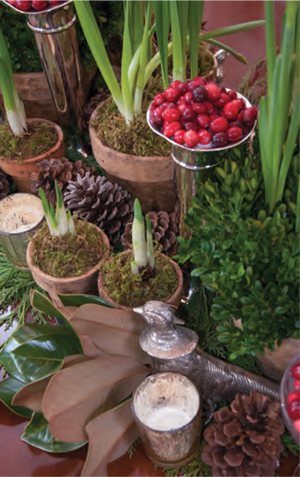 When getting her home ready for holiday entertaining, Ellie hesitates to use the word "decorating" at all. "My style of preparing the house for Christmas can be described as 'take what you already have and use it,'" she explains. "I don't want it to look like it came out of a box where it lives in the attic eleven months out of the year." She loves finding ways to use her extensive collection of antique containers—some fine antiques; others, estate sale finds. Ellie has collected silver urns, candleholders, and flute vases (including one from Chris's grandmother, engraved with "Philadelphia Great Dane Club 1942") as well as more pedestrian containers, such as several old, moss-covered clay pots that she found at an estate sale in Texas. "My friend who was there with me thought I was crazy, but I have used them year after year," says Ellie, indicating the dining room table arrangement, where each pot is planted with justabout- to-bloom paperwhite narcissus. Nestled in amongst the silver candelabras, trumpet vases, and julep cup votives are more of Ellie's birds: whimsical silver pheasants. "I do have a bit of an obsession with birds," she confides. More pheasants strut across the sideboard, around the blue and white vases and large silver punchbowl (a family heirloom won by Chris's grandfather for growing prize chrysanthemums). Throughout the dining room, fine antiques mingle with estate sale finds, fresh greens, flowers and, for a splash of seasonal color, fruit. Ellie fills silver vases with fresh cranberries, bowls hold pomegranates, and the warm reddish blush of mangoes are used in the larger arrangement on the sideboard.
---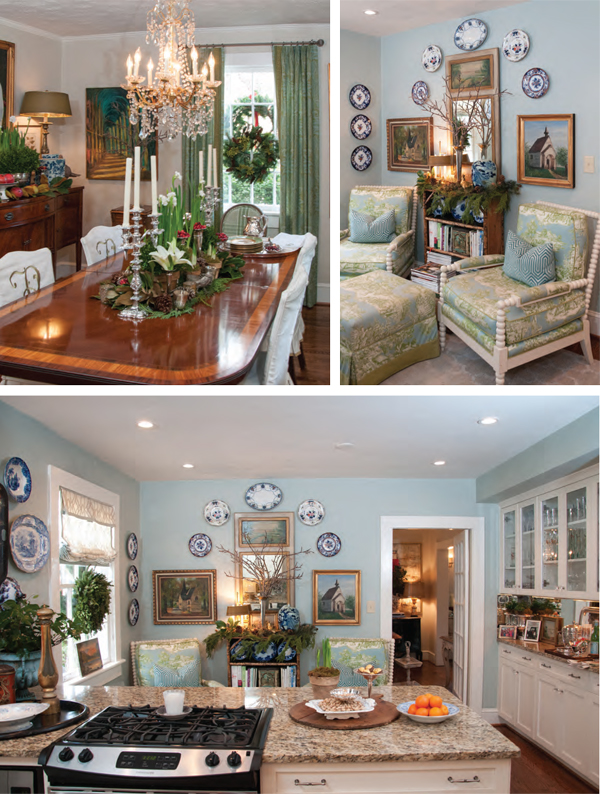 The kitchen is warmed with English antiques and collections of plates and serving dishes.
---
The kitchen opens off the dining room and features ample work surfaces, plus a butler's pantry and bar area—appreciated by the occasional caterer and bartender as well as family and friends. The space is warmed with brass containers, English antiques, and collections of ornate plates and serving dishes artistically arranged on the walls.
The kitchen door leads outside to the covered patio and large wooded lot beyond. Chris loves the outdoors and has done a lot of the yard work and clearing himself. He's especially proud of his birthday present: a huge old sugar cane boiling pot, which has found new life as a fire pit. "We add a little something to the property each year," explains Chris. "Next year, we plan to terrace the backyard." His wish list for the future also includes a fence to create a visual and sound barrier for Route 419, which runs right behind the property. In the winter, with leaves sparse, it's possible to see and hear the busy road in the distance, but in the spring and summer when the trees and shrubs are in full bloom, the property will again feel utterly private.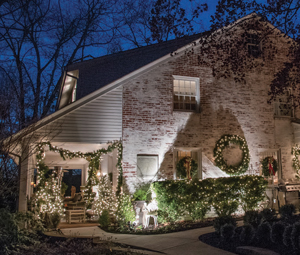 In the daylight, the headmaster's house on the hill across from North Cross School looks like a charming farmhouse. At night, decked with greenery and candlelight, it is a warm and magical place where friends, family, faculty and staff gather to toast the holiday season. Chris and Ellie Proctor have taken a modest brick farmhouse and made it their own with improvements and embellishments that stay true to the home's style and age while enhancing time spent with guests.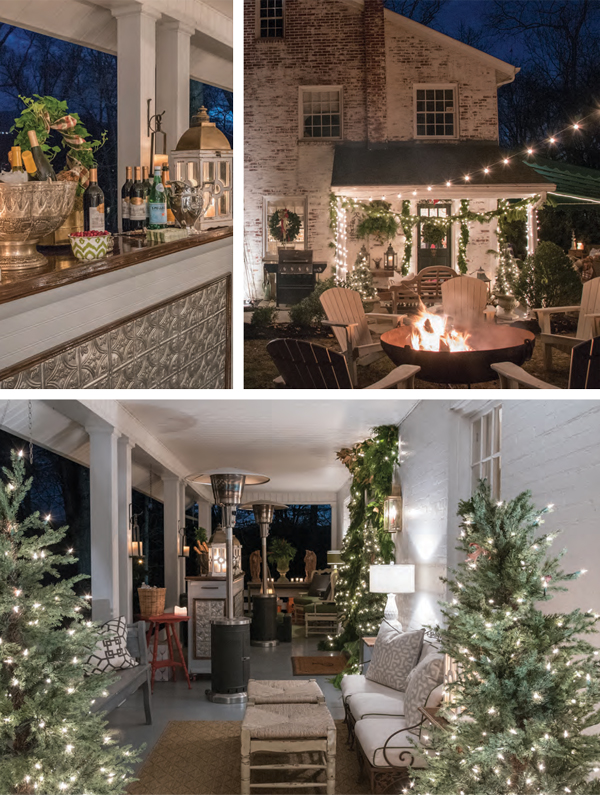 At this headmaster's house, the holidays are resplendent with fresh flowers, the smell of evergreens, gracious decor, and hearty food and drink. It's the kind of home that's perfect for a yuletide night of good company and good food, where old friends rekindle ties and new friends are made. Chris and Ellie Proctor hope that their home will encourage their guests to do just that. ✦
Photography by Kevin Hurley
butler's pantry, renovations, restored farmhouse, Showcase Home, wooden staircase