HISTORIC GARDEN DAY Visitors Treated to Peek at Homes, Gardens
This year's Historic Garden Week in Virginia ended with a bang, with the final day of this statewide event culminating with tours in our own Roanoke area on April 25. Roanoke Valley and Mill Mountain Garden Clubs, both of which are members of the Garden Club of Virginia, team up each year to host the tour. This year, Roanoke Valley's Elaine Stephenson chaired the event and Mill Mountain's Kay Strickland co-chaired; the clubs work together to carefully choose locations, provide hostesses, and design the elaborate floral decorations to complement each home. 
Stephenson says that "mass appeal" is an important criteria for choosing homes and gardens to feature, so that many visitors can glean ideas for their own homes and gardens—but distinguishing features are also important. "I looked for homes that were a little out of the ordinary, had good design, a nice garden, and were special," she says. Stephenson also wanted the homes to reflect the different phases of family life; this year, newlyweds, a young couple with a baby, families with growing children, and a retiree all graciously opened their homes for the tour.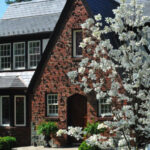 Newlyweds Create Dream Home
It took nearly two years of renovations to almost double the space of this charming English Tudor. Despite the drastic change in size, Erin and Steve Morris have been able to keep intact the charm of the original home while installing the latest modern conveniences. 
Steve Morris owns Classical Design Inc., a Roanoke-based custom cabinet business. Known for his traditional designs, Steve showcases his impeccable work and fine attention to detail in his own renovation. 
Part of the charm of this home is the use of clinker bricks in its façade. Clinkers are bricks that were fired too hot and have imperfections, often resulting in distorted, unusually shaped bricks.
A custom-made entrance greets guests with a massive mahogany door. Inside, every room has been updated, expanded and given new life. Hardwood flooring, new plumbing and wiring, and the latest in technological features are just some of the improvements.
Throughout the home are contemporary paintings, all done by Steve's sister, Sherri Barrett. Each piece of art suits the room and matches the décor.
The paneled dining room has an elegant, minimalist look, featuring the most important furniture for this room: table and chairs. The room's trim, windows and hardwood maple doors are all done to Steve's exacting standards. The kitchen features custom cabinetry with hidden appliances. A unique mother-of-pearl backsplash is set behind the Wolf stove, and a large granite-topped center island is a magnet for guests. "The kitchen is the meeting place whenever friends come by," says Erin.
A hand-forged wrought-iron banister leads visitors upstairs to a spacious home office. Windows bring in abundant light in the master bedroom. "His and Her" closets include custom cabinetry with an adjoining laundry. The master bath of white Spanish marble completes the bedroom suite. A vanity with double sinks and an enormous marble walk-in shower and soaking tub complete the main portion of the bath. On Garden Day, the tub was filled with magnolia blossoms and large cut-leaf philodendron greens. 
To give the basement more height, Steve dug down three extra feet to achieve a higher ceiling. He also installed radiant heat in the floors and covered them with marble. A home theater with an enormous projection screen, comfortable seating and a wet bar makes it easy to host informal parties. 
A flagstone terrace adjoins the back garden. Brick pavers provide a parking area, and a natural rock wall serves as a backdrop for traditional landscaping of boxwoods, hydrangeas and camellias. A slate roof with snow guards, diamond-shaped leaded glass windows, and copper awnings and gutters keep with the tradition of the Tudor home.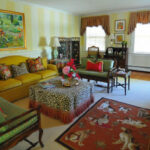 Ideal Home for Bringing Up Baby
Space was the major attraction for Deena Lugar when she spied this 20th-century brick Colonial. She was intrigued by the character of the house and felt it could really evolve into something special. Currently John and Deena Lugar have one child, and were looking for a place suitable for family growth.
Only minutes from downtown, the neighborhood is ideal for the Lugars. Deena can put her son in his stroller and walk down to the park or river. With its neat landscaping of flowering trees and shrubs, the garden requires little attention most of the year, and is perfect for a busy young family.
Deena and interior designer Elaine Stephenson teamed up to brighten the rooms and add color and style to the home. The dining room wallpaper with its Oriental motif is complemented by lacquered mirrors. On Garden Day, the dining room table featured a long row of small silver trophies awarded to the Garden Club over the years. Each was festooned with blossoms for a dramatic effect.
Tone-on-tone painted stripes adorn the large living room, and a lovely handmade petit-point rug with an animal motif adds charm to the formal area.
Local art includes work by Lyn Ballinger. "It has taken us time to acquire the artwork," explains Deena. "But we did not want to just fill up the wall space." Interspersed are photographs of the couple's young son.  
The kitchen was recently redone by the previous owner, and features cabinets by Classical Design and granite countertops. A collection of Lynn Chase pottery with colorful wildlife themes fills one glass cabinet. For Garden Day, a steel stockpot overflowed with colorful fruits, vegetables, and tulips.
For all of the home's beauty, it's the nursery that is the highlight. According to Deena, "Our son's nursery is probably our favorite room." Deena's love for a frog motif is evident in the wallpaper, matching crib linens and light fixture. In keeping with the theme, a pair of green galoshes holds blossoms in another floral display. The adjoining bath opens to a guest bedroom, perfect for visiting grandparents. 
A Betsy Burton gilded mirror ties in the lovely colors of the master bedroom. Here a balcony provides a commanding view of the city. An additional guest bedroom offers more space for visitors, which comes in handy since Deena's family lives in Texas, and the couple also has friends coming and going constantly. A third floor, not on the tour, holds additional bedrooms and baths, giving the Lugars room to grow.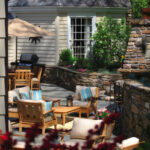 Family Enjoys Carefree Garden and Patio
Like most families, Angie and Nelson Link spend much of their free time "running." With a home at the lake, they want their Roanoke garden to be easy to care for, yet attractive and suitable for entertaining. Garden Day visitors enjoyed a tour of this carefree oasis.
The Links' 1938 home features an informal garden and expansive terraces. The couple created a large tiled patio, almost the length of the entire home. A fireplace and furniture from Restoration Hardware create a variety of sitting and eating spaces. 
For Garden Day, a large iron basket was filled with pink and yellow Gerber daisies and Spanish moss. Place cards on the table were decorated with miniature daffodils and azaleas, marking each setting. 
Angie added a rock retaining wall to an existing wall. Stone steps lead guests to a back garden. Since Angie's favorite color is pink, it is no surprise that many pink blossoms, including bleeding heart, azaleas, daylilies and camellias, fill the beds. Boxwoods, hemlocks and Nellie Stevens hollies form a privacy hedge.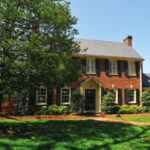 Home is Host to Busy Lifestyle
With three school-aged children, Frank and Jeannie Cotter's 1918 classic Colonial home provides the perfect family environment. There is plenty of space for their three youngsters to study and just hang out, yet the home also exudes a touch of elegance.
The dining room features a faux copper ceiling and gold treatment on the walls created by Nena Roe. This look is complemented by demilune chinoiserie tables.
Photographs of the Cotters' busy life are everywhere. An entire wall in the hall is covered with a collage of framed photographs. 
In the living room, a player piano, one of Frank's treasures, has a special place. Here we also find a unique collection of rosary beads that Jeannie has inherited and collected in her travels. Jeannie has a passion for regional art, and displays several works by Mary Boxley Bullington. A side porch of strawberry pink with bamboo shades provides a quiet place to sit. One of Jeannie's favorite rooms, here she chats on the phone with family and friends.
Frank's "sanctuary" adjoins the master bedroom. A large paneled study works as a second office for this Roanoke ophthalmologist. The master bedroom opens onto a terrace with Chippendale railings overlooking the gardens and surrounding neighborhood. The couple has done extensive work in the garden beds which feature hollies, boxwoods, rhododendrons and spring bulbs.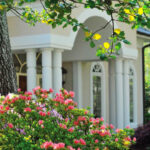 Home Provides Perfect Retirement Setting
Nancy Krisch built her Italian-style stucco home perched on the side of a hill. With its views, easy maintenance, good clean lines and proximity to her daughter (who lives next door), the home offers the perfect retirement setting. Simple landscaping with azaleas and boxwood achieves an elegant and clean appearance that is also easy to maintain.
The open floor plan provides an ideal backdrop to display an impressive collection of artwork. Local art by Eric Fitzpatrick and Laura Palmer is interspersed with an original Picasso and pieces by John Alexander. Arched windows running from floor to ceiling provide natural lighting.
A terra cotta terrace provides glorious views of the mountains, and a growing area for potted plants and topiaries. Just off the terrace is a small "spring" porch. Here the Garden Club has filled a pottery leaf bowl with succulents in another enchanting floral display.
The basement features an enormous party room with comfortable leather couches and Eames chairs. Known for its rich veneer and supple leather, Eames furniture is one of the most significant collectibles of the 20th century. 
Of all the spectacular areas in the Krisch home, Nancy's favorite by far is a tiny room off her bedroom that she calls her library. "I do find it very appealing," says Nancy. "It is a little quiet place." 
The master bedroom featured a glorious arrangement of pink dogwood and peonies on Garden Day. Directly off the bedroom are "His and Her" baths; "Her" bath is white marble with a large sunken tub. An extraordinary arrangement of iris, some actually submerged underwater, decorated this pure white room during the tour. "His" bath is green marble and features a large walk-in marble shower.
 The kitchen features marble countertops and a large dining island. An arrangement of hydrangea blossoms complemented this room. The more formal dining area featured a spectacular arrangement using asparagus as the base with ferns and tulips bursting up from above. 
In the living room, a jade writing table, purchased at an artist's colony near The Greenbrier, consists of a large slab of jade set on iron legs. In another area, a piece of petrified wood serves as an end table, and a mercury glass lamp graces a table. The Krisch home gracefully blends beautiful art with modern and antique furnishings, resulting in a work of art in its own right.