Happy Trails | Scenic Hikes For All Abilities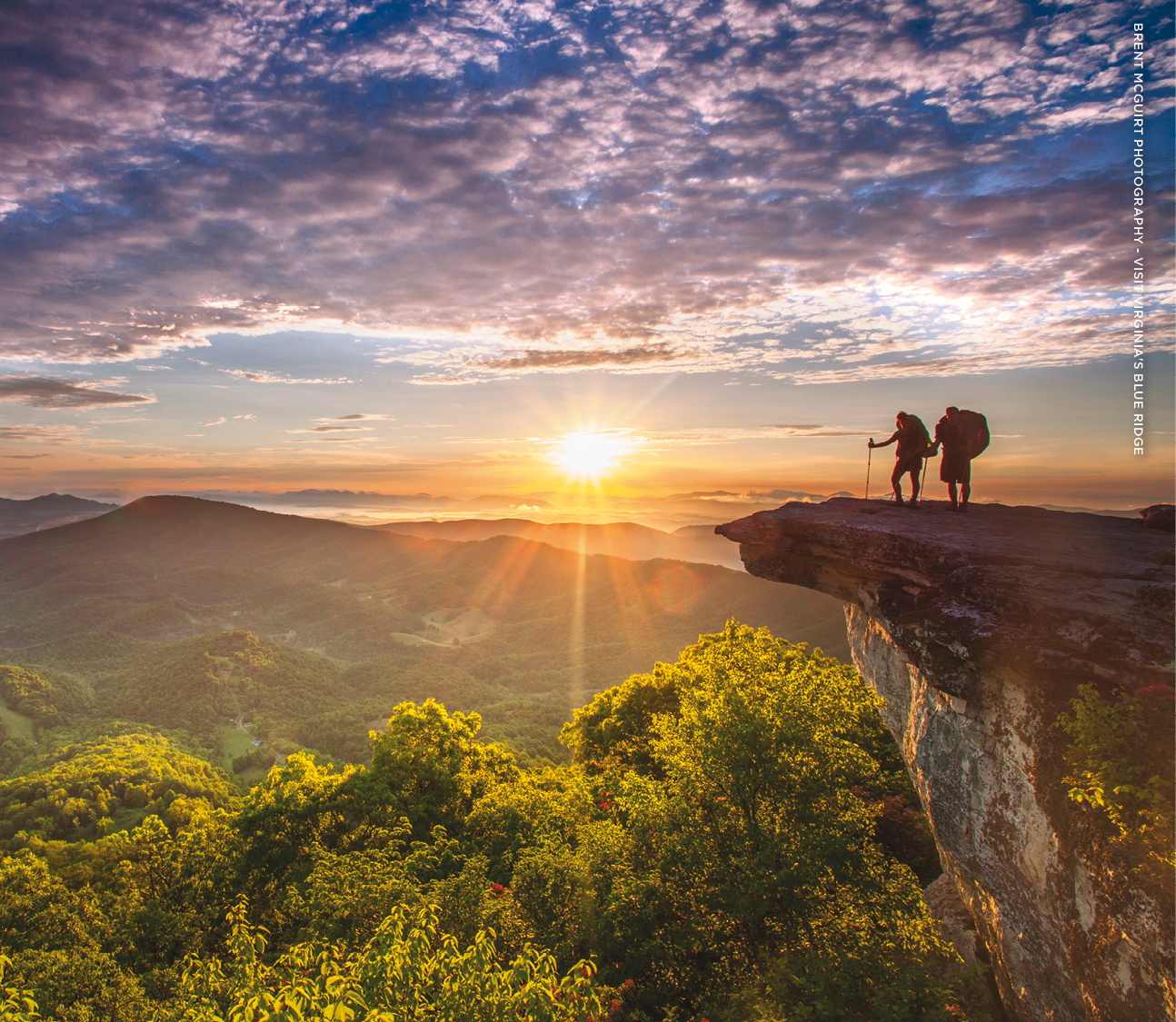 With our proximity to the Blue Ridge foothills, locals are lucky to have easy access to some fine hiking options. For most area residents, a 60- to 90-minute drive or less is all it takes to land at an appealing trailhead, ready for an inviting and invigorating walk in the woods. And the assortment of terrain ensures there are options to fit almost every hiker's skill and endurance level. So with fall's beautiful colors upon us, now's the time to plan a trek through some of the beautiful woodlands, plains and hillsides this area has to offer. Check out these trails, presented in approximate order of ascending challenge.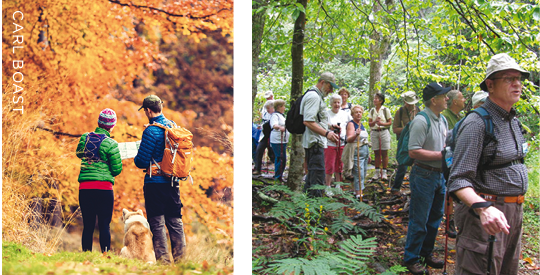 Thunder Ridge (.2 miles, easy 10-minute loop) Located at Blue Ridge Parkway (BRP) Milepost (MP) 74.7 with plenty of free parking. Enjoy a view of Arnold's Valley from a stone observation deck.
Carvin's Cove Reservoir Trail (Easy/Moderate: 4.6 miles out and back, 721-foot elevation change) Moderately trafficked, this hike near Roanoke (Reservoir Road, off Route 648) features a lake and is fine for all skill levels. Dogs on leashes are welcome.
The James River Foot Bridge (Easy/Moderate; 4.0 miles out and back) A fairly easy hike with wonderful scenery that follows the James River, then a tributary that leads to an Appalachian Trail (AT) overnight hut. Includes the AT bridge over the James River. Trailhead location: BRP near Snowden, about 20 miles northwest of Lynchburg.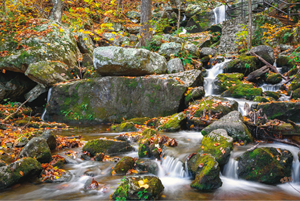 Peaks of Otter Trails (Easy/Moderate) Seven trail options ranging from .8 to 3.3 miles, accessed from Peaks of Otter parking at BRPMP 86. Search "Peaks of Otter Trail Map" online for trail names, lengths and difficulty ratings.
Otter Creek (Easy/Moderate, 4.2 miles) A pleasant walk with some water crossings; walking sticks are recommended. It is a one-way hike (or a longer in-and-out, if you wish) so plan for a shuttle vehicle from hike's end at James River Picnic Ground back to where you began. Trailhead location: Otter Creek Campground and Restaurant parking lot, BRPMP 60.8.   
Cascades National Recreation Trail (Moderate 4-mile loop) A beautiful hike along the river to a 66-foot waterfall in the Jefferson National Forest. Trailhead location: 4 miles north of Pembrook on Route 623 at trail parking lot. $3 per car.
AT-Taylor's Mountain Overlook to Bobletts Gap (Moderate, 4.8 miles) Best known for its "halls" of rhododendrons and mountain laurel in mid-May, but beautiful in fall as well. Pack a lunch and plan a car shuttle along the Blue Ridge Parkway, by leaving one car at Bobletts Gap (BRPMP 93.1) where there's a trailhead to the AT, a hiker's shelter, and picnic tables. Drive your other car to Taylor's Mountain Overlook (BRPMP 97.0) and take the AT trailhead there. For a shorter hike back to Bobletts, you can also park at Harvey's Knob (BRPMP 95.3) which also crosses the AT and is popular in the fall for watching hawk migration, along with other large raptors.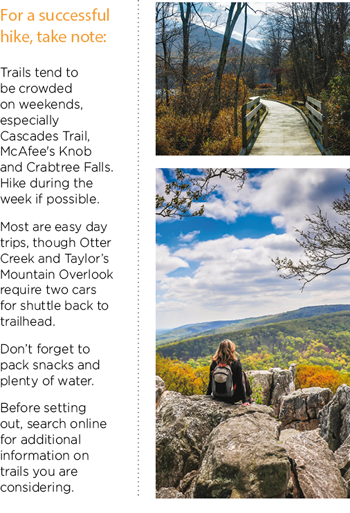 McAfee Knob (Moderate/Steep; approximately 8 miles out and back) Said to be the most photographed site on the Appalachian Trail, its parking overflows on weekends. It's long but the view—a 270-degree panorama of the surrounding valley and mountains—is worth it.
Pack a lunch and plenty of water. Trailhead location: Appalachian
Trail parking area off Route 311 North, near Exit 141 of I-81 South.
Crabtree Falls (Moderate/Strenuous; 4.0 miles) This hike offers views of the highest vertical-drop cascading falls (five major cascades and several smaller for a total drop of 1200 feet!) east of the Mississippi. The first overlook is close to the parking lot along a gentle paved trail—fine for all abilities. More adventuresome hikers can continue along a 3-mile trail to spectacular views of Crabtree Creek Falls and the Tye River Valley. Heed the warning signs and DO NOT GO OFF THE TRAIL TO GET A "BETTER" PICTURE—people have died from slipping. The steep climb to the top is aided by several sets of stairs. Trailhead location: Whetstone Ridge, Route 603, at BRPMP 29. Turn left at Irish Creek Road to intersection of Route 56, Crabtree Falls Highway. Go right 7 miles to base of falls, where parking and restrooms await.
Apple Orchard Falls (Challenging; 2.5 miles out and back) This trail descends 2000 feet to a 150-foot waterfall, but the return is all uphill. Take food and water. Trailhead location: Sunset Field Overlook (BRPMP 78.7, 7 miles north of Peaks of Otter).