Gracious Foyers: First-class Features for Your Home's Entryway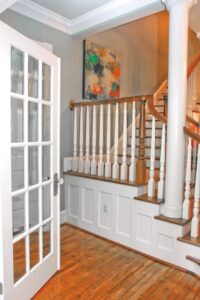 If the transition point between your public life and your private life happens in the entrance to your home, then it should be welcoming and beautiful. Certain elements make a grand first impression in your foyer—no matter its size.
Essential furnishings and fixtures for your foyer include a place to stash your daily necessities and friendly, flattering lighting. But most of all, a gracious foyer puts its best foot forward and sets the tone for the rest of your home. Dressing it well, taking great care to pay attention to its appearance, shows just how much you value your home and those who enter it.
Decorating your home is about more than just having attractive furniture—it's about expressing your personality. In yesteryear, there was a trend in decorating that really was more about the furniture than the family, but today's homeowners are aware that their décor helps make a personal statement about them. Everyone who walks into your home should be able to take a quick look around and instantly get a sense of who you are and what interests you, whether your style is traditionally classic, a little bit eclectic, downright bohemian or very upright and formal.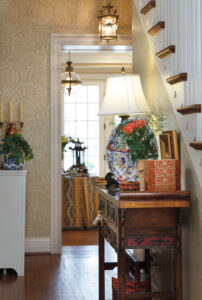 A Flat Surface
You need a place to safely stash your necessities as you enter your home (keys, wallet, mail) and the things you need to remember to take out (keys, wallet, overdue DVD rental). In other words, you need a flat surface to set down your stuff!
Depending on the size and shape of your foyer, a console table could be the right choice for your space. A console tends to be a narrow, leggy table that's meant to be placed against a wall. Sometimes consoles have a lower shelf, but just as often, they are open underneath. Some people like to tuck a pair of stools under a console so that, if needed, someone could have a place to sit as they remove their shoes. Either way, placing stools beneath a console is a great look. A console might even help you reduce your clutter situation, because there are no undercover, behind-closed-doors hiding places for your things.
The foyer table will be a strong focal point for your entryway, so choose one with lots of personality and interesting details. In a small, isolated place like a foyer, you can get away with styles that might seem more elaborate than other furnishings throughout your home. Just as you dress yourself for special occasions in outfits that are more detailed or of finer materials than your day-to-day clothing, entryway furniture can have more aplomb. Look for a table with a curvy leg, a leather inset, Chinese Chippendale details, nail head trim—any special flourishes that elevate the table's look.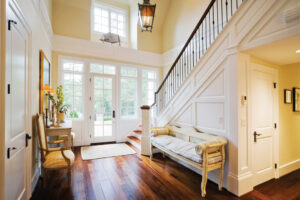 Your console will probably be decorated with a lamp or two, maybe something decorative and a small tray. Here's an interesting entryway tradition: during the 1800s and early 1900s, the etiquette of paying a visit to someone dictated the use of a "calling card." When "calling" upon a friend, the visitor would place his calling card on a silver tray in the entryway, which would then be carried by a servant to the homeowner. If the person being called upon was not home, the servant would leave the card in the silver tray for when the homeowner returned. Though most of us don't have servants answering our doors, it could be fun to use a silver tray on your hallway table anyway—if not for catching calling cards, then for catching our cellphones and car keys.
Any other type of narrow table positioned against the wall could stand in for a console table. Drop-leaf and demilune tables (small, half-moon shaped tables) are often used in entryways. Interpret your choice in hallway table as needed to suit your particular space.
If the idea of a console table is unappealing, there is another entryway option you might prefer: using a dresser or chest of drawers as the main piece of entryway furniture. The beauty in this is that you get to store things inside its drawers. Let's face it, there are just some things you need near the front door: the dog leash, your purse, umbrellas. (And in winter—all those hats, gloves and scarves.) To elevate an ordinary bedroom dresser or a found treasure to foyer-worthy status, you can add a fun pop of color and interest through chalk paint or a lacquered finish, and a new set of decorative knobs.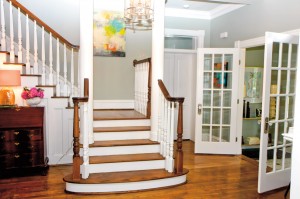 If your foyer is small, choose a vertical dresser (sometimes called a "highboy"), but keep in mind your "flat surface" could now be as much as seven feet in the air—therefore useless on top for anything more than a decorative display. So, you'll probably need a second flat surface, perhaps a wall shelf or small table, that's a more user-friendly height for catching your daily necessities.
In many older homes especially, the front door might open directly into the living room or onto a flight of stairs. You can fudge the look of a foyer and create an entryway with your living room furniture placement. Try arranging the sofa with its back to the front door and place a narrow console/sofa table behind it to give the illusion of an entryway, gaining that buffer space to transition from outside and that flat surface you need near the door.
Another trick you can employ if your entryway is narrow-to-nonexistent is to redirect the incoming traffic flow to the nearest room by setting up an eye-catching focal point that will lead people in the direction you want them to go.
An elegant table—with a cluster of vases, sculpture and books (or even just one massive flower arrangement)—will beckon visitors in that direction, into a neighboring room where you might have more space to devote to welcoming them, and also space to set up a proper landing pad for your day-to-day necessities yourself.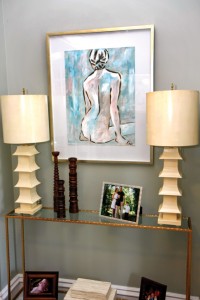 A Flattering Light
One of the most effective updates you can make to your foyer is to install a dramatic overhead light fixture. Stylish and functional flush mount fixtures and chandeliers can be found in any shape, size and material imaginable. The foyer fixture is one of the first things your guests will notice when they enter your home and their warm glow can make your home feel so inviting. Whether you choose a fixture that exudes simple elegance or a grand baroque style, you can customize your foyer and set the tone for the rest of your home through your choices in foyer lighting. The "reimagined lantern" is one such example of a contemporary play on a classic foyer light fixture. Today, you see that otherwise-classic Colonial style, reinterpreted in extra-large sizes, bright, unexpected colors, or with sleeker, more contemporary lines. The interplay between "traditional" and "contemporary" is a great accent that suits today's modern lifestyle well.
Height is a major consideration when choosing your overhead foyer light fixture. If you have low ceilings, it doesn't mean you can't have a beautiful foyer light fixture; you just have to choose something that is scaled for your space. Flush-mounted or semi-flush-mounted foyer fixtures can beautify your space without crowding it, and they're perfect for rooms that have standard 8-foot ceilings.
The lowest hanging point for most chandeliers should be at least seven feet from the ground. That means if you've chosen a chandelier that has dangling crystals adorning it, measure from the one that dangles the lowest.
If you have a two-story foyer, especially one with a staircase and a visible landing, don't let the bottom of your chandelier hang below the level of the second-story floor. Depending on the layout of your foyer and your stairs, it might make sense to have two foyer lighting fixtures: one centered in front of the door and a matching one centered over your stairs. If you have a large window over your door, try to position your chandelier so it shows through the window, perfectly centered and framed by it—visible from your walkway. Nothing will look lovelier at night.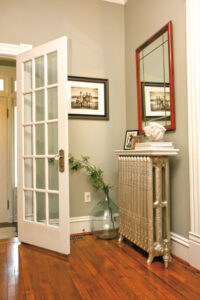 Many homeowners install wall sconces (sometimes flanking a mirror or perhaps a painting) instead of using table lamps in their entryways. This helps free up the tabletop, especially if you're working with a small space. Of course, if you do install sconces on the wall, your furnishings will be forever defined by their placement, so make sure you really like where your furniture is placed before you choose this option.
An eye-catching light fixture makes a glowing entrance for your home—or, try a matching pair or even a trio if your home's entrance is more of a long passageway leading from the front door to your home's living and entertaining spaces.
If you add a mirror to the wall in the foyer, you'll accomplish two more things: having a place to check your hair and reflecting the light from your new overhead fixture throughout the space. Your foyer mirror can be more than just about function, however. Your entryway mirror can be your foyer's bold visual statement piece. Depending on its frame or design, the mirror might be the very thing that captures all the attention.
When you are putting together the look for your foyer, the same rules you might employ when you're dressing yourself could apply: to keep from looking garish, don't over-accessorize. Be conscious of how the key elements work together—the main table/dresser, the light fixture, the mirror. Maybe all three of them don't need to make a bold statement.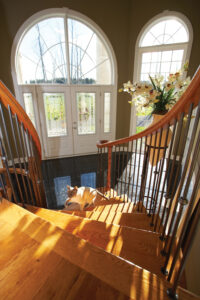 Finishing Touches
Once you've determined your main "statement piece" of furniture, you can go about adding the rest of your entryway's accoutrements.
Coat racks or hooks can be handy to have in your entryway if you don't have a coat closet, but they're not a necessity. In fact, they can contribute to a cluttered look in the entrance to your home, as most of these items should be hung in a bedroom closet in another part of the house anyway. If you're hosting a party, you can make arrangements for coats to be placed on a bed in the nearest bedroom or use a portable coat rack that can be put away when the party's over. Don't let your coats become the focal point in your entryway when you can instead create a prettier view.
After mapping out where your main furnishings will go, create an accent wall in the foyer by painting the wall in a contrasting color/pattern, adding wood paneling or wallpaper, or displaying a wonderful piece of artwork, an antique screen or an oversized mirror. An accent wall will draw your guests into your home and give them a great first impression.
Fabled decorator Dorothy Draper suggested in her 1939 book Decorating is Fun! that painting the back of the front door in black high-gloss paint (instead of white, to match the door's trim) was a detail for homeowners to enjoy every time the front door was closed. She also recommended homeowners buy the prettiest door hardware (knocker, knob, lockset) they could afford and to keep it well polished. She said the door's hardware was "jewelry for the home." What a great perspective on enjoying your home down to the last detail!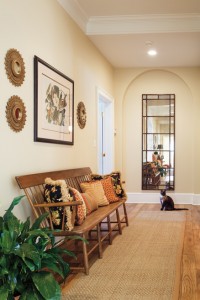 Many people like to have a bench in the entryway so they have a place to sit down. A leggy bench or dainty settee makes such a pretty perch, and old church pews are also great in an entryway, for a more rustic look. They're easy to find at antique stores and tend to be found in lengths and widths that suit the small space of an entry hall. A cushion or arrangement of toss pillows helps soften their look and adds a festive dose of color, too. Sometimes, you'll see a boot tray or a row of baskets positioned underneath the bench. Just be careful about baskets—they can become overflowing clutter catchers if you aren't careful to go through them and empty them out from time to time, returning items to their proper homes.
Finally, an area rug (and/or runner) softens your steps and helps keep your floors clean. Beautiful rugs come in all styles and the foyer can be just the right spot to showcase one. Whether yours is an antique Persian rug or an inexpensive outdoor rug, make sure that your foyer rug can withstand foot traffic and dirt. Choose one that has a low profile, which is important if your front door is going to swing across the rug. Many people have tile or wood floors in their entryway, and a well-placed area rug is an attractive accent that helps protect your hard surface floors, too. The use of a non-slip rug pad is recommended to prevent the rug from sliding around and will also help protect the durability of the rug itself.
It takes a combination of elements to make an entryway a welcoming and pretty space. Furniture, lighting, accessories, rugs. Together, they elevate the style of your entryway, allowing functionality to comingle with a little bit of flair, making your home one that visitors will want to call upon.
Bohemian, chandeliers, Console Table, Door Hardware, Entryways, Flush-mount Fixtures, Foyers, Overhead Light Fixtures