Gifts for the Gardener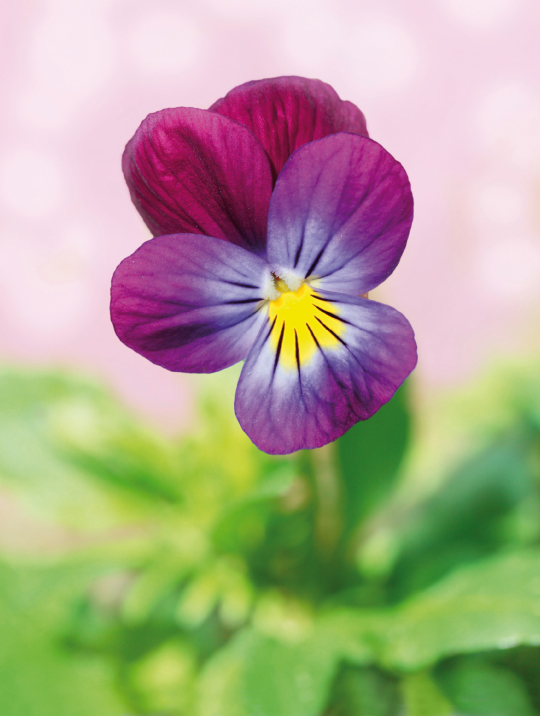 Winter has settled over the region once again, replacing outdoor adventures with new ones indoors, hot chocolate and fluffy blanket in hand. For a gardener, the lack of flower- and vegetable-friendly weather doesn't put a stop to preparation for the spring season to come. And with the holidays comes plenty of gift-giving opportunities to satisfy these creative personalities.
To get the scoop on what's hot for your gardening pals this cool weather season, we trolled through some of the city's most garden-friendly shops. With prices as low as $7, you're sure to find the perfect surprise to remind your outdoorsy confidantes of their favorite time of year.
Get Organized
Although gardening starts with an imaginative mind, it also requires a good amount of stuff: gloves, trowels, seeds, pots, soil…Sometimes the hardest part isn't getting plants to grow, it's finding a place to store all of the things that help them along.
The Picket Fence Bench ($325, Steger Creek) is a gardener's dream, complete with seating for two and a handy lower shelf perfect for stowing things away. It's doubtful that you'll need to tell your thoughtful gardener recipient twice, but like all outdoor accoutrements, you'll want to be mindful of the elements and the effects they might have on the bench. This gift is best suited for a covered porch area or patio that can shield the painted wood finish from the worst of Mother Nature's wrath.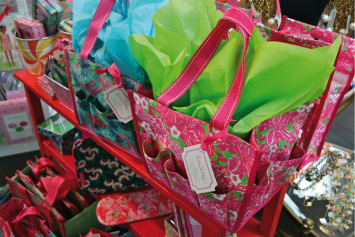 For on-the-go tool storage, gift your gardening friend a vibrant, multi-pocketed Lilly Pulitzer caddy ($30, Provisions Gourmet and RSVP Shop). There's a color and pattern for just about anyone, and the extra pockets sewn around the large center section make organizing gardening or flower-arranging tools a cinch. The microfiber fabric also makes it easy to clean and perfect for setting outside during dirty work amongst the plants.

Comfort Meets Style
Looking for a gift that looks good and feels good? Pick out a Mat Mate ($21.95, Steger Creek) for your garden-savvy friend. These interchangeable mats are made with fade-resistant colors and permanent dyes, making them the perfect addition to outdoor thresholds. The environmentally friendly materials of recycled tires also are sure to please your "green"-conscious gift recipient. The patterned mat insert can be given on its own or paired with a decorative tray ($132, Steger Creek) for extra stability and charm.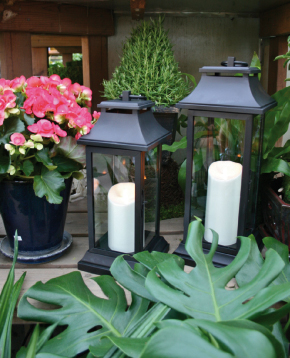 Soothing Senses with Nature
As dusk falls, outdoor enthusiasts tend to gravitate toward their domains. An evening stroll through lovingly tended garden beds can be just what's needed to cap off the day. For these stolen moments, halogen light bulbs tend to steal the magic right out of the air. Luckily, the same lanterns that have been guiding people to a place of comfort for centuries are still available today, but with an exciting modern twist: batteries.
Indoor/outdoor lanterns with battery-operated luminary candles by Bethlehem Lights (18" $104, 15" $92, Townside Gardens) are wonderful for lighting the way without heightening fears of an open flame. Made using high-quality forged metals, these fireless lanterns are perfect for setting the mood. An added bonus is the timer feature, which allows you to fully control the ambiance. Fan of doing things the good, old-fashioned way? Indoor/outdoor seasonal lanterns (39" $135, 21" $52, 15" $46, Steger Creek) available in anything from galvanized punched tin to antiqued white-washed metal, are also perfect for creating a warm glow.
When birdsong fades in the colder months, a wind chime is just the thing to keep the music alive outdoors. Corinthian Bells wind chimes (from $85 to $180, Townside Gardens), offer a stunningly unique sound based on hand-tuned scales. And they look just as beautiful as they sound, coming in red, brown, black and blue finishes made to withstand the elements. The bonus is that they are handmade right here in the U.S.A., some even in nearby Manassas, Virginia.
All the Right Tools
When in doubt, gifting your gardener pal with a piece of top-of-the-line equipment is a surefire way to please. We asked around for the most popular pruning shears and came away with Felco brand pruners (try the Felco 5 or the Felco 600, both $55, Townside Gardens). They are top-notch, high performance tools that, with proper care and maintenance, can last years and years. This is a gift to literally last a lifetime.
If detail work with flower stems and buds is the focus, consider presenting your friend with a compact Swiss-made Victorinox knife ($19.99, Provisions Gourmet and RSVP Shop). Available with handles in several neon-hued shades, these palm-sized blades are great for trimming stems or shaving away pesky thorns.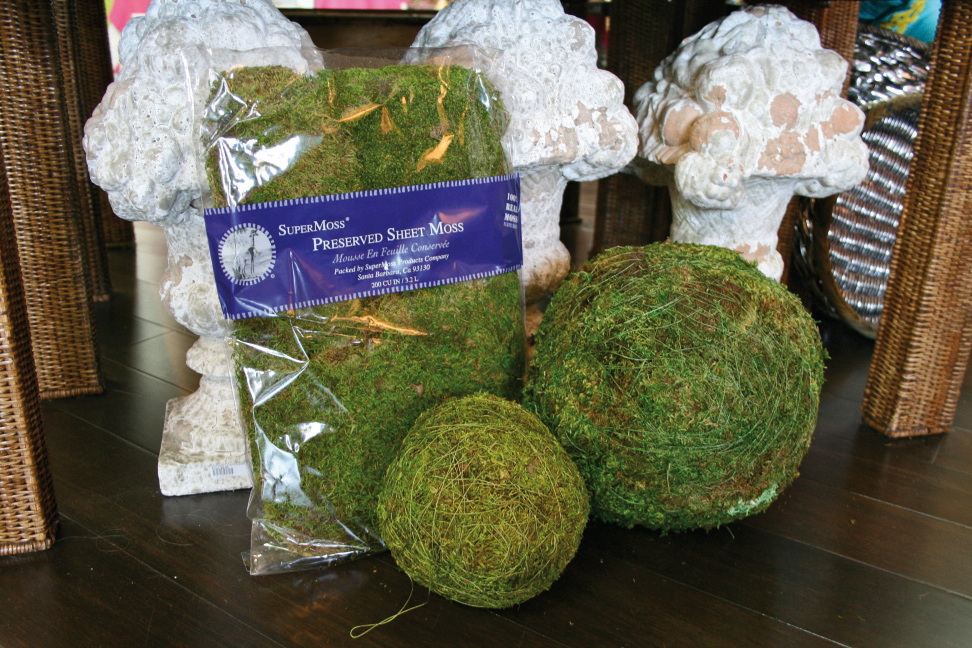 Green Gifts
For the green-thumbed friend who simply can't wait until the spring, indoor plantings, like seasonal poinsettias and exotic orchids (starting at $9.99 and $29.99, respectively, at Greenbrier Nurseries), could be just the thing. For these year-round gardeners, give the gift of a finishing touch with pre-packaged live moss (from $7 to $25, Provisions Gourmet and RSVP Shop). Available in varieties such as reindeer and Spanish, live sheet moss is a naturally beautiful additive to other potting mediums.
There may not be a whole lot to do outside this time of year, but there are plenty of ways to keep next year's garden in mind. Gardening gifts keep the excitement going year-round, and help to satisfy antsy hands ready to get down and dirty in the soil.
garden, Garden Gadgets, Garden Gifts, garden items, Gift Ideas