Fragrance Garden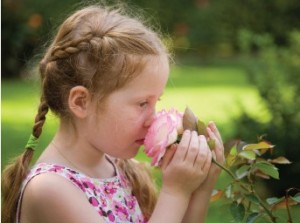 By Erin Parkhurst
The smell of warm pine needles returns me to the Midwestern summers of my childhood and the unfettered joy of exploring the woods; the insistent sweetness of magnolia recalls the anticipation I felt watching great blooms unfold on the first magnolia tree my husband and I ever owned. It is no secret that fragrance is a powerful trigger, able to conduct us to the far recesses of our memory.
Julia Lawless, gardening expert and author of The Fragrant Garden, explains that this is because our sense of smell is 10,000 times more sensitive than our other senses. "It links us directly to our most primitive instincts about what makes us feel safe or threatened, sad or happy," she writes. Lawless explains that the first scented gardens, created in the enclosed courtyards of Persian palaces more than 2,500 years ago, provided sanctuary from an often hostile world and, by marshalling the power of
scent, became a conduit for travelling into the realm of the spiritual. From those ancient times to today, devoting a garden to fragrance has given even the most humble amateur gardener the ability to create not only places of refuge, but highways for life's myriad memories.
Before You Plant
While fragrant plants may be incorporated into your entire landscape, a garden devoted solely to fragrance should be positioned as close to a house or large structure as possible; heat reflected from the structure will warm the flowers and plants. An enclosed space such as a courtyard or next to a low wall or hedge will also prevent fragrance from being whisked away as it would in an open yard. While a fragrance garden may come in any size, those smaller than six feet should contain like-scented flowers and plants—all floral or all spice—or they'll overwhelm each other in such close quarters. Scents should be encouraged to play together but with a view to cooperation, not competition. When designing a fragrance garden, Virginia-based landscape designer Sally Wittkofski, who holds a Master's degree in
Landscape Architecture, starts by identifying outdoor rooms in the landscape. Taking a holistic view, she advises her clients to look at spaces like patios and decks, as well as entryways and paths, and to determine how they are used—for entertaining, family activities, rest and contemplation, and so on. "By looking at the whole landscape and designing outdoor living spaces first, it is easier to design fragrance gardens to complement those spaces," she says.
Wittkofski also encourages clients to notice the smaller spaces that they inhabit daily, such as a back door or even a walk to the car, and to think of incorporating fragrance there. She has winter honeysuckle, a plant that smells like lemons through the months of winter doldrums, growing on a trellis near her back door. Wittkofski says this plant shouts, "We've made it into February, spring is coming!" She enjoys its blooms from January to mid-March—something to tide her over until spring on a cold January morning.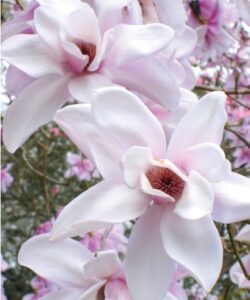 Before you purchase your plants, know your sun and win exposure and the condition of your soil. Is it damp all the time, or very dry? This information will help the folks at the nursery
assist you in selecting plants that are likely to thrive in your landscape. Don't be shy; ask a lot of questions and be sure to bend down and actually sniff the flowers and plants you're considering. This is a time when you definitely need to follow your nose.
Creating a Plan
"A fragrance garden doesn't have to be just a flush of gorgeousness in the summer and that's it," explains Certified Master Gardener Barbara Wiederkehr of the Virginia Master Gardener Association. She recommends mixing flowers with trees, vines, shrubs, and a combination of
annuals and perennials for a generously fragrant and glorious garden year-round. Some plants only release scent if you touch them—like rosemary or mint—so Wiederkehr recommends a mix of flowering and non-flowering plants. A fragrance garden should not be the kind that says hands-off, but rather the kind that invites you to walk through and touch.
Wiederkehr has assembled the following list of plants, organized by the season they flower or are at their most fragrant, as a point of departure for creating your own fragrance garden. With a few exceptions, these plants are native to Virginia and will thrive in most of the
state's growing zones.
Spring
_ Trees: Visually beautiful and very fragrant, magnolia trees come in many varieties. "Little Gem" and "Sweetbay," among others, do not grow over 20 feet, and work in a small garden. They love acidic soil, and since their leaves are acidic, consider mulching those that fall to the ground and using them to surround the base of the tree. They will feed the soil as they decompose.
_ Shrubs : The flower of the mock-orange shrub is white and flat and has a citrusy-orange-spice scent. Once established, lilac requires a minimum amount of care and is available in many colors. Viburnum is a hardy shrub that is also available in many colors and varieties, but not all are fragrant, so ask your nursery for a recommendation.
_ Vines: Wisteria used to have a reputation for growing out of control says, Wiederkehr, but, she says, not all varieties do. It grows well on a trellis and is great for adding height to your fragrance garden.
_ Perennials: Wiederkehr recommends using a majority of perennials with just a few annuals, since they keep growing year to year. Lily of the valley sits close to the ground and can be fun for children who like to touch and enjoy its sweet smell at close range. The dianthus family includes "pinks" and carnations which have a subtle spicy scent. If you're thinking about the average carnation available in a flower shop that has virtually no scent, Wiederkehr explains that those flowers were bred for hardiness in vases; many varieties are available that have
maintained the plant's true scent.
_ Annuals: Crocus, a herald of spring, has a spicy smell almost like cloves. Freesia offers lots of varieties and smells fruity which, in a larger garden, mingles well with spicier smells. Other bulbs to try include dwarf iris, narcissus and jonquil, all with fresh and spicy scents.
Summer
_ Shrubs : Butterfly bush blooms all summer, dies back in winter, and can be controlled by pruning. Several varieties of Virginia sweetspire, including "Little Henry" and "Henry's Garnet," with their cylindrical flowers, provide a nice contrast to flatter-faced flowers. If you're a rose lover, Wiederkehr recommends using shrub roses, a term which refers to roses that are hybrids of various species. They are easier to care for, have fewer thorns, and are less finicky than the abundant hybrid tea roses most often found in florists' shops.
_ Vines: Clematis comes in hundreds of varieties and should be grown on a trellis. Jasmine, according to Wiederkehr, "smells so fragrant it brings you to your knees." Use vines to create different heights in your garden to enjoy fragrance at varying elevations.
_ Perennials: Hardy perennials include bergamot, which will attract butterflies, and bee balm, a favorite of hummingbirds. Lavender is a garden staple because both its leaves and flowers are fragrant. Garden phlox (not the ground cover, creeping variety which has no fragrance) grows tall and exudes a sweet scent.
_ Annuals: Subtly fragrant snapdragons are a kid-favorite for the way their blossoms form the mouth of a dragon when pinched. Boldly fragrant star gazer lilies produce multiple blooms all the way up the length of the stem versus other varieties which offer a single blossom. Oriental lilies smell sweet, and flowering tobacco has a spicy floral smell that complements the more delicate scents of snapdragons and lilies. Spicy scented marigolds stay low to the ground and provide critter control for nearby vegetable patches; veggie-loving creatures are repelled by the scent.
Autumn
_ Shrubs : Autumn witch hazel, with its unusual, lowhanging flowers and pungent spicy smell, performs well this time of year.
_ Vines: Sweet autumn clematis will blossom after the summer varieties finish and provide a nice transition between seasons.
_ Perennials: Russian sage is similar to lavender in shape and character. It is quite hardy and the flowers smell a lot like spicy tea. Like  lavender, it also dries extremely well.



Winter
_ Shrubs : Winter hazel blooms yellow all through winter, still working to attract pollinators when few insects are left. Its bell-shaped, yellow flowers hang from bare branches in late winter and early spring. Spice bush is another shrub that blossoms throughout the winter, producing a yellow flower in thick tufts and smooth, shiny green leaves.
_ Perennials: Try wormwood for its lovely scented leaves that are greenish-gray and arranged in a spiral.
_ Annuals: Wiederkehr recommends focusing on fragrant leaves at this time of year. Lemon grass releases its pungent scent when you roll it in your hands. The leaves of select varieties of geraniums offer scents of chocolate mint and cherry rose. Lemon verbena is another fragrant leaf for winter's dark days.
Maintaining Your Scented Masterpiece
A word to the wise: fragrance exists to attract insects to spread pollen, so expect bees and butterflies to be frequent visitors. Note that bees only sting if they feel threatened, so encourage children to let bees go about their business unbothered so that all—human, insect, and plant—can live in harmony.
There are many resources available to gardeners in Virginia, including the Virginia Cooperative Extension (VCE), a partnership between Virginia Tech and Virginia Union University which maintains over 100 county offices and more than a dozen research centers around the state. They provide services such as soil testing, pesticide safety training, fertilization recommendations, and insect, weed, and disease identification, as well as a number of online guides and reference materials.
Another great resource is the Virginia Master Gardener Association (VMGA), a volunteer non-profit network for Virginia Cooperative Extension Master Gardener volunteers. Master Gardeners complete many hours of classroom training and internships to become certified in order to serve as volunteer educators for the extension service. The VMGA website provides resources for gardeners and links to local chapters, many of which operate free help desks to field citizens' gardening questions. With thoughtful planning and care, your fragrance garden can become not only a thing of beauty to behold, but a pathway to treasured memories.
Want to learn more? Check out the following resources.
_ Virginia Cooperative Extension
www.ext.vt.edu
_ Virginia Master Gardener Association
www.vmga.net
_ American Horticultural Society
www.ahs.org/
_ Norfolk Botanical Garden
www.norfolkbotanicalgarden.org/
_ Lewis Ginter Botanical Garden
www.lewisginter.org/
_ The Fragrant Garden by Julia Lawless
©2001 Kyle Cathie Limited
A guide to the history of the use of fragrance in residential
gardens with practical advice on using aromatic herbs for
health and cooking.
_ The Southern Gardener's Book of Lists by Lois Trigg Chaplin
©1994 Taylor Publishing Company
Over 200 lists of trees, perennials, annuals, vines and
shrubs known to thrive in southern growing zones as well as
solutions for common problems like soil deficiency and poor
drainage.
_ The Manual of Woody Landscape Plants by Michael Dirr
©1998 Stipes Publishing
An introduction to botanical and horticultural information
and terminology. Details the classification and nomenclature
of plants and offers information about plant hardiness.