Finding the Perfect Couch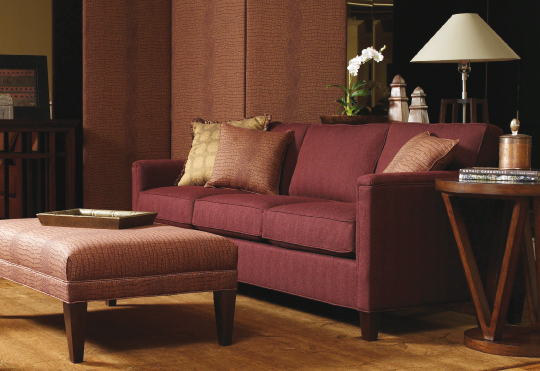 Like old friends, many of us can mark our years by the couches on which we have spent time.

Remember the sofa that your parents had, and how it felt so warm and safe to snuggle on it while you watched Saturday morning cartoons? How about the hand-me-down one that you tried to work with by adding a slipcover and some throw pillows when you first got married? Or the couch that you purchased on impulse in that lovely buttery yellow color that swallowed up the entire living room once you got it home? Yes, those "friends" provide us with memories, whether they be fond or painful ones.
My most recent couch-tastrophe was having our decadently comfortable sofa reupholstered in a perky, durable denim fabric only to find out that the piece of furniture would not make the turn into our bonus room. Yikes! That couch has now taken up residence in the basement. I have a feeling that I am not alone in my blunders, and what is it about couches that many of us have made costly mistakes with them? It is about time to unravel this mystery and become "forever friends" with the sofa.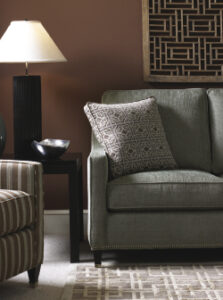 Measure, Assess and Place
The first and most important step in finding the perfect couch is measure, measure, measure! Do not head out to the store without performing this crucial task, or you may fall in love with a couch that literally does not fit in your room. Tom Feazell, Store Decorator for Grand Home Furnishings in Roanoke, advises, "Have an idea of the size [couch] you need, and measure the room. You need to have measurements or you are going to be lost when you go shopping." It is very important to know not only the space that you are working with, but to know the route that the piece will have to get through in order to be placed in the room. "Measure hallways, stair angles and door frames," he adds.  "That is why God made yardsticks!"
Mary Jane Levin, an interior design consultant with Halifax Fine Furnishings, advises, "If you have the simplest drawing of the layout of your room, photographs of anything you want to keep in the room, and any fabric samples that are portable, take them with you. It will be easier, and it will allow someone in the store to help you with your choices."
Tom Feazell continues: "It is worthwhile to do a floor plan. Draw your room, and place the sofa in the plan… just sketch and play around." He also suggests having a starting point in your room for inspiration, say the floor or the wall color. Also, taking fabric samples home from the store and viewing them in your own space is a wise idea due to the fact that some colors will look different  in natural light.
When it comes to positioning in the room, there is the age-old question of whether the sofa should be allowed to "float" in the middle or be placed against a wall. Levin suggests, "Placement is entirely dependent on the room. A floating placement is fine for some rooms, but others do not allow that. Sometimes a large piece of furniture needs to be against the wall to help the traffic pattern. It is really dependent on the room." One construction consideration is whether the couch has a hollow back (only fabric on the back) or a solid back (a piece of wood covered in fabric), as a hollow-backed couch is more likely to be damaged if it is floating.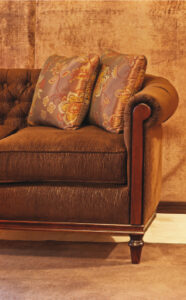 Choices, Choices
Once you have assessed what your needs are, it is time to go shopping! With prices ranging from a few hundred up into the thousands, knowing what you are getting for your money is of the utmost importance. Most of the experts agree that you get what you pay for when it comes to purchasing a sofa.
When purchasing a couch, what is unseen is as important as what is seen. Andrea Reid Wade of Reid's Fine Furnishings advises, "Eight way, hand-tied sofas give you a stronger, more resilient sofa. Quality pieces should be made of all hard woods with a tightly-assembled frame. A good sofa should have some weight to it. If the frames are light, the spring systems and thicker woods are not in there. Weight is often a good indicator as to the quality of a sofa."
Feazell suggests, "Price is a consideration, so have a budget in mind. Do you want it to last years, or do you redecorate often? There are so many choices for the consumer at different price points, although there is a huge middle range of quality furniture that is well-made." Shoppers seem to be more knowledgeable about the products that they are purchasing nowadays, making the process easier on both the consumer and the salesperson.
When choosing his own couch Feazell said, "There were things I wanted to find in my own sofa no matter what. I wanted a sofa that would last 15-20 years, be eight way hand-tied with down cushions, and be bench made, not manufactured on an assembly line." Bench made pieces are only touched by one or two craftsmen, unlike pieces that are made on an assembly line.
Levin also points out, "Always buy the maximum quality you can afford. Buy quality and design that you really like. In upholstered furniture the cost is almost all in construction, and it does pay to stretch your budget if the piece is something that you plan on using for a long time and using a lot. There are some simple classic styles that really last through the ages that can be reupholstered and changed with fabric to be formal or informal. The style does not need to change."
Fabric and style choices are where personal tastes can shine through. Many are purchasing neutral colors because all it takes is a few quick changes of throw pillows and drapes, and your home can have a whole new look.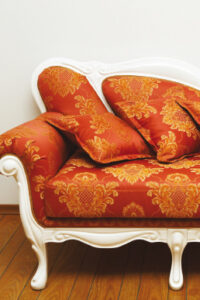 Consider the room the couch will be placed in and the type of wear and tear to which it will be subjected. As far as fabric selection, Wade says, "If it is something that you just want to look good, you can go with a silk or thinner cottons or chintz fabrics. These look pretty but are hard to clean. If it will be used a lot, rayon/polyester/cotton mixes work well because each of those elements has really good properties."
Feazell adds, "You can keep the price down by buying a sofa as is, but some customers want more options. Custom fabrics [make] the price go up." Fabrics are available at different price points, and purchasing additional pillows and adding trims to the sofa increase the price. Also consider the room the couch will be placed in and the amount of wear and tear to which it will be subjected.
There are also decisions to be made as to whether a couch is more contemporary and clean-lined or more casual and comfortable looking. Arm style and whether a sofa has exposed legs or a skirt is left up to individual taste and design aesthetic. When it comes to choices such as these, sometimes a store will offer the services of an interior designer to enable customers to make the best choices.
Just as a companion can make or break a party, your couch can have a positive or negative influence on a room. Tom Feazell put it perfectly when he said, "A couch sets the mood. If you have a gorgeous couch, all of a sudden the room is beautiful, but if you have an ugly sofa, people will not notice anything else. It makes or breaks the room." Sounds like that old friend analogy again, doesn't it?