Financing Home Improvements | When Big Changes Call for Big Money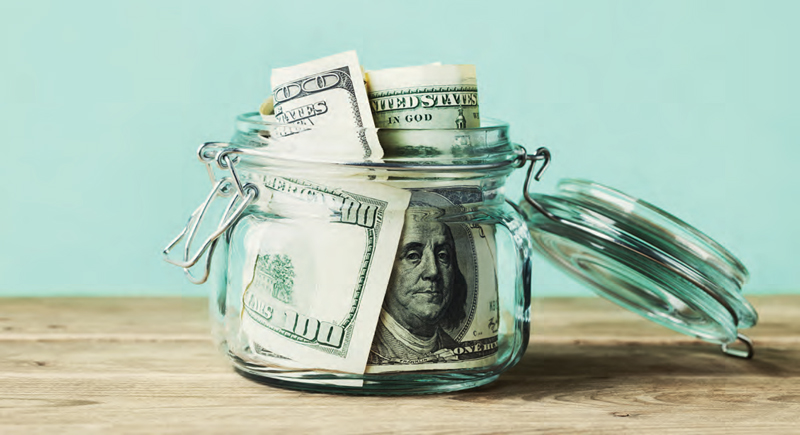 Finding renovation inspiration is easy, as home magazines, websites and blogs are chock full of great ideas, but what about the perfect financing option to make your renovation dream a reality? That information is not always easy to find. We've spoken with local experts and have highlighted the lending options for you, so you can spend more time picking out tile, and less time picking your brain for how best to come up with money to pay for it.
While cash is always your best and most hassle-free way to pay for home improvements (no interest payments), there are many types of loans available if you plan to borrow the money. So what should you do first? "Sit down with a loan officer," says Amy Lowman, of American National Bank and Trust. "The loan officer needs to understand the scope of the renovation to find the loan that fits best. There are several options out there." Different loans have different criteria, such as loan amount limits and stipulations about timeframes and contractors. For some bank-financed projects, the company or person you hire must be a "Class A" licensed contractor (meaning they have passed a licensing exam and are insured/bonded per area regulations). Lowman says vetting your contractor is key, so go beyond researching their licensing to get personal recommendations, and check out the contractor's work in person. And be sure to talk to your bank before you sign on the dotted line with a contractor.
---
There are multiple ways to pay for your next home project—here's a breakdown of available options:
Cash: The best way to pay for any home improvement is with cash—which may mean waiting on a big job until you have money saved, and/or acting as your own general contractor and hiring trusted sub-contractors for parts of a job, such as flooring, electrical and drywall. If you have a big project on the horizon, consider what you could do yourself—demolition of a space (like removing kitchen cabinets, backsplash and countertops) is unskilled labor that most healthy adults can handle and can save you considerable green. Consider opening a savings account and auto-depositing a set sum each month and you may get to your savings goal faster. Cash isn't always possible, but if you can swing it, you won't lose hundreds or even thousands in interest payments.
Refinance your mortgage: You can refinance your mortgage and pull cash out of your equity to pay for home improvements to your property— referred to in banking as a "cash out refinance." You may be able to cash out without increasing your monthly mortgage payment, but you need to look closely at the numbers, including the fees to refinance. Speak with more than one lender and get a loan estimate from each so you can compare fees side-by-side to choose the best and most cost-effective option. A cash out refinance is only a good idea if the improvements are truly adding value (think kitchen remodel vs adding a pool). Refinancing can be better than a home equity line of credit if you plan to stay in your home for more than five years and you can refinance to a lower interest rate than your current mortgage. In other words, if your current mortgage was obtained when rates were at historic lows (say 3.31% in 2012), and the best mortgage rate you can get now to refinance is 4.50%, that may not make sense for you. The bank will be involved only until the loan is finalized—at that time, you'll coordinate directly with your contractor on payment.
Home equity line of credit: Home equity line of credit. Also called a HELOC in banking jargon, a home equity line of credit may be a better choice if you already have a low mortgage interest rate. A HELOC is borrowing against your house with a line of credit—most banks will lend you up to about 80 percent of your home's total value (so you have to subtract the cost of your remaining first mortgage). A HELOC is like a credit card in that the interest rate is variable, and fluctuates over the life of the loan. Monthly payments will depend on the interest rate and how much credit you have used. As you pay off the loan's principal, you can again tap that money within the timeframe that the bank has set for the HELOC (which is a period of years, variable by bank). So, unlike a fixed loan, your credit is renewable, just like a credit card. If your line of credit is $50,000, and you remodel a bathroom for $25,000 and then pay it back in six months, you'll have $50,000 available again. Interest paid on HELOCs is usually tax deductible. "If you go with a line of credit, then you are responsible for coordinating with the contractor," says Lowman. This is unlike a construction or renovation loan, where the bank releases sums of money to the contractor only after work has been completed to satisfaction. You don't have that protection built in with a HELOC, so select a contractor wisely.
Home equity loan: A home equity loan is a second home loan on your house (i.e., a second mortgage), and instead of a draw period where you can use money on-demand, a home equity loan pays you in one lump sum. A second mortgage may be a sensible option if you don't want to refinance your first mortgage because it has a very low rate. Interest payments on second mortgages are also tax deductible. Closing costs will apply, so evaluate carefully. And as with a HELOC, you'll coordinate directly with the contractor on payment.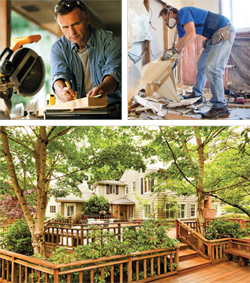 Construction or renovation loan: These loans are based on what the assessed value of the house will be after renovations are completed, says Pam Henderson of RMS Mortgage. You'll have to be approved for the final mortgage first, which will be your outstanding mortgage balance plus the cost of renovations. The licensed contractor you've selected (who is often background checked by the bank) submits a detailed contract of all work to be completed and costs, and as work is completed in phases, the lender sends an inspector to review the job. If the work is satisfactory, money is released to pay the contractor. Working with a local bank can be a big benefit, as they have often worked with contractors they can recommend to the homeowner. The renovation loan can then be rolled into a new mortgage at completion of the work. There are banks that offer both the permanent mortgage and the construction lending, which can make the process smoother.
FHA 203(k) loan: A loan backed by the Federal Housing Administration, the 203(k) can also be used to refinance a mortgage in order to raise cash for home improvements, notes Henderson. Because these loans are guaranteed by the FHA, buyers can be approved more easily and with generally lower credit scores than some other loans. However, there are strict guidelines that come with FHA loans, including using FHA inspectors and not adding any improvements that the agency views as a "luxury." These luxuries are things like pools and saunas, says Henderson. An important aspect of the 203(k) loan is that the maximum amount you can borrow is just under $295,000 for this area of Virginia. So, the total mortgage plus improvements cannot exceed that number. Check out hud.gov for more information.
Personal loan: This is a bank loan that doesn't require you to put up your house as collateral. A bank is more willing to lend at favorable rates when they are lending money against property (like a house or car) that they can repossess if you default on payments. However, for someone with good or excellent credit, a personal loan can be a reasonable option. Interest rates are usually higher than with home equity loans or lines of credit, and the timeframes to repay the money are shorter, on average between five to seven years. This means a larger monthly payment, but you may pay less interest overall by not dragging payments out over the years.
Credit card: You can use plastic to pay for home improvements, too—particularly materials like tile and drywall, especially if you are doing some of the work yourself. Many credit cards offer introductory periods of zero percent interest, so if you can pay back your costs in a timely manner you can benefit—just be careful to read the entire offer, in case the interest rate jumps outrageously the day the grace period ends. Many credit cards come with reward points and airline miles, so if you plan carefully, you could fund your vacation with your home improvement!
---
The money lending landscape can be confusing, but the experts say to take your time in comparing offers from various banks in order to secure your best possible loan. Read the fine print so you aren't caught off guard by hidden fees or closing costs. Take care to investigate contractors too, and you can go into the project with confidence. "My best advice is to get a good contractor, and one that understands the loan program that the client is getting, and how payment will work," advises Lowman. "Check your contractor with the BBB [Better Business Bureau], and do check his references."

cash, Construction or renovation loan, Credit card, Current Issue, FHA 203(k) loan, Home equity, Home equity line of credit, Home equity loan, home project, Personal loan, refinance