Family Friendly: The Comforts of Home Take Shape for the Link Family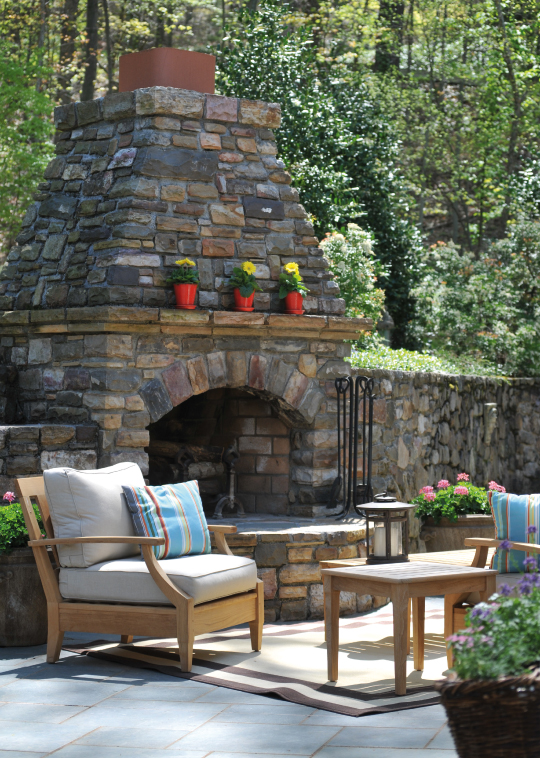 Angie Link's dream home included plenty of living space, lots of light and a dwelling designed for family life. She found it here in South Roanoke. Thanks to the imagination of both Angie and the previous owner, Sally Crockett, her home is quite remarkable.
When Sally Crockett moved there in the mid-eighties, the 1930s colonial was small. According to Crockett, it had a narrow side porch at one end. "I enlarged it to create an enclosed sun porch and also built a breezeway along the back." Windows along the breezeway offered better views of the outside gardens, and entrance doors provided access to the sunroom, living room and kitchen. While enlarging the living space, it also provided a much better flow throughout the home.
We really weren't thinking about moving," said Angie Link, having undergone an extensive renovation in their previous home. It was simply "curb appeal" that attracted Eddie and Angie Link to their present home. She would come visit friends nearby and during each visit Angie would look lovingly next door and exclaim "I love that house," admiring a charming slate roofed colonial with clapboard siding.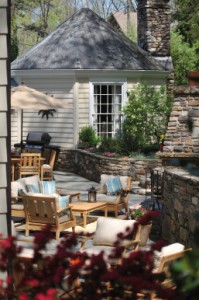 Eventually the family began to think about finding a home that required less maintenance. With a place at the lake and two teenage daughters, their lives were getting busier every day. They did not want to spend their free time working on the house and garden. Conveniently, at the same time, Angie's 'dream house' was placed on the market. It offered the traditional look that Angie wanted while providing a comfortable atmosphere to raise her family. "We came and looked at it and bought it!" said Angie. In 2002 the Link family moved in.
While Angie and Eddie were pleased with the general layout of their home, they wanted to take it a bit further. "The house was comfortable," said Angie, "but we wanted to make it more relaxed and family-friendly."
The landscaping changed significantly after the Links settled in. According to Angie, the gardens were just beautiful when Sally Crockett lived here. But the Links wanted to enlarge their kitchen and this involved some major changes to the backyard. "It broke my heart to take out her herb garden!" said Angie. While she hated to lose some of Crockett's special plantings, the final product is now an informal garden with expansive terraces, perfect for entertaining.
A large tiled patio that extends the length of the home includes an outdoor fireplace. A rock retaining wall, added to an existing wall, provides areas for garden beds along the entire patio. Angie is a longtime member of the Roanoke Valley Garden Club. "Gardening is my passion," said Angie. When her children were young, she spent a great deal of time working in the garden. But with their busy lifestyles, Angie now needed a garden with easier maintenance. She has achieved this here while still having lots of color and variety with both blossoms and greenery.
Angie's favorite color is pink, and that seems to be the theme throughout her garden. Luxuriant bleeding hearts, Max Frei geraniums, columbine, May night salvia, dianthus and creeping phlox fill the perennial beds. Stone steps lead to back gardens where azaleas, camellias, hot pink knockout roses, boxwoods, hemlocks and Nellie Stevens hollies form attractive plantings. Large planters on each side of the front entrance are filled with one of Angie's latest favorites, dragon-wing begonias.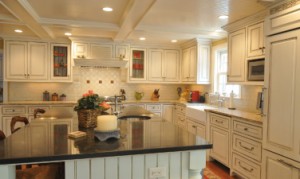 Inside the Links did extensive renovations with the help of Martin Pruitt from Cornerstone Builders. In addition to some major changes on the upstairs bedroom level, the couple renovated the entire back end of the home to create an enormous kitchen area. According to Angie, at one time there were three small rooms here; today an expansive area flows directly into the kitchen.
The ceiling in this new room is worth a first, second and a third look. Angie explained that since the room was once three separate walled-in rooms, when the walls came down, so did the support. At first the architect, John Fulton, considered columns, but that did not suit the style of the home. Fulton decided to use steel beams for support and then mask the whole support system with a coffered ceiling. This gives the room a traditional yet informal look.
Steve Morris, who owns Classical Design, designed the kitchen cabinets as well as the entire kitchen layout. According to Angie, "Steve did our first kitchen on Willow Oak and when we moved here and knew we had to do this kitchen over, I said 'I won't do it without Steve! I will wait as long as it takes until he is ready to do the job.'"
And Steve Morris was well worth the wait! The open kitchen area has appliances in all the right spots making cooking and cleanup easy. Angie explained, "He is always good about making sure that the dishwasher and refrigerator are in the right place. Steve would stay up at night thinking about our kitchen so I didn't have to!"
Angie wanted the kitchen to be a central spot in the house. With the renovation it was steps away from all of the main rooms, including the dining room, living room, outside terraces and dens.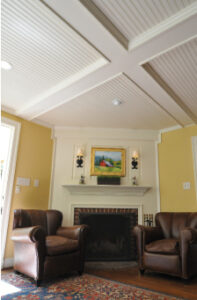 The Link home boasts several family gathering spots in addition to the den. One is the new kitchen with its large eating and sitting area plus a corner fireplace. "I don't think people spent much time in their kitchens a long time ago," said Angie. "Today this is where we live."
The room literally gathers sunlight. Large windows void of curtains and blinds beckon the sunlight in. The dark hardwood flooring is broken up by "tea-stained" rugs. The faded effect resembles old but very fine carpeting.
Elaine Stephenson helped Angie with the decorating, with almost every room renovated or redone to some extent. Stephenson has had her own business, Elaine Stephenson Interiors, for twenty years. According to Stephenson, "Angie was open to ideas and very approachable, making it a wonderful collaboration."
The sunroom is another inviting spot. The many windows provide a bright and airy space. With Sally Crockett's renovation years before, the contractor installed built-in bookshelves. A large window seat facing the back gardens provides the perfect lighting for a pair of white orchids. A large-screen television is set in a recessed wall. It is built onto a framework that allows it to be pulled out and angled for viewing and then slid back into the recession so it becomes part of the wall when not in use.
A table with bamboo chairs serves as a perfect spot for informal meals, board games or card games. An upholstered couch and comfortable seating create yet another gathering spot. Taking center stage are a pair of antique children's chairs that Stephenson found for Angie when her children were young. These tiny charming chairs, with a Scottish heritage, are over are hundred years old.
The living room, decorated with very traditional furnishings and art, is accessible from both the breezeway and the sunroom. One of the two portraits of the Link children hangs here. The parents commissioned noted Richmond-based portrait artist Nancy Mauck to paint both girls when they were very young. Mauck is well known for capturing the light as it affects her subjects and this play on light is fitting in this wonderful
sunlit house.
The dining room, with its elaborate molding over the doorways, is the epitome of elegance. An ornate antique wrought iron and crystal chandelier, discovered by Stephenson, hangs above the table. This room also glows with sunlight. Extra-large four-pane windows allow light to flood into the room.
The original kitchen serves a dual purpose as a butler's pantry and a small office for Angie, though she prefers to spread out her work on the kitchen counter. "While I have a desk here, normally the end of the island is where I work!" The tiny room serves an important use as a holding area for food, especially when serving a crowd. A warming drawer, refrigerator drawer, extra storage space and granite counters make this a true asset when preparing a meal for company.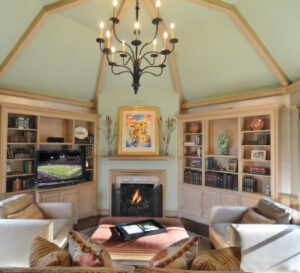 "My favorite room of the whole house is an addition completed while Sally Crockett was the owner," said Angie. A long and narrow window-lined hall leads to this very special room.
"In 1989 I decided that I wanted a room closer to the kitchen," explained Sally. At the time the kitchen was just a tiny room and it was inconvenient to get to the other areas of the house from here. Sally thought that the room would provide a nice alternative for family gatherings and entertaining. "It was my lark!" she exclaimed. She asked architect Tommy Craven in Charlottesville to design the room. Today Craven's firm, Johnson, Craven and Gibson, is known for its well-designed historical renovations. Crockett gave Craven a few ideas and the room 'just evolved." Perhaps it was his affinity for Jeffersonian architecture, but his design was an octagonal room with a cathedral ceiling. The end product was absolutely charming and truly makes the house what it is today.
Very little has changed in the room since the Links moved in. Wainscoting runs halfway up the walls and grass cloth covers the rest. A large fireplace and radiant heat in the floors make it one of the coziest rooms in the house.
According to Elaine Stephenson, the tone for this room was set with a lithograph that the Links purchased several years ago. This piece is perhaps the most important work of art in their home.
The signed contemporary lithograph, entitled Angel Dance, hangs over the fireplace. Romanian-born Alexandra Nechita created it. When the Links first saw it they fell in love with it. What makes this piece so special? The artist was barely a teenager when she completed the piece. At an unusually early age she exhibited a remarkable talent and became recognized as a child prodigy. Alexandra Nechita was known as the "Petite Picasso" because of her work's similarity to that of the master.




Stephenson explained that the room is far enough away from the rest of the house that the décor could be totally different, so she used contemporary furnishings. A comfortable sofa, a pair of white leather chairs and glass lamps are among the highlights in this room. To help illuminate the area, Stephenson found a pair of round mirrors covered with an overlay of tiny mirrors. The effect is delightful, with the appearance of tiny bubbles, resulting in a much brighter room.
Here the Links can show off some of their special finds and collections. In addition to the lithograph, a solid metal hunting dog graces the front of the fireplace, a piece they discovered years ago. Angie's fine collection of miniature Limoges boxes has found the ideal home in this special room.
Like many other rooms of the home, this room has become a favorite hangout for children and adults. Each renovation in this relaxed home was insightful and added to the comfortable feeling of the home. Today the Links have their ideal home, a family-friendly, bright and cheerful space perfect for elegant entertaining or just hanging out with friends and family.