Fabulous Foyers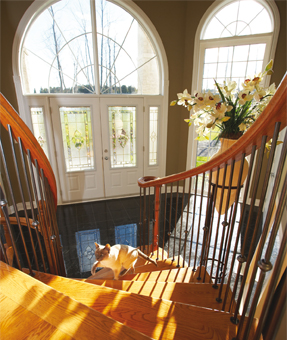 You know what they say about first impressions: You get one chance to make a good one. Your home's foyer presents the perfect opportunity to give your guests a good impression about the rest of your home and the experience they'll have visiting you. This space is often overlooked, however, because either we don't use it—preferring instead a more utilitarian entrance off the garage—or we treat it as a mere transitional space. Here, take a few tips on treating your foyer like the beautiful destination it can be.
Outfitting Your Foyer

If you've been walking through this space day in and day out in a rush to the kitchen or coat closet—or if you rarely use your front door—try this: Walk out your front door, take a breath, then walk back in as if you are entering your home for the first time. See it through the eyes of a guest, and take stock. Ideally, the space should beckon and beguile.
The size and shape of your foyer affect your options for outfitting the space, but there are several very basic elements in any welcoming foyer: functional furnishings, great lighting and pretty details. Even if your foyer isn't the entrance you and your family use most, it should have some degree of functionality. To start, use one statement piece as your anchor, then create layers of interest around it. Your anchor piece should be both beautiful and useful; the style should reflect your home and personality while at the same time offering some type of storage or surface area. A console table with drawers or cabinets or even an antique dresser can house extra linens, candles and stationery, while providing generous surface area for items practical and decorative. If you have a closet just for coats nearby (lucky you!), an armoire can still be a good choice as your anchor; this hefty piece can add visual height while providing a special place just for guests' coats. No more worrying about what will fall out when you open the hall closet the next time company comes for dinner!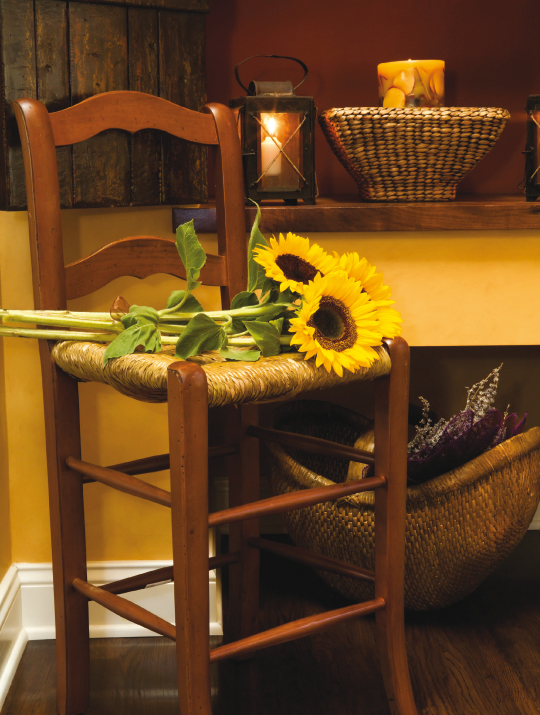 If your foyer has a lot of wall space, consider a small couch or settee. You may not use it everyday, but it provides the perfect place for a tete-a-tete at your next party or family gathering. If space is at a premium, a bench works well; it can serve as a place to sit to remove shoes or for guests to place their bags and coats. A pretty basket on one end of the bench can be a landing spot for practical items like keys and mail. Even a small skirted table that holds only a few picture frames provides secret storage beneath it.
If your foyer is particularly large—like the spacious two-story entry popular in today's transitional new construction—then consider that the open expanse of the floor might be its own statement: think mosaic tile design, hardwood floors with intricate wooden inlays, floor stencils or a fabulous statement rug. If you're lucky enough to have this wide-open space, consider floating a table in the center, showcasing a great piece
of sculpture, pottery or flower arrangement.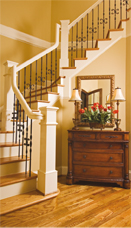 The Finishing Touches


Lighting is a very important and often overlooked design element—in the foyer and throughout the home. Overhead lights should always have a dimmer switch; the ability to soften your lighting to welcome guests, or brighten it to read the mail will work wonders for this space. Lamps always add a special glow, but if you don't have enough surface area to hold them, consider adding wall sconces.
Add pizzazz to the foyer with your favorite accessories. Most experts will agree that this is the perfect place for a statement mirror. Mirrors are design staples for their abilities to both reflect light and engage the eye with gorgeous frames. Practically speaking, a mirror in the foyer gives you a chance to check your lipstick before you leave.
On whatever surface area you have, a well-designed tablescape will charm this entrance. A small collection of photographs in beautiful frames gives your guests a glimpse into what you hold dear. A stack of coffee table books featuring your favorite subjects adds nice heft to the tablescape, and a vase of fresh flowers or a stylish houseplant is the ultimate welcome. A decorative tray turns a tangle of keys, sunglasses and other detritus of everyday life into a seamless part of your decor. Umbrella stands and coat racks keep things organized and provide visual interest. Your foyer can also delight the sense of smell with a scented candle.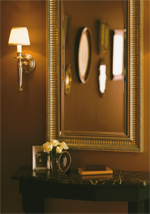 Put the Room to Work


If you're always on the prowl for unused space in your home, don't view your foyer as a mere way station. Consider creating a reading nook by incorporating a small Bergère chair upholstered in fabric you love; this type of chair offers a considerable degree of comfort without consuming the space of an overstuffed upholstered chair. Your foyer could also be the perfect place to tuck a small secretary or elegant desk to create a mini home office. A round table that holds mail by day could be transformed into an extra dining area while entertaining.
Treat your foyer as the destination it can be by surveying the furnishings, lighting and accessories. These special touches will give your foyer a second chance to make a great first impression.
Resources
Domino: The Book of Decorating by Deborah Needleman et al.
House Beautiful: The Home Book by Carol Spier