Estate Sales 101 | Navigate 'Tag Sales' Like a Pro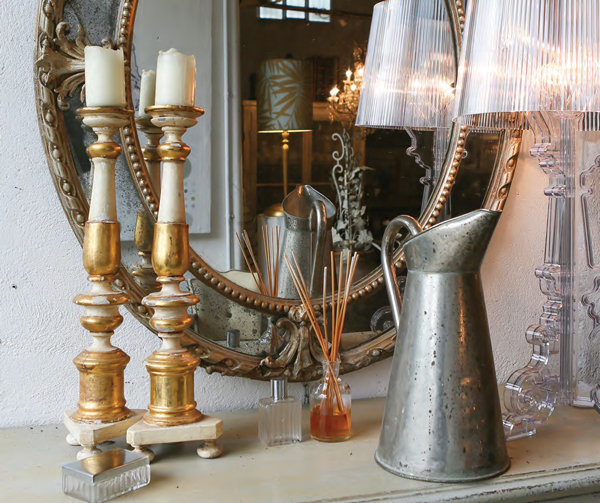 If you've never shopped an estate sale, you're missing out on quality furniture, fun finds and the thrill of a hunt, all at bargain prices. An estate or tag sale, by definition, is a way of liquidating the belongings of a family or estate. Bigger and more extensive than a garage or yard sale, they are often used in major downsizing, divorce, bankruptcy or when the final member of a family is deceased. If you don't know how to find and navigate the ins and outs of these sales, we've got you covered. We've talked with four Virginia experts who gave us the inside track on how to walk away from an estate sale pleased as punch, treasure in hand.
How to find and attend sales
First, know that estate sales are different from estate auctions. In a sale, prices are marked, and there may be negotiation room to lower the price. In an auction, a bidding threshold price is established, and bidding goes up from there. Both estate sales and auctions can be held either online, in-person, or a hybrid sale using both methods. Jerrod Hines is the owner of Farmer's Auctions in Salem, a family business for five generations. He explains, "Online auctions became prevalent about 10 years ago, when the technology had improved to the point to be user friendly."
To find online auctions and sales, Hines recommends checking out sites like estatesales.net, estatesales.org and auctionzip.com, along with individual company websites such as his own, farmerauctions. com.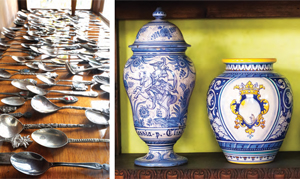 Suzanne Houck, a certified appraiser in Roanoke who has trained at Sotheby's in London, says the in-person estate sale is becoming outdated. Instead, she will sell finer items for clients by photographing pieces and sending them out to a list of her contacts. Interested buyers can then check them out in person. In this way, she is able to send the list to more contacts than would come through as foot traffic at an in-person sale. Online auctions or sales typically have a window of time that they are open— two weeks is common. A "preview day" is usually held during these two weeks, so that buyers can come see and touch what's available.
In-person, one-day auctions or sales will be advertised online at the above websites, and often in the newspaper and other local publications. These events are usually held on weekends when the most people are available to attend.
Plan ahead, arrive early
"Go with an idea of what you need," says Moyanne Harding, who provides interior design services in the Lynchburg area and also offers estate sale finds in her retail storefront, Moyanne. "Of course you might see things you didn't know you needed, which is part of the thrill, but having an idea of what you want is helpful."
If you have a written list of what you're looking for, you are less likely to get overwhelmed and forget why you came in the first place. If you have an area of your home that you are looking to fill (a sideboard for your dining room, for instance), write down the measurements of the wall, or a range of the size of piece you would like to purchase. Tuck a measuring tape into your pocket, because it can be tough to eyeball scale when furniture is out in the open, or in a room that is much different in size from your own.
---
Estate Sales Cheat Sheet
Call ahead. Find out how the auction or estate sale will be run, so you understand procedures before the sale begins.
Preview pictures. If possible, check out online photos, so you'll have a better sense of what to expect and look for.
Pack your bag. Bring a tape measure, a list of items you are looking for, a notebook, and your cell phone—if it's an auction, snap photos of anything you are interested in bidding on as you go through the preview.
Go early. Every expert agrees, the early bird gets the worm—and the best furniture. Don't be late, or the good stuff will already be gone. If you want it, either bid on it (auction) or buy it on the spot (sale). Chances are, it won't last.
Be a shrewd furniture detective. Look a piece over closely for water damage, prior repairs, cheap construction (glued instead of dovetailed drawers, for instance) and pet and smoke odors. If it has any of these, you may want to pass.
Have fun! Get a group of friends together and go to the sale. It's about the thrill of finding something you could not have imagined you'd need, but will look great on your bookshelf or in your home office.
---
In-person sales
For an in-person sale, if you remember one tip, it's this: arrive early! Every expert, including Troy Deacon, of High Cotton Fine Home Furnishings in Lynchburg, says there is a first come, first served policy, where people are admitted to the sale in the order they arrive. Starting at a specified time, numbers are handed out to people as they show up. "Once you receive a number," explains Deacon, "you don't have to wait in line, and can return when the sale opens." When you're inside, however, you're free to roam as you wish.
During the sale, it's ok to pick up small items that you wish to purchase and take them with you to checkout (unless the host has specified otherwise). For larger items, ask to have them marked as sold, or do it yourself. Deacon advises bringing your own pen and stickers with you, so that you can mark an item as sold with your name and information. "It's possible to bargain or to make a bid if you don't want to pay the price on the tag," notes Deacon. However, in that situation there's a chance that someone else will outbid you or be willing to pay full price. Your best bet? Call ahead to the estate sale company hosting the sale and find out the finer points of the procedure, so you aren't confused and trying to find someone to help you while the sale is underway.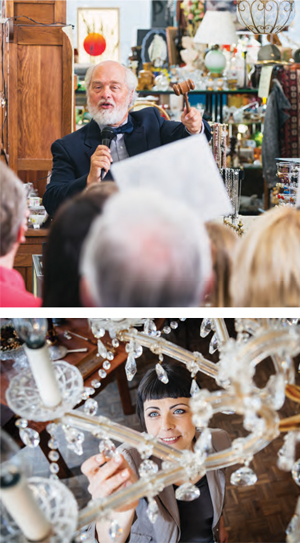 In-person auctions
An in-person auction is an event, and one not to be missed. While the internet has cut down dramatically on the number of auctions per year, they still occur. They often include concessions and activities, and can be a gathering event for a community. You can usually arrive early to preview items and get a bidder number. During the auction the auctioneer describes the item, and then you bid on the item by raising your card with your bidder number on it. When the highest bid has been reached, that bidder wins the item and must pay for it. Unless you have verified that alternate payments will be accepted, it's best to have cash or a check on hand. There is often a later date when you come pick up your item, or you might be able to leave with it the same day.
"While we used to save some of the better items for the end of an auction, we tend to not do that now, because a lot of people don't want to stick around until the end," says Hines. "So, be there early if you don't want to miss out." Auctions can vary in length, but Hines says his auctions are approximately four and a half hours or less. "We've found that is the max amount of time that people will hang around."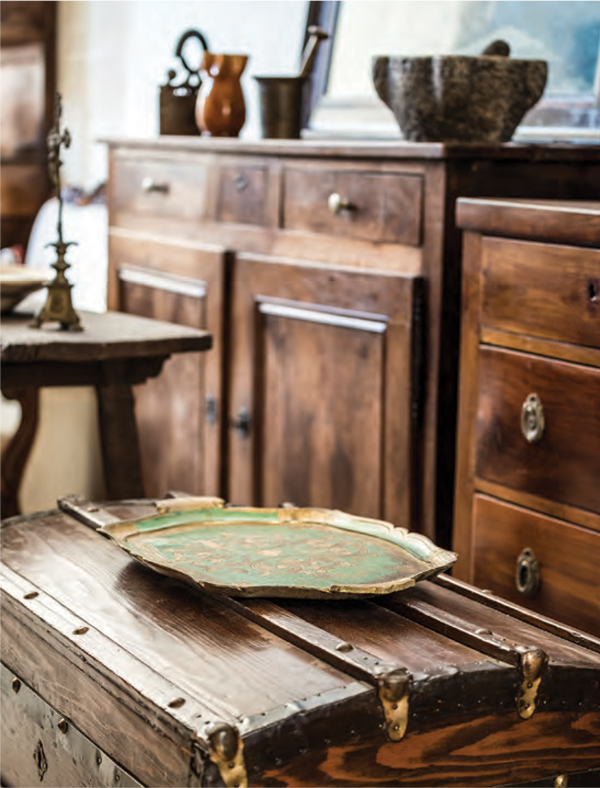 Spot quality and avoid pitfalls
One benefit of buying furniture and decor items via an estate sale or auction is that you can get a high quality piece for a fraction of the cost of new. This is especially worthwhile given that mass-market new furnishings are often made using lower quality materials, like fiberboard, that won't hold up long term. The phrase, "They just don't build things like they used to," is repeated for a reason—it's often true. If you are a furniture buying rookie, there are some sure-fire ways to spot quality in secondhand furniture, and some red flags that should have you passing on a piece.


"Check out the drawers, do they move smoothly?" advises Harding. "Is the piece sturdy, is it solid wood?" Those are the things Harding wants to know when she is assessing a piece for a client or her storefront. But, she says, look past the finish—if the finish isn't in great shape, or is an undesirable color, it can be changed easily. Painting is always a cost-effective option and can transform a tired find, along with new hardware. Chalk paint is user friendly for a novice, and requires little prep work. If you don't want to tackle the work yourself, ask around for a recommendation. And, of course, refinishing is always an option, but is more expensive.
Some other marks of quality are drawers that are dovetailed. If you pull the drawer out and examine the seam on the side, it should look like a jigsaw puzzle, with the front and the side pieces of wood interlocked together. Wood should be free of water damage (bowing and cracking), and should be stable on flat ground. Look closely at joints for repaired damage (meaning the piece will already be structurally weaker) and if you are thinking of purchasing an upholstered piece, give it the sniff test. Was it owned by a smoker? A cat lover? Unless it is stripped to the frame, these scents can be difficult to get out, even with new fabric on top.
All that said, buy what you love. "Sometimes I see folks buy something that I would not call quality, but they love it," says Deacon. "I believe quality is in the eye of the beholder, but you can never go wrong with solid wood or items that have a furniture name brand, such as Henkel Harris, Drexel and Baker."
Happy hunting! ✦
estate auctions, Estate sales, Features, In-person auctions, in-person estate sale, online auctions