Elements of Style | Trends for Inviting Interior Design
Do you know your design style? Look around your space—does it reflect a deliberate plan, or is it something you ended up with through hand-me-downs, impulse buys and "temporary" purchases? (Looking at you, 1999 IKEA TV stand bought as a temporary fix which then lingered for 20 years.)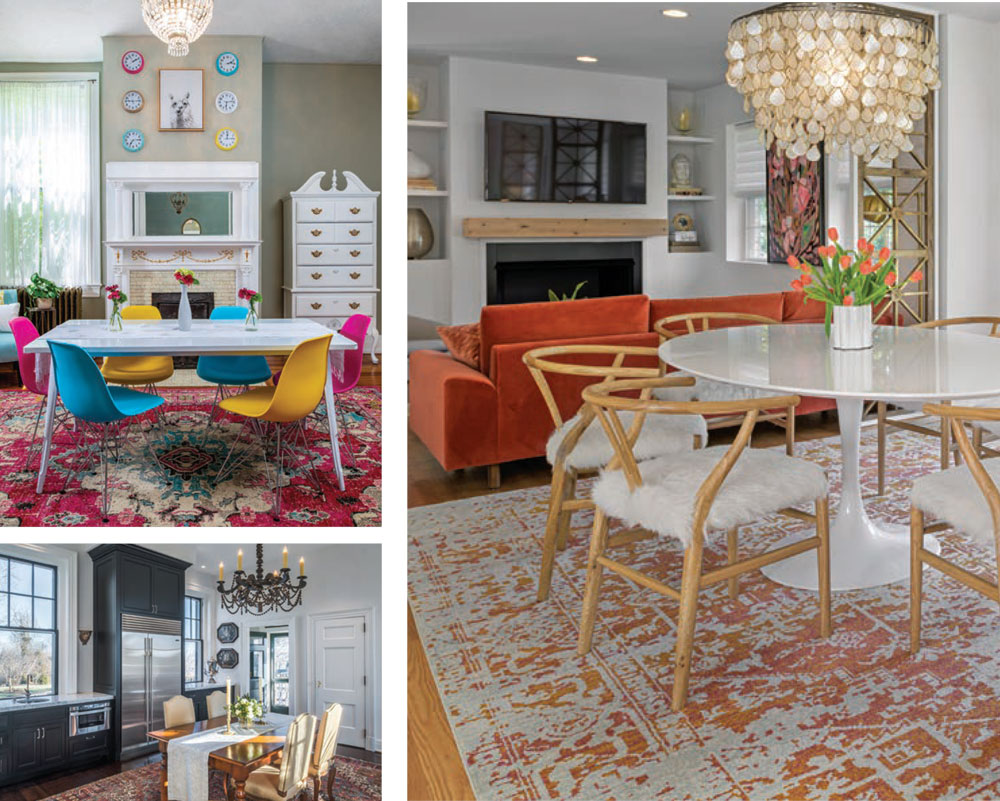 Maybe you're looking around and thinking, I'm not entirely sure what this is. If so, that's okay; many of the most interesting spaces are a combination of styles. Happy accidents can make a room, but understanding the characteristics of different design styles will help you create spaces that feel pulled together and intentional instead of haphazard. Here's a breakdown of 10 popular styles, with tips to achieve the look.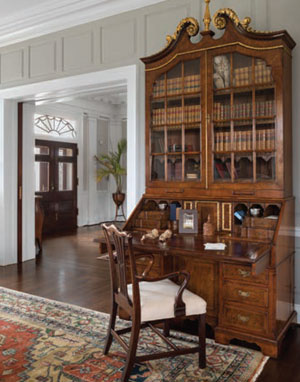 Traditional
Traditional style refers to antique and reproduction furnishings of predominantly 18th- and 19th-century European design. It tends to be sleeker and less ornate than heavy Victorian parlor furniture. Well-known eras include Queen Anne, with its signature fiddleback chairs and cabriole chair legs; Chippendale, named for an English cabinetmaker and famous for its ribbon-back chairs and ball-and-claw feet; and Federal, also known as Hepplewhite, which features straight lines and legs, geometric forms and inlays. Later styles such as Sheraton, Empire and Louis VXI are also popular today.
The traditional look is elegant yet comfortable. Its hallmark is symmetry; a traditional room will feature pairs of matching items such as side or bed tables, table lamps or side chairs. Rooms frequently have decorative details like crown molding and wainscoting. Floors are often dark wood, overlaid with Persian rugs. Furniture is also dark wood such as mahogany, walnut or cherry, with sleek curves and carved details.
Fabrics are important in traditional decor. Upholstered seating, throw pillows, drapes, covered headboards and wallpaper all look at home in traditional spaces. Window treatments are no longer the elaborate balloon and jabot valances of earlier decades, but rather full-length curtains layered over Roman shades or wood blinds. Damask, floral, plaid and stripe patterns are characteristic of the style, as are trims such as fringes and tassels. Color schemes can be neutral or understated, but rich jewel tones such as hunter green, navy and red are classics.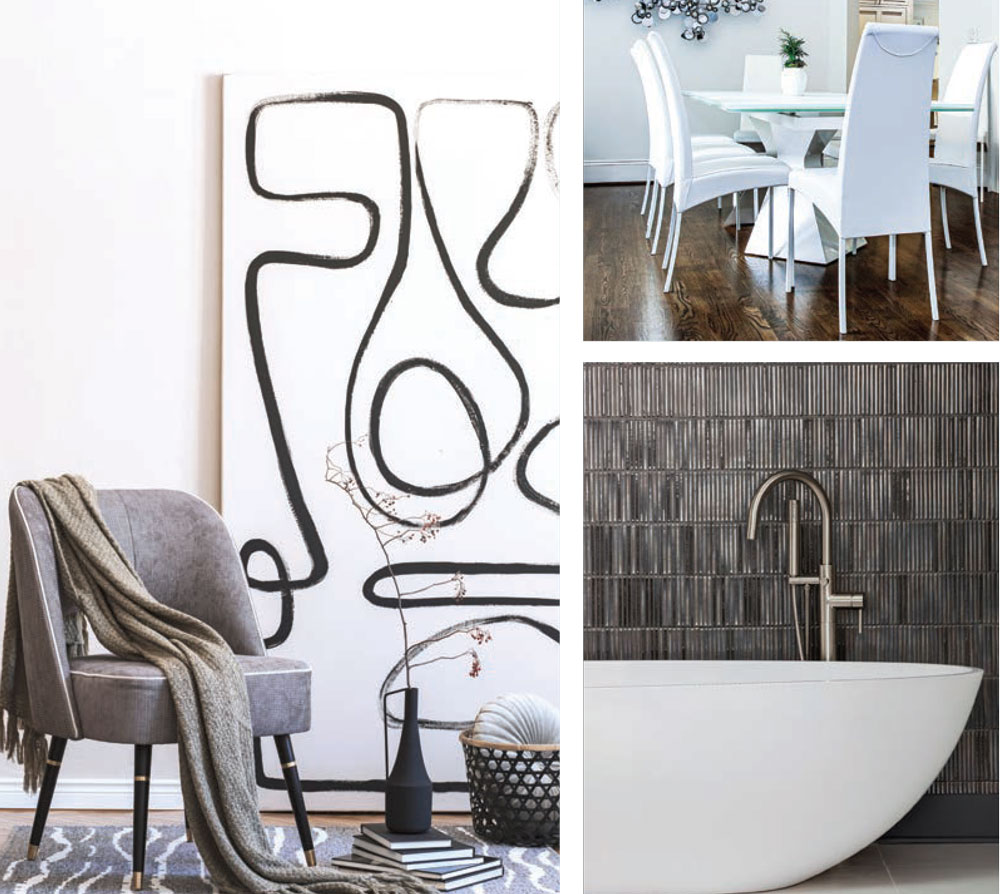 Modern
Despite its name, modern design has been around for over 100 years. It springs from Modernism, an early 20th-century art movement which favored functionality and simple forms, as well as German Bauhaus and Scandinavian design. As an interior design style, modern was a reaction to elaborate Victorian decor, and is characterized by clean, straight lines and utilitarian furnishings. Modern spaces tend toward open floor plans with lots of natural light, and can combine manmade materials with organic, so long as the result is minimal and uncluttered.
Light-toned woods, concrete, glass, chrome and steel are all popular finishes in modern design. Furnishings tend to be long and low, often with wood veneers, and leather and monochromatic fabrics. Color palettes are neutral, with a foundation of whites, grays and beiges which may be sparingly accented with other hues.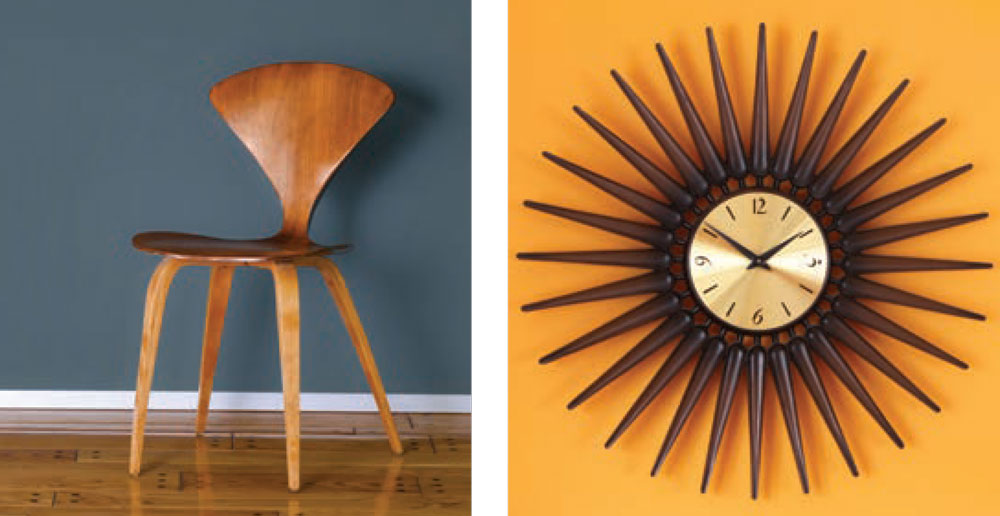 Midcentury modern
Midcentury modern arose from modern in the post-World War II era. While its heyday was the 1940s through the 1960s, it experienced a revival at the turn of the 21st century, and still feels fresh and relevant today. Often shortened to "mid mod" or abbreviated as "MCM," it retains modern's clean lines and open spaces, but is a warmer, more natural iteration of the style. Furniture may feature organic curves in addition to low, boxy shapes. Splayed, tapered furniture legs, kidney-shaped coffee tables, and acorn wood finishes are common characteristics of the MCM look. The atomic age added a kitschy spin, with geometric and space-age shapes that gave us the Sputnik chandelier, along with boomerang and starburst shapes in pastels like pink and aqua. However, most MCM color palettes are warm and earthy, with burnt orange, mustard yellow, browns and greens being common.
The style includes iconic names and furniture pieces, such as Eames' lounge chair, Saarinen's tulip table, and Mies van Der Rohe's Barcelona chair. Mass-produced, original items today can go for thousands of dollars, although reproductions are available at a fraction of the cost.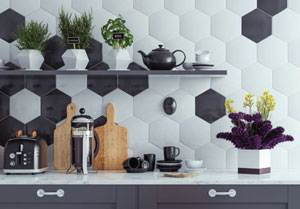 Contemporary
Despite their interchangeable use in language, in the design world modern and contemporary are two separate styles. Contemporary is a bit of an amorphous term, style-wise, as it refers to whatever is currently en vogue, and is therefore always changing. Generally speaking, however, contemporary spaces can be thought of as "well-rounded," blending elements of modern design with more ornamental features and colors. Black and white color schemes are popular in contemporary style.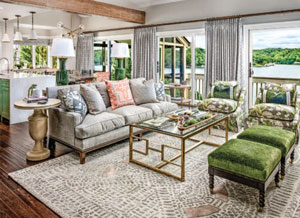 Transitional
Transitional is said to bridge the gap between traditional and modern decor, though in truth it's often a blend of traditional and contemporary. A good way to think of it is as updating the classics. The look is sophisticated and timeless, inviting and collected, and extremely livable.
Balance and gentle contrasts are key to pulling off this style. You might begin with a traditional layout, but from there the possibilities expand. Contemporary furniture mixed with antiques. Traditional furniture updated with modern fabrics. Modern art atop traditional wallpaper. An antique wooden dining table paired with Cesca or Parson chairs.
Texture and layering are essential. Ground the decor by including natural fibers like a jute rug or rattan basket. Contrast a cozy fabric with a metallic accent. Keep patterns fairly subtle, and used as highlights instead of broad features. The transitional palette is full of soft neutrals such warm whites, creams, grays and taupes, with a touch of deeper color like brown or black to add depth. Splashes of color might be blues and greens—nothing overly bright. The overall effect is refined, yet comfortable.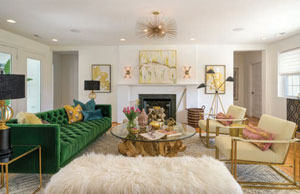 Eclectic
This design style could be described as curated fusion. The look may appear accidental, but it is not haphazard. Achieving it requires careful attention to composition, color and cohesion. Choose a few anchor pieces and build upon those with recurring colors or themes. Furnishings must still pay attention to scale and proportion; stick to just a few styles so that themes are repeated. Color can be bold, but still needs to incorporate a scheme for the effect to be novel but not chaotic.
Eclectic design gets its energy from the unexpected—a glitzy chandelier, an oversized gilded mirror, an eye-catching sculpture. Have fun with an unusual occasional table like a steamer trunk, stool, or something with a carved animal as its base. Fill an eclectic space with what you love, but don't over clutter. Curate tableaus and groupings as focal points which tell a story about you, your interests or your travels.
Bohemian
Often shortened to "boho," this style is eclectic's exuberant, free-spirited cousin. The term, first coined in early 19th-century Paris, refers to groups of artists and writers who lived an unconventional lifestyle. It emerged as a design style in the 1960s and 1970s, and has experienced a 21st-century renaissance. Boho is characterized by casual, cozy spaces filled with global influences and organic accents. Furnishings might be a mix of MCM, wicker, and thrift store finds with rustic wood finishes. Global textiles and patterns such as ikat throw pillows and kilim rugs are popular, as are items such as Moroccan leather poufs and macrame wall hangings.
Bohemian's color palette features vibrant colors, such as jewel and warm earth tones, grounded with neutral elements. Earthy textures can be paired with sleek metallic touches to lend a little gloss. Indoor plants are a must, and books and vinyl records are desirable decor. Boho spaces invite you to play music, read a book, and dream up your next adventure.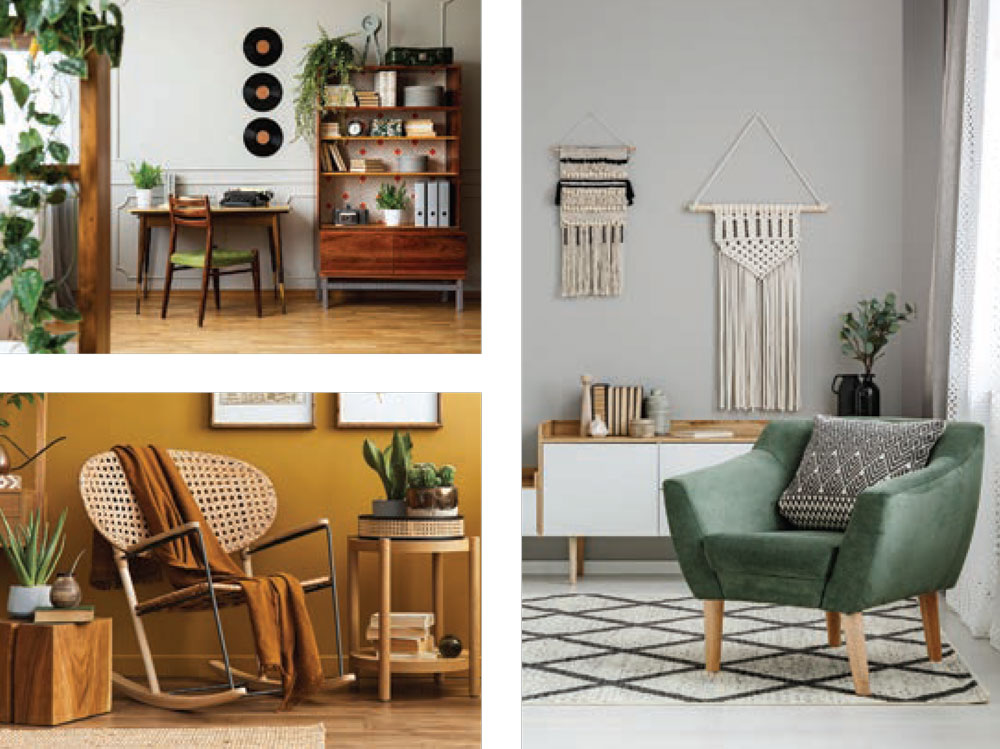 Scandinavian
Like boho, Scandinavian, or "Scandi," style has exploded in popular design over the past few decades. In fact, the two styles often pair well together in modern, youthful interpretations. Scandinavian style also has significant overlap with midcentury modern, which took many of its cues from Scandi's clean, light-filled aesthetic. It began in the early 20th century, gained popularity mid-century, and then reemerged at the end of the century.
Scandinavian style is about comfortable simplicity and organic minimalism. Open, airy spaces seek to maximize light (a nod to its origins in northern climes). Natural materials like wood and stone juxtapose fibrous textiles, soft sheepskin rugs, wool and chunky-knit blankets and throws. Windows might be bare or simply dressed; likewise, floors may be bare wood, sometimes accented with a geometric rug (never wall-to-wall carpet). As with modern design, simple functionality is key in furnishings. The color palette is full of soothing neutrals like whites, creams and tans, sometimes accented with soft pastels, grays and black. Pale woods such as beech, pine, ash and birch are all at home in Scandinavian design.

Though the style is meant to be affordable (as ubiquitous IKEA stores remind us), there are also higher-end iterations. Famous (and widely imitated) chair styles that emerged from Scandinavian design included Hans Wegner's wishbone chair, Arne Jacobsen's egg and swan chairs, Kaare Klint's leather safari chair, and Alvar Aalto's bent plywood lounge chair.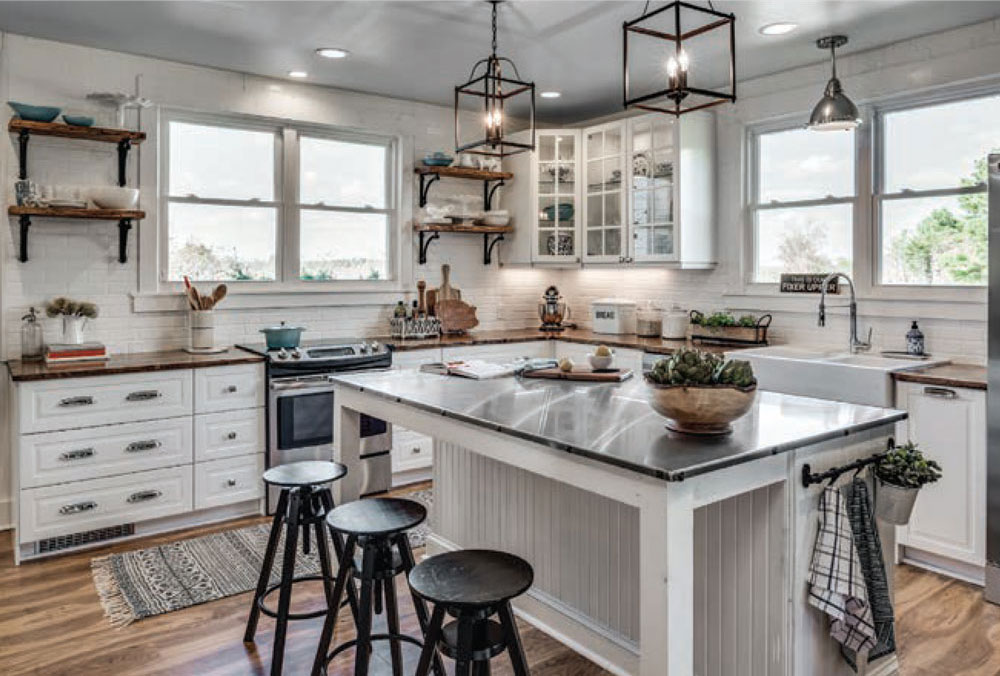 Modern farmhouse
This HGTV craze shows no signs of slowing down, in no small part because of its inviting livability. Traditional farmhouse style, with its wide plank floors and vintage mix-and-match furnishings, evokes a homey nostalgia.
The rustic side of farmhouse decor includes sturdy furniture in wood and weathered finishes, leather and wrought-iron accents, and a color palette of browns and whitewashed neutrals. The modern iteration adds sophistication through clean lines, more streamlined furnishings, sumptuous textiles, updated neutrals, and glossy touches of metal. Modern farmhouse combines the charm of European-style country homes with more rustic, reclaimed elements to create an appealing blend of old and new. Some key design elements include exposed beams, salvaged and repurposed materials, apron sinks and spindle-back chairs.

Hollywood regency
This style is your go-to for glam. It was inspired by the homes of 1930s movie stars during Hollywood's Golden Age, when lavish movie sets transported a Depression-weary public to another place and time. As a Hollywood invention, the goal was to make people look good in the setting, so furniture (which leans MCM in form) is sleek, modest in scale, and designed for entertaining. Finishes, however, tend to be more opulent than organic—think velvet, silk, and even fur textiles. Perhaps a tufted headboard or divan. Animal prints, chinoiserie, black and white checkerboard, and bold, intricate florals are notable patterns. Likewise, black and white is a common color scheme, along with jewel tones and other bold shades like hot pink, emerald green and peacock blue.
Gloss and shine are key components. You'll see lacquered and mirrored furnishings, crystal chandeliers, glass, Lucite, and bright metals such as chrome, gold and brass. Sunburst mirrors are an iconic symbol of this style. In Hollywood Regency, accents make a space look sophisticated and polished. An entire room in such a glitzy style would read more theatrical than livable, but a few touches go a long way. Like MCM and Scandi, the style is easily accessible, though originals from iconic names like Dorothy Draper and William Haines are investment pieces.
The best home design often includes elements from more than one style, and feels collected over time rather than purchased en masse. Knowing the elements of good design will help you create spaces that are fresh and inviting, and choose styles that suit not only your home's architecture, but your personality and lifestyle. ✦
18th- and 19th-century European design, antique, Bohemian, boho, contemporary, design style, early 20th-century art movement, eclectic, German Bauhaus, Hollywood regency, Interior Design, Midcentury modern, modern, modern farmhouse, Scandinavian design, traditional style, transitional