Dream Closets -Where Glamour Meets Organization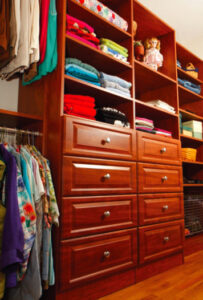 In movies, the closets are always filled with flawlessly folded sweaters, jewelry is nestled in velvet-lined cases, and Prada peep-toe pumps are perched neatly on shelves. Down here in the real world, most of us have closets that are a bit less, shall we say, visually appealing.
A streamlined closet is practically a necessity, according to Reynold Hawk, owner of Organized Living, Inc., which serves all of Southwest Virginia and specializes in turning chaos into order. Just think, he says, about how badly your day goes when you can't find anything in the morning. When your space is organized, though, everything seems to go more smoothly.
If peace of mind and morning calm aren't reason enough to whip your closet into shape, think resale.
"There's nothing that you are going to do to your home that's going to raise the value of your home more," says Hawk.
So how much space do you need? That all depends on you. For Laura Tate of Hardy, a 10- by 20-foot space is the right amount.
"I had stuff stored in the basement closet, in my kids' closets. My clothes were stuck here, there and everywhere," says Tate, who had no place for her almost 200 pairs of shoes. She shared a 6-foot closet with her husband for years until she found Rick Gumpert, owner of Closet Storage Organizers in Roanoke and Lynchburg. "Closet Storage Organizers are great; they are perfectionists," she says.
An addition that included space specifically for her closet was added to the home 12 years ago, and with the new closet came shelves for clothing, drawers for undergarments, hooks for scarves and cubbies for 189 pairs of shoes.
Finding things in the closet that is now divided by color, season and style is blissfully simple, but one of the things that makes her smile most is that each thing she pulls out is wrinkle-free. Everything that came out of her old, shared closet was wrinkled.
"I love it, it's flexible and it works really well," says Tate.
If you already have walk-in closets, nirvana isn't far off. Organizing pros can walk in and construct whatever your heart desires by adding the right shelves, cubbies, drawers and dividers. Need to see each piece of costume jewelry you own on display? Done. Don't want anyone to know exactly how many shoes you really have? Done.
If you don't have a walk-in closet, rethink how you use the rooms you do have.
That's how Kathy Traylor started her dream closet. Initially Traylor's old closet was so small that she adopted her kids' closets. Finally, fed up with having to hit three different closets each morning just to get dressed, she called Reynold Hawk's Organized Living, Inc. With their guidance, she agreed to move her desk out of a tiny room that she used as an office, and voila! A large walk-in closet was born.
"Until you see it, you can't truly appreciate it," says Traylor. "It's amazing how much you can do with organization. I have so much extra room. I would say the space is at least tripled. It's amazing."
Designers can double or even triple the amount of usable closet space when they create closets because they incorporate second and even third clothes rods, drawers, hanging rods, baskets and shelves. They know how to place each element—hanging spaces, shelving and drawers—in precise locations so everything can be easily accessed. Those awkward spaces you once dreaded reaching into are eliminated in a professionally-crafted closet.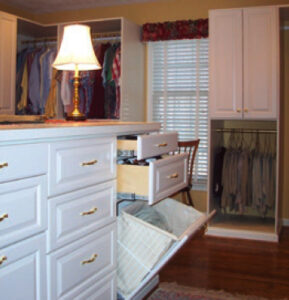 Make the Most of Your Space
The secret to turning your overflowing closet into a dream closet is making the most of every inch of space you have.
"The space is going to dictate the design and the needs are going to dictate the design," says Gumpert. "We design to maximize the space."
You can transform your squished closet into a more spacious one with small changes. Closet pros take advantage of every space including tight corners, high ceilings and odd-shaped spaces.
"Awkward angled closets are not a problem. The size of the closet doesn't matter; it's about the design," says Hawk. "Even when I can't get extra space, it is possible to make it more user-friendly."
Before you start, answer two questions, says Gumpert: "What is in my wardrobe," and "What do I want to do in this space?" Closet designers need to hear from everyone who will use the closet to determine what their individual needs are and get the answers to these questions.
Homeowners have to take an honest look at what they own and decide, for example, if they want a system that displays colorful collections, if they want everything behind decorative doors or maybe even if they never want to fold another shirt again. You can have exactly what you want with a little help from an organization professional. Just make sure you don't keep that dirty sock collection a secret.
"Be open and honest about what you have, don't be embarrassed to have someone come into your house, and don't apologize about how your house looks—that's why we are there," says Hawk.
After listening to your wants and needs, closet designers can get to work. They take stock of the clothing and accessories you own. Sweaters and hats will need shelves; slacks, shirts and dresses each require specific hanging heights; jewelry may need individual wall hooks or jewelry drawers; ties and belts need racks; and purses and shoes need cubbies or cases.
Wishes and wants collide as the designers sketch layouts. Some create several drafts for homeowners to consider. Then it's time to brace for the details—colors, drawer pulls, stained-glass and crown molding…oh my!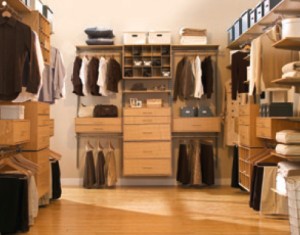 Materials of Choice
The most popular closet systems today start with melamine, a laminate material that looks like wood, doesn't warp or scratch, requires little upkeep and is easy to clean. There are several different grades of melamine to choose from, or you can opt for wood shelving. Closet designers prefer melamine because it won't warp over time.
You can also choose a white organization system like the one Tate has in her chandelier-lit hideaway.
"It reflects the light and so it's really light in there," says Tate, who also has two windows in her walk-in closet.
Once the dimensions are agreed upon, builders will cut each piece of melamine specifically to fit the space, which isn't an option if you go into a "big box" store. If you want to do the work by yourself, chain stores do offer premade closet systems. But only a professional closet designer can promise your cashmere sweater and your favorite sweats that they will each have a place to call home at the end of the day.
The pros will either assemble the closet off-site and then install it in the home, or assemble it piece by piece in the home.
The storage system is typically attached to the wall and raised off the floor so nothing is sitting on the floor. Installers can make closets appear as if it they are built-in pieces of furniture.
Hawk says one of his goals in building closets "is structural integrity. If we put it up, it's not going to come down." To the parents it's probably a closet, he says, but to kids, the system may look more like a tree house, jungle gym or a series of basketball hoops.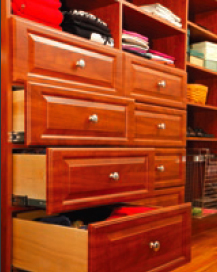 Options Galore
"It's so gorgeous," says Traylor who has already made an appointment to have another portion of her closet professionally done. "I don't have to spend as much time looking for things. I even arranged things by color, length and by season."
Traylor finds pleasure in having everything in place but she also admits that the custom-built closet just seems to dress everything up in her room. The closet matches the wood in her bedroom almost exactly.
Melamine closets can come with almost any color wood-grain finish you desire, from a deep chocolate pearl to the red grand cherry. If homeowners don't need to use the top of the closet for additional shelving, builders can add crown molding around the edges to dress the closet up. Raised panel door fronts can be added to keep clothing hidden. Doors now can be ordered with faux stained-glass patterns to add to the luxury. Baskets for shoes can be ordered in chrome and rubbed bronze to add a bit of shine. Drawer pulls and trouser and belt racks can also be ordered in different finishes to bring in glitz. Organizers say that velvet jewelry inserts are hugely popular with female clients. They provide tiers in drawers so jewelry can be easily seen but also tucked away inside a drawer. Women also frequently request valet rods that can be tucked away when not used and slide out to hold clothing such as dry cleaning or tomorrow's outfit.
If you want to go all out, think islands. Waist-high islands, similar to those often used in kitchens, are ideal for dream closets. They can hold anything you want, whether it be clothes, laundry, shoes, or the tools for your favorite hobby. High-pressure laminate or granite countertops, which come in thousands of colors, provide the perfect top for closet islands. Laundry hampers and safes are two more things that can be tucked away in closet islands. Islands can offer extra space for shoes, drawers for folded clothes and a large usable space for applying makeup or folding clothing.
Along with wall shelving, many homeowners are now turning to slim but full-sized ironing boards and mirrors which slip from the closet sideways then flip on a swivel for use. Both items need only a few inches of space. Tate says her ironing board is hidden in a partition that divides the closet. Things like drawers, sliding racks and baskets are now available in greater varieties as
well.
While these bells and whistles will cost extra, they will also save you time and stress every day. If cost does become a factor, closet designers are excellent at changing materials, colors and sizes to make your closet a reality. Don't hesitate to ask.
The basic closet may cost between $1,200 and $1,800, but changing from melamine to wire shelving can drop the cost by hundreds of dollars.
"It comes down to the homeowner's needs," says Hawk. The professionals in the industry visit the home, inventory everything and build spaces specifically around those needs. Whether you have 90 pieces of jewelry or 300 pairs of shoes, a closet designer can turn chaos into calm.