Divine Eclectic | Cultivating a Unique Design Aesthetic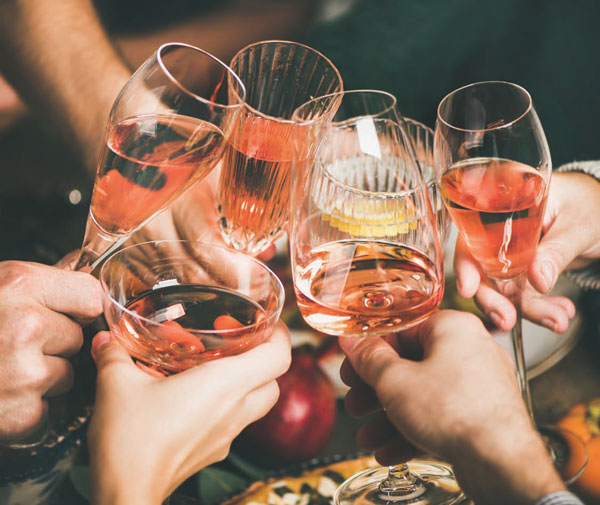 The adroit hostess knows that decor sets the mood of the party. Her table settings feel more curated than designed: her dining room is an explosion of color, texture and style. She breaks design rules we thought non-negotiable; nonetheless, every element of her gathering casts a spell. Perched by the fireside for cocktails before dinner, her guests feel the stirring of long-dormant, creative juices: one suddenly has a flash of the novel he forgot to write years ago; another makes a note to sign up tomorrow for that mixed-media masterclass she's been meaning to take. This magical hostess has the heart of an artist and the dinner party is her medium. To enter her sphere is to join a party we only wish we could throw. The good news for eclectic design aspirants is that mixing it up in the dining room requires no magic at all, just a hearty helping of improvisation, worked into the longstanding framework of accepted rules of design.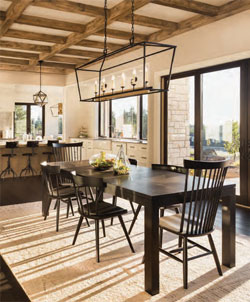 Core eclectic: back to basics
In eclectic design, the possibilities are endless for improvising spaces that are well-designed, even as they reflect the creativity and innovation of the host. Here's a guide of sorts, a checklist for design in general, with suggestions for adding that elusive, eclectic vibe:
Central focus: give the eye an obvious landing pad and work other elements around that focal point.
Textural interest: change up surfaces with materials and finishes that are cool and warm, rough and refined, nubby and smooth to the touch.
Statement accessories: feature sentimental and collected pieces across design styles, but unite them through color, texture or scale.
Neutral base: keep the palette neutral on walls, ceilings and floor. Choose whites, grays and browns as backdrops for vibrant, eclectic vignettes.
Balance of scale: mix styles, but don't let any one element overpower another.
Layered lighting: incorporate multiple sources of light from varied heights.
Function first: keep in mind the room's utility, whether seating, dining, study, or food preparation and don't clutter spaces with "design" that gets in the way.
Design symmetry: eclectic design doesn't like mirrored balance, but all design requires symmetry across space.
Great pieces: invest in great, forever pieces over time. Dallas Designer John Pfifer Marrs, who will speak on Eclectic Design and Buying for Collectors at the Greater Lynchburg Home & Garden Show in February, says, "If you buy one great piece every year, in five years you'll have five great pieces." (For information, visit lovemylynchburghome.com).
Color theory: get to know the color wheel and use it to balance your room with both cool and warm tones. Read up on complementary colors. Understand the difference between dominant, secondary and accent colors.
Graphic artist Tom Lowe has recently traded a large and stylish, classic prewar apartment, with a formal dining room, for a mid-century modern, open-concept house with no dining room at all. "It's a challenge to get it right," he chuckles. "Don't be afraid to stick with antique or family pieces that make you comfortable." Lowe suggests, "Pick a few high-end, jawdroppingly gorgeous items that you truly love and pair them with affordable, workhorse pieces. You may be surprised at just how well they all get along. If your furniture feels ill at ease in your home, so will your guests."
An eclectic look is about balancing old and new, high and low end. Lowe adds, "Finding a common element is key— perhaps uniformity of color, wood grain, a common curve among pieces." Lowe emphasizes that the connection between furniture and accessories, even across styles, ties a space together.
Everything old is eventually new again and classic pieces can be dressed up in new togs. "When it's time to redo walls or reupholster legacy pieces," he suggests, "choose fabrics and papers that are modern—think geometric, ikat or large-scale prints." Most importantly, he advises, "Don't throw out quality pieces just because you think they're out of style." Eclectic design is all about timeless comfort, energy and creativity.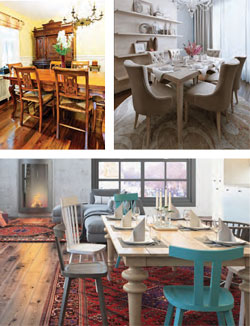 Dining eclectic, old and new
The dining room is a great place to start an eclectic reboot. If new wall coverings are in order, don't overlook wallpaper, murals and wall fabrics. Wall coverings on trend for 2019 include products in a variety of traditional and newly engineered materials that are removable, washable and beautiful. To add an instant pop of energy to dreary, dated walls, consider:
Classic Indian and Asian design, incorporating geometrics, mountains and florals
Rustic patterns with playful woodland and forest motifs
Mid-century and retro geometrics with palettes of teal, orange and mustard
Rough, organic, even photographic patterns of metal, wood and stone
Traditional floral, modern urban and graphic patterns, blown into large and giant scale
True blue Virginians know that to be blessed with a generationsold, family dining table is a commitment for life; to paint over that age-old patina would likely result in summary family banishment. If, however, there is a hodge-podge of dining chairs stashed in a corner of the attic, don't be afraid to pull them down and dress them up with a shot of bright color, modern fabric and contrasting trim. Even if they don't match, odd chairs painted and upholstered to coordinate can give a healthy shot of whimsy to a previously stuffy space. Replace the rug with something bright, young and graphic to complete the upgrade from stodgy to stellar.
What if the dining area needs to do double duty as an office or library? For families whose dining room sits empty ten months of the year, it makes sense to use the room for work, study and reading. Store away extra leaves and the dining table becomes a spacious desk; invest in an attractive office cart that can be rolled away during party season. Sideboards and hutches can store files and work supplies as well as tableware and linens. Install attractive shelving across one wall and a cozy chair in the corner and the dining room takes on year-round functionality.
Entertaining eclectic
As for entertaining, opportunities are infinite for inter-décor mashups to create energy and sparkle. If there's only the one cloth that fits the giant heirloom dining table and it's gorgeous and linen and old, then by all means use it! But consider adding a modern, colorful topper. Mix family pieces with those picked up at thrift shops and farmers markets; the table will feel at once eclectic and exciting.
Lowe adds, "Add something new and geometric in the dining room, as a centerpiece, on the sideboard, or hanging from the chandelier. Particularly on trend now are himmeli." These lovely, geometric ornaments can be hung singly or as a multi-faceted mobile. There has been a recent turn to geometric pieces in the last couple of years and, Lowe adds, "The himmeli is a great addition of something fun and modern to a room, particularly in warmer tones of copper and brass."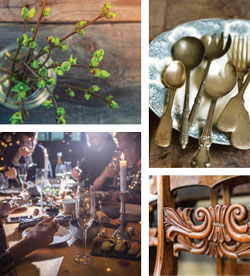 What about the box of 1940s cranberry flash glass goblets in the basement? Tonight, deem them wine glasses; your mother's pretty, etched stems will do fine for water. Put out the best silver or plate that you have, mismatched or not; the same goes for napkins. So long as they are cloth and marry the palette, your table will be elegant and festive. Pull out that pair of extra-tall glass cylinders from the shed and fill them with late winter branches from the yard—camellias, magnolia and berries. The glass columns will reflect shimmer from the overhead lighting (on a dimmer, please). Add candles in a variety of holders to complete the evening's sparkle.
Set the table early. Check the lighting. Close off rooms not yet ready for their close-ups. Set the temperature down a degree or two. Light the candles, a must and a fire if you can. Set the music volume just under tête-à-tête level; remember to raise it as conversation heats up. Time your preparations so that you have a few minutes before guests arrive to enjoy a glass of something lovely and take in your own "divine eclectic."
Your magical hostess friend, of course, was at the top of your guest list; thank her warmly for her inspiration as she enters the party you no longer only wish you could throw. Embrace the evening, enjoy every moment, celebrate friends old and new and delight in hopeful excitement for new beginnings come spring, just around the corner. ✦
balancing old and new, Cocktails, common element, decor, design, Dining, eclectic, entertaining, party