Distinctive Holiday Decor: New Home Inspires Novel Look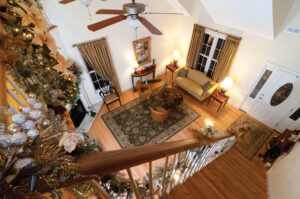 Decorating for the holidays is not just about putting up twinkle lights or Santas or Nativity scenes; it's about creating a feeling. When we unpack our decorations or bring home a new item to display, we know we'll be evoking a mood, and saying something about what the season means to us. Our tastes may change slightly from season to season, but many of us gravitate toward a favorite theme that includes treasured items we've had for years, freshened up with recent finds. For one Salem couple, moving to a new home inspired a fresh holiday collection.
When Judy and Bob Goodwin moved to their Salem home five years ago, they had a vision for what they wanted to do right from the very beginning. "We were peeking through the windows before we moved in, planning the layout," says Judy with a laugh. The house, with its 25-foot ceilings, presented a few decorating challenges, and the Goodwins were eager to get started. Rather than repeat the look of their previous home in the Hollins area (which had a smaller footprint) Bob and Judy, two retired teachers, quickly got organized and came up with a plan to outfit their home. "We were on a mission," says Judy, adding, "It didn't take us long." They chose a gold and green color scheme, and worked with Kathy Spark of Accents on Windows to make it happen. To keep their vision in sync with their budget, Spark selected a few statement elements, such as a custom upholstered camelback sofa from the former Roanoke shop The French Thistle and embroidered silk goblet-pleat curtains for the living room, helping them round out their decor with more affordable items.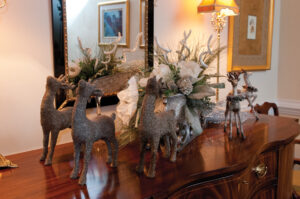 The Goodwins use this same game plan for their holiday decor. Self-professed "bargain hunters," Bob and Judy enjoy visiting a variety of shops throughout the region, from The Sleeping Bee and Green Front Furniture in Farmville, to Steger Creek and The Second Yard in Roanoke. They know what they like, and combine that vision with a touch of professional panache for their personal holiday style.
Their current holiday decor was spurred on by the fact that, around the time of their move, some of their Christmas stuff was stolen from the old location. "Angels, ironically," says Bob. They decided to start fresh and build upon the gold and green theme of their new home. The couple, who have two cats, chose a whimsical theme featuring various insects, birds, and woodland creatures, though, as luck would have it, no cats (they're still looking). A splash of pizzazz was provided by Randall Neely of Joran's Interiors, who enhances the holiday ambiance for some of Roanoke's most stylish homes.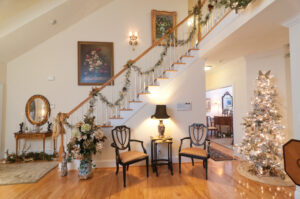 A Graceful Garland
The Goodwins' front door opens onto the living room, where a staircase ascends to the second level. At the base of the stairs, an umbrella stand is filled with a substantial silk floral arrangement by Neely, featuring hydrangeas and magnolias in shades of pale green and off-white, with subtle silver and gold accents. The bannister, which extends along a landing that overlooks the room, is anchored with a large gold-robed porcelain angel, and draped with a custom garland that Judy and Bob created from various pieces. The foundation of the garland is delicate faux greenery. Judy says she initially used a fuller garland, but replaced it with this airier version because, "I wanted it to swag nicely." She embellished the garland with a variety of objects, including bows, poinsettias and birds, in shades of white, gold and bronze. At each peak of the swag is a focal accent. Some accents feature a spray of golden foliage with a dangling crystal pendant, while others have charming creatures such as a fox, squirrel, and owl, made from natural materials, perched atop gilded pine boughs and berries. Bob says the various animals were gathered "whenever and wherever we see them, throughout the year." Judy says the trick to making it all work is to wrap a decorative pick around the arrangement to help hold the other decor in place, and that their official garland technique is, "Run down the steps, look up, then run back up the steps!" They say it's also "a great cardio workout!"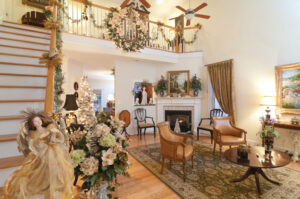 A Welcoming Wreath
The focal point of the garland is a large wreath, which hangs on the bannister over the center of the living room. Its generous size is thanks to Bob, who says, "I wanted the biggest one I could find, which turned out to be a pre-lit wreath from Lowe's." The Goodwins took the wreath to Neely and told him what they had in mind. He wired it with a grouping of cream silk poinsettias, topped with a luxurious custom bow made from a variety of wired golden ribbon. At this point, many of us would have happily hung our creation as-is. But Judy added some more of her signature touches, including pinecones, birds, and the wreath's most delightful and unexpected feature, a trio composed of a raccoon, a bird on its nest, and a squirrel, who look down upon the living room below.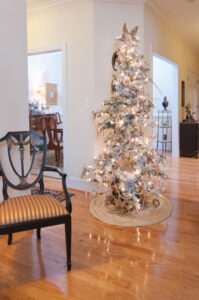 A Twinkling Tree
The pièce de résistance, the Goodwins' Christmas tree, occupies an unusual spot. Instead of standing in front of a window or near the fireplace, Bob and Judy placed it at the confluence of several spaces, in a corridor between the living room, dining room and kitchen. From this location, the tree can be seen from many angles, and the success of this arrangement is due to the tree's tall, narrow shape, which perfectly fits the available space. The white flocked tree is pre-lit, and was purchased from The Sleeping Bee. It is lavishly decorated in gold, silver, bronze, and white, with pale green accents. Traditional globe and pendant-shaped ornaments are complemented by fluffy white swans, jeweled green beetles and owls, silver and crystal dragonflies, delicate pearl and gold ants, and glittering butterflies. Champagne-colored poinsettia blossoms are nestled between branches. While most of these ornaments were bought in recent years from various local stores, other elements have a longer history, such as the Hummel ornaments from the 1970s. Judy also gave new glitz to some older pieces by covering them in gold glitter. Crystal teardrops and an antique crystal garland reflect the light and add holiday shimmer.
When decorating the tree, Judy says, "I work from the inside out." She actually begins with the garland, adding a crystal teardrop at each peak of the strand to provide extra sparkle, then places the ornaments last. Glass icicles and a golden tree topper complete the glistening snowy effect.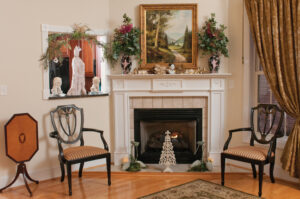 Bob and Judy begin decorating their home in November, and say it takes them a couple of days to complete the process. They take photos so they can remember what they've done, though Bob admits, "We vary it every year." After the holidays are over, ornaments are individually wrapped to preserve them for next season.
The garland, wreath and Christmas tree, along with other seasonal touches throughout the house, bring a vibrant holiday ambiance to Bob and Judy's home. Unifying with color, and repeating the home's palette in the decorations, adds a custom feel. Sophisticated floral accents, lush bird and insect ornaments, and playful woodland animals all express Bob and Judy's festive spirit. They have created a look that is entirely their own, while conjuring a timeless holiday mood. Perhaps the Goodwins' festive vision can inspire some fresh thoughts in our own decor, and give us ideas for new motifs to be on the lookout for, both this season and throughout the year!
Christmas Decor, Crystal Teardrops, Custom Bows, Glass Icicles, Neely, The French Thistle