Decorating With Clocks: Classic Piece Stands Test of Time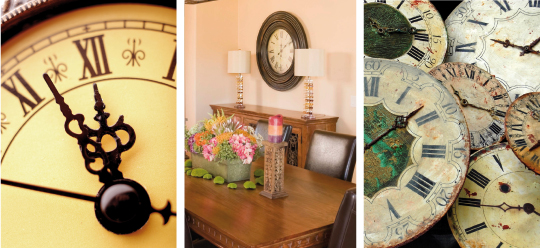 Time. We talk about spending it, wasting it, killing it, wishing we had more of it. Whatever the context, it is always with us. How we keep track of it has evolved over the years, from earlier eras when nomads used the sun as their guide, to later days when timepieces kept watch over villages by figuring prominently in the town square, to today's many personal electronic options. How many of us have ditched our watches to use our smartphones as both clock and alarm?
However, good old-fashioned clocks have made a big comeback in home décor. Using the clock as more than a timepiece hinges on two trends that are in vogue at the moment: going back to vintage roots, and using practical things in decorative ways to enhance your décor. Even though trends come and go, clocks are a classic decorating piece that will stand the test of time (pun intended!).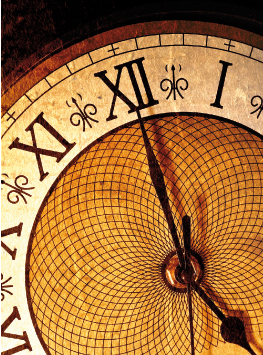 There are several different types of timepieces for the home. Wall clocks can take the form of a small clock above the entryway in a kitchen, or they can make a statement as an oversized piece of wall art with large hands and imposing Roman numerals for all to see (think 3-foot diameter!). A grandfather clock takes on a regal tone, standing as a piece of furniture in its own right. Throughout your day you can be soothed by its swinging pendulum and hear resounding booms as it sounds off on the hour large mantel clocks, sit on the shelf above your fireplace, and smaller, round renditions can rest by your bedside. Today's clocks come in many sizes, materials and decorative finishes to suit any décor. Rustic painted tin, weathered wood with decoupage images, sleek black lacquer, burnished pewter, sparkling glass…there's a look for every room.
No matter what type of clock you choose, such timepieces serve various interests in your house. When considering a clock as a focal point, be sure to find one that is visually interesting that also coordinates with the rest of the room. In the kitchen, a fun and funky clock can help keep the family on task and on time while serving as a functional piece of wall art, anchoring the space as a focal point. (And it's a lot more fun than craning to see the time on the microwave.) Likewise, a statement piece in the living room can serve as a beautiful way to keep time. Think how a decorative clock would add interest and texture as a three-dimensional piece of art in your favorite living area. Even areas outside can benefit from an outdoor clock affixed to an otherwise blank wall—a great way to keep track of time while the children are playing or you're enjoying a book on the patio. Another fun clock idea? Leave it set to your favorite time of day—this will surely prompt conversation while allowing you to linger over a more preferred hour.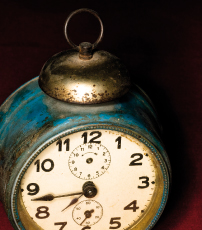 If you love clocks, consider making a collection of them. Scour thrift stores, yard and estate sales, and antique stores where you're sure to find a treasure trove of clocks. Peppering timepieces in between or on top of stacks of books makes a striking statement. Keep in mind, too, that in a collection, the clocks do not have to be in working condition; their aesthetic value is in their overall look, not their functionality. Heavier, more substantial pieces can even serve as bookends. If you have a blank spot on the wall just waiting for inspiration, consider creating a grouping of clocks for an eclectic display. At this time of year, you can spend some fun Saturdays trawling your favorite shops for the perfect mix of eclectic timepieces to display.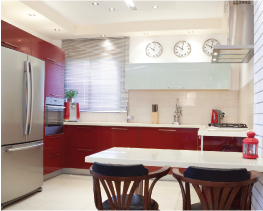 Another way to use clocks, especially if you love travel or have family and friends overseas, is to create "time zone art" using identical or similar timepieces. What a perfect way to think about your sister and what she and her family are doing in the afternoon in Germany while you are just starting your day in Virginia. Creatively labeling the timepieces with the name of the city whose time they are keeping also adds an element of interest. This type of art is not only functional, but it keeps those you love (or even just the cities that you adore) in the forefront of your mind.
Children can even learn from fun and colorful clocks in their bedrooms or play areas. In addition to learning how to tell time (from a non-digital clock!), kids can also learn the concept of time by having clocks in their personal space. Pairing a childlike clock with a colorful wall calendar will keep a lot of the "when" or "how long" questions at bay while creating a learning environment.
If creative is your style, consider making your own clock; it is not as difficult as it sounds. Many craft and hobby stores sell kits that contain clock mechanisms and hands; all you have to do is provide inspiration and manpower. Anything that is thin enough to drill a hole into can serve as a timepiece—with or without numbers! How fun would it be to take a vintage sign or one of your grandmother's kitchen plates and turn it into something serviceable for your home?
Whether you personally are known as an "early bird" or have the habit of being "fashionably late," incorporating clocks into your décor will not only keep you on schedule (maybe!), but will also enhance your decorating scheme. Next time you go shopping, consider a clock for your home or as a thoughtful gift for others in your life. Will they appreciate it? Only time will tell.