Decorating Difficult Windows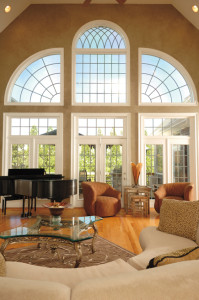 Windows are an essential component of any home. They let in sunshine and scenery, reflect the home's architectural style, and are important considerations for heating and cooling. Window treatments are used to address the practical considerations of light, privacy, and temperature control, as well as aesthetic preferences in home decor. With certain types of windows, balancing these needs can be tricky. Here, local experts offer advice for dealing with some common window conundrums.
Bay Windows
With bay windows, there are really two types to talk about: bay windows, and bay walls. A traditional bay window extends out from a flat wall, and features a substantial sill. With a bay wall, the walls themselves form the bay shape. Bay walls are more common in new construction, and are easier to dress because each window is generally flanked by a bit of wall, which makes mounting hardware easier. Elaine Stephenson, of Elaine Stephenson Interiors, likes woven wood blinds mounted individually in each window. "They give warmth and texture to the windows," she says. Adding stationary drapery panels on each side will "frame the windows and add additional color and texture."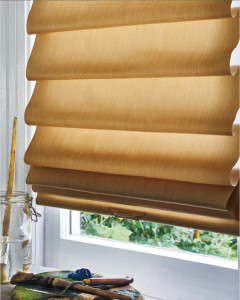 For a classic bay window with a sill, you're more likely to need professional assistance if dressing each window segment separately. Kathy Spark, of Accents on Windows, brings samples of shades and blinds to clients' homes to make certain the corners won't bump into one another. For a custom fit, "You want the least amount of white space as possible between sections," she says. Spark says her most popular requests for bay windows are Roman shades, sometimes with fabric drapes on the outside. She also does a lot of cornice boards.
Large Bathroom Windows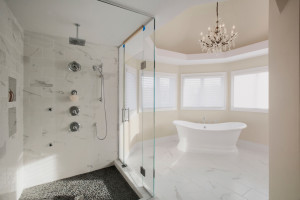 For a large window over a garden tub, privacy is usually the main concern. Kristin Kopcial, of Decorating Den, says this is easily handled with a top-down shade, which can be adjusted at both the top and bottom. "It will keep your privacy while still letting in natural light," she says. Spark says top-down shades come in a variety of materials, including woven wood, and can be easily set to café style. Café style is also a great choice for shutters. For a café feel, Stephenson says you can install a plantation shutter with a divide bar, so that "the bottom can remain closed for privacy and the top can be opened to let in light." Spark says another option is a café shutter treatment where only the bottom portion is installed. The top half of the window can either be left open, or dressed with fabric.
If the window is difficult to reach, Spark suggests, "You can do a motorization shade, or motorized wood blinds with slats that tilt." Stephenson says a simple valance can soften a motorized shade if desired.
Front Door Sidelights
An entry door with sidelights adds light and curb appeal to many homes, yet privacy here is also a consideration. Stained glass was once a popular option to filter the view, but these days it is more commonly addressed with window treatments. Stephenson suggests a sheer treatment—either a fabric or a woven wood. "Grass cloth looks pretty," she notes. For a tailored look, Spark has outfitted sidelights with shutters, as well as Roman shades, which she says can be made with a heavy sheer fabric, to allow light to filter through.
Skylights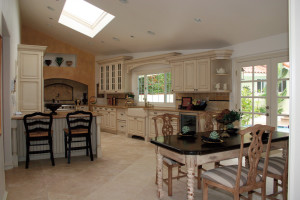 While privacy is rarely an issue for skylights, light and temperature control definitely can be. Kopcial says that motorized shades are handy for solving this problem, allowing light to be adjusted during different times and seasons as needed. She says, "With motorization, you can even dress a skylight window with coordinating shades" to match other window treatments. Some skylight shades can also be operated by long poles, but either way, Spark says that professional installers are required to make templates and properly mount this kind of treatment. For a less expensive option, it is sometimes possible to place a tension rod at either end of the skylight and use sheers. The fabric will likely have to be altered by a seamstress, and the treatment can be removed during winter if more light is needed.
Arched Windows
The Palladian window, a central arched window flanked with two rectangular windows, is a classical feature from Renaissance architecture that remains popular today. We're not sure what Andrea Palladio used for drapes when he designed it in 16th-century Italy, but today the main dilemma is what to do with the arch. Draping the curve itself is extremely tricky, and liable to look dated, so it should be considered only if excess light is a problem. Spark says she just helped a client with a large foyer. "There was so much sun that it was causing heating and cooling issues, so we did a custom shutter," she says. She suggests this as an alternative to fabric, noting that it highlights the architecture of the window.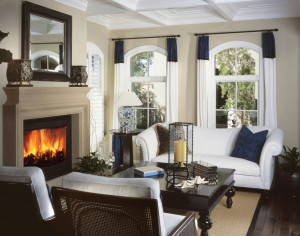 An attractive alternative is to install drapes above the arch. Spark says this look adds "height and drama" to the room, and that the drapery can be operable for light and temperature control, or simply dressing to warm up the space. Stephenson says that if a client prefers to place a treatment across the main portion of the window (below the arch) for light and privacy control, she will suggest either an adjustable woven wood shade, drapery panels, or a combination of the two. If you're buying ready-made drapes, this may also be your best bet in terms of achieving the proper length.
Transom Windows
Typically smaller windows placed above doors or other windows, transoms can be purely decorative, or functional, allowing air flow and heat dissipation in homes built before the advent of air conditioning. Generally, this extra light is considered desirable, but if it's causing a problem, such as sunfading on art and fabrics, there are several options. As with Palladian windows, placing fabric treatments above the transom will unify and elongate the room but will likely require a custom length.
Transoms are often found above a door, generally along with sidelights. Sparks suggests using the same treatment on both the transom and the sidelights for a unified look. "I like to do shutters on transoms," she says. "I've done Roman shades, Silhouettes by Hunter Douglas—any type of shade that can raise or lower—and I'll try to coordinate it with whatever I'm doing down below."
No matter what type of window you're looking to dress, knowing your budget, along with your functional and aesthetic preferences, is key. Once you have these considerations in hand, a window professional can help you select a treatment that will both insulate and beautify your home.
Accents on Windows, Arched Windows, bay windows, Decorating Den Interiors, difficult windows, Elaine Stephenson Interiors, front door sidelights, large bathroom windows, Palladian windows, skylights, transom windows, window dressing, windows