Crowd-Pleasing Renovation: Transformed Especially for Entertaining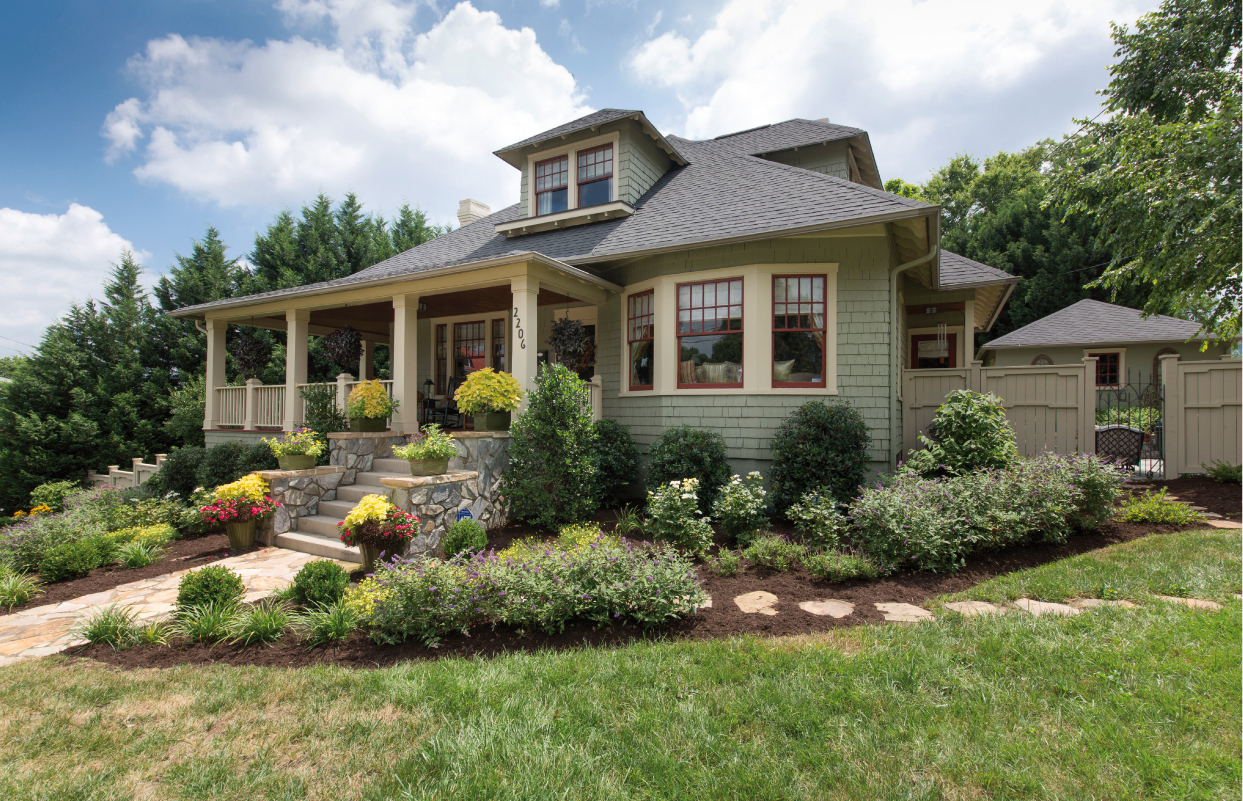 Chip and Lynne Baker's bungalow in South Roanoke is both romantic and informal, all the while projecting a distinctive elegance. Located on the corner of a busy intersection, it is convenient to shopping and Chip's office.
The Bakers moved from New Orleans two and a half years ago when Chip took the position as Chairman of Surgery at Carillion. According to Lynne, "We are empty-nesters. I wanted to simplify our lives and get a condo downtown, but my husband reminded me we have two dogs that need a lawn."
"I looked at this house and I thought, ok, I can make this work." It was not in terrible shape, but the home's interior was a bit confining and dark. Lynne could see its possibilities and seized the opportunity to tackle the project.
The Arts and Crafts style home had lots of eye appeal with its natural wood shingle siding, low pitched roof and deep front porch. In addition, a side courtyard with an ornate iron gate at its entrance was a plus. "We like to entertain a lot," said Lynne. She could imagine how well the house would work when they hosted cocktail parties and dinners. Chip had misgivings. He couldn't envision what Lynne had in mind but he eventually put his faith in his wife's judgment and agreed to a renovation.
The first priority was an exterior facelift. Originally, the shingled siding was a deep blue color, giving the home a dingy appearance. A simple color change to a soft shade of moss green gave the home a breath of fresh air. New front railings, white trim with red accents, a barn red porch floor, rockers and hanging plants transformed the space from dreary to cheery. With its broad front porch the home shouts WELCOME!
The front gardens are a mix of perennials and shrubbery designed to add color throughout the seasons. Melissa Hodgkinson, a landscape architect with Fiddlehead Landscape & Garden Design, orchestrated the project. Privacy fencing along the sides and back of the home blocks views of nearby traffic and creates a secluded courtyard.
According to Lynne, "We moved to New Orleans after Hurricane Katrina to help rebuild the medical community. We were there for three years and renovated a house while we were there. They have a particular style of architecture in New Orleans and this house is reminiscent of that." A lot of the homes are small there since space is limited. The gardens are compact as well. "When we found this house, it reminded me of New Orleans," said Lynne.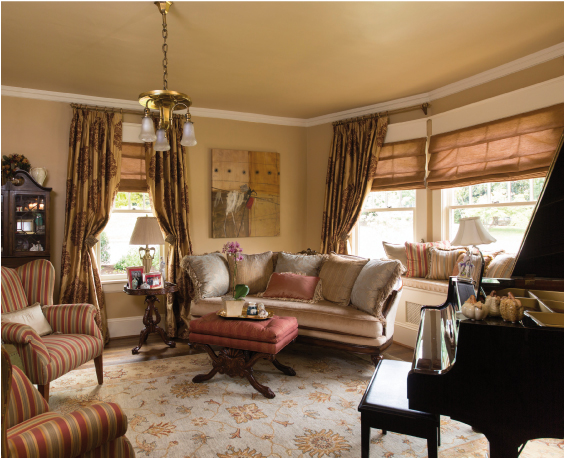 The couple hired Josh Crawford of J C Construction. "Josh and I clicked and saw the vision together," said Lynne. "Lynne had the ideas and I understood the mechanics of it," commented Josh. Thanks to her talent for design, their home is artfully decorated and perfect for their lifestyle.
The first time Lynne walked through the house she had a vision. She looked past the dark woodwork and beams and coal-burning fireplaces. She claims she has no background – she was a nurse by profession – but Lynne has an eye for design. Together with Josh Crawford, they were able to keep the integrity of the Craftsman style, yet freshened it up a bit. According to Josh, "The house was old and needed updating."
Lynne admits that she had a difficult time finding a painter who would agree to paint the woodwork. While tradition dictates that Arts and Crafts style includes stained woodwork and beams, Lynne wanted a lighter look and wanted it painted.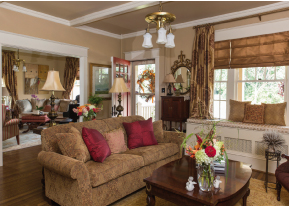 She brought most of her furniture from New Orleans. "I did not want to buy new things," she said. She wanted what worked there to work here as well, so her design plan had to complement her existing furniture. "It has really worked out for us. We have used every inch of this house. We knocked down walls and redid the rooms, all to make it work for our lifestyle."
The house is estimated to around 90 years old. "It was known as the Fralin Home," said Lynne. It was the childhood home of Horace and Heywood Fralin, both well-known Roanoke businessmen. "Fralin is a well-known name in Roanoke, so many people are interested in what we have done here," explained Lynne.
Directly opposite each other, on either side of the front entrance, are two living rooms. On one side is a cozy room with a baby grand piano with elegant draperies and shades to enhance large bay windows. Cathy Spark at Accents on Windows was a great help to Lynne and did all of the window treatments throughout the house. "She was very instrumental in helping me capture the feeling of the home," said Lynne. Cathy described the look as simple elegance and she achieved it by the use of common colors throughout all the rooms. This provides an even movement through the house, thus creating no barriers.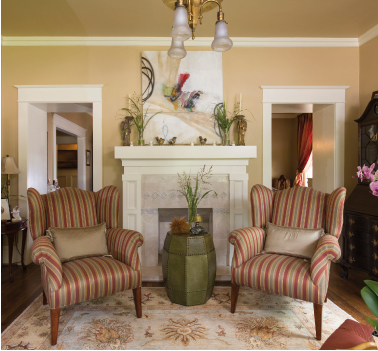 The fireplace was refaced with a new mantel and tile, giving it a more sophisticated look. The radiators were covered with wood trim and window benches were installed and now overflow with colorful pillows. According to Cathy Spark, "This house is a fine example of how a house need not be big to be elegant."
Lynne enjoys mixing old with new and has a flair for choosing just the right piece of furniture for each room. Her artwork collection is a mix of works by local artists and pieces she collected in New Orleans. Two contemporary paintings that brighten the walls are New Orleans finds. Lynne commented that everyone who looks at these works has a different interpretation. "That is the great thing about art: everyone sees something different."
The neighboring living room is as comfortable as its counterpart. Lynne kept the original light fixtures in both rooms. Milk glass globes are set on brass fixtures and hang in the center of each of room. A grouping of ten small etchings represents special scenes in New Orleans reminiscent of the years that the couple spent there.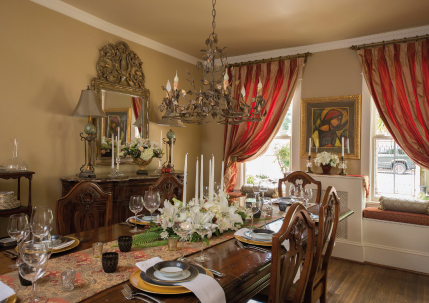 A first floor master bedroom was altered and became the dining room; its location and size were perfect for Lynne's plans. She found an extra-long dining room table imported from Italy at Reid's Fine Furnishings. It fits the room perfectly and makes orchestrating an elegant seated dinner a breeze. "We like to entertain a lot and host dinner parties and it just made sense," said Lynne. A doorway leads from the dining room into the courtyard, creating the ideal setting for cocktails before dinner. Another doorway leads guests back into the adjacent living room.
An enormous ornate mirror hangs from floor to ceiling and highlights a narrow hallway. Along a horizontal edge sits a little mouse figurine. Lynne explained a fun tradition at her parties involving this mouse. The mouse moves about the house before every gathering and if the mouse is noticed, that guest takes home a bottle of wine.
The majority of the rugs in the home are old. Some of them are light colors and Lynne commented, "People say we are crazy to have such light rugs, especially since we entertain so much. However, I think if something spills, oh well. It will make a good story."


A small room between the living room and kitchen became a keeping room. Originally the dining room, Lynne recognized it would be far too small for their entertaining needs. "I struggled with this room the most. It was just not big enough for a dining room and I did not need a second eating room," said Lynne.
Now the room is outfitted with a large flat screen television, wine refrigerator, and small bar with cabinets and shelving. A large bay window allows extra light into the room. It is a multi-use room where the couple can relax and guests can mingle. "It works so well when we entertain." Propped on a shelf is a small Greg Osterhaus portrait of a cow. An old steamer trunk, one of Lynne's junk store finds, serves as a coffee table and adds a simple charm to the seating area.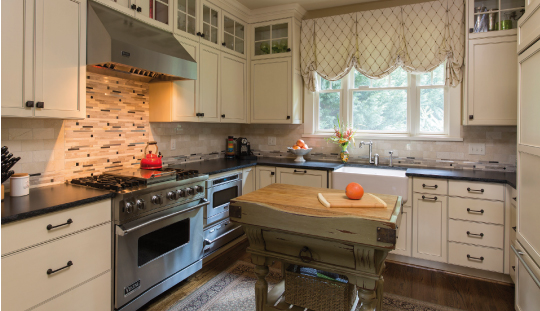 The kitchen renovation involved taking out a wall, taking out the pantry and moving some windows. "I like to cook," said Lynne. Black granite counters, off-white cabinets and a small island made of butcher block add a professional appearance to the well-equipped kitchen. With the help of Vinton Appliance, the kitchen is appointed with the finest of stainless steel appliances. Carter Cabinets designed both the kitchen and keeping room cabinetry and according to Lynne, "It works beautifully and everything is close at hand."
The kitchen looks onto a small garden that is the next renovation project for their home. Plans include an outdoor kitchen and a water garden. One plant in the garden that will remain is the fig tree. It came with the house and today it has grown into a large and handsome tree. It produces an enormous number of figs each year, so many that the Bakers could never eat them all. They share their figs with neighbors, friends and even some local restaurants and stores.
Their home includes a full bath on the first floor. Lynne explained that with the home's original layout, which included a master bedroom on the first level, the full bath was a necessity. "While we don't really need a first floor full bath, since it was here, we kept it," she said. The layout of the bathroom remained the same but the fixtures have all been updated. Of special note is a stainless bowl sink set atop an antique butter churn.
A piece of leaded glass, once part of a kitchen light fixture, is now in the bath's window. A delicate doily created by Lynne's great-grandmother reminds Lynne of the talent and patience practiced by past generations in her family.
A back hall leads to a sunroom. A lovely painting of a herd of horses is a sentimental piece for Lynne. A parishioner at her father's church in Canada painted it long ago. The picture depicts Lynne's own horse in the herd living on the range.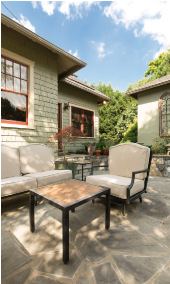 "We enlarged the windows and added an additional door. We eat meals in here and I often find my dog sleeping here." The porch opens onto the courtyard that is decorated with greenery, a fountain and iron gates. The setting in the courtyard is a bit magical. Both peaceful and serene, this is one of the highlights of the home. All of the possibilities for the house materialize in this space. Alongside the courtyard is a small garage that looks more like a little cottage than an out-building to house an automobile.
"We feel like we are adding our little stamp to South Roanoke and want to recreate a vibe here," said Lynne. With two living rooms, a dining room, keeping room, porch and courtyard, entertainment areas abound. The Baker's home can easily morph from a quiet little home for two to a party house for a hundred. Its elegant yet casual style creates a welcoming atmosphere for all who enter. Lynne has certainly succeeded in creating a home where her guests can come and enjoy themselves in fine surroundings.