Covered With Style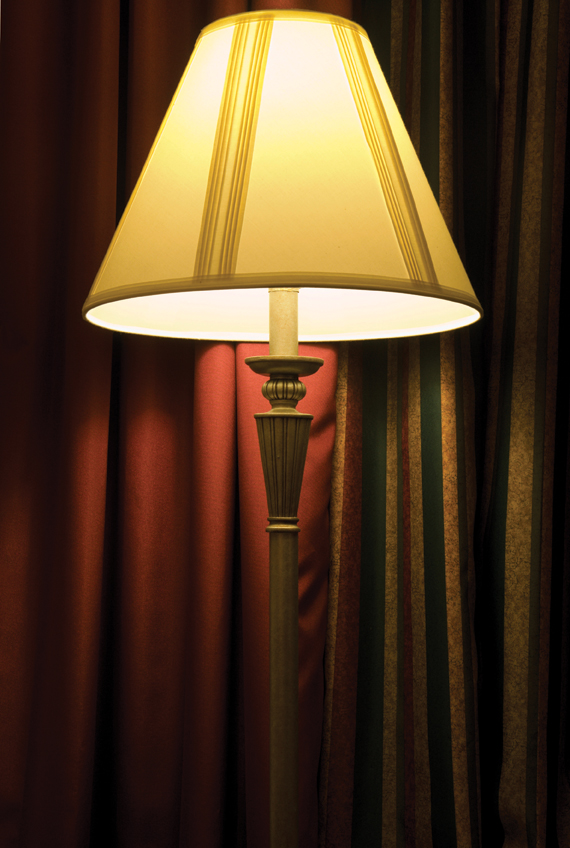 With the arrival of winter, light dims as the days grow shorter and we find ourselves nestled warmly inside our homes under a reading lamp in a den, a chandelier in the dining room or a task lamp at a desk. We extend our waning winter days by illuminating our homes with lamps.
The kind of light your lamp emits creates ambiance in your home, and therefore, outfitting your lamp with the appropriate shade is crucial. A lampshade determines the style of a lamp, as well as the amount of light transmitted in a room.
Whether you are updating an old lamp with a new shade, or purchasing a new lamp altogether, keep in mind that a shade can dramatically change the look of a lamp and the feel of a room.
Lampshade Guidelines
There are a few basic rules to follow when outfitting your lamp with the proper shade. The first and most important thing when choosing a lampshade is to bring the body of the lamp to the shop.
If you don't bring along your lamp base, you won't truly know if the shade suits the style or size of your lamp. The shade must hide the mechanics of the lamp—the harp, bulb and switch. It's easy to fit a shade to the base by changing the mechanics through elongating or shortening the harp.
The shape of the lamp should complement the shape of the base. Therefore, if you have a round base, your shade should be round as well. You can add some pizzazz by buying a round shade with scalloped edges. Also, the shade's diameter should be proportional to the base's diameter. A narrow lamp calls for a narrow shade; a broad base calls for a broad shade.
The kind of lighting you want determines the color of your lampshade. If the lamp is going to be used solely as a decorating statement and not for transmitting light, then it doesn't require a light-colored shade. Instead, you can make a bold statement with a black or red shade. For a lamp that is used to create ambiance, then a shade with a dark fabric should be used so it directs light instead of diffusing it, giving your room a cozy feel. Lighter-colored shades, like white and cream, are more translucent, making them excellent for reading lamps or in rooms that need a bright light.
You can determine the quality of the shade by turning on your lamp and seeing if you can see the light bulb's silhouette through the shade. If you can't, then it's a good quality shade. Double-lined or hard-back shades (typically made of parchment or faux leather) don't reveal the light bulb. Double lining gives the shade more body and causes the shade to last longer.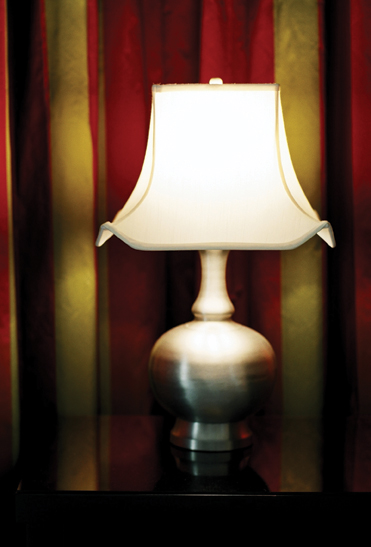 Decorating Ideas
For a modern approach, use a monochromatic scheme to give off a sleek vibe. Try a beige porcelain base with a beige shade. Or mix and match styles. Take a traditional lamp base and add a funky, modern shade to give it a fresh look.
The bell and empire shape are the most basic, traditional lampshades. The drum shape from the '50s is coming back, giving lamps a retro, yet contemporary feel. Obscure shapes like Maltese oval with cut corners are fun ways to dress up a lamp.
Believe it or not, pleats are still in style. The traditional narrow pleat that you remember in Grandma's house—known as the mushroom pleat—has been long retired. Instead, try a silk shade with a box pleat at the base, or a swirl pleat, to elegantly embellish your lamp.
If you want a traditional lamp with a basic shade, you can still add detail by adding a unique finial. Finials allow you to bring your own personality into your lamp.
Specialty shops carry elegant finials made from crystal, ceramic, brass, jade, pewter, ivory and also whimsical shapes like frogs, elephants and turtles to add some spunk to your lamp.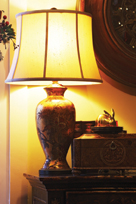 Custom Shades
You can have custom-designed shades made for your lamp at specialty stores. The shop has a vendor that can tailor your shade with the right color, fabric, shape and trim. Bring your base into the shop and look through a book of fabrics with hundreds of colors and textures.
There is also the option of recovering an old lampshade. Do you love that retro drum shade but think the off-white fabric is out of style? Recover it so that it will pop with a new energetic color.
The French Thistle, a fabric and home décor store in Roanoke, covers custom bedding, window treatments, slipcovers, cushions and lampshades. The owners, David and Lizi Gilkeson, only sell custom-made shades, but have plans to carry stock shades around springtime.
Custom-made lampshades typically take two to three weeks to make, according to David. Customers can come into the shop, pick out fabrics and order the correct size. The Gilkesons also send out their shades for custom design.
"People buy fabric at the store and we put it on the lampshade,"
says David. "We also have linen and silk stock. We have a lot of stock fabrics and you can just order whatever size. People usually bring in their lampshades and we try to get something that will look good on their lamps."
Custom-made shades give you more options than stock shades. David says that their custom shade maker can add fun embellishments like black and white ticking, beading or even tassels. They can also custom-make chandelier shades. "You can put animal print or something zany on it," David says. "It can change a whole room really."
"To really get the perfect lampshade you need to try it on the lamp," says David. "Traditional cream or white—which one really fits? Just look at it on the lamp and [that] determines what looks the best."