Coffee Table Curate | Reimagine the Gathering–Centric Table in Your Home
Photography by Kathryn Feldmann
A stylishly arranged coffee table that offers functionality and exudes personal style can be a tall order. How best to tackle this design challenge with the lowest but most important table in the room? Four of Roanoke's top interior design professionals help you help yourself to an exquisite yet practical coffee table design.
---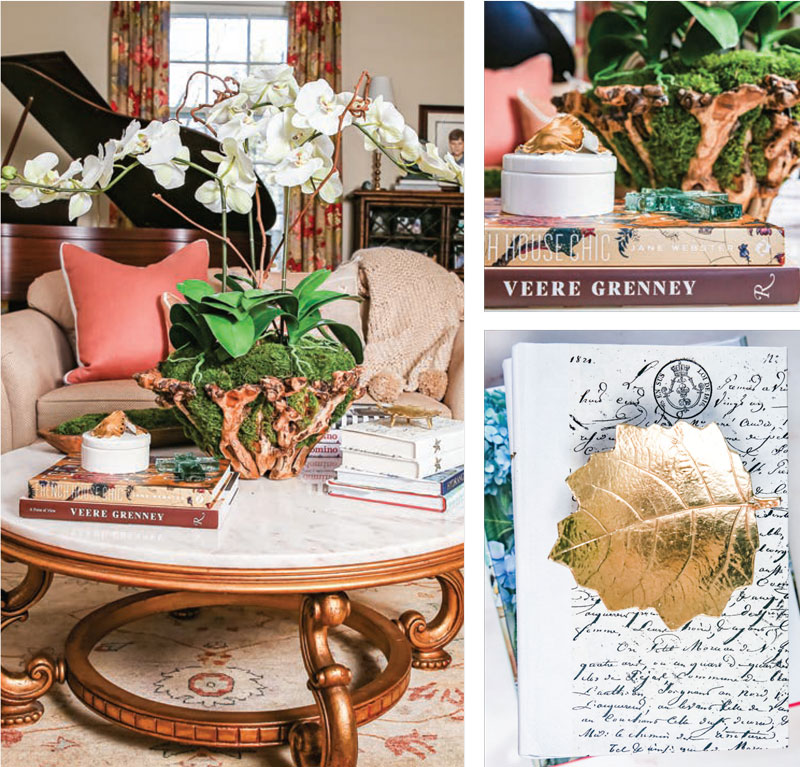 CENTERPIECE-CENTRIC
Jessica Durham, interior designer and owner of Magnolia, starts her design in the center of the coffee table. Durham says: "The oversized centerpiece offers a big 'wow' factor with the faux orchid arrangement and its driftwood and moss base." Durham is particular about artificial plants and arrangements and has sourced a tasteful variety throughout the store. She keeps several varieties of orchid, fiddlehead fig trees and basic moss arrangements in stock consistently. "An artificial arrangement is versatile, low maintenance, and still gives the room an organic vibe," she says.
Beautiful books are an obvious addition to any coffee table-scape. These repurposed old books by E. Lawrence Ltd. can be personalized and are available in a variety of colors to complement decor with a bit of detail. Small accessories found amidst the books, such as a glass cross suncatcher, a ceramic ginkgo leaf trinket box, and a footed gold leaf dish lend interest. The wool throw tossed casually over the arm of the loveseat ads warmth and softness, inviting one to sit, relax, and enjoy any one of the books on the table.
---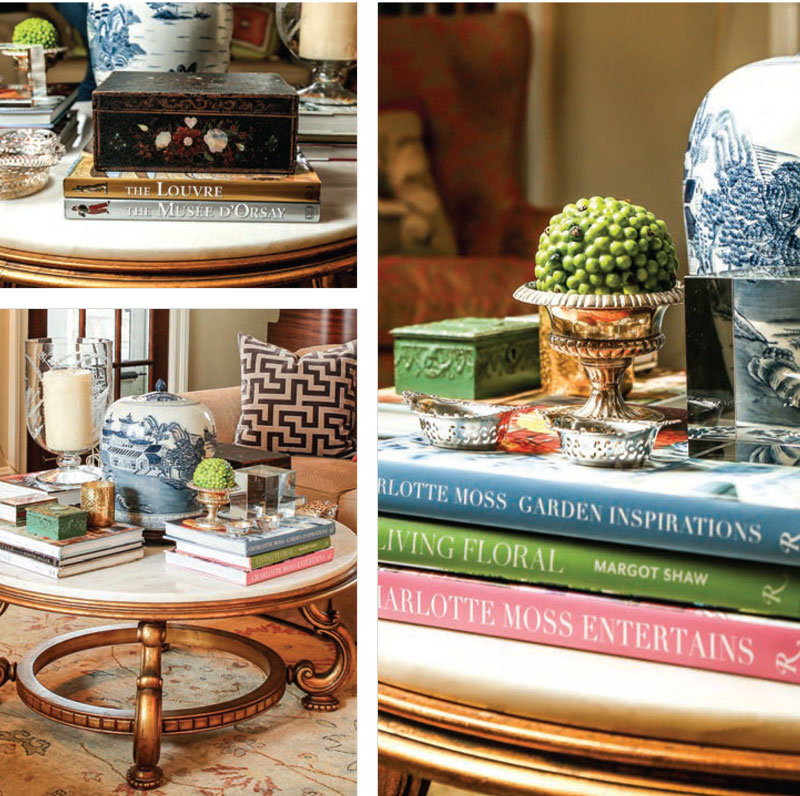 FAVORITE THINGS
Ellie Proctor of Ellie Proctor Antiques and Fine Things knows about collecting. She has, for years, grown her collections to include all manner of her favorite things: vintage and antique sterling silver accessories, ginger jars, glass hurricanes— the list goes on. Staging the coffee table vignette, Proctor starts with a few coffee table books. "My favorite books are by Charlotte Moss, a native Virginian known for her Southern warmth in design, and renowned interior designer Bunny Williams," says Proctor. She then adds a blue and white chinoiserie ginger jar to the center of the design. "Although this ginger jar is not antique or vintage, it is timeless and adds color and depth to the center of the table top," she says.
In keeping with Proctor's eye for the unique and versatile are antique saltcellars in sterling silver, which can be repurposed for nuts or candies. The footed glass hurricane is new, but with its oversized pillar candle, is a classic element alongside the pagoda-motif matchbox and a vintage painted tin box from England. Proctor advises: "Don't be afraid to accessorize with pieces of your collections. It gives you the opportunity to admire and appreciate your very favorite things every day."
---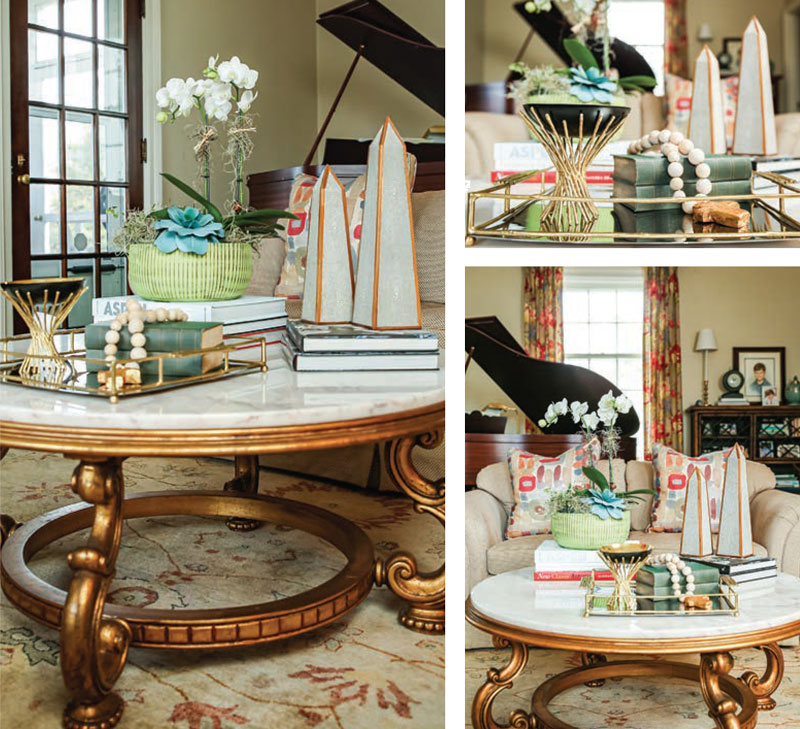 UNEXPECTED AND ECLECTIC
When designing this coffee table, Elaine Stephenson of Elaine Stephenson Interiors has embraced the eclectic. "I purposely included many unexpected accessories in this vignette," Stephenson says. A shallow bronze and brass bowl rests atop a brass twig stand. The smooth wooden beads with a rustic cross are known as house blessing beads and would make the perfect housewarming gift. "Including the green antique books in the vignette acts as a foundation, giving the newer accessories composition," she says.
Stephenson, a self-professed orchid lover, says, "This Phalaenopsis orchid [available from Townside Gardens] with the added aqua flower detail adds a bit of whimsy to the arrangement." Placing the orchid on a stack of coffee table books allows it to remain prominent without overpowering the pair of obelisks, which add order and structure to the otherwise diverse design.
---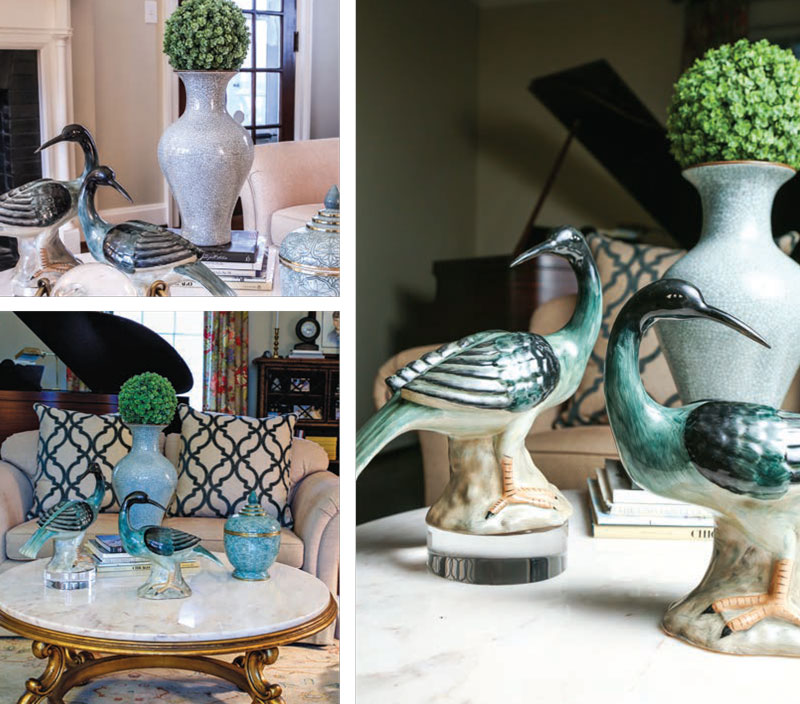 PLEASING FUNCTIONALITY
Halifax Fine Furnishings Interior Designer MaryJean Levin regards the functional value of the open space on the coffee table to serve its ultimate purpose as the most important element of this design. "The coffee table is a place for people to put down a cup or a glass while comfortably enjoying the pleasure of a good book or a good conversation," she says.
Levin employs a calm and harmonious color scheme by using the blue-green ceramic pieces, varying in hue from soft sea green to deep teal. The shore birds add personality and also illustrate the usefulness of pairs in a vignette. "Matching objects provide versatility of arrangement without introducing too much clutter," Levin says. Using the glass platform as well as a small stack of books helps vary the heights of the components, thus adding interest. ✦
antique, Bronze And Brass Bowl, Centerpiece-Centric, coffee table, Driftwood, Faux Orchid, Favorite Things, Ginger Jars, Glass Hurricanes, Harmonious Color Scheme, House Blessing Beads, Moss, Pleasing Functionality, Saltcellars, Shore Birds, Sterling Silver Accessories, Unexpected and Eclectic, vintage