Chocolate Cake: From Beloved Birthdays to Decadent Desserts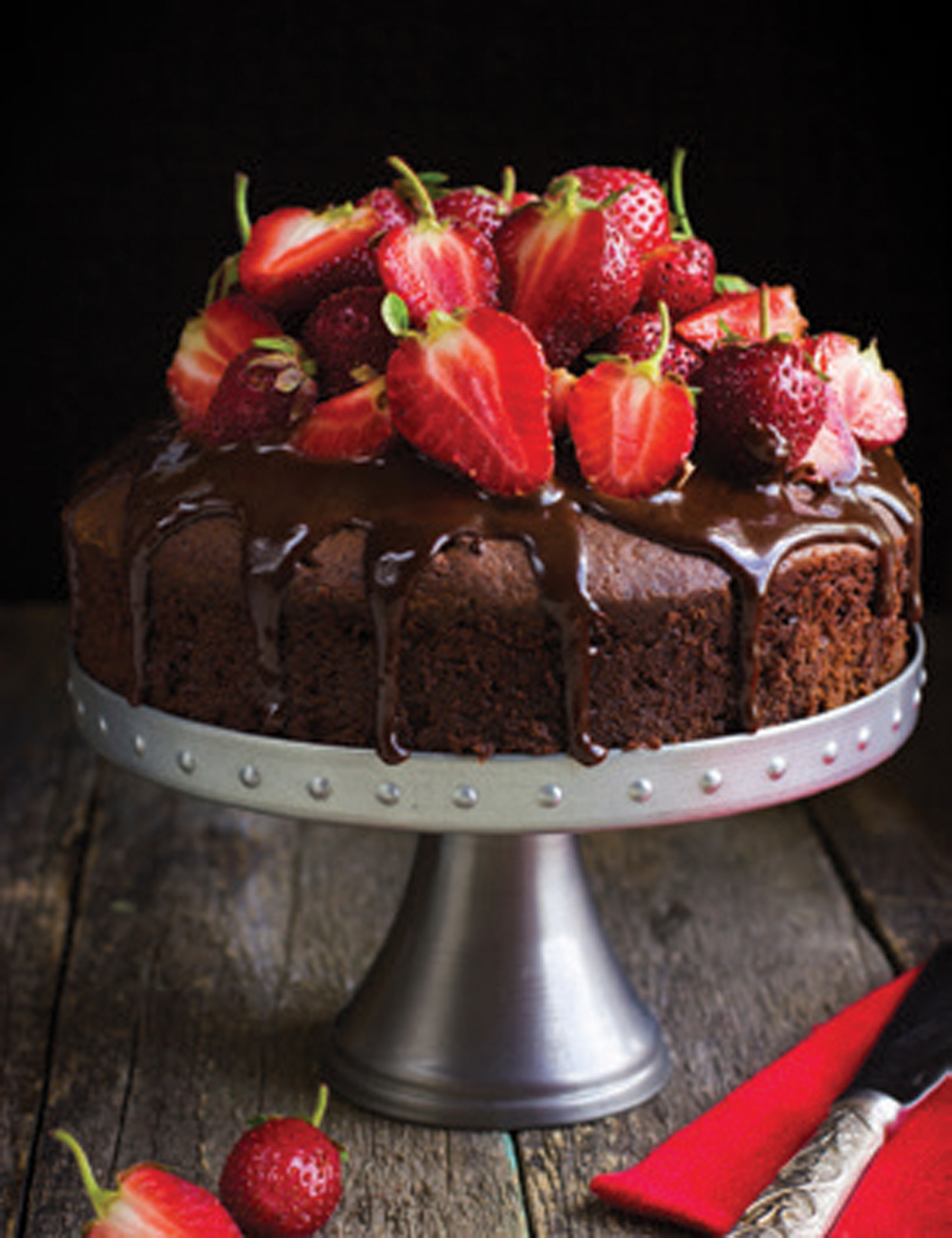 In many households, the conversation is the same around each family member's birthday: "What kind of cake would you like for your birthday this year?" Some have a different request every year, but some are creatures of habit, requesting the same thing each time. (My niece, who has a July birthday, has an old-fashioned ice box recipe that my family calls Zebra Cake: layers of chocolate cookies alternated with fresh whipped cream. As the cookies and cream sit overnight in the fridge, they morph into a striped cake-like consistency. An old favorite, it can be found on the back of the box of Famous Chocolate Cookies.) As a restaurant owner, I discovered that there were other types of households that had a specific item called "birthday cake." I found this out when customers would call to order a birthday cake, and I would ask for details. The answer was usually just the customer repeating "birthday cake" a little louder. I'd ask, "What type of birthday cake?" again, to be met with the same two words: "Birthday Cake!" After going round and round, they usually told me what their family defines as birthday cake; in 90 percent of the cases, it was yellow cake with chocolate buttercream—but sometimes it was something else. If anyone is asking me, the more chocolate the better! I may choose a cake or a pie, but in every case, it includes chocolate!
Chocolate cakes run the gamut—from layer cakes all the way to cheesecake, but all get their flavoring from either solid chocolate or cocoa powder. Cocoa powder comes in two forms: regular and Dutched, a type that has added alkaline. Because of the alkaline, it's very important to read the recipe carefully and not assume that they're interchangeable. If you're making a chocolate cake and the instructions call for greasing and dusting the pans with flour, cocoa is a great substitution for the flour, because it doesn't leave a dusty ring on the finished cake. In every case, just be sure to sift or whisk cocoa with the other dry ingredients as it often is lumpy.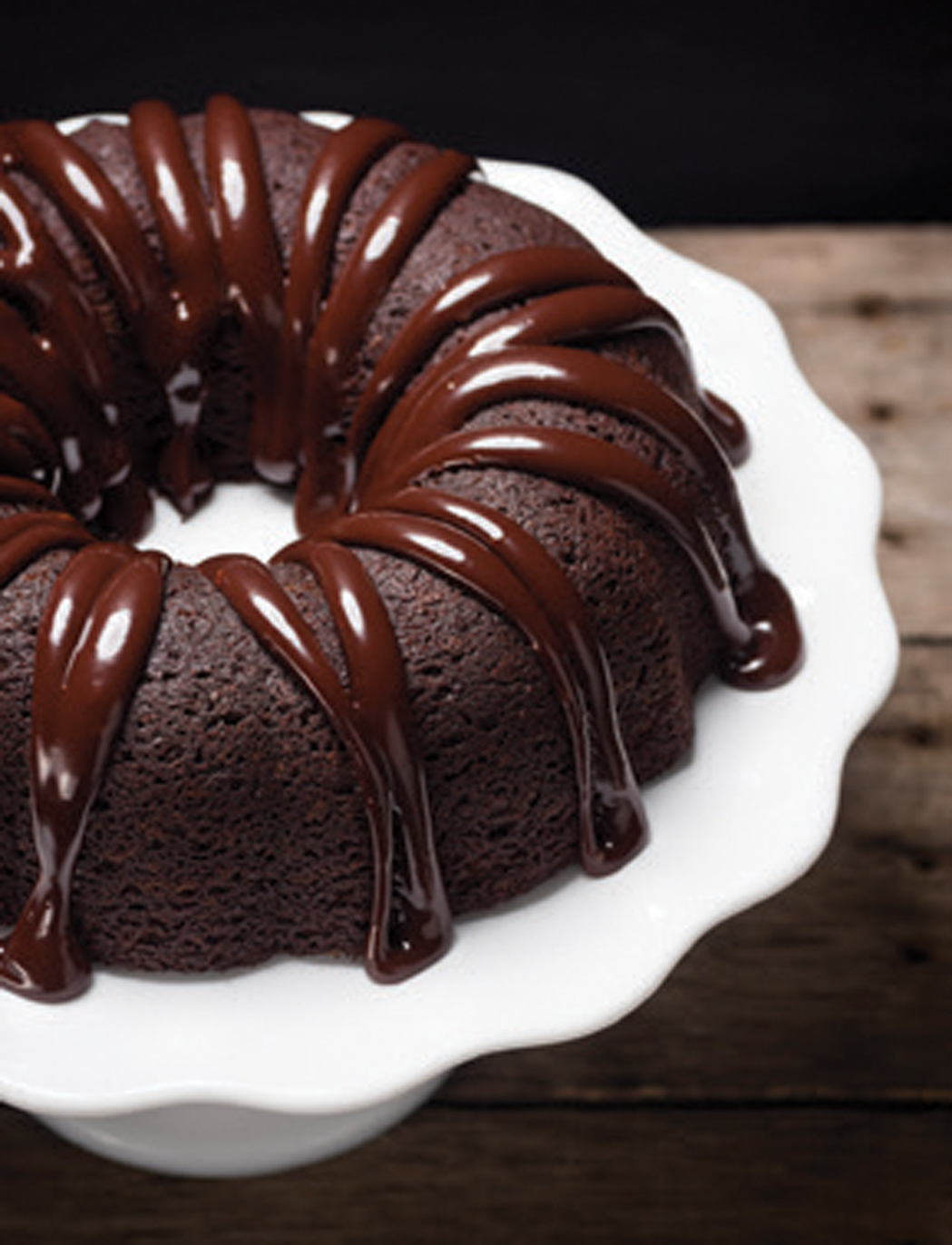 Solid chocolate comes in bars, squares, wafers and chips, and unsweetened, bittersweet, semisweet, milk and white. You can use semisweet and bittersweet interchangeably (depending on your taste), but unsweetened, milk and white chocolate cannot be substituted. To melt chocolate, I usually use a microwave. After measuring out the right amount, I chop it into small (about ½-inch) pieces. Then I microwave it in short bursts—about 30 seconds at a time—stirring between each. Chocolate will sometimes keep its shape after it's melted, so it's important to stir to check how far it has melted and to release any hot spots that may build up. Alternately, chocolate can be melted in a double boiler over low heat. Remember in both cases that the goal is to melt the chocolate, not cook it—so go low and slow with the heat!
I've included some of my favorite chocolate cakes—a flourless chocolate cake that can be mixed in just a few minutes in one bowl, a throwback favorite that performs a little bit of magic by moving the frosting to its core, and a decadent triple chocolate cheesecake. Try each of them—just make sure to save me a piece! Happy Cooking!
Flourless Chocolate Cake (serves 8)
This is one of the quickest, most delicious desserts in my repertoire. I can knock this out in one bowl and bake it while we're eating dinner! Everyone loves its rich, chocolatey flavor.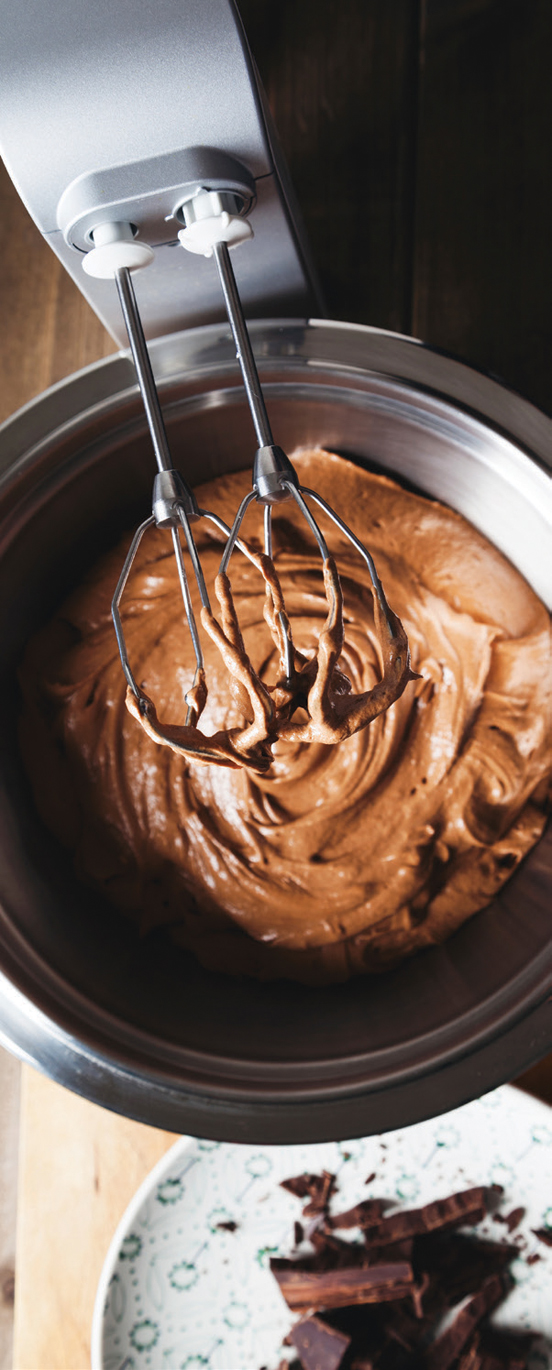 1 cup plus 1 tablespoon cocoa
1 cup unsalted butter
8 ounces semisweet chocolate
1 1/4 cups sugar
6 eggs
1 teaspoon vanilla
1/2 teaspoon salt
Preheat oven to 350. Grease bottom and sides of a 10-inch springform pan. Line the bottom of the pan with a piece of parchment cut to fit, then grease the parchment. Dust pan with 1 tablespoon of cocoa powder, then knock out the excess. Set aside.
In a microwave-safe container, melt the butter and chocolate until smooth and just melted. Set aside to cool. In a medium bowl, whisk sugar and cocoa to combine. Add eggs, vanilla, salt and melted chocolate and whisk until smooth. Scrape batter into prepared pan and smooth top.
Bake in preheated oven about 40 minutes. Let cool 20 minutes on a wire rack, then slide a knife around the outside and remove the sides of the pan. Serve at room temperature with freshly whipped cream and berries.
Tunnel of Fudge Cake (serves 12)
As a kid in the 70s, this was the cake of my dreams!. Don't mess with the recipe—don't even omit the nuts, or it may not work. It's a fun throwback, and a rich, delicious cake!
CAKE
3/4 cups plus 1 tablespoon cocoa, sifted
1 3/4 cups sugar
1 3/4 cups unsalted butter, softened
6 eggs
2 cups powdered sugar
2 1/4 cups flour
2 cups chopped walnuts
GLAZE
1 1/2 cups powdered sugar
1/2 cup cocoa
4 tablespoons milk
Preheat oven to 350. Grease a 10-inch Bundt pan, and dust with 1 tablespoon cocoa. Knock the pan on the sink to release any excess cocoa.
In a mixer, beat sugar and butter on medium-high speed until fluffy, about 5 minutes. Reduce mixer speed to low, and beat in the eggs, one at a time, stopping regularly to scrape down the bowl. On the very lowest speed, add in the sugar. Scrape the bowl and add the flour, walnuts and cocoa. Spoon the batter into the pan, and smooth the top.
Bake exactly 52 minutes. Cool in the pan for one hour, then invert onto a cake plate. When the cake has cooled, sift the powdered sugar and cocoa into a small bowl. Add most of the milk, and whisk until smooth. Dribble in more milk until the glaze is just loose enough to pour over the cooled cake.

Triple Chocolate Cheesecake (serves 8–12)
What is more decadent than cheesecake? This chocolate crust, chocolate filling and chocolate-topped cheesecake is worthy of being anyone's birthday cake. For sweet/salty fans, this would be great topped with flaky sea salt!
C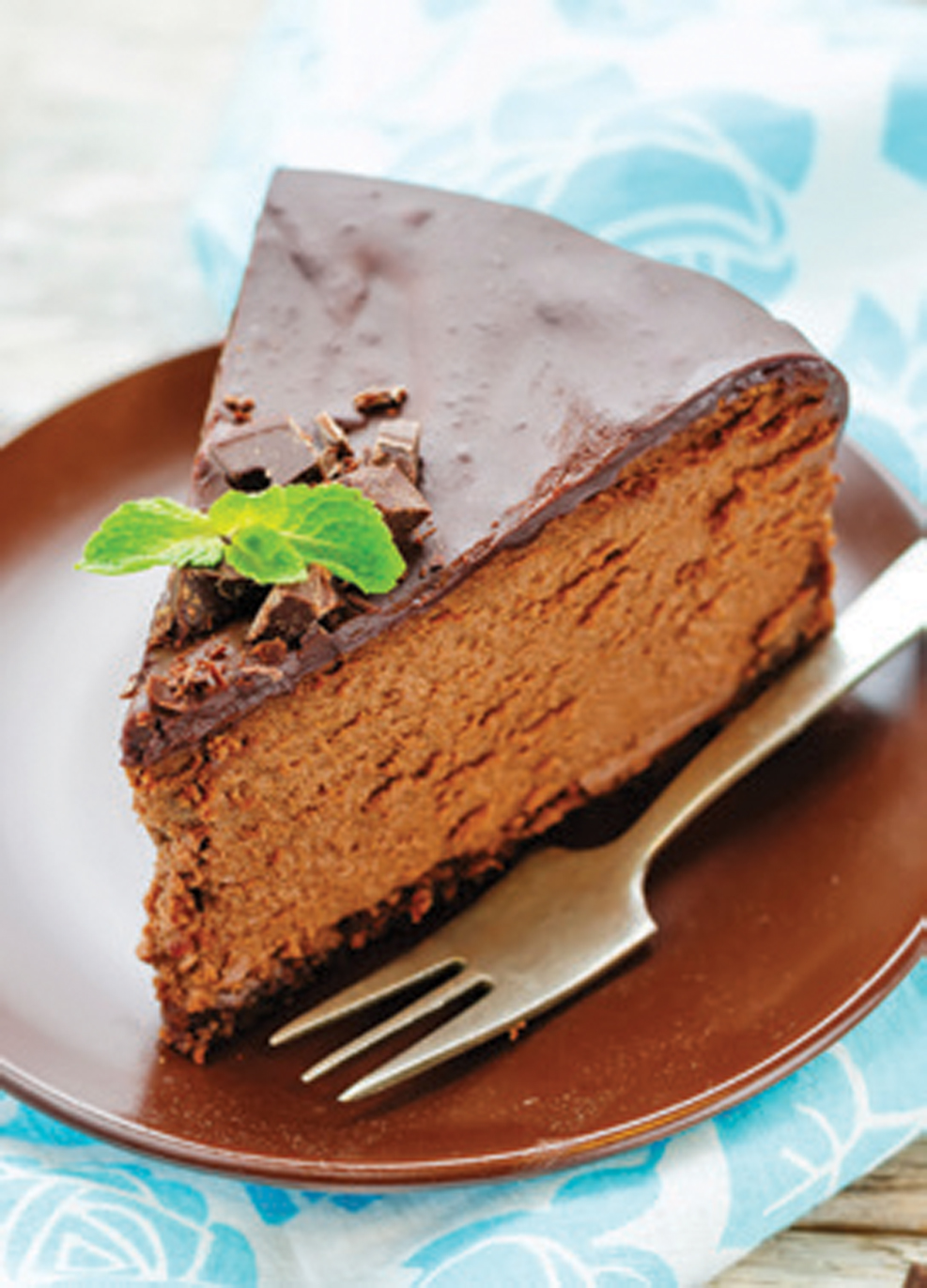 RUST
1 package Famous Chocolate Wafers
(found near the ice cream cones in most groceries)
6 tablespoons unsalted butter, melted
FILLING
1 pound good-quality semi or bittersweet chocolate, chopped
1/2 cup espresso or strong coffee
3 8-ounce packages cream cheese, room temperature
1 1/4 cups sugar
4 eggs
1 teaspoon salt
1 teaspoon vanilla
GLAZE
1/3 cup whipping cream
1 tablespoon unsalted butter
3 ounces semi or bittersweet chocolate chopped
For the crust:
In a food processor, grind up the cookies. Mix with melted butter. Press in the bottom and 1 1/2 inches up the sides of a 9-inch springform pan. Wrap outside of the pan carefully with one large single sheet of foil, making sure that it reaches at least 2 inches up the sides. Freeze for 15 minutes. (The foil will come into play later; cheesecakes benefit from the even, humid heat that a water bath provides. Since the springform pan may not be water-tight and we will be putting it in a pan of water, we need the foil to keep the water from seeping when we bake it.) Preheat the oven to 325. Place a rack in the middle of the oven.
For the filling:
Heat the chocolate and coffee in a double boiler, just until melted. Stir until smooth; set aside.
In a mixer, combine the cream cheese and sugar. Beat for 2 minutes, then scrape the bowl well. Beat 2 more minutes, and scrape the bowl again. Add the eggs, one at a time, and scrape the bowl well between each addition. Add the chocolate mixture, salt and vanilla and beat well.
Scrape the cheesecake batter into the prepared pan. Place the pan (foil and all) in a larger pan, like a roaster, and pour boiling water in the roasting pan until it reaches about an inch deep around the cake. Carefully move the whole thing to the oven. Bake for an hour, then check with an instant- read thermometer that the temperature has reached 160 degrees. Continue baking until 160 degrees, then remove from the oven and cool in the water bath for 30 minutes.
Carefully remove from the water bath and cool another 30 minutes. Chill in the fridge for at least 8 hours in the pan before carefully running a knife around the edge and releasing the pan.
For the glaze:
Put the remaining chocolate in a small bowl. In a small pan, heat the cream and butter to almost boiling. Pour the cream over the chocolate and stir calmly until the chocolate has melted. Pour over the cheesecake, and spread to cover within an inch of the edges. Chill 30 minutes until set.
birthday cake, chocolate, chocolate cake, Flourless Chocolate Cake, Triple Chocolate Cheesecake, Tunnel of Fudge Cake