Burning Bright: Fiery Features for Outdoor Spaces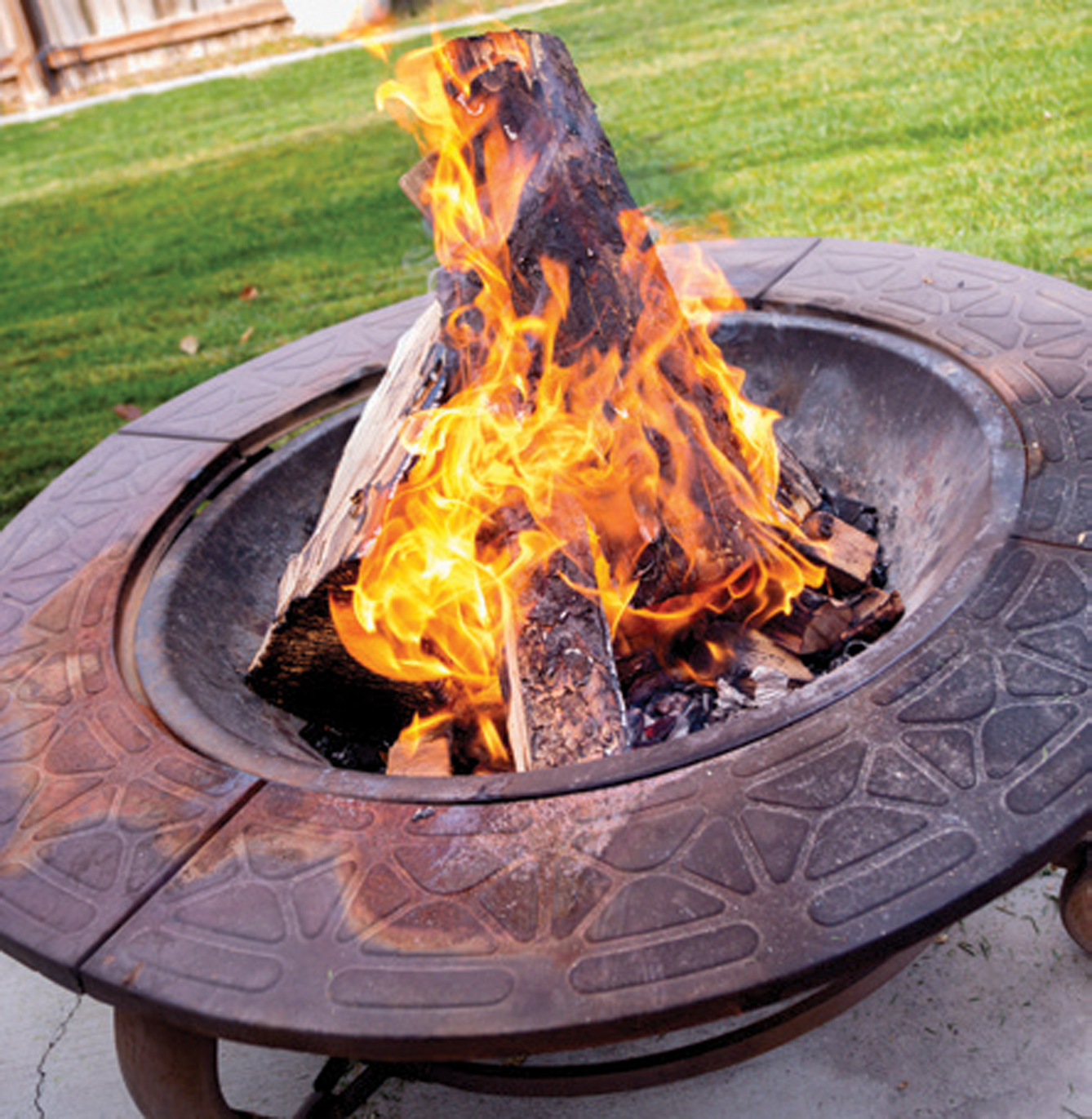 Fire is an essential element that provides heat for warmth and cooking. Fire also possesses an entertainment value, which, played with safely, can fascinate for hours—think bonfire. Imagine the fun of roasting marshmallows and drinking cider on a crisp, fall evening where fire is the feature—the center, core, heart of the gathering.
Historically, using fire inside the home within a centrally located fireplace has allowed homeowners and guests to keep warm on wintry days. Today, an indoor fireplace is still a popular source of heat and often offers a distinct aesthetic appeal to its partakers. Because of its all-around appeal and function inside the home, fire often finds its way into outdoor spaces as homeowners decide to extend similar considerations outside the home.
When homeowners integrate a fire feature into their outdoor space, they find the benefits extremely satisfying. Indeed, an outdoor firepit or other type of fire feature offers lighting, warmth, and entertainment and allows homeowners to really use and enjoy their outdoor spaces in multiple seasons—particularly the fall, and throughout the year.

Options
Once homeowners decide to add a fire element to their outdoor spaces, they must consider the many options. Firepits are, according to Ronnie Mitchell of Ronnie Mitchell & Son Landscaping, "a great conversation piece." He sees families using them mostly as a place to gather, chat and roast marshmallows, he says. Firepits, also called fire bowls, and fireplaces are the most popular options. Firepits can be portable or built-in features. Although firepits come in a variety of sizes and shapes, for built-in firepits, homeowners often opt for a circular configuration, as opposed to square, in order to accommodate more people around the fire.
Other options for outdoor fire include tiki torches and fire walls. Tiki torches are a simple, inexpensive way to add ambiance to an outdoor area. Fire walls are literally walls of fire. They resemble fireplaces but are open to the air and do not have a chimney. Fire walls can add an aesthetic quality to patio areas, and they emit more heat than traditional firepits and fireplaces.
For modest budgets, homeowners might consider a DIY firepit kit or portable firepit. Often, these types of firepits are constructed of metal and can be purchased directly from a local home improvement store or online. Depending on the specifications, prices can range from under $100 and go up from there.
Larger budgets garner more choices, of course, and for more expansive projects, a hardscape with a built-in firepit, fire feature, or even a fireplace are all popular options. The hardscape is a complete outdoor area made of materials like concrete and stone, often in the form of a patio. As an extension of the house and the space inside the house, a hardscape should replicate the aura of the entire home landscape.
Considerations
Intent, budget, space and safety are all things to consider when choosing to add fire to your outdoor space. According to James Edwards of GroundScapes, the designs his company helps create are largely based on what each individual client really needs. Edwards says it's important to listen to the client to ensure their needs for their outdoor space are met. "Once we understand what they're looking for, that's when we get creative and put everything together for them," he says. Budget is a certainly a factor in this type of project; costs vary greatly depending on how large you want to make your firepit area and what details and features you incorporate.
There are two options for fueling the fire: gas or wood. Edwards says that his business does about 50 percent gas and 50 percent wood-burning firepits. As far as how to make that choice, he notes, "When we really get into talking to clients…it's not a choice that is hard to make." It is an easier choice once their needs and wants for the area are fully understood. For example, if homeowners plan to host gatherings and prefer something authentic that evokes an aura of camping in the woods, then they might benefit most from a wood-burning fire. If it's more for ambiance and aesthetics, then choosing gas may be most desirable. Another factor is how important the actual heat is to homeowners; wood-burning fires tend to burn warmer than gas-fueled fires. Taking into consideration the maintenance of the two different options can also guide homeowners' choices. When homeowners consider their intentions for their space, they can make the best decision on the fuel source.
Where to place the firepit is also a big decision, because when dealing with fire, safety is a top concern. "A firepit should be far enough away from the house," notes Mitchell. "The biggest safety concern is what people actually put in their firepits." He notes that you should not put anything other than wood into a fire, because other materials could be full of chemicals that could be toxic.
A suggested safety measure when starting, stoking and maintaining a fire is to keep some source of water close by, whether a hose or bucket of water. If there is an emergency, it's important to be able to extinguish the fire. Gas-burning fire features require an emergency gas shut-off.
Ultimately, by keeping intent, budget, space and safety in mind, homeowners can make the right choices for their fiery design.
Enlisting A Professional
Obviously, there are DIY options for firepits, but reaching out to a professional garners many benefits. Indeed, a professional in the landscaping business often offers full-service options, from planning and design to execution and completion. Once a homeowner decides to hire a professional, the professional can help guide the homeowner through the entire process.
Planning and Design
Homeowners must have a plan for their project. A plan includes the overall arrangement and also the flow of people within the space. Mitchell says that a combination of softscape/hardscape within the landscape is a good idea, and that this can be achieved by "incorporating some plants into the pavers to give it a soft touch." The hardscape, as an extension of the homeowner's taste, should match the exterior of the home as well, which can be accomplished by considering and complementing the existing exterior structures. Then, the designer is able to maintain a level of continuity and congruity from the inside out.
Many designers consider form and function to be top priorities in the design process, and a fire feature is no exception. Not only does planning for the fire feature occur, but planning for the entire outdoor area surrounding the fire feature is critical as well. For example, designers plan for furnishings, such as tables, chairs and benches, to ensure that the area is comfortable and functional.
Trends
According to Mitchell, "Sixty to 75 percent of the patios we build have firepits in them or a fireplace of some kind, some kind of fire feature." As Edwards comments, "Fire has always been popular," so it's no surprise that firepits are such a hot trend right now. Edwards also notes that the trend of premanufactured or manmade kits is popular for those looking for something more budget-friendly because they are less expensive than custom masonry firepits.
Fire is enthralling to watch and enhances an outdoor space, but it must be handled with care. Gathering all the necessary information is the most important tool when choosing to add a firepit or other fire feature to an outdoor space. Knowing your options and consulting someone fluent in design ideas will help you begin on the right track. Because there are so many positive reasons to incorporate this fierce element, choosing to utilize fire in some way, shape or form in an outdoor space is almost second nature.

diy, fire features, firepits, fireplaces, GroundScapes, hardscapes, outdoor space, Ronnie Mitchell and Son Landscaping