Boost Your Roost | A Better First Impression in 72 Hours or Less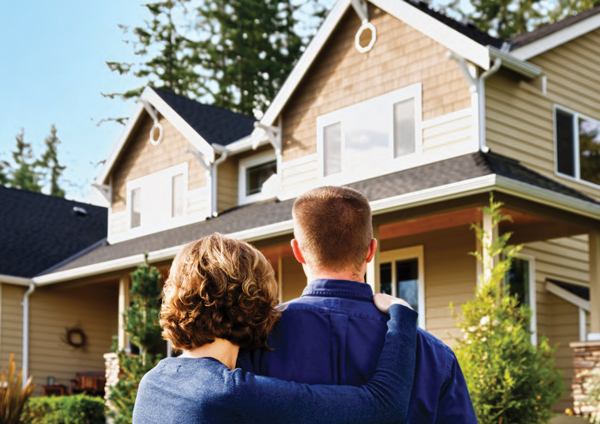 When the months are warm, it can be disheartening to return home after a long day of work, sigh as you scurry up a cracking sidewalk amid a barren landscape. It's difficult to glance away from your home's peeling paint. Now, with the cooperation of mother nature, is the perfect time to flex your "keeping up with the Joneses" muscles and boost your home's curb appeal. Of course, if you plan on selling your home anytime soon, a few projects to increase appeal can also cause the value of your dwelling to jump 5.5–12.7 percent.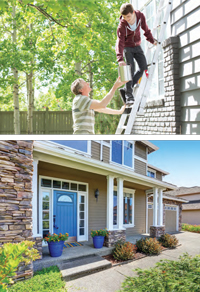 Some aspects of a home which garner immediate attention and may need some sprucing are the landscaping, mailbox, sidewalk, the front stoop or porch, exterior paint, lighting and more. As the homeowner, you have the power to decide whether these home attributes garner unease or spark the feeling of returning home. These projects range slightly in size and difficulty level, but all can be accomplished by the average homeowner over the course of several weekends.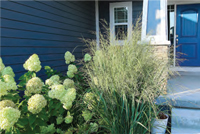 It's no surprise, a lush landscape dotted with vibrant flowers draws attention and creates an inviting and relaxing environment. But to the untrained eye, this dream can be an overwhelming goal. Choosing leafy friends for your yard and garden doesn't need to produce anxiety when keeping to some simple necessities—evergreens, flowering shrubs, and vibrant annuals. Use evergreens and semi-evergreens such as boxwood or nandina, for a lush green foundation. Then, use a beautiful, multiplying bush such as hydrangea to add a pop of color, as well as another level of lush greenery. Place these shrubs around any gaps in the porch foundation or a corner of your home foundation that seems bare. Lastly, plant some azaleas or day lilies around the mailbox to brighten up the otherwisebare mailbox post. These flowers are easy to plant and require minimal maintenance to ensure a colorful show all season.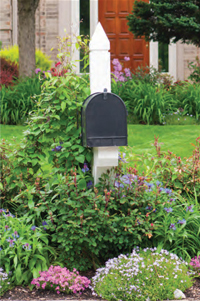 But if your mailbox is outdated, faded by the sun, or in a state of disrepair from years of use; even the brightest flowers won't make your home's first impression a good moment. Be sure to update your mailbox if needed. You don't need an expensive box to be satisfied with its appearance. If there is not a freestanding mailbox at your home currently, consider installing a wallmounted mailbox next to the front door to add some visual appeal.
Another aspect of a home which can turn heads is the sidewalk. A cracked, faded, and weathered walkway doesn't provide an enticing entry into your homestead. To make your sidewalk say "home sweet home," consider resurfacing the concrete. Resurfacing kits can be purchased from many hardware stores and include step-by-step directions for success. To resurface, you simply need to clean the sidewalk, pour and spread the concrete (while respecting any control or expansion joints) and finish with a broom or edging tool.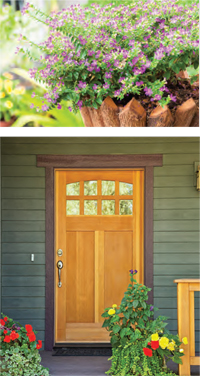 Along with the transformed sidewalk, spruce up your home's front porch or stoop with a fresh coat of paint. With minimal cost, you can welcome guests with a revived landing area. Before painting, be sure to remove any cracked, chipped, or peeling covering on your porch floor or railings with a putty knife and sandpaper. Next, prime well. Note, this step cannot be skipped. The primer you choose is vitally important, especially if you want the paint to stand the test of time and seasons. Then, select your paint color and apply two coats.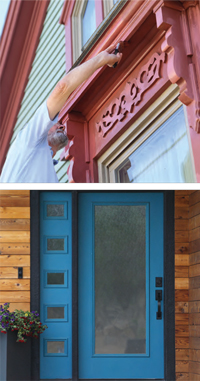 Choosing the paint color for your porch can be a challenge. First, take a quick stroll around your neighborhood. Are your neighbors embracing a country/rustic vibe, beachy or bright hues, or vintage and dark tones? Use these colors for your inspiration, and to ensure your home fits in with your neighbors'. If your home emits a country vibe, go for earthy browns and greens; for a beachy feel, pastels look right at home. Vintage homes need darker, matte, moody colors for a cozy touch.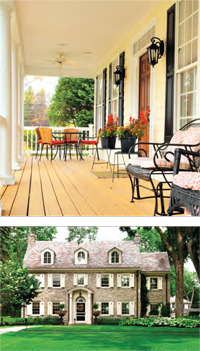 While painting the porch, you might notice your shutters faded and bleached by the sun. A quick coat of paint can instantly revive them, making your home seem more finished and inviting. To paint shutters, first clean them with a mixture of one part bleach to four parts water and scrub away any dirt, mold, or mildew. Priming with a latex primer is not required, but is recommended, as it will exponentially lengthen the life span of the paint. Next, choose an acrylic latex paint in a color which complements the exterior.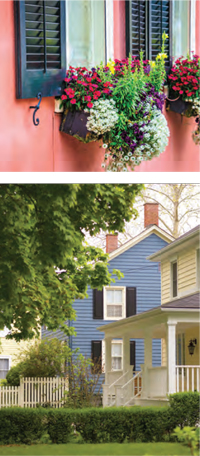 To choose a flattering shutter shade, stay in the same color family as your home's siding, brick or stone for a more subtle choice. If you are considering selling your home, avoid bright, bold hues that set it apart. Although a pop of color on the front door is a welcome sight, bold shutters are not seen as attractive to many buyers. For dark-colored homes, consider a shutter color a few shades lighter than the exterior. For lighter-exterior homes, choose a shutter color a few shades darker. Try not to go more than a few shades darker than the shutter color. For example, a white shutter that is painted black will absorb exponentially more of the sun's rays, heating it to a temperature it may not be designed to withstand, and causing unsightly warping.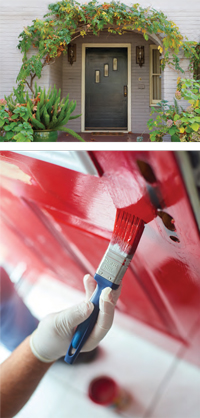 After finishing the porch and shutter upgrades, turn your attention to the front door. Now is your time to stand apart from the crowd. Adding a vibrant pop of color with a bright front door will instantly revive the look of your home—a trendy addition to curb appeal. When choosing the color, allow your personality to shine. Bright colors such as green and teal draw the eye; red is a bold choice for a variety of exteriors. White and black are classic colors which can pop without being gaudy. If you want a safer, cohesive exterior, opt to paint your front door the same color as the shutters.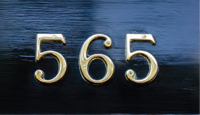 After painting the door, check the hardware. It may be time to update with something unique, such as a bolder handle for a refresh of your home's charm. With the new hardware, take the chance to replace broken or faded house numbers. Although crisp home numbers are a necessity for easy home recognition in an emergency, they are also the only typography on your home. The numbers you choose are vital to your home's exterior, and can include vibrant, distressed cast iron numbers, vinyl decals placed on large windows above the front door, reflective aluminum numbers on a decorative post near the driveway entrance, or a classy, simple plaque.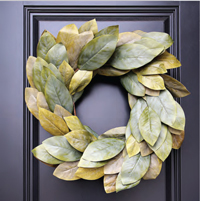 After painting the door and updating coordinating hardware and home numbers, finish your creation with a wreath. Although often considered seasonal, wreaths can warmly welcome guests throughout the year. A wreath can be personalized with your family's initials, favorite colors or sports teams, and, of course, seasonal fun—glitter and snowmen for winter months. Don't forget to update your exterior light fixtures to ensure that your beautiful wreath isn't lost in the shadows. Vintage, antique, traditional, or beachy; exterior light fixtures are a budget-friendly chance to show off your home's personality before guests even set foot through the door.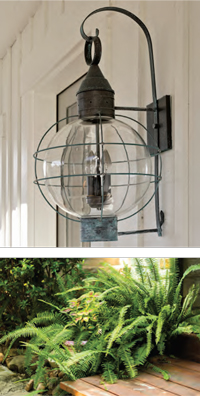 Last, but certainly not least, add a few carefully chosen plants to your home's front porch. If your porch is mostly bathed in sun throughout the day, select tropical plants such as Mandeville, hibiscus, or colorful salvia and lantana. If your porch is sunny but suffers from bugs, choose beautiful and insect-repellent marigolds to brighten your space. For porches experiencing more shade than sun, Boston ferns, begonias, and New Guinea impatiens can bring life into even the darkest corners.
Working to improve your dwelling's curb appeal is personally rewarding; reviving its atmosphere before placing your home on the market can boost overall appeal and value quickly. Once accomplished, these projects will be sure to impress visitors, passersby and neighbors for years to come. ✦
colorful salvia, curb appeal, e, Features, front stoop, Hibiscus, landscaping, lantana, lighting, mailbo, Mandeville, porch, resurfacing, sidewalk, terior paint