Biggest Recipe Box Ever: Discerning Delicious Recipes from Cyberspace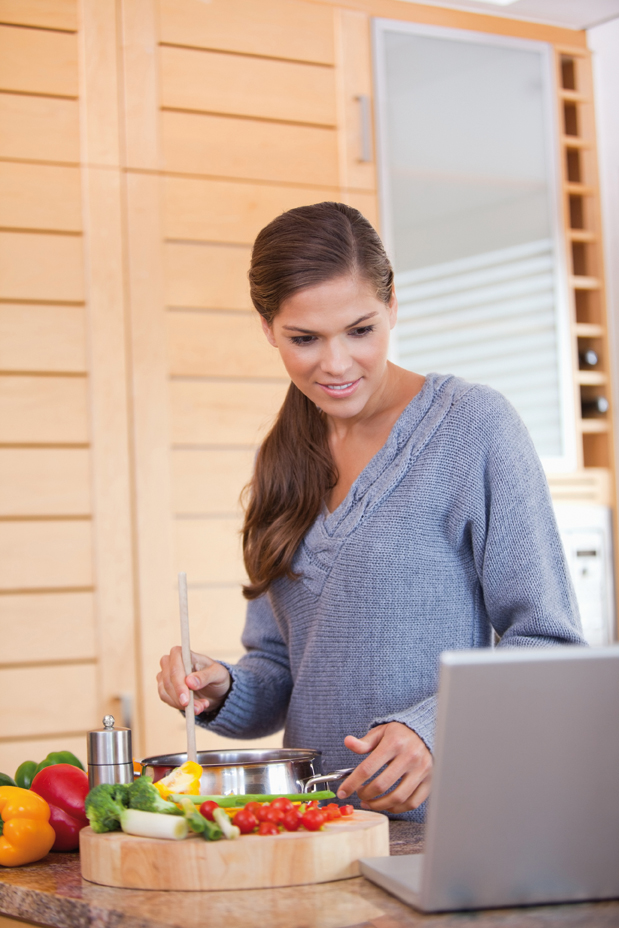 The Internet is a great place; anyone can set up a site or a blog, and write whatever they think—it's the ultimate example of freedom of speech! There are too many sites about food to count; it seems that a new one pops up every hour. And with reposts on sites like Pinterest, the availability of recipes online is mind-boggling. But have you ever tried a recipe from the Internet that was a complete failure? How do you tell the difference between a recipe that will work and taste good, and one that won't?
With all the availability of recipes and information, I've been challenged to define my recipe thought process—how I look at recipes and decide if they'll work and taste good. The first and best determination is the source. Loads of recipes are available from national magazine sites like Southern Living, Food and Wine and Better Homes and Gardens. Big-time national magazines have the luxury of employing an army of recipe testers—folks who make the recipes and test the instructions to make sure they're clear before the recipe ever goes to print. You can almost guarantee that this type of recipe will work! (Here at HOME, the combination of my family, friends and a Type-A editor means the recipes I offer you should be in pretty good shape, too.)
For magazine websites, I definitely read the comments that follow posted recipes. Readers act as testers and often come up with good ideas, and sometimes that feedback is tested and commented on by other reviewers. For example, someone may say that the dressing recipe for a salad is too skimpy, then suggest doubling the ingredients and using to taste. I usually heed this type of advice, since I can be in control of the dressing, or choose to serve it for guests to add on their own. Unfortunately there are plenty of crackpot comments—those that ignore major components of the recipe or make too many substitutions—but those are easily recognized and ignored.
Food blogging and photography have come a long way, which can add to the confusion. Sometimes, I'm attracted to the recipe because of the pictures, though I've found some bloggers may be better photographers than cooks. I suspect that bloggers feel pressure to post often, and therefore probably don't have much time to test and retest recipes. Sometimes they give it away themselves, writing that they tried this last night for dinner, or made it over the weekend. This information always makes me think that they've only made that recipe once, and I know from my own experience that sometimes it's hard to remember exactly what amount of ingredients or steps were taken. Look for comments in the blog like "this is my favorite" or "every time I make this" for better success. Feedback from the readers of food blogs is usually less informative than larger websites, because such comments are usually made upon reading the recipe (i.e. "sounds yummy!"). Because blogging is so time-sensitive, most readers don't go back and post how a recipe turned out.
Culinary detective work is easier than ever. If you find a recipe that has no helpful feedback, and you're still determined to make it, use a little research to help you out. Googling to find similar recipes is one of my favorite tactics. I can cross-check ingredient amounts, baking times and temperatures, and add or subtract ingredients based on this additional input. If I'm unsure about a recipe's pedigree, I can often meld it with one from a proven source and come up with a winner. Research like this also helps fill in blanks when I get recipes from friends or find old recipes from my mom that seem incomplete.
An evening on the sofa reading recipes is one of my favorite ways to spend time. Here, I'm sharing a couple that I've found online and adapted. If you find a recipe that seems like something you'd like to make, don't be afraid of the unknown. Check the comments, do a little investigation, and get cooking!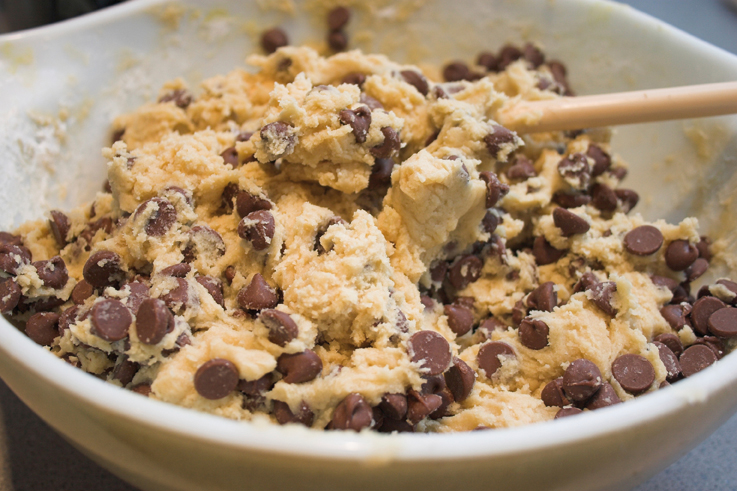 Nutella Chocolate Chip Cookies
I saw this recipe on Pinterest and clicked through to see the most complicated recipe for cookies ever! Since I like the idea of sandwiching Nutella between cookies (I generally like the idea of Nutella anywhere!), I adapted the recipe with a simpler cookie recipe, kept the Nutella, and made sea salt an option. (Makes about 18 cookies)
½ cup butter, softened
¾ cup dark brown sugar
¼ cup sugar
2 eggs
1 teaspoon vanilla
2 cups flour
1 teaspoon baking soda
½ teaspoon salt
10 ounce bag chocolate chips (I use Ghirardelli 60 percent
cacao bittersweet chocolate chips)
½ small (13 ounce) jar of Nutella, chilled
Optional – Flaky sea salt, like Maldon
Beat butter in a stand mixer. Add sugars and mix well. Scrape the sides and bottom of the bowl. Add the eggs, one at a time, scraping the bowl after each, then add vanilla. Add flour, baking soda and salt, and mix well. Add chips and blend to combine.
Take a scoop of dough and flatten into a cookie. Take a teaspoonful of the chilled Nutella and place in the center. Take about another half a cookie equivalent of dough and cover the Nutella, pressing to seal. Place on a buttered cookie sheet and repeat until you've used all the dough. Sprinkle with sea salt, if desired. Chill the cookies on the sheet for about a half hour, then bake at 350 degrees for about
10 minutes.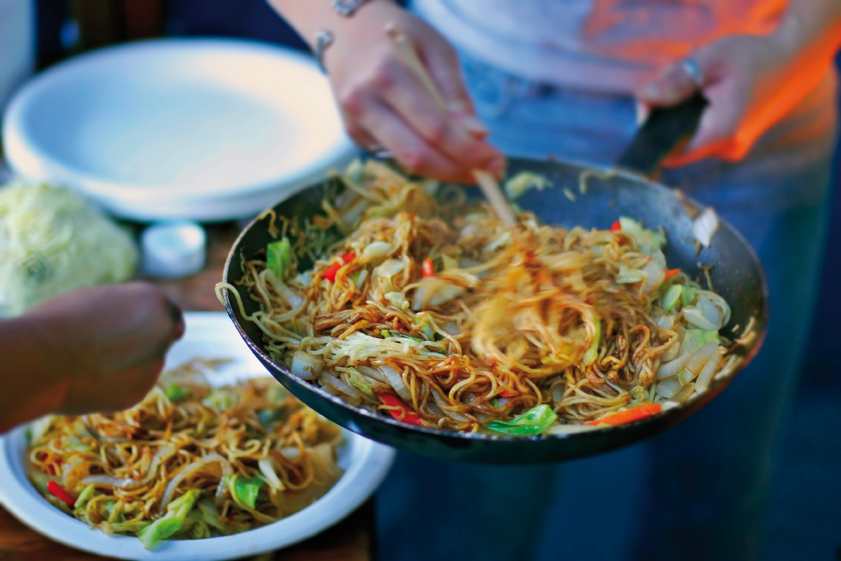 Broccoli, Shiitake Mushrooms and Soba Noodle Salad
I made this salad, and immediately realized that the dressing amount was skimpy (as pasta salads sit, they tend to absorb the dressing). I doubled the dressing and added a little more soy to zip it up. The inclusion of tofu makes this more of an entrée, you can omit it if you prefer. Serves 6.
2 cups sliced shiitake mushrooms
1 teaspoon vegetable oil
9.5 ounce package soba noodles
4 cups broccoli florets, blanched and chilled
1 pound firm tofu (*see notes below)
Mustard-Wasabi Dressing:
3 tablespoons Dijon mustard
4 tablespoons rice wine vinegar
1 teaspoon sesame oil
1 tablespoon soy sauce
1 tablespoon honey
1 tablespoon wasabi powder or paste
Juice of a large lime
½ cup vegetable oil
1 tablespoon sesame seeds
In a sauté pan, cook the mushrooms in the oil for about 10 minutes, until golden. Cook the soba noodles in boiling water for 4 minutes, then rinse thoroughly with cold water. Drain well.
In a large bowl, combine mushrooms, soba noodles, broccoli, and tofu (if using).
In a small bowl, whisk together all dressing ingredients. Pour over noodles and toss to combine. Arrange on serving plate and garnish with sesame seeds.
*To prepare tofu: Dry tofu with paper towels. Cut into ¾-inch cubes. Sprinkle with soy sauce. Spread out on lightly oiled baking sheet and bake for about 10 minutes. Let cool.
Food Blogging, internet Recipes, Nutella Cookies, Soba Noodle Salad