Beyond the Ball and the Bubbly | Fresh Ideas to Entertain Family and Friends Now and into The New Year
After watching the festivities unfold in the Big Apple, sipping champagne, and saving that midnight kiss for a special someone, most of us consider New Year's Eve the finale of our entertaining for a while— at least for the next few months. But stretching out the fun could help us fight off those wintertime blues. HOME has some ideas to not only liven up your New Year's party but continue the celebration well into 2022.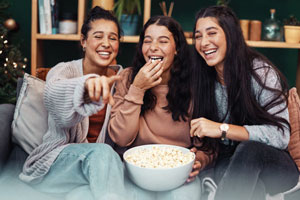 Party like you need a party
Do you know that post-holiday letdown you feel when all the fun is over, when you have to return to work after vacation or start making all those to-do lists for the house again? Hosting a post-holiday gathering could give you something to look forward to and break up the day-today routine.
If you want to throw a party at home— for New Year's or even weeks later—a few entertainment elements could help your guests make their final, favorite memories of the year or their very first ones of the new year.
Everyone knows music makes the party, so create a memorable playlist and ask your family and friends to help by sending you their favorite tunes in advance. To make it more meaningful, ask them for a particular song that sums up the past year for them or a song that personally motivates them to take on new challenges in the new year—and let the music lead to party conversation.
Theme parties aren't just for children these days. A luau in the dead of winter? Why not? Celebrate with a taste of the tropics. Or host a costume party, even if it means just asking everyone to show up in a wig and crazy sunglasses. Call it the "New Year, New You" party.
Go for the fun with party decor, too. Streamers and balloons are nice, but most New Year's celebrations are all about the big lights and the sparkle (can we say "huge psychedelic ball hanging above a city?"), so try something shiny, bright and new that's popular with the kids, too, like a "Neon New Year's." Turn your dinner party into a glow party by using glow necklaces to outline your place settings. Make a fun chandelier with tiered glow sticks or use glow sticks to decorate your ceiling fan for a fun effect as it circulates. Many of your favorite party games can be played in a glow-in-the-dark or black light setting with a little creativity (and helpful searches on the Internet, of course).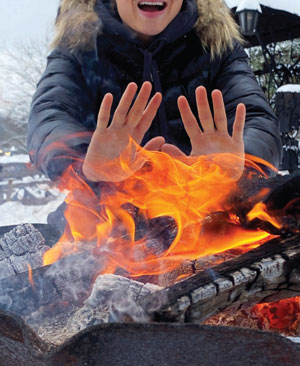 Another fun way to light up the night is to plan a bonfire—the perfect time to burn your Christmas tree—and then warm up some more inside with a movie night. Pop the popcorn and stream some classics with New Year's scenes, like "About Time" (2013), "When Harry Met Sally" (1989), "New Year's Eve" (2011), "Ocean's 11" (1960), and "Sleepless in Seattle" (1993) and its inspiration, "An Affair to Remember" (1957).
Whether you're a fan of the musicians at Times Square or other televised New Year's Eve events around the country, you can be a fan of your own guests and host a karaoke night. With a little organization, you could bring the playlist idea into the mix, asking your guests to sing their chosen song, but only after prefacing their performance with the reason they chose the tune. And if you film the event, it could be a fun way to kick off next year's party by watching highlights of the star performances from the year before.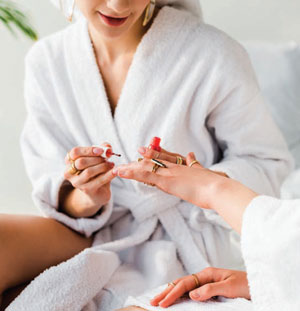 The new year is also a great time to hold a pampering party. Probably more common with the ladies than the gents, it could be a throwback to the makeover slumber party days of your teens, when everyone would try a new hairdo, makeup and nails while sporting some new clothes.
You can also host a post-New Year's gathering that centers on trying an entirely new hobby. The "Something New for 2022" party could be anything from hosting a cooking class or a craft or paint night, to learning yoga, a martial art, or origami, to getting a primer on a new language or writing poetry. Track down your creative, talented friends and ask them to play instructor for the night.
You could also relate the party theme to new beginnings and future plans by focusing on a milestone or event that 2022 will bring. Maybe the new year will include that trip of a lifetime to a faraway land, building your dream home, adding a new family member, or simply spending more time with the people you love. Plan activities and decorations related to these events to stir up excitement for the special moments to come.
If your family likes to huddle around the TV watching the Rose Bowl, maybe add a friendly sports competition to your own plans for New Year's or the Super Bowl. Hold a cornhole tournament, a Wiffle ball game, or a driveway hockey match. Or play funny indoor party games themed around football, like having a team member make a field goal with their arms and seeing how many large marshmallows you can toss through the uprights.
A TASTE OF WINTER
Everyone knows that a party, no matter what time of year, won't be a success without good food. In the spirit of trying something new, break from the typical party foods and involve your family and guests in your post-holiday entertainment.
Similar to the silly "Dirty Santa" games we play at Christmas, ask each guest to bring a fun coffee mug and take turns choosing one from all of the mugs or stealing one from someone else. At the end of the game, serve warm comfort foods to ladle into your mugs, like chili or soup, and your guests can take their new mug home as a party favor.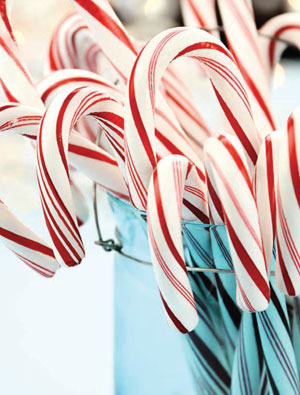 Another idea for an activity after the mug game is to use them for a hot cocoa bar. Fill Mason jars with all the fun toppings and accessories: peppermint sticks, marshmallows, chocolate chips (or butterscotch or peanut butter chips), caramels, sprinkles, and fancy spoons or paper straws. Add containers of cinnamon, flavored syrups, and whipped cream. Make the hot chocolate yourself or provide instant packets with hot water in a teapot or coffee urn nearby. Include coffee and teas for alternatives.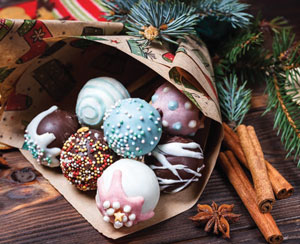 For appetizers, jump "on board" with a popular hostess trend: charcuterie boards. Like all food trends, people are letting their creativity run wild with this by serving up these colorful, decorative, grab-your-own assortments with everything from cubed cheeses to fruit, veggies and small pastries. For New Year's, decorate the center of your board by lining up some of the food to form the digits 2022. Candy charcuterie boards can make great party treats any time of the year. For a more formal event, make your board more elegant by choosing candy with gold, shiny wrappers (like Rolos) to make the 2022 digits (or any shape or initial you like), and fill in the rest of the board with all-white candy (like marshmallows, white chocolate chips, coated pretzels and yogurt-covered raisins) or scatter in silver-wrapped candy (like Hershey's Kisses).
Coming off a busy holiday season, the long days of winter can make you feel nostalgic for tastes from the past, too. Throw an old-fashioned candy-making party and make all those homemade treats that had you drooling over your grandmother's kitchen counters decades ago. Remember potato candies, buckeyes, meringues, butterscotch, taffy, and of course hard candy coated in powdered sugar? Gather some old-timey aprons to wear, crank up some classics on the turntable, and lay out a gingham tablecloth and you're all ready to go.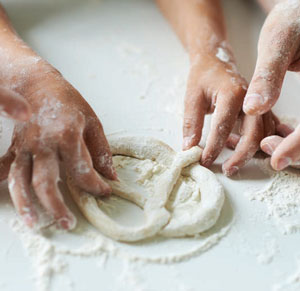 Another way to make food preparation a party in itself is by baking homemade pretzels. This is especially a good idea if you have little ones to entertain. Children love to play with dough, so choose an easy homemade recipe. Help them form the pretzels into the shapes of the digits 2022. It's also fun to make personal monogram pretzels.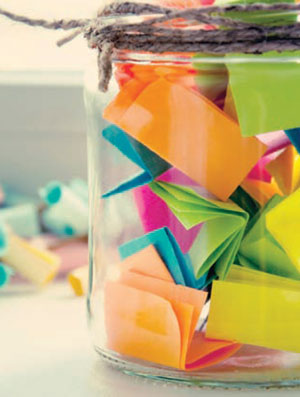 I RESOLVE …
A new year brings the traditional task that some of us end up hating: making resolutions.
Having dreams and aspirations isn't a bad thing; it just sometimes comes with unwanted pressure. While the end of a year can be a time for looking ahead, it can also be a reminder of the resolutions we never kept. We can end up feeling defeated and have less motivation to forge ahead.
But making resolutions doesn't have to be serious business. Instead of writing real resolutions, have everyone write a silly collective bucket list with things they would like to try in 2022. Toss all of the ideas into a real bucket and have fun pulling them out and reading them aloud, seeing if anyone can guess who wrote them. A little exaggeration can make this party game a lot of fun if you encourage guests to write down outrageous activities that are very unlikely to come to pass (and very unlikely to match your guests' characters and interests).
If you really want to take some resolutions to heart, though, decorate "resolution jars" that your guests can take home with them. Write reasonable resolutions on small, silver-dollar-size cards. They could be a simple chore you need to knock out (cleaning a closet) or a charitable deed you feel led to do for someone. Put the resolutions in the jar and pull one out each week. If you complete them, mark them and return them to the jar so you can read them at the end of the year and feel a real sense of accomplishment and value.
If you're over the whole tradition, try and remember the ones you made last year— the ones you broke as soon as you had the chance. Write them down and bring them to that great bonfire you planned. Nothing says "take that, New Year's resolution" like watching it go up in flames.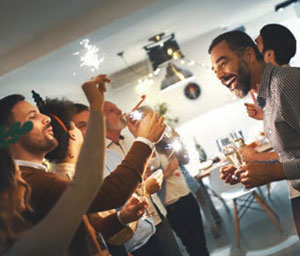 Ringing in the New Year just wouldn't be the same without some of our familiar festivities, but adding something new to our parties can only add to the fun. As we sweep up the confetti, hang our 2022 calendars, and watch January march on, we shouldn't give up on the fun quite yet. Remembering how much it warmed our hearts to spend time with family and friends over the holidays should prompt us to make this main resolution: plan more creative, memorable get-togethers throughout the year. ✦
Big Lights, Butterscotch, Caramels, Champagne, Chocolate Chips, Cinnamon, Flavored Syrups, Marshmallows, New Year's Party, Peanut Butter Chips, Peppermint Sticks, Playlist, Post-New Year's, Resolution Jars, Rose Bowl, Sparkle, Sprinkles, Theme Parties, Whipped Cream