Best Kitchens Revealed
HOME magazine is proud to acknowledge our stylish and savvy readers. The enthusiastic response to our kitchen contest gave our judges much to consider. Each submission to the contest featured stories and photographs of the heartbeat of every home. Thank you to every homeowner who graciously welcomed us into their kitchens for a glimpse at the epicenter of their daily life. We appreciate your hospitality!
And, without further ado (drumroll please…),
BEST OVERALL KITCHEN DESIGN
The Wise kitchen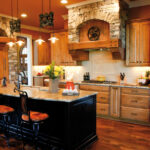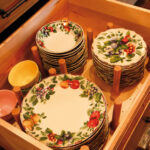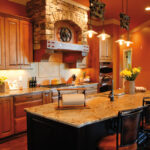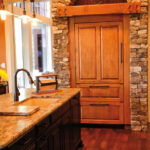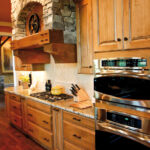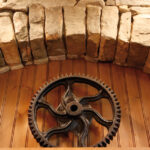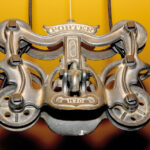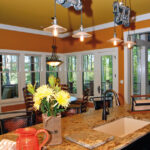 Avid golfers Danielle and Mike Wise were some of the first residents to build a home at the new Ballyhack Golf Club, rated by Golf Magazine as one of the best new private golf courses in the nation. The Wises enjoy uninterrupted views of the golf course and the adjacent Blue Ridge Mountains from virtually every room in their rustic but luxurious home. Perhaps none are grander than those seen while preparing and serving meals in their new kitchen.
The beautiful kitchen island features decorative inlays on its front and a leather-like finish on its granite countertops. With reclaimed barn trolley light pendants shining from above, work in the kitchen is done with both flair and function.
In keeping with their lodge-like décor, rough-hewn beams and distress markings on the cabinetry carry the theme throughout the space.
The latest in modern appliances such as the refrigerator featuring two drawers meld modern convenience with rustic charm.
Sources:
Carter's Cabinet Shop; Blackdog Salvage; CMC of Roanoke; Danny Goins, architect; Fashion Floors of Roanoke; Prescott Construction; Ramsey Copper, stonemason; Restoration Hardware, lighting; Vinton Appliance; Susie Whiteside, interior design.

BEST USE OF SPACE
The Noesner kitchen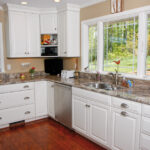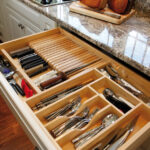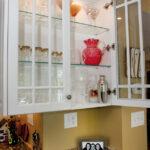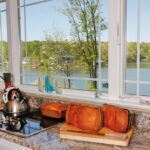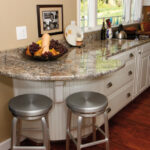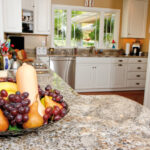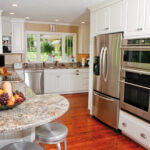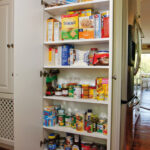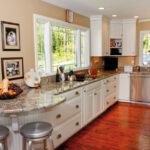 Carol and Gary Noesner's Smith Mountain Lake kitchen is a perfect example of how a petite kitchen floor plan can offer big storage possibilities. Their kitchen update was part of a whole-house renovation led by John Brock that included an extensive addition to the house featuring two very large picture windows. Lee Ann Carter presented the homeowners with six different designs from which to choose, each offering them more storage options than they ever imagined, even after removing an entire wall of upper cabinetry.
This compact culinary delight features a variety of storage drawers so that dishes, sheet pans, spices and cooking tools all have an organized home, and an intentionally-shallow pantry so that nothing ever gets lost in the back of the cupboard. Every square inch of space in the kitchen is maximized, including the spaces over the fridge and surrounding the stove. This kitchen is inviting, infinitely workable and efficient.
The Noesners took a dated kitchen and turned it into a festival of light by adding more windows and by taking care to place recessed lights over the work surface instead of over top of the cook's head so shadows won't be cast over the task at hand.
Sources:
John Brock, Brockworks; Lee Ann Carter, Carter's Cabinet Shop; Premier Stone.

BEST STORY BEHIND THE KITCHEN
The DeNeal kitchen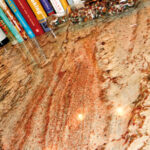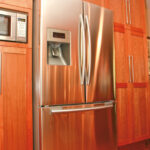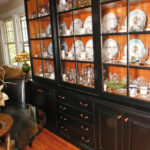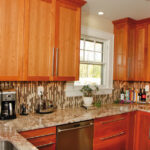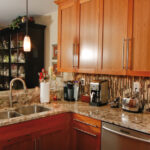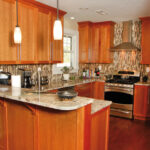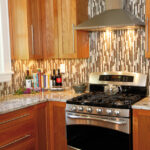 Interior Designer Cyndi DeNeal knew the long-neglected 1930s bungalow on Crescent Lane needed her, so she purchased it and has been bringing it back to life with her energy and talent, room by room. She took great care to honor the history of her home while maximizing its potential with the use of innovative materials.
Cyndi's updated kitchen design makes a modernized nod towards the Arts and Crafts architectural style. Once dark, dated and cramped, the new kitchen is sleek and features abundant under-cabinet lighting, cherry cabinets, granite countertops and a unique glass backsplash.
A fan of home entertaining, Cyndi selected her double-door fridge-over-freezer because it accommodates her party trays and a gas stove top with double ovens for a perfectly-timed dinner. Other noteworthy storage updates for the renovated kitchen include pan-divider cabinets, a spacious pantry and the addition of a coat closet near the bar.
Cyndi had to consider her enormous custom-built German glass china hutch with every house she viewed when she was shopping for her new home. To accommodate it in this house, she had a window removed.
Sources:
Albaca Builders; C & D Remodeling; Carter's Cabinet Shop; DeNeal's Cabinets (hutch); Enquist Electrics; Ferguson Enterprises; Lee's Flooring; Metro Paint
; Premier Stone; Valley Tile; Wisler Plumbing; Ferguson Bath, Kitchen and Lighting Gallery

OUR PANEL OF JUDGES INCLUDED:
Callie Dalton
Top Listing and Sales Agent in the Southwest Region, Richmond and Hampton Roads, Long and Foster Realtors.
Victoria Longley
Le Cordon Bleu-trained chef and owner of Chanticleer Catering, The Corinthian Ballroom and Overhome Plantation.
Mary Rapoport
Educational Director of the Virginia Egg Council and operator of the Egg Council's test kitchen where she develops heart-healthy recipes.